Ping pong tables are ideal for people looking to sharpen their reflex skills, play recreational or competitive games, or relax with friends while playing. They can provide hours of fun for the whole family, and a good solid table tennis table should last you for years.
Dimensions and Room Size
Before getting a ping pong table, you should learn about its size and the required room space to accommodate the table.
A standard size table will have a dimension of 2.74 meters long, 1.525 meters wide, and 76 centimeters height measure from the ground.
You can refer to this post for the detail of the table dimension and also the room size that needed:
Learn the Dimensions of Full-Size Table Tennis Table
Besides the table, other accessories like the balls, net, and post are also needed for playing table tennis.
Table tennis tables are easily assembled, moved, and stored. Most of them have wheels and fold in two, so they don't take up too much space. 
There are various sizes and makes of tables. And it would be best if you shopped around to find one that best suits your needs. If you do not want to have a permanent table with no legs, go with the folding table. A fold-up model features brakes and rollers that will ease your task of setting up.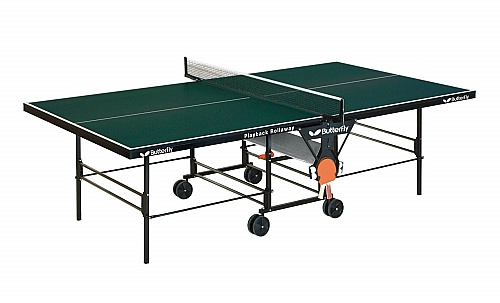 Play Level
Most table tennis tables are built out of aluminum composite materials and have warp-proof laminated tops. Some tops are made of steel and covered with plastic and aluminum.
Outdoor or Indoor?
Table tennis tables are also built for outdoor and indoor use. They weigh approximately 100 and 350 pounds and are held up with heavy-duty steel legs. The table's playing surface is usually between ½ and 1 inch thick and is predominately green or navy blue.
There are one and two-piece table tennis tables available. Some of them need assembling. Most table tennis tables come with nets and posts included but not paddles or balls. Butterfly, Joola, Prince, Stiga, and Kettler are all well-known makers of table tennis tables.
There are also table tennis conversion tops available, which attach to the top of a pool table to allow you to play table tennis. These are usually ½ to one inch thick and cost approximately $300. Table tennis tables themselves range in price from roughly $200 to just over $2,000. You can also shop around for a well-used table tennis table at a lower price.
Buying a ping pong table for your home could be as simple as going to the store, purchasing one, and taking it home. That seems like the most comfortable way, but the truth is, not all ping pong tables are created equal. To buy the right ping pong table for your home, there are a few things you should consider. This simple buying guide will help you ask and answer all the essential questions.
Table tennis tables fall into 3 categories beginner, intermediate, and advanced. But just because you or your child is a beginning player doesn't mean that a beginner level table is the best choice. Consider how much play your ping pong table will receive and its overall durability.
Beginner
These ping pong tables are perfect for light recreational use in the basement or garage. They are primarily built for fun, not for performance. Many beginner ping pong tables have a playback feature, allowing one side of the table to be flipped up to act as a backboard for solo-play.
It is an excellent introduction to table tennis, but if you or your child has any desire to advance beyond a leisurely game, the performance of an intermediate table will better serve your needs.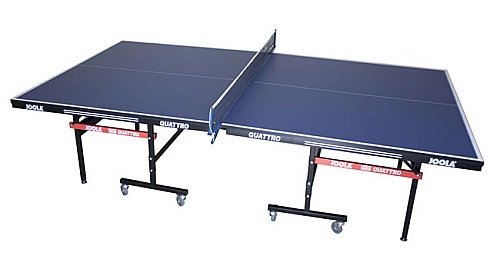 Intermediate
Intermediate tables focus on durability. Many of these tables fold up and stand on wheels for easy storage.
If you expect to move your table occasionally to make room for gatherings in your basement or game room, an intermediate level table will withstand this kind of wear and tear.
Advanced
These are competition tables that meet tournament standards set by the International Table Tennis Federation. These ping pong tables have a thicker tabletop (at least 3/4″), which results in a consistent bounce over the entire surface.
Indoor Tables
You can buy an indoor ping pong table if you wish to exercise every day without worrying about the weather condition.
If you are unsure which one to choose from, you can refer to Tips For Choosing An Ideal Indoor Table Tennis Table.
An indoor table will let you exercise every day, but it is a sport you can enjoy playing for hours. It is not like other fitness or aerobic exercises that make you exhausted in a short time.
If you want to lose weight and keep fit, getting an indoor ping pong table would be ideal.
Before getting one, you should figure out the things you need to know about indoor table tennis tables.
Outdoor Tables
Table tennis is an indoor sport, and when the weather is pleasant, who wants to stay inside? A thin aluminum coating on outdoor ping pong tables makes them resistant to warping and moisture. If you choose an outdoor table, be sure to purchase a quality cover to protect your investment.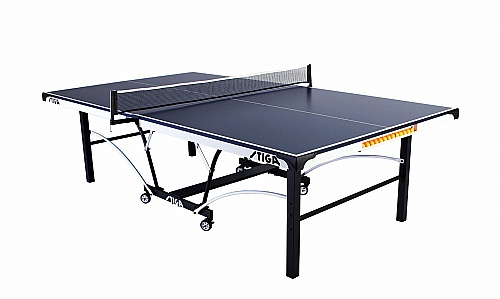 You can learn the benefits of getting an outdoor table tennis table if you intend to get one.
It is also suitable for you to know how an outdoor ping pong table can affect your game if you are a serious player and wish to do a lot of practice outdoor to improve your skill.
You can check out some great outdoor tables that are recommended here. There are many best outdoor table tennis table reviews you can refer to. These reviews will help you learn the different tables, pros and cons, and their features.
Assemble Guide
After you get your new table, it is time for you to set it up. Before doing the installation, there are some precautions you need to remember.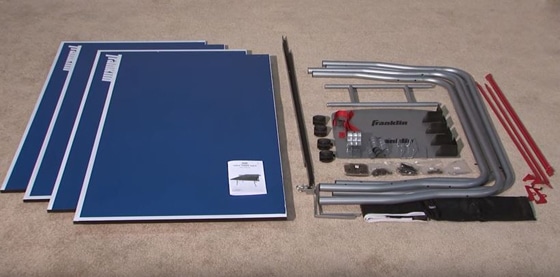 When you first receive your table in the packaging, you should immediately unwrap it and check if there is any damage during the courier transportation. Also, check to see if there's any warping on the tabletop.
The next thing would be to check all the accessories and parts are in place without any missing item. Now assemble the table. Some outdoor tables can be cumbersome and cannot be assembled by one person.
You need to read the assembly guide and user manual before you start your installation. If two-person is required, you need to find another member to help you set up the table.
You can read the table tennis table assembly guide here and know all the things you need to know about table assembling.
Different Brands of Tables
Famous ping pong tables include Butterfly, JOOLA, STIGA, KETTLER, and Killerspin. Other brands include Cornileau, Prince, DHS, Franklin Sports, EastPoint, Hathaway, and Sportcraft.
Here are some reviews of different brands of tables we have done for you, and you can check out the brands and the models.
Butterfly
JOOLA
STIGA
KETTLER
Killerspin
Cornileau
Prince
DHS
Franklin Sports
EastPoint
Hathaway
Sportcraft
Adidas
Cheap or DIY Table
How do you define a cheap ping pong table? A low-quality table but selling at an affordable price? Cheap does not necessarily mean poor or bad. It's best to say a cheap table can be sturdy, durable, safe, and can last for many years.
So, when you want to buy a cheap table, pick the foldable types that feature roller casters with breaks. This will ease the job of transporting and moving for storage.
However, if you do not even want to spend money on purchasing a table and would love to customize it in a certain way, you may consider a do-it-yourself. Making a table is not difficult for an experienced wood professional.
If you have woodworking experience and would love to DIY your ping pong table, you can plan and build it independently. Remember that a standard ping pong table that complies with ITTF regulations would need to be the size of 5 inches x 9 inches. Don't fall for other plans that suggest a different size.
You can refer to the DIY table plan video and follow it to build your table.
Convertible Top with Playback Feature
Convertible top tables have a playback feature. A player can lift one side of the ping pong table up to act as a backboard for practice sessions. Most beginner ping pong tables have this feature as do some intermediate tables.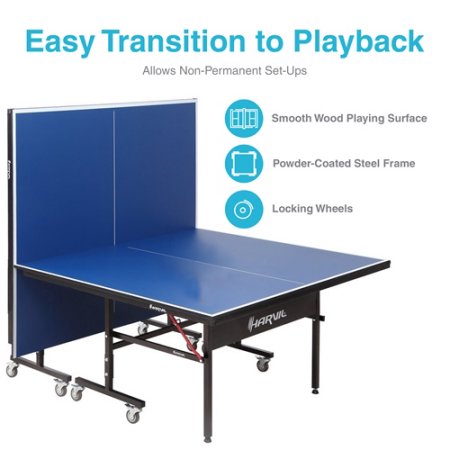 Rollaway Tables
Many intermediate and advanced tables have a rollaway feature. You can easily fold up the two halves of these ping pong tables with the help of a chassis on wheels. Once the table is folded, wheel it into its new position or storage.
Look for thick frames, multiple connections between the frame and the table, and between the frame and the wheels. The highest quality rollaway tables have oversized frames with the most connection points to maintain a stable playing surface when the ping pong table is unfolded.
Stationary Tables
Stationary tables are for every level of play. They are more stable than the rollaway versions. However, a stationary ping pong table can occupy a lot of your living or garage space. Before choosing a stationary table, make sure you are committed to dedicating a particular area to your ping pong table.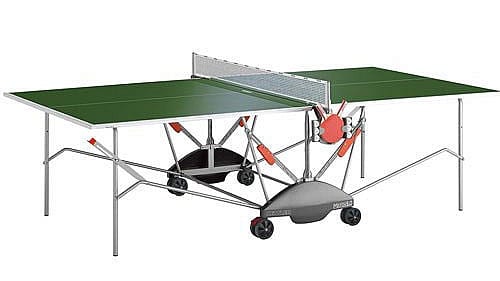 Table Tennis Conversion Top
If your room space is already occupied by a pool or billiard table, and you still wish to play ping pong, it is now possible with the use of a table tennis top.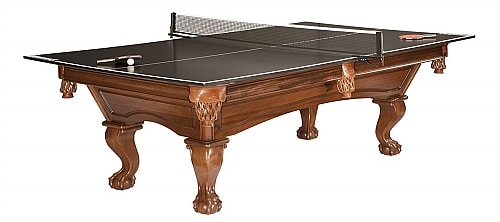 You can get one of these conversion tops and place it on the surface of your pool or billiard table, and it will immediately turn the surface into a table tennis table surface. It is a brilliant creation from the table tennis providers. It is designed to help households save space and money.
If you love to play table tennis and your existing snooker table, you can try to figure out various table tennis conversion top that you can find in the market and pick one for yourself.
Compact, Mini, and Midsize Table
There are also many non-standard size table tennis tables available that cater to amateur and recreational play. These tables are of mini size. They are easy to fold and only need small room space to play the game.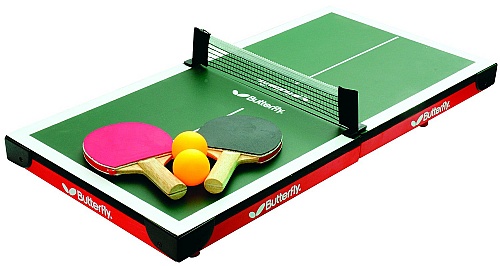 Some tables are compact and portable. You can travel with them wherever you go.
You can check out our mini table guide to learn more features of the table. As of now, you can find many cute and mini table tennis tables on the market for you to enjoy playing the game anywhere you want.
Some reputable manufacturers are manufacturing these types of tables, and the different models that available are:
Floating Ping Pong Table
What other activities can you do other than swimming in a pool? Well, with the advent of the floating table tennis table, you can now even playing the game while you are in the swimming pool. It can be delightful for you to have fun with your friends and family members, especially during the summer.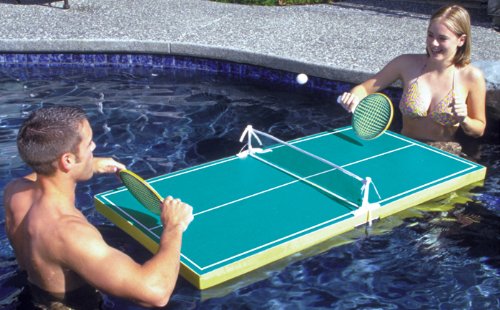 Check out more on the floating table tennis tables where you can get one in very affordable price and having fun with.
Buying Guide
Last but not least, the table buying guide. Some guides help you pick the right tables for you other than what we mentioned in this post. 
These may shed some light on them.
A Last Look
The standard ping pong table is nine feet long by five feet wide, but that doesn't mean they're all the same. Table thickness runs between 1/2″ and 1″ thick. For a faithfully consistent bounce, nothing less than 3/4″ will do. Frame stability is vital for performance. Look for girth in the chassis and plenty of contact between the frame and the table.
Finally, look around at your living space and who will play at your ping pong table. These factors will best determine the optimal ping pong table for your home.