This JOOLA Tour 1500 Table Tennis Table is one of the best sellers for the company. This is their new advanced table and was designed by having the zealous of ping pong player as their intended purpose.
The table is quite similar to another JOOLA's table which is JOOLA Inside. But there are many improvements in terms of technology and material used to build this table. So it is a better quality one compared to JOOLA Inside.
Throughout the years, JOOLA has devoted to develop a ping pong table with top quality and specific features that match consumer requirements. All the recreation places can get the tables in place and enjoy playing the games for many years without the need to worry about the table getting damage.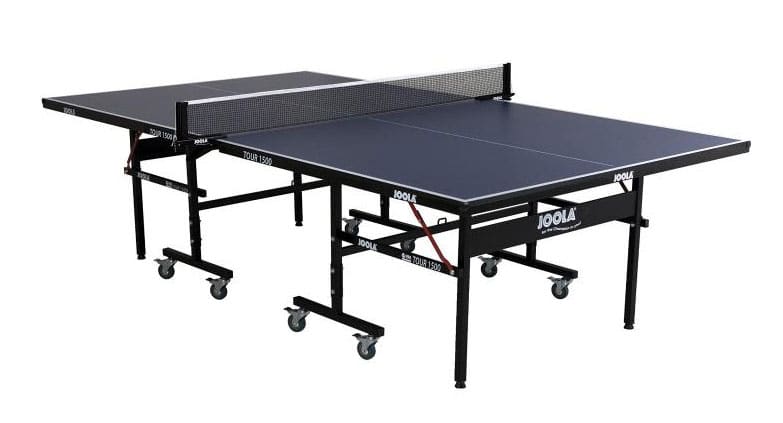 Features:
Assembly Time: Less than 20 min
5/8 Inch MDF Blue Painted Table Surface for improved playability and performance
Two Separate halves allow for easy mobility and compact storage, Playback mode compatible
Includes tournament grade net and post set
Leg levelers help create an even playing surface
Net weight: 195lbs
Frame thickness: 30mm
Package dimensions: 63″ x 57″ x 4.5″
Easy Assembly
Once you receive the table, you can set it up and most probably you will notice the table is of high quality and the playing surface of the table is very sturdy.
Generally, JOOLA will ensure all the tables that were ordered and shipped to customers are being packed and reach customers' location in good condition. Most people found that the table can be complete assemble in less than 20 minutes but some people may spend more time than that.
The construction of the table is extremely good and caters all the features for your needs. The table has come in 2 halves, and each table half has its own wheels which allow you to move easily and store nicely in a horizontal condition.
The net that comes together with the table is undoubtedly very durable. The installation of the net is simple and is very tightening up. You may just take about 30 seconds to install it since it features with spring clamp and tension & height for easy adjustment.
Some people may find this table is not cheap for the price that it's asking for, but you should found it is actually well worth the money that you pay if you take into consideration where this table is of premium quality which can let you play for many years.
Sturdy Playing Surface
The table is constructed with 5/8 inch MDF Blue painted surface. The surface is very sturdy with the use of this quality material. It can offer you with very good and consistent bounce every time you play by having the ball hitting the table surface. Such quality bounce will make you have a good feel when you are playing with this table tennis table.
Lockable Caster Wheels
The Joola Tour 1500 table comes with 4 lockable caster wheels where you can lock them up when you have placed the table at the right position. You lock the table is for the safety purpose and also it will not be moving from its position when you are playing.
Net and Post
The net and post are built with high-quality material. It featured with adjustable tension so that you can adjust the tension of the net to the proper height so that you can play a proper game with the right height of the net.
When you fold the 2-halves of the table in the storage position, you will need to take off the net and post because they are connected between the two sides of the table. This can be a little inconvenient for some people but generally is not a big deal.
There some clamps that are like large clothespins come with it. You can use the clamping frame to clamp right on the middle of the two table halves.
Ideal Table for Intermediate Players
If you are an intermediate player and in need of a quality table that can meet your requirements, then you should consider buying this JOOLA Tour 1500 Table Tennis Table.
It will be fulfilling your needs and wear well. If you still hesitating to decide on which table to go after, then it is good for you to look for more reviews about this table and you will be more convincing for your purchase and please with your decision.
We highly recommend this JOOLA Tour 1500 table to all players who are searching for a table of recreational use and desire for compact storage.
Besides this model, there are a lot of different tables available on the market. You can find out different table tennis table prices and get the one that best suits your need.
Pros:
Easy to install and assemble.
The tabletop is very sturdy and offers players with good bounce.
You can lock the casters and make the table locked safely and firmly on the place.
Cons:
The table can be very heavy and not easy to carry from one place to another.
The net and post need to be taken off when folding the table for storage.
Even though I think this table is suitable for intermediate table tennis players, but there are actually many households are buying this table to place in their house for recreational play. They are buying this table because of its sturdy playing surface and the caster wheel that come with the table. It is easy for them to roll and move for storage.
So other than for them to enjoy playing the game with the quality table surface that can offer them with great bounce, they find the table is also not so hard for them to fold up and move for storage when they finish playing the game.
If you are looking for this table, you can get it from Amazon. Other than Amazon, you can also check out at Megaspin to figure out more.
Other Joola Table Reviews: