Wish to play ping pong at home but do not have enough room to fit in a full sized ping pong table? Well, now you are able to do so by purchasing the Park & Sun Sports Mini Table Tennis Table.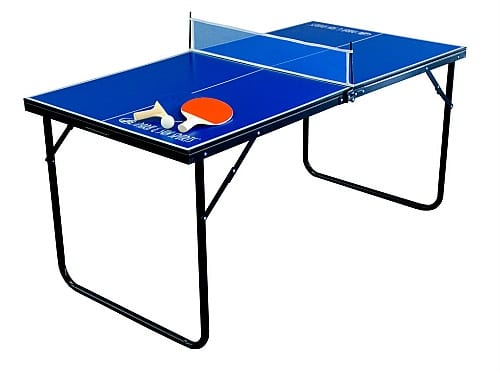 This table is an action pact table that can offer you with a lot of fun and excitement that you can get with a standard sized table tennis table. Since the table is of mini sized, there is only little playing space is required and you can enjoy playing the game anywhere in your house. No more frustration for you to think of where to put the table anymore.
Ideal Table for Kids
The table features with a dimension of 60″ (length) x 30″ (width) x 28″ (height). It is ideal for kids who can be too short to play on a full sized tennis table. The table is manufactured with an MDF melamine table top and durable legs and steel frame.
You can set the table up quickly when you want to play. Once you finish playing, you may just fold the table and take it away for storage. The table is tiny enough where you can even store it under the bed or in the closet.
And, the good thing with this table is that it is built with a carrying handle and hook-and-loop closure which make it very convenient for you to carry the table from one place to another.
Despite the fact that this Park & Sun Sports Mini Table Tennis table is a mini size table, it nonetheless provides the comparable playing action as a full sized ping pong table.
Beware of Weather Condition
If you bring the table to play outdoor, you need to aware of the weather condition. This table cannot withstand heavy rain, it is water resistance at a certain level, but is not really waterproof. If there is rain, you better keep in under good cover by not having the table getting wet.
Also, this table is lightweight. It cannot withstand strong wind as well. If there is a strong wind blow when you are putting the table outdoor, you are better to keep it for storage. Otherwise, the wind may blow away the table.
Features:
Includes: 2 Rackets and 2 Ping Pong Balls
Surface Thickness: 0.5 inches
Surface Material: MDF
Frame Material: Steel
Care and Cleaning: Wipe Clean
Manufacturer's Suggested Age: 12 Years and Up
Safety and Security Features: Leg Support Braces
Dimensions: 28.0 " H x 60.0 " L x 30.0 " W
Table Height: 30.0 "
Table Length: 30.0 "
Weight: 47.0 lbs
Required Assembly: No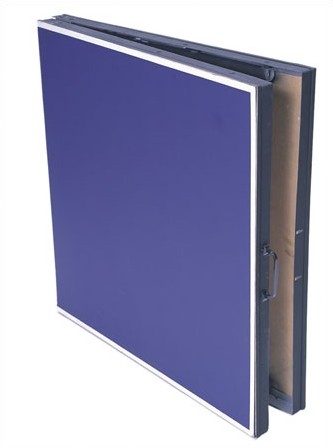 Conclusion
All I can say is this table is of perfect height and designed with ideal height by considering the average height of the kids. The distinctive design makes the table rather easy to assemble, folding and transporting. Once you get the table, you can just open it up and play the game right away.
In case you are in search for a min and uncomplicated table for your kids, then you may consider of buying this Park & Sun Mini Table which can offer you lot of fun and excitement for your kids to play with. And if you only have limited space in your house, then again this table will fit in well as it is of small size ping pong table which will only occupy a small portion of your house space.
If you did a lot of traveling with your kids during the holiday, you can get this table, pack it and bring it around with you wherever you go. You can have some exercise even when you are enjoying your vacation. You can set up the table at the beach, garden, or park and playing the game right away. For sure you will have a lot of fun with it.
This is a useful table especially you are going outdoor very often with your kids. I have bought one and my kids are loving to play with it very much. I will bring it together every time we go picnic or camping. It just gives us a lot of fun.
You can consider getting one if you also going outdoor very frequent. You can buy one and your family will definitely like it. If you intend to get one, this table is available at Amazon.

More mini table tennis tables of your choice.