Among the most popular table tennis tables sold in the world are STIGA table tennis tables. The sports' enthusiasts fell in love with the design, gameplay, and innovation of these tables.
STIGA ping pong tables, though not quite as popular these days as a brand like Butterfly, are still quite widely used for playing the sport, which is a fast-paced, enjoyable, recreational sport and past time.

With more than 60 years of expert experience in the industry, the best STIGA ping pong tables are right up there at the top. They have positioned themselves as a leader in the world of table tennis, producing everything from mid-size tables to the much appreciated STIGA outdoor ping pong tables.
It was in 1934 that Stig Hjelmquist started STIGA. The company's ownership has passed from one company to another over the years – until 1944, when it finally landed in Sweden's Table Tennis AB.
From the quality and design of materials used, STIGA also works with the world's top players and coaches to contribute to the design and testing of all their products. With all the essential components that go into research, development, and manufacturing, you'll be able to play on the same level of equipment as your table tennis idols.
What Makes STIGA's Table Tennis Tables So Good?
Famous throughout the world, almost every table tennis fan is familiar with the STIGA ping pong tables on offer. The material's durability and the table's capability to provide a competition-like experience make it a preferred brand for players. At the same time, they also provide a range of other tables that suit a variety of purposes, like mid-size tables for families or the aforementioned STIGA outdoor ping pong tables.
Why You Should Buy a STIGA Ping Pong Table
Without STIGA ping pong tables, or an equivalent, you will be missing out on a lot that the game has to offer. This is because the best STIGA ping pong table have a high level of quality that lets you practice and execute the entire range of shots, unlike a poorer quality board which results in compromises regarding the same. And when you compare STIGA ping pong tables, you'll see you have everything from professional level tables to recreational tables for the family – meaning that it serves great for a full night of entertainment with friends and family, as well as more serious games.
Just Have Fun At Home With STIGA Table Tennis Tables
With the different STIGA table tennis tables on offer, you'll certainly find one that fits your needs. If you have friends coming in and want to entertain them, lead them your STIGA table and see how much fun it is.
The STIGA Aerotech Ping Pong Table is the ideal example of this. You can fold it up and store it conveniently. You can still save space in your home, or if you plan to see the sun while playing the game, take it outside and have a blast with little trouble.
Do your own research and look for STIGA ping pong table reviews (or check ours out!) and you'll see this kind of high praise is true for most of STIGA's tables!
Be Prepared for Any Competition
STIGA is perfect for those who want the feel of playing in a competition. There are tables in the market that do not fit the standards set for table tennis tables, but STIGA is not one of them. STIGA's table tennis tables will present you with a good setting if you ever want to try out for competitions.
In the past, you had to work hard and practice a lot to get ready for a competition. The problem was the table that you were using did not match up to the required dimension. Once you entered the competition, it was as if you were testing the water for the first time.
Don't let this happen to you—practice with competition grade equipment. The STIGA Prestige Ping Pong Table is perfect training to prepare you for any competition.
STIGA table tennis tables provide you the training that you need as an athlete aiming for tournaments wins. For more information, click here to learn about the different table tennis tables offered by STIGA.
STIGA is A World Dominating Brand for Table Tennis Tables
The Swedish National Team and China dominate the table tennis world. Both of the world's leading teams prefer to use a STIGA Table Tennis Table as their main choice for practice and competition. Swedish and China know the importance of using superior equipment to complement their skills and drive. Sweden has a ten and a half year agreement to continue to use STIGA as their main table.
Some Famous Tables Manufactured by STIGA
1. STIGA Expert VM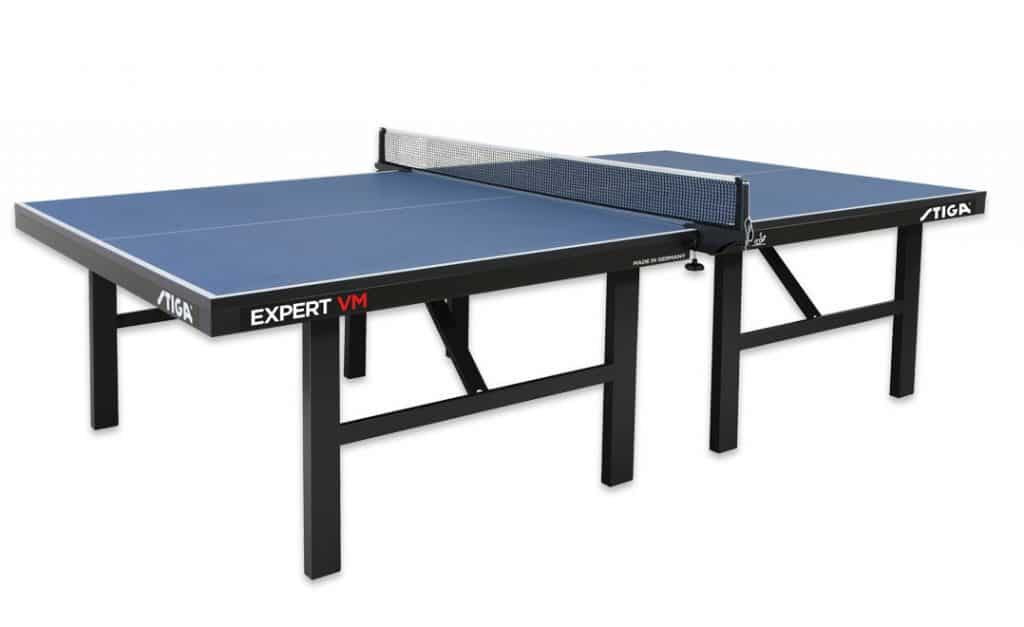 A popular choice for the connoisseur, the STIGA Expert VM is a top quality table. It has been approved by the ITTF, and is highly durable. This is suitable for the serious table tennis player, and is ideal for table tennis clubs. It also comes pre-assembled.
Features:
Type: Indoor
ITTF Approved: Yes
Table Playing Surface: 1.18″
Table Ship Weight: 362 lbs
Folded dimension: H56″ x W60″ x D7.5″
Table Play-Back: No
Pre-Assembled: Yes
Pros:
Separates into two parts, easy to store away
Has wheels for easy roll-outs
Can also be used in an outdoor setting, though with some effort
Cons:
Comparatively expensive
Very heavy at over 350 pounds
Better alternatives exist for indoor play
No fold-up mode for playback

2. STIGA XTR Outdoor Table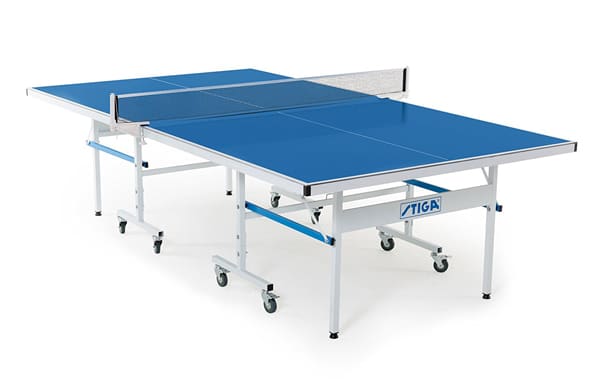 The STIGA XTR Outdoor Table is one of the more popular outdoor tables. It comes with a variety of features, including playback, composite folding and, most importantly, strong weather resistance! This is a great table if you have an outdoor space for it. We've written a review for the STIGA XTR Outdoor Table, so check that for a more detailed look at the table!
Features:
Type: Outdoor
Material: Aluminum
Dimensions: L63″ x W57″ x H4″
Pre-assembled: No
Table Playback: Yes
Weather resistant: Yes
Composite storage: Yes
Pros:
Built for outdoor play, resistant to all weather conditions
Levels allow for placement on uneven floors
Foldable, easy to store away
Playback possible
Cons:
Thin playing surface of 6mm, suitable only for beginners
High gloss finish results in prominent glare

3. STIGA STS 520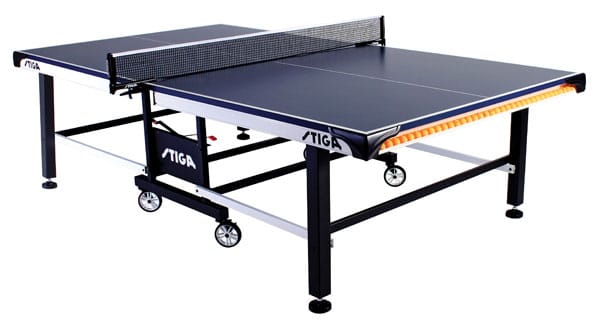 The STIGA STS 520 Table is a durable and reliable option with a 1 inch table top with silk-screen striping. It also comes with leg levers that allow for use on uneven surfaces. You also get a 72 inch clipper net and post system with the table. The table is something of a beast at 320 pounds, but that's what you get when you're looking at a high-quality tournament quality table. For more information, read our STIGA STS 520 Table review.
Features:
Type: Indoor
Material: Alloy Steel
Dimensions: L108″ x W60″ x H30″
Pre-assembled: No
Table Playback: Yes
Pros:
Tournament grade table
Has heavy-gauge steel legs with levelers for placement on uneven surfaces
Reasonably priced
Has storage space for table tennis balls
Cons:
Heavy and requires assembly
Cannot be used outdoors

4. STIGA Advantage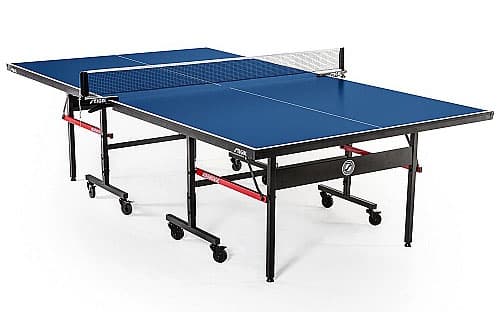 The STIGA Advantage Table is a good choice for beginners and intermediate players. As one of the more affordable options on this list, it's a good entry level table if you're thinking about getting your first table tennis table. It's also easy to fold and store away.  Learn more in our STIGA Advantage Table review.
Features:
Type: Indoor
Material: Alloy Steel
Dimensions: L108″ x W60″ x H30″
Pre-assembled: No
Table Playback: Yes
Pros:
Sturdy, high-quality and durable
Easy to assemble
Reasonably priced
Cons:
Not tournament standard, suitable only for beginner and intermediate level players
16mm thickness may result in inadequate bounce

5. Stiga Pure Super Mini Table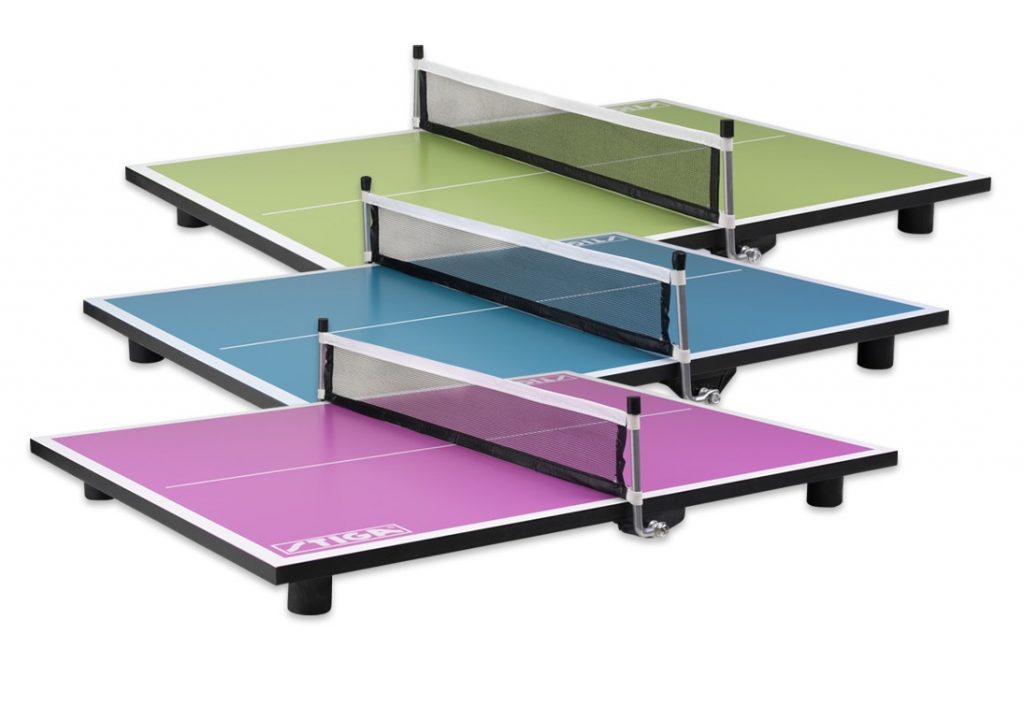 The STIGA Pure Mini Table is a super-small mini size table for the family – and is ideal for children to get started into the sport! STIGA does manufacture all sorts of tables to cater to different needs and the Pure Super Mini exemplifies that. It's in no way a professional table, merely a bit of fun way to play a bit of table tennis.  
Features:
Dimensions: L26″ x W20.6″ x H2.3″
Table Playback: No
Pre-Assembled: Yes
Pros:
Compact, easy to store away
Can be placed on another surface or set up on the floor
Great for children and the family
Cons:
Only meant to be used for fun and casual games
Most players will want to choose a decent, larger sized table

6. Stiga Midi Table Black Edition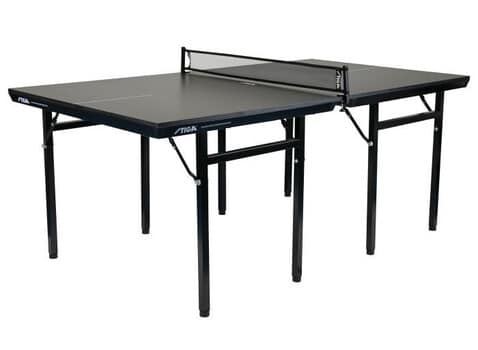 The STIGA Midi Table is an option for those who want a larger table than the Super Mini Table. It is much larger than the mini table, but also smaller than a standard professional table. Along with the ability to fold it up and set aside, this makes it a suitable table for home or office use. Intermediate layers will get a kick of out of it, while children and beginners will also be able to hone their skills with it.
Features:
Dimensions: L72″ x W40″ x H30″
Table Playback: No
Pre-Assembled: Yes
Pros:
Foldable, easy to store away
High quality fiberboard finish
Good for home or office use
Cons:
Not meant for serious players
FAQs
What are STIGA Tables made of?
That depends on the particular table, but most are made of alloy steel. Some are made of aluminum or fiberboard.
Where are STIGA table tennis manufactured?
STIGA tables are manufactured in Germany.
Are STIGA table tennis tables expensive?
STIGA table tennis table fall under a wide price bracket. You'll find some that are comparatively affordable, while others are priced in the range you would expect a tournament-grade table to be.
STIGA Table Tennis Tables Are Designed for Everybody
Different STIGA ping pong tables are available for players of all skill levels and ages. They generally folds easily for quick storage when not in use, and the wheels make it convenient to move. The tables have been designed with quality and durability in mind first, after which considerations such as size and portability come into play. 
It's clear that STIGA understands the needs of various players, and to that end has met the corresponding demands and provisions, and is an excellent manufacturer of table tennis tables