The Advent of Double Happiness(DHS)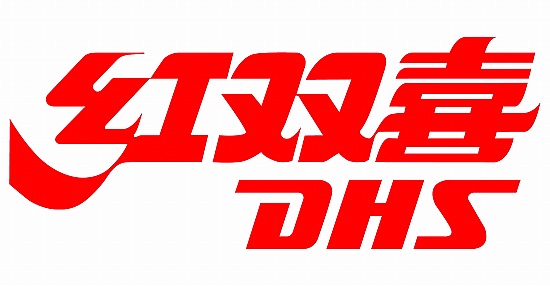 In 1959, Rong Guo Tuan(容国团)won the first world champion in table tennis for China. In the same year, Beijing won the first bid to host the 26th World Table Tennis Tournament.
Due to this, China started to think of manufacturing equipment that would make China appear in the world tournament. Quick enough, equipment that met the International Table Tennis Federation (ITTF) standard was introduced.
This equipment included a table tennis table, ping pong ball, blades, etc. They were manufactured in Shanghai and were certified and approved by ITTF.
In 1959, during the 10th anniversary of China the Republic of China was established.
To commemorate the 10th anniversary of the National Day and celebrate Rong Guo Tuan for winning the first world champion for China, the then prime minister, Zhou En Lai, used a festive color of "Double Happiness" to name the products and traditional Chinese double happiness pattern as a trademark.
Two years later, during the 26th World Table Tennis Championships, all the equipment used was from DHS. The brand has become the first Chinese sports brand that appears in the world's top sports events.
Market Share
Currently, the market share of DHS of sports equipment stands in the first place in both China and the global market.
In China, the market share is about 40%. The DHS product usage of the China national table tennis team reaches 90%. 70% of international table tennis tournaments using DHS ping pong ball.
Anyone can easily buy DHS table tennis equipment in all regions of China. Europe, Japan, and Southeast Asia are also key usage areas of DHS sports products.
Characteristics of DHS Table Tennis Tables
Well resistant to Friction and Heat
The latest material used to build the table surface has a hard protective layer of thin film, which makes the table surface become more abrasion.
Sharp objects such as ball pen, knife, and others are difficult to leave a mark on the table; even if you put scalding hot water on the table, it will not leave any burn marks. It makes the table long lasting.
Matching with Home Space
All houses are built with different spaces and require different sizes of tables to match the room size. Most of the DHS table tennis tables can be folded and move with caster wheels. With such features, it can save space for family utilization.
Safety
The DHS veneer tables have a locking feature at the bottom support structure to prevent the table from collapsing. The table's corner is designed with a rounded edge to reduce the collision to people, especially children.
Here are few models of DHS table tennis table that are famous and commonly favored by players:
T1024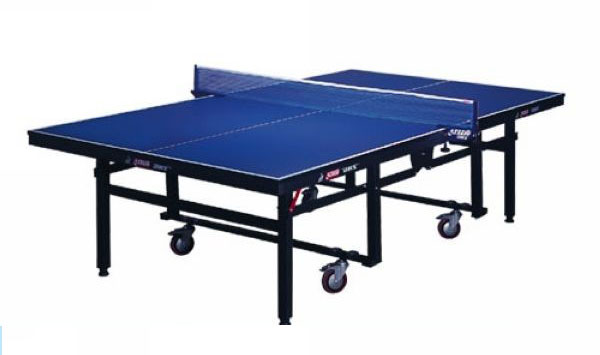 Using 50 mm metal pipe, surface spray, leg-mounted inside with a diameter of 100 mm, and brake casters. Outer leg feature with height adjustment. The table is equipped with casters with brakes and red support gear.
Technical analysis:
Made in June 2002, the tabletop of this T1024 model was blue. The blue stain on the surface can reduce the "visual interruption" to athletes.
Specification
Table Top:274 x152.5cm

Height:76cm

Bounce:22-25cm

Average Bounce:≤0.5cm

A gloss of Table Top:≤4 GU

Friction Coefficient:≤0.3

Stability:≤0.7mm
T2125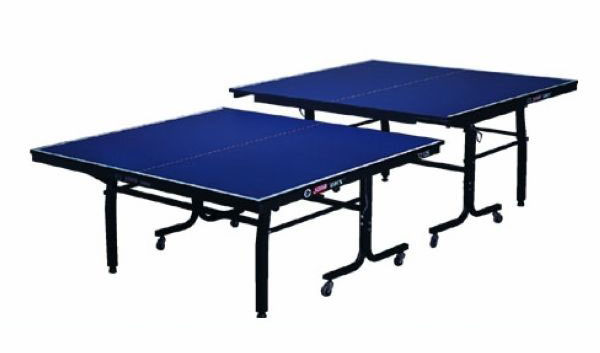 The tables are specially made with a dedicated surface. It features surface spray, and the leg is built with a 30 × 60MM metal filling tube. Fitted with casters, and outside leg is installed with a height adjustment device. There are two gears (660,760mm) in the height adjustment device for lifting.
Specification
Table Top:274 x152.5cm

Height:76cm

Bounce:22-25cm

Average Bounce:≤1cm

A gloss of Table Top:≤4 GU

Friction Coefficient:≤0.4

Stability:≤0.7mm
T3326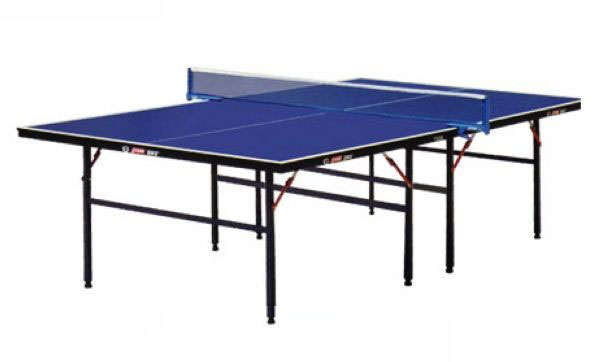 The table is installed with 2.30mm metal pipe and surface spray. It is specially designed for leg components with good flatness. The legs of the table are fitted with height adjustment and are foldable.
Specification
Table Top:274 x152.5cm
Height:76cm
Bounce:22-25cm
Average Bounce:≤1.5cm
A gloss of Table Top:≤ 10 GU
Friction Coefficient:≤0.6
Stability:≤0.7mm
T3726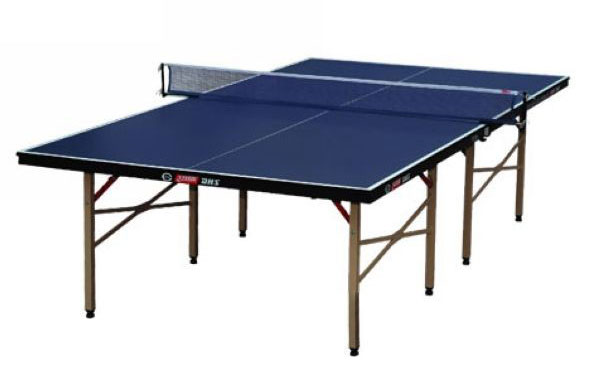 This table is made of high-quality steel pipe coupling to ensure smooth countertop. Corner of the table is connected with a double oblique angle block. The table top is made with especially painting coating. This makes the table have color uniformity, firm film, and good slip.
Specification
Table Top:274 x152.5cm
Height:76cm
TK2010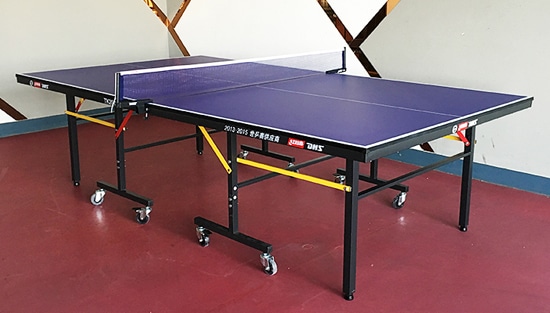 This indoor table tennis table can be stored in a recreational room, basement, or office.
The tabletop is made with high-density MDF material. The thickness of the table is 18mm. Such thickness of the surface can offer the player great and consistent bounce.
The tabletop is coated with new eco-friendly material. It is odorless, waterproof, and can protect against warping and scratching.
The legs of the table are made from galvanized steel. The leg's size is 4cm in width, which can provide excellent support for the entire table.
The table can be folded into one-half playback mode for solo play if you don't have a partner.
DHS T919 Mini Table Tennis Table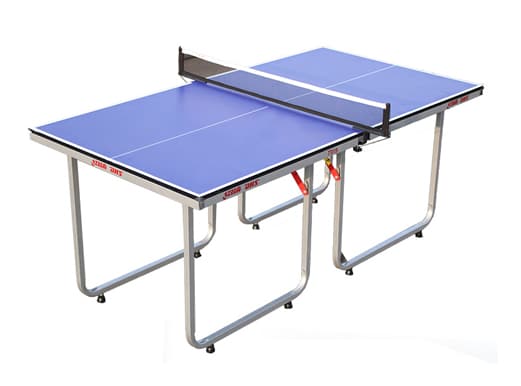 THE DHS T919 mini table tennis table is suitable for beginners to practice or for recreational play. The table is small in size so it won't occupy a lot of room space. Therefore, it is ideal for households with limited space, but still wish to have a table for entertainment.
Besides playing table tennis, the table is multi-purpose. It can also be used for playing board games, writing, dinner, and so on.
It is straightforward for you to fold and unfold the table. You can do it in just a couple of seconds.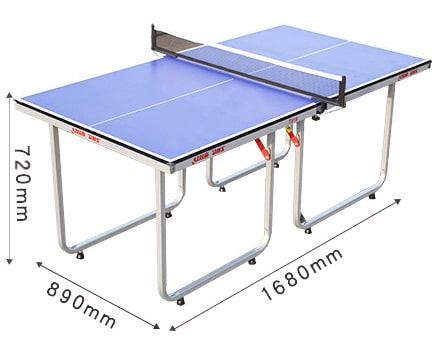 Dimensions: 168cm (Length) x 89cm (Depth) x 72cm (Height)
If you are interested in buying DHS table tennis tables, you may refer to the official website at DHS-TT