Do you have a hard time finding a quality mini ping pong table for a limited space in your apartment, condo, recreation room, or basement?
For the average family, sometimes it is a hindrance for them to play table tennis game due to insufficient room space in their houses.
If you want to play table tennis but are worried that if you have enough space in your house to fit in a table tennis table, you should look no further. The STIGA Space Saver Table Tennis Table is one of the highest quality mini ping pong tables available on the market. The table is designed to make it possible for any household to play in their houses without worrying about the room space.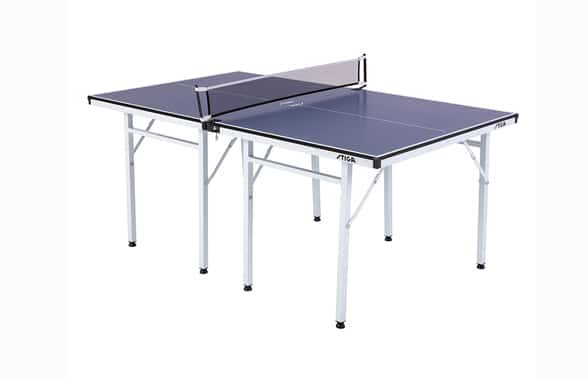 The table is constructed with MDF material and finished with a repeat roller coat process to create a smooth surface. It is also lined with silkscreen striping that is printed directly on the tabletop for a perfect finish.
The size of the table is 71″ (length) x 40.5″ (width) x 30″ (height). There is steel 1.25″ long on both of the legs and apron. They have welded support and levelers for security purposes. It can be a little too susceptible for its portable nature, but it wouldn't stop you from having fun with it.
What I like about the table is the legs are built with quality material. I can see they are very sturdy, and the shape is square. I would think they are much sturdier than some other ping pong tables constructed with thin aluminum.
Ideal Ping Pong Table For Limited Room Space
If you try to gather further information about this mini table, you will notice how great it is for you to have in your house. When we first set out to buy a home, we wanted to have a room that a ping pong table could fit in.
Unfortunately, we got no luck as we can't find any table that will fit in the room. After many years, I feel like a dream has come true by having this mini table. I am so surprised that this is such a solid table. It is sturdy, handsome, and of good quality.
The mini ping pong table is the way to go. And you can play – hit the ball hard and fast. The net and holders look and feel durable. We may even use it for card games and dinner parties and then ping pong afterward. It's awesome.
I then strive to point those who wish to have the same mini ping pong table in their house in the right direction to find the top mini ping pong table brand names like this STIGA table. Other popular mini table tennis brands and I would recommend considering also include JOOLA and Butterfly.
What is Mini Ping Pong Table?
If you do not understand a mini table, then here is some information for your reference. The small ping pong table is typically 1/3 the size of a full-size ping pong table (or table tennis table, as some like to call it).
Official mini ping pong table dimensions are 70″ x 30″, and some tables are even designed for portability so that you can take them to events, parties, or family gatherings. Choosing the right mini ping pong table size is very important! A portable one is ideal for traveling and easy storage.
This STIGA Space Saver Table is designed for those that have limited indoor recreation space. Regardless of the size, it is a blast to play on and help you hone your ping pong skills for competition on a full-size table.
If you are interested in this table, you can buy it from Amazon.
Features of the table
Quality construction

Easy to set up since no assembly is required

Portable

Come with 

net & post set

Small-sized

Light Weight

Ideal For Kids / Small Children

Solid Color / Finish / Surface

MDF tabletop

Affordable price

Multi-use as a card table

Warranty included
Is Table Waterproof?
The tabletop is constructed with MDF material, so it is water-resistant. But if you bring the table to play outdoor, you shouldn't let it soak with water if it is raining. The table is made of fiberboard, which is a composition of wood and other plant fibers that may get damaged if they are in contact with the water.
My Thought
Suppose you need to do some good exercises, especially during winter where you cannot do many outdoor activities like jogging and swimming. In that case, it is time for you to consider getting this table and playing table tennis inside your house.
Having this Stiga Space Saver table, as its name suggests, is a table made to save you space.
When you get this table, you will find it is super quick and easy to set up after you unbox and take it out. You can have it set up in less than 2 minutes, and you can start to play ping pong right away.
The Stiga Space Saver table's design can effectively save room space and fulfill the needs of people who love to play ping pong indoor. You should seriously consider getting one if you want to have some fun and play a sport during your leisure time at your house.