You may be excited if you get a table tennis table in your home. There are many families that growing up with a table tennis table. You may also have one in your basement where you play ping pong with your brothers, sisters, parents, relatives, or any of your friends.
You are having fun by challenged to a ping pong match in your basement. It was just like that really fun thing to do. But when we are growing up in a digital age where are people are busy in their virtual social network, and kids are watching their iPads and play video games all the time, the connection between family members tends to become less and less.
You know, with the domination of digital technologies, you really lose that bond and family connection when your kids are so connected with their digital devices.
We know the beauty of the digital age but we should also aware of the importance of unplugging. Sometimes, we need to set our digital devices aside and playing some ping pong games together. We can play, talk, laugh and challenge each other to enjoy good old-fashioned fun.
The Release of Killerspin UnPlugNPlay 415 Table
By carrying this purpose, Killerspin is releasing their UnPlugNPlay 415 table tennis tables. The company makes this table available to provide every family the chance to play ping pong in their household.
Specification of the Table:
Coating: UV coating
Frame Type: Innovative folding design
Table Top: 16mm MDF
Color of Table Top: Blue or Black
Setup Style: Rollaway
Feet: Adjustable
Weight: 210 lbs
Table Top
Killerspin is constructing the table top by incorporating nature's mathematical principles of beauty with the inspiration of the Fibonacci sequence. The table top is made of MDF and it carries a thickness of 16mm. It is featured with a scuff-resistant UV finish. It can offer you great bounce during competition. There are 2 colors available which are blue or black.
According to Killerspin, all ping pong tables that are released by Killerspin will feature an "area of artistic expression" along the net starting from the year 2021. With such a feature in place, it makes it possible for you to personalize the ping pong table by having your own artwork or logo.
Assembly
If you get this table, you will need to assemble it yourself. If you are having no idea how to set the table up, do not worry so much as you may try to order the table from Megaspin. You can then choose their White Glove Service that offers services that consist of inside delivery, table assembly, and box removal. So you can get rid of all the hassles you might have.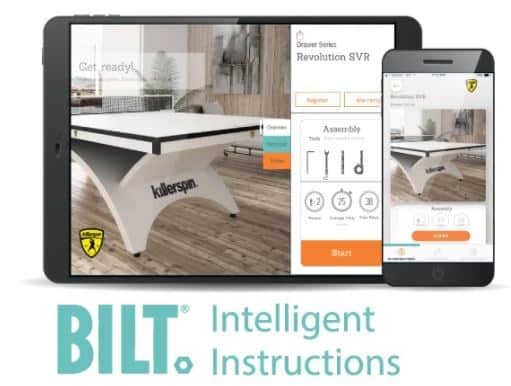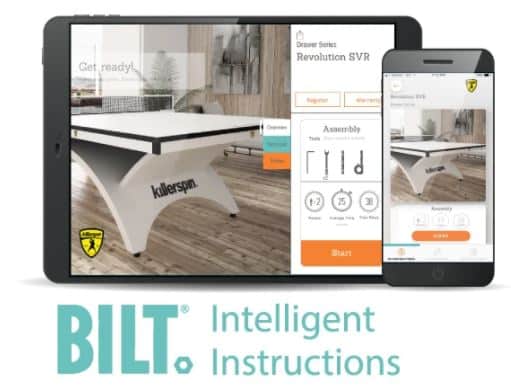 If you do not wish to spend extra money on this service, you can also assemble yourself by referring to the BILT application that is provided by Killerspin. In the app, you will find the step-by-step guide that can help you to assemble your table.
For Android user, you can download the app from here:



While for Apple user, you can download the app from here:


Net And Post
The table comes with a premium screw-on net and post system. The quality of the net is of premium quality and is built to last for a long period of time.
Folding Mechanism
The table is built with a lightweight folding design. You can simply fold up one side of the table and playing a solo game. If you want to fold for storage, you may just fold the table up completely and move for storage.
The table is featured with adjustable feet and four built-in levelers. You can adjust the height of the table if you place it on an uneven floor.
Pros
The table comes with built-in storage pockets for ping pong paddles and balls.
The price of the table is very affordable.
Heavy-duty table
Very sturdy and durable
Cons
The table is quite heavy and may require some effort to fold and unfold.
Conclusion
The Killerspin UnPlugNPlay 415 Ping Pong Table is designed for players of all skill levels. The price is quite reasonable and is affordable for most households.
What I love about this table is that it folds up so if you are just having a decent space in your house, you will be able to place the table in. Since the table can be folded up, so you can just put it aside and when you want to play ping pong, you can simply roll out the table and put it down. All you need is a paddle and a ball. You can have fun playing ping pong right away.
It's all about unplugging and playing and it's all about having quality get together moment without any electronic devices.