Testing and buying an all-weather table tennis table requires some special considerations. Will it hold up to the climate in your area? Does it require a cover? How well does the surface play, and how well does it stand up to wear and tear. Beyond all those specific concerns is the reputation not only of the manufacturer but also the model itself.
Everything about this table sounds and looks good. From a sturdy frame to an all-weather top to 1-inch steel legs. It also has locking wheels and leg levelers to accommodate uneven floors. While the Prince Advantage has some nice things going for it, nothing is perfect as with everything in life.
Assembly
The table comes pre-assembled. It may just take you 15 to 20 minutes to completely assemble the rest of the parts.
Tabletop
The top of the table is constructed with Compreg Technology. It is made of high-density wood that is impregnated and sealed with a finish that is water-resistance and has a real competition table's playability.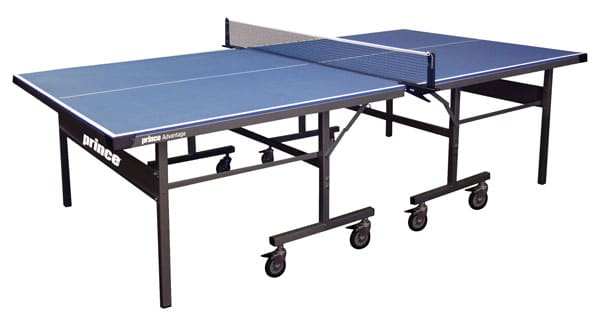 Net Set
When you buy this table, you will have the heavy-duty clip-on net set shipped together with the table. There are 2 table clamps for you to attach the net on both sides of the table—the spring-loaded clamp helps keep the attached net from sliding apart.
Table Legs
There are steel legs with 1″ width built for the table. The legs are made with Leg Levelers and crossbeam, which provide excellent support for the table.
Wheel Casters
There are 4″ heavy-duty rubber wheels with locks available for the table. With the availability of sturdy wheels, you can move the table smoothly to anywhere you want. The locking feature is available for the wheel to provide adequate safety by keeping the table in place when placed in the position.
Dimensions:
The Good
The Bad
Finally, regarding the weight of this table, think carefully about where it will be placed and whether or not the chosen location will support the table evenly. Wet grassy or muddy areas may allow different parts of the frame and legs to sink in more than in other places.
Additionally, any wet or muddy areas may cause the table's wheels to become mired in the muck, meaning it will have to stay put where it is until things dry out.
Conclusion
Sometimes a product description sounds so good, and it can make the reader think that there could be nothing wrong with it. The Prince Advantage table tennis table is such a product. Most likely, if you choose this item for its great features, you will have few if any problems with its quality. Be a careful consumer.
Consider giving the top a careful inspection upon delivery (and before the truck leaves) to look for any obvious imperfections. Once assembled, with a little TLC, this table should last you for years.
Read also: