It is always crucial to the battle for a table that meets your expectations. Among the many found in the market, the Double Fish 19mm 2.5 Inch is a world-class brand. The technology applied in building this ping pong table is at another level.
It meets the standards outlined by the International Table Tennis Federation, ITTF and has been used in global competitions for a long time. It is also used in significant table tennis events. It is a tool that has stood the test of time.
Specifications
The tournament-quality of Double Fish 19mm 2.5 Inch is evident. Besides its competition-grade standard size, the table comes with professional balls, bats, and net system.
Features:
Color: Blue
Thickness: 19mm
Frame: 40mm Square Metal Legs
8 pieces of Lockable Wheels
Playing Dimensions: 107.87 x 60 x 29.9 inches(274 x 152.5 x 760 cm)
Folded Dimensions: 60 x 19.7 x 62.9 inches (152.5 x 50 x 160 cm)
Weight: 110 kg
For many tables, such accessories are gotten separately. As such, purchasing this table saves you money and time. It is both an indoor and an outdoor table. It is thus convenient to use in homes, sports clubs, recreation centers, schools, offices, and community centers.
Being an international brand is an added advantage. All of us like equipment that meets established regulations. Being a global championship sponsor and approved by ITTF, The Double Fish 19mm 2.5 Inch is a perfect brand for various domestic and cross-border events. The top technology used in creating the table is unique.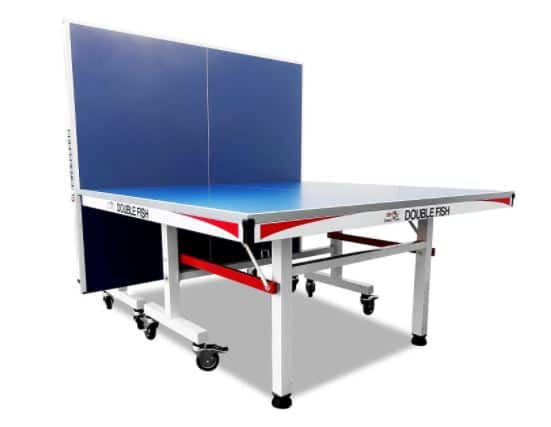 Tabletop
The Double Fish 19mm 2.5 Inch has a playing surface that is 2.5 inches in thickness, the closest grade to the global competition standards. The flexibility displayed by this table takes your play to the next level. You experience a different experience when using it.
With this table, you are guaranteed of a perfect play level. It has a high-density fireboard panel that is measured at 19mm. The fiberboard panel has a German curtain coating technology. You enjoy the excellent performance with elasticity, glaze and perfect friction.
Assembly
The table is 95% pre-assembled, meaning that setting it up is a hassle-free process. The process requires you just to use several bolts to attach the table. There is no particular expertise needed to set up the table. However, you will need 2 persons to set the table up.
Net and Post
The net and post come together with the table. The net is of great quality and you can expect it to serve you in a good way. You can adjust the tension of the net with the availability of the tensioner with the net.
Wheel Caster
The table is built with 40mm wheelbase and 8 lockable wheels which make it move easily and safely. The thicker steel rob provides an excellent bearing load and stabilization for the table.
Also, the presence of 8 lockable wheels helps in moving the table around. The table halves can be rolled using lockable casters.
It is effortless for you to move it for storage. All you need to do is to lock the caster and move the table to storage with face-to-face table top, then push down the brake.
Playback Feature
This table comes in 2-halves which is foldable. It has a playback feature which means you can fold one-half of the table for individual warm-up or solo play if you want to do the self-practice.
Table Weight
With a weight of 110 kg, the table is massive to shift or lift. However, with the availability of 8 pieces of 40mm wheels, it helps to move the table without much effort needed.
Durable
Sometimes we get frustrated when what we purchase gets damaged or becomes unusable after a short while. This is not the case with Double Fish 19mm 2.5 Inch. This table is built with quality material and it can last you for many years.
An Eco-friendly Table
It is environmentally friendly and also lasts for a long time. The table is created using Formaldehyde free materials. Also, no toxic gas is emitted by the equipment. Your health is assured.
Pros:
Well built table with an excellent playing surface.
Quality and lockable wheel casters ensure the safety of the table.
Cons:
The table is quite heavy.
What You Need to Pay Attention To
In order to ensure the durability of the use of the table, there are some precautions that you need to bear in mind:
1. This is an indoor table which is only suitable to play indoor. Therefore, you should try not to expose the table under the sun or rain.
2. If you want to clean the table, you can just use the clean water to rub on the table surface. Don't use a solvent liquid like thinner or gasoline to clean it.
3. Don't use any metal object to touch the table top which can damage the table top and cause it to be malfunction.
4. You can use a wet and dry towel to scrub the table stains to ensure that the table always stays clean.
Recommendation
Double Fish 19MM 2.5 Inch table offers nothing else but satisfaction. Previous users praise it for it's quality, stability, durability and efficient playing surface.
You can have this table and place it in your house, workplace, recreation center, school, community or sports club. You are going to have a lot of fun to play ping pong on this table with your friends and family members.
Having stood the test of time, this table offers you a different playing experience and does not harm your health or the environment. It is recommendable to all players, beginners, and professionals.
Double Fish and T&R Sports

One of the distributors for Double Fish table tennis tables is the T&R Sports. The company is using its name as the brand to sell the table. Therefore, sometime you will find the Double Fish table is brand under T&R Sports, they are actually of the same table.
If you are interested in getting this table, you can try to get it from Amazon.
You can read for more indoor table tennis tables reviews to find out more if this Double Fish is not your ideal choice.
Related post: