It is essential to choose the best ping pong balls if you are serious about playing this sport. You can't play the game properly without having quality ping pong balls. And there are a tonne out there, so it can be very difficult to know what you should buy. But fear not, we have done all the work for you. Everything related to ping pong balls is carefully outlined in this article so you don't have to do any painstaking research.
As it stands in 2023, the best table tennis balls are:
Why You Should Trust Table Tennis Spot
We here at Table Tennis Spot are experts in all things ping pong. We have a passion for the sport and a mission to provide the best guides for players all over the world. 
This means we sink a hell of a lot of time into our posts to ensure they are well-written and factual. We also do our best to amend our guides when new products hit the market to keep you as updated as possible.
We only ever recommend products that we would be happy to purchase ourselves, and we are not paid for endorsements.
3 Best Ping Pong Balls: At a Glance
8 Best Table Tennis Balls of 2023
#1. Nittaku 3-Star Premium 40+ Balls (Pack Of 12) — Best Quality Ping Pong Balls
Specifications
Rating: 3-star
ITTF Approval: Yes
Color: White
Material: Plastic
Nittaku has one of the highest reputations in the ping pong world. If you ask a player "What is the best ping pong ball?", chances are they will inform you it's Nittaku. You'll find few balls with better standing among players. As a result, this set of ping pong balls fundamentally constitutes a top-of-the-line product.
With its ITTF signature of approval, the Nittaku 3-Star Premium 40+ features at a host of major events throughout the world. Examples include the 2017 World Championships and the 2016 Tokyo Open. USA Table Tennis also recognizes the Nittaku Premium model as its official table tennis ball. 
One of the few table tennis balls made outside of China, Nittaku makes their balls in their facility in Japan. Currently, it only comes in white and you may notice powder on the balls when you first open them.
A surprising amount of research and development stands behind the Nittaku 3-Star Premium 40+. For instance, the company fashions the product out of a poly material only used by Nittaku. The material is non-celluloid plastic. Players give the ball high marks for hardness, roundness, and durability.
Pros:
Top ball manufacturer
Used in major events
Great roundness, hardness, and durability
Cons:
Expensive
May leave ball residue on your bat
Rating: 9.8
#2. Butterfly R40+ 3-Star Balls (Pack Of 6)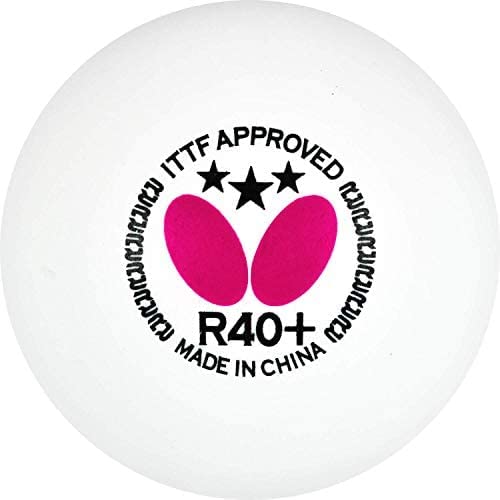 Specifications
Rating: 3-star
ITTF Approval: Yes
Color: White
Material: Plastic
The R40+ is the current top-performing Butterfly ball. The company is on its third-generation plastic ball with the R40+ replacing the G40+. Where the previous model was manufactured in Germany, the R40+ is manufactured in China. 
According to Butterfly, the ball is uniform, consistent, and more durable than previous models, and I agree. I was not a fan of their earlier balls as they were shiny and cracked far too easily. In fact, I opted for lesser-known brands as they seemed to produce better balls then. However, with Butterfly being the quality manufacturer they are, it was only a matter of time before they put out a quality ball, and the R40+ is just that.
Pros:
Top ball manufacturer
Used in major events
Consistent roundness
Durable
Cons:
Rating: 9.6
#3. Gambler P40+ 3-Star Balls (Pack Of 6) — Best Budget Match Balls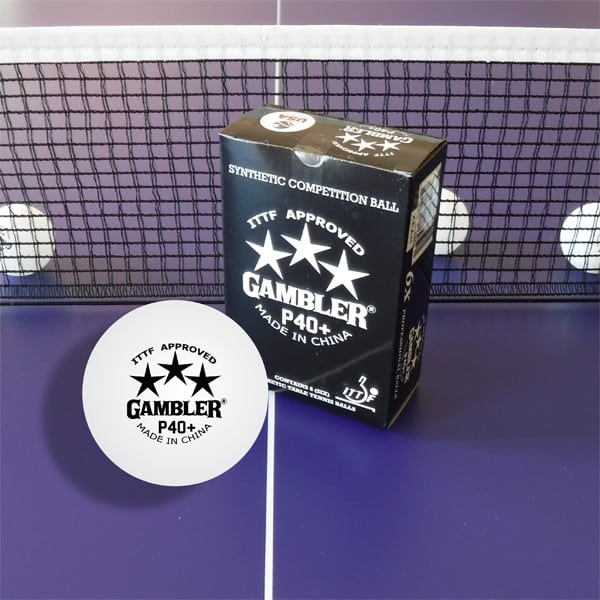 Specifications
Rating: 3-star
ITTF Approval: Yes
Color: White
Material: Plastic
While I have strict standards when it comes to table tennis balls, I hate overpaying, and for me personally, I struggle to cough up what Nittaku and Butterfly are asking for. For this reason, I seek out balls that provide excellent value for money whose quality is only a little behind the top models.
The Gambler P40+ ball fits the bill here completely. Each ball costs just $0.75.
Interestingly, the ball used to be seamless, but Gambler altered their manufacturing process as most other plastic balls use a two-part build.
Pros:
Super value for money
High performing
Carries spin well
Cons:
Not quite built to the level of the top balls
Rating: 9.4
#4. JOOLA Advanced 3-Star Training Balls (Pack of 60) — Budget Choice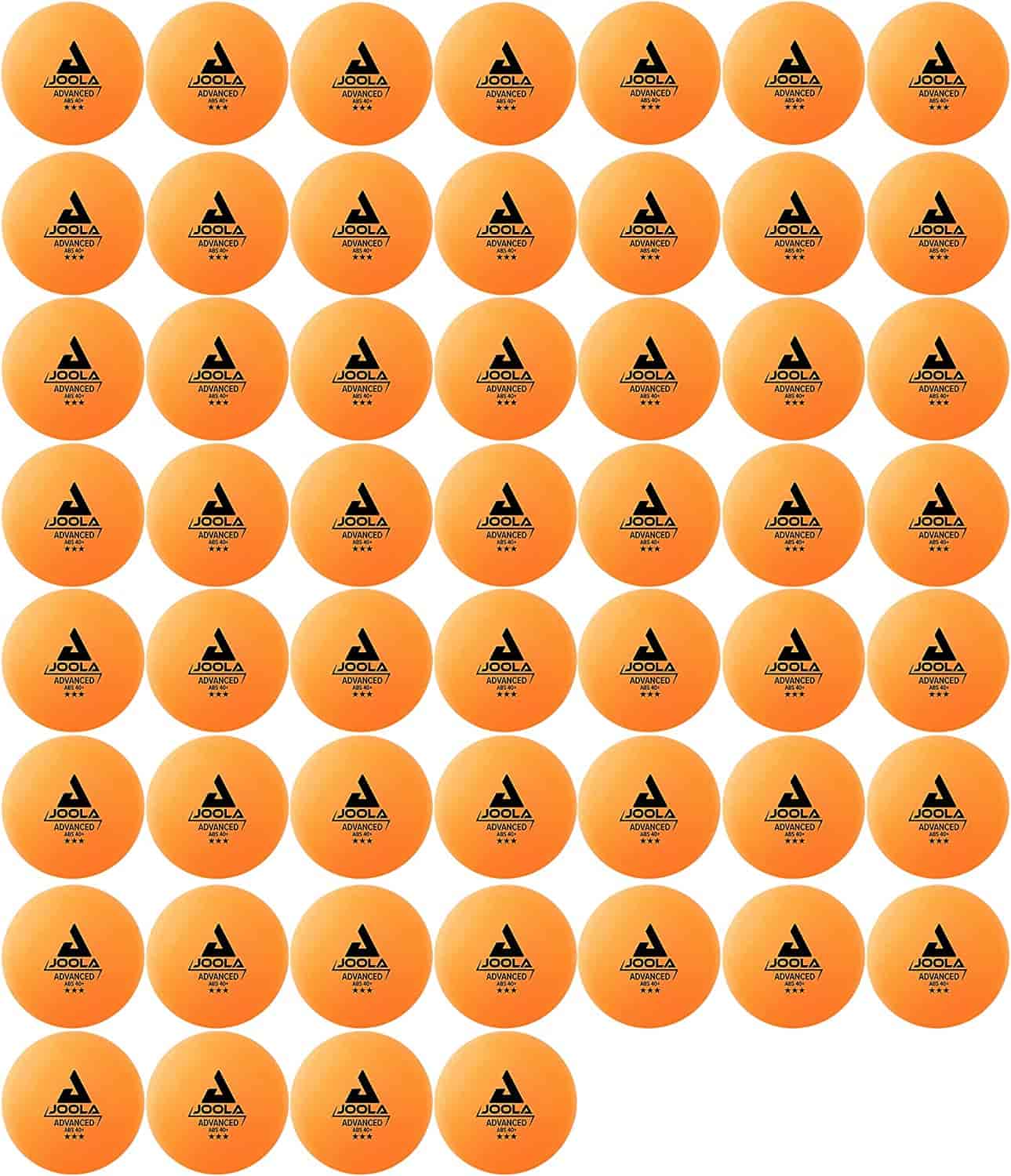 Specifications
Rating: 3-star
ITTF Approval: No
Color: White and orange
Material: Plastic
If you want to get as much bang for your buck as possible, you'll be hard-pressed to find a better choice than the JOOLA 3-Star ping pong balls. They come in packs of 12 and 60, but we recommend going for the 60 option. By purchasing in bulk the cost per ball shoots down to $0.17 per ball, which is simply incredible. 
However, it's not all sunshine and rainbows. These balls may be advertised as 3-star, but they are not. The only standardized rating system for balls is that of the ITTF, and the company does not approve these balls, so they have not passed their strict regulations.
That being said, they are still an excellent option. Especially if you need a lot of balls for the likes of robot or multi-ball training. Just don't expect top quality. You shouldn't use the balls in a serious competitive setting, such as matches in a league.
Pros:
Very inexpensive
Top ball manufacturer
Available in orange and white
Cons:
Not ITTF approved
Quality is noticeably lower than ITTF-approved table tennis balls
Rating: 9.3
#5. Nittaku 3-Star Nexcel 40+ Balls (Pack Of 12) — Top Quality Orange Balls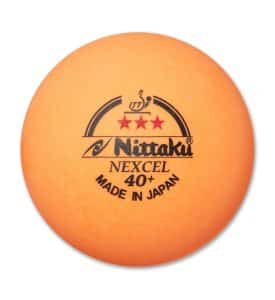 Specifications
Rating: 3-star
ITTF Approval: Yes
Color: White and orange
Material: Plastic
We noted that the product only came in white when we talked about the Nittaku 3-Star Premium 40+. Here, however, we have a choice to choose a different color. The Nittaku 3-Star Nexcel 40+ ball is marketed as the first orange 3-star poly ball that has received ITTF approval. 
This may seem like a mere cosmetic upgrade. Sure, some people might prefer orange to white… but how does that impact your game? Well, orange balls present a distinct advantage in areas with poor lighting or white backdrops. In these scenarios, they are far easier to track and provide a much better experience. I'd say having at least one pack of orange balls in your bag is a must for serious players.
Beyond this, the Nexcel ball provides stellar qualities that you would expect from a market-leading brand. You'll get excellent consistency and roundness — essential qualities for balls you will use in match play. 
Pros:
Top ball manufacturer
First approved orange 3-star ITTF plastic ball
Excellent consistency and roundness
Cons:
Rating: 9.2
#6. Sanwei ABS 1-Star Training Balls (Pack Of 100)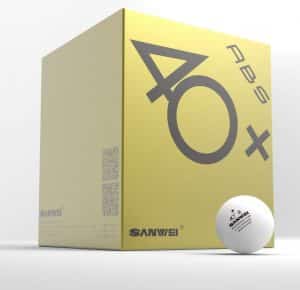 Specifications
Rating: 1-star
ITTF Approval: No
Color: White
Material: Plastic
Sanwei training balls, as the name suggests, are made for training, not competitive play. As such, they only meet the 1-star category and are, therefore, significantly lower in price than the premium products that appear elsewhere on this list. Keep that in mind if you are on a budget.
That said, if you're looking for a good ping pong ball for training, this provides an excellent option. You can use them when training with a partner or when using a table tennis robot. In fact, given the cost and its broad uses, Sanwei training balls probably represent one of the best price values on the market. 
They also seem to play rather well for 1-star table tennis balls, with a consistent bounce and surface, and good roundness. Also, for a training product, the durability is sound.
Pros:
Super value for money
Great roundness, consistent bounce and surface
Comes with a large box for storage and transportation
Cons:
Has a 1-star rating

Can leave ball residue on your bat
Rating: 9.1
#7. PRO SPIN 3-Star Balls (Pack of 12)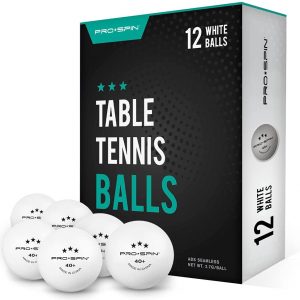 Specifications
Rating: 3-star
ITTF Approval: No
Color: White and orange
Material: Plastic
PRO SPIN balls do not come with an official ITTF certification. Therefore, they aren't approved for tournament play. However, the company has produced the balls to remain compliant with ITTF standards in both weight and size.
This means they arguably provide one of the best ways to get tournament-quality balls at a cheap price. This means you can save your more expensive balls for matches that require ITTF approval. 
Players speak highly of the ball's durability and PRO SPIN offers a 100% satisfaction guarantee with every sale. This should offer you a great deal of confidence when purchasing their balls.  
Pros:
Produced to meet ITTF requirements
Super value for money
100% satisfaction with every sale
Cons:
Relatively unknown manufacturer
Not ITTF approved
Not ideal for experienced players
Rating: 8.8
#8. Kevenz 3-Star Balls (Pack of 60)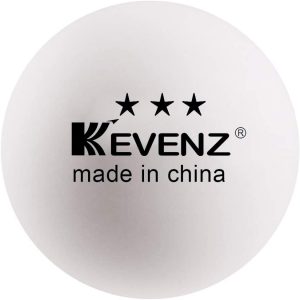 Specifications
Rating: 3-star
ITTF Approval: No
Color: White and orange
Material: Plastic
Here's another versatile, lower-cost option for you penny savers. You get 60 balls in a packet with the Kevenz 3-Star balls, which is a lot! Despite these balls coming from a relatively unknown brand, they perform fairly well and could be a good option for beginners.
If you plan to use them on multi-ball training, perhaps consider getting a ball collector to speed up the pickup process.
Kevenz 3-Star balls are available in both white and orange and have smooth seams.
Pros:
Provides good value for money
Good bounce and consistency
5-star reviews from buyers
Available in white and orange
Cons:
Relatively unknown manufacturer
Not ideal for experienced players
Not ITTF approved
Rating: 8.5


Ping Pong Ball Buying Guide
Do Ping Pong Balls Come in Different Sizes?
In a professional tournament, balls must have specific dimensions. The current rules state that they should be 40 mm in diameter. Previously balls were 38 mm.
This ball change slowed down the game and made rallies more exciting.
What Is a 40+ Table Tennis Ball?
Between 2014-2015, a new type of ball made with non-flammable plastic material was introduced to the table tennis world. The common name for it is the plastic ball, which is often referred to as the 40+ ball or poly ball.
These plastic table tennis balls are marginally larger than the 40 mm celluloid balls, so manufacturers imprint 40+ on the front. It helps you distinguish one from the other.
What Do Stars on Ping Pong Balls Mean?
When you're buying ping pong balls, you should look out for ping pong ball ratings. A rating of three stars represents tournament-grade quality and is the best in the market.
Fewer star ratings indicate a lower quality than what is allowed in professional tournaments. These balls are cheaper than 3-star balls and are not as durable.
Star Ratings of Ping Pong Balls
1-star practice balls.

2-star

training balls

.

3-star professional ping pong balls.
Some manufacturers sell 4-star ping pong balls and 5-star ping pong balls, but they are not better than 3-star balls. According to ITTF, a 3-star rating is the highest-rated ball that you can purchase.
Each ball receives its rating as part of the quality control process. Only the balls that meet all of the strict tests receive the 3-star classification. Those that fall just short are 2-star, and those with the lowest quality receive a 1-star rating. So what are the best ping pong balls? 3-star balls every time.
The difference between 2-star and 3-star may not immediately be apparent when you play with them, but the same cannot be said for 1-star vs 3-star. Such a difference is obvious. 1-star balls are much harder to keep on the table.
Besides the star rating, you should also look for an official ITTF certification when buying table tennis balls. Without it, you have no guarantee of the quality of a ball — this is why 4-star and 5-star balls exist. A ball backed by the ITTF is easy to spot, as the text "ITTF Approved" or the ITTF logo is stamped directly onto the ball. 
What Are Balls Tested On?
To achieve their ratings, table tennis balls go through a series of strict quality control procedures. These procedures test balls on the following characteristics:
Quality of surface
Veer
Hardness
Weight
Roundness
Consistency of bounce
White vs Orange Balls
Although orange balls are lacking in the market, you can still buy orange table tennis balls if you actively search for them. Besides the color, these balls offer no difference from their white counterparts. 
Many players dislike playing with orange as they are used to using white ping pong balls. However, groups of players including myself like playing with orange balls as they are far easier to track.
You experience your fair share of terrible venues when you play in local leagues. Be it poor lighting or white walls, you'll have a tough time keeping track of a white ball in such a setting. So having some oranges balls handy is certainly worthwhile in my opinion.
How to Choose the Best Ping Pong Balls
The best way to identify a quality ball is to look for a 3-star rating with accompanying ITTF approval. However, there are other characteristics you can look out for.
Firstly, ensure the ball doesn't have an immediately obvious seam in the middle. If you can easily see where the two halves join together, you should probably consider another ball. A clear seam often indicates a flat spot around the seam area which will affect its bounce.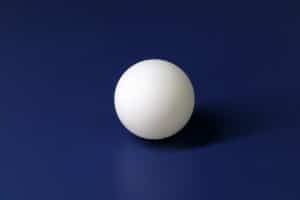 The second thing you can look for is the ball's firmness. Try pressing the ball to feel how hard it is. If the ball caves in, it is likely not good quality. 
The third aspect you can test is the roundness of the ball. Now by just holding it in your hand, it is often quite challenging to see if it is completely round. The best way to test it is to spin the ball on a flat surface.
By looking at it from the top, you can see if it wobbles. Think about spinning an egg — it wobbles quite a lot. A perfectly round ball will not sway.
Difference Between Plastic Balls With Seams, Seamless, and Celluloid Balls
Standard ping pong balls are now made of plastic since the ball change, but older balls made of celluloid are still commonly sold. It's helpful to know the differences between all available balls as you will likely find yourself using older balls at some point.
Like with the old balls, both seamless ping pong balls and those with seams are available. However, if you're purchasing a 3-star ball, the seam will probably not be noticeable. Instead, celluloid balls will present a more obvious change. Plastic balls on average, are slower and less spinny, they also bounce a touch higher. This can make swapping between the two rather difficult. As plastic balls are now standard, we strongly recommend just sticking with plastic balls.
In terms of the physical testing between the balls, you can see a comparison below provided by the ITTF. The differences here are minimal. There is no substitute for playing with each type of ball yourself to see how they perform.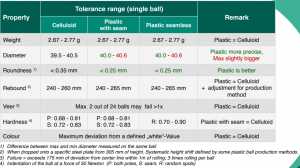 Conclusion: Which Ones Should You Buy?
How do you decide which ball makes the most sense for you? A lot depends on your situation.
At the higher end, you may be seeking elite tournament glory. But most people have modest ambitions. You might simply hope to develop a more competitive game —aiming to overcome your friends or prevail in your local bar league. 
Try to consider your aims and skill level when purchasing table tennis balls. You aren't necessarily looking for the best option; you're looking for the best option for you.
That said, considering the standards of table tennis balls, we've arrived at our choice for the best ping pong ball. From our point of view, the Nittaku 3-Star Premium 40+ represents the top ping pong ball on the market. 
The product earns this distinction thanks to its overall quality. It also receives points because of its standing within the highest ranks of the sport. The Nittaku 3-Star Premium 40+ has ITTF endorsement, a flawless reputation, and is a consistent, high-functioning product. It ticks all of the boxes for players of all levels.
However, you might have other priorities in mind. If you are looking for the best quality ball on a budget, the best table tennis ball is the Gambler P40+ 3-star. And for the ultimate cost-to-quality ratio, we recommend JOOLA Advanced 3-Star training balls. They are far from the top of the line, but incredibly cheap. 
FAQs
What Are Ping Pong Balls Made Of?
Previously, ping pong balls were made of rubber covered with cloth, but this was a long time ago. Celluloid then became the ball material of choice for many years before poly-plastic material replaced it. 
What Is the Diameter of a Ping Pong Ball?
The standard diameter of a ping pong ball is 40 mm. This equates to 4 cm or 1.57″.
What Ping Pong Balls Do Pros Use?
Unsurprisingly, pros have the strictest of requirements when it comes to balls. They need top-quality products even during training sessions. This means they will steer clear of smaller, less established brands, instead going for the top ping pong ball brands such as Butterfly, Nittaku, Stiga, and JOOLA.
What Color Balls Are Accepted for International Tournaments?
Most ping pong balls at international competitions are white. Currently, international table tennis rules only allow two ball colors; white and orange. Some people prefer orange because it is easier to see. 
What Is the Official Ping Pong Ball?
There is no official ping pong ball in table tennis. Any 40+ ball holding an ITTF certification is eligible for use at ITTF events. However, you could consider certain balls more official than others. This is because organizers choose brands as official suppliers for select competitions.
For instance, Butterfly was selected as the official sponsor for the ITTF 2021 World Youth Championships. So one could argue their latest 3-Star R40+ ball is the official ping pong ball.
However, to many, the Nittaku Premium 40+ is the de facto official ping pong ball. It is perhaps the most common ball at major tournaments. It has both served as an Olympic ping pong ball and a World Championship ball.
Is There a Difference Between Indoor and Outdoor Ping Pong Balls?
Outdoor ping pong balls are heavier than indoor balls. Playing outdoors means competing with the wind, and normal balls fly a little unexpectedly, even from just a slight breeze. Outdoor balls seek to mitigate this. They are noticeably heavier and are also more resistant to outdoor conditions.
The JOOLA Outdoor ball is such an example. It is 41% heavier than regular balls. Great for the outdoors, but we wouldn't recommend them for indoor play. 
How Are Ping Pong Balls Made?
If you would like to know how manufacturers make table tennis balls, watch this exciting video by Pingsider, which takes us inside a DHS factory.
Similar Reads