When choosing table tennis nets and posts, make sure you choose the ideal one that is right for you. They are very important equipment when playing a serious game. I'm sure you may want a net that is easy to set up and adjust correctly?
Some of them are come as a set, with paddles, while other alternatives include just the net, and posts for attaching it to a table. Have a look!
Necessary Equipment For Playing Ping Pong
A ping pong or table tennis net is obviously an equipment which is used for dividing the table while playing table tennis. It is usually made up of synthetic plastic, nylon mesh or cotton cloth, and can be affixed to a table via the post clamps very quickly. The net and posts are typically suitable for tables with thickness ranging between 16 to 25 mm. The most commonly used one is available in international tournament size.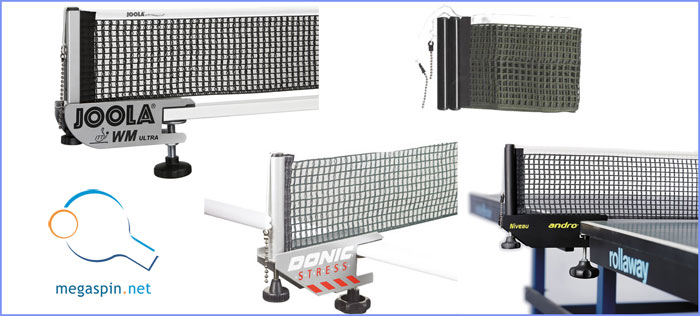 The nets should be of superior quality to facilitate competitive play. Steel extensions and metal posts make the ping pong nets adjust instantly and also render proper tension. 72″ nets fit almost all ping pong tables.
Your old table tennis net can be replaced by a new, highly durable one. High quality and versatility are the two major criteria which should be satisfied by the ping pong nets you wish to buy.
Table tennis nets and posts should always be:
6' long
6" high
Dark green
Dark blue
Black
White top tape 15 mm wide
The bottom length should be close to the playing surface. The end of it should be close to the supporting post.
It should consist of these items depending upon your individual choice:
Upright post
Net height adjuster
Horizontal part of net post
Clamps
These are the three types of net assemblies to choose from:
Permanently affixed to table
Spring loaded clip
Hand tightened screw clamp
Some additional options include the following:
Clamps – often felt-tipped that either screw on or clamp on. This secures the brackets without the table top being scratched.
Ring chains – the main purpose of this feature is to adjust the tension of the net.
Adjustable screws – meant to calibrate the ping pong net height to ensure that it fits table tennis tables.
Always use a table tennis net gauge tool which let you set up your net to the correct height. Setting it up has to be at the proper table tennis net height so the ball will not cross over too easy. This makes the game more challenging.
With that in mind did you know that there are a wide variety of table tennis nets and posts that you can choose from and the best part of it is most of them are available with affordable price? Here are a few selections available in the market today where you can take a look if you intend to get one:

STIGA Premium Clipper 72″ Net and Post Set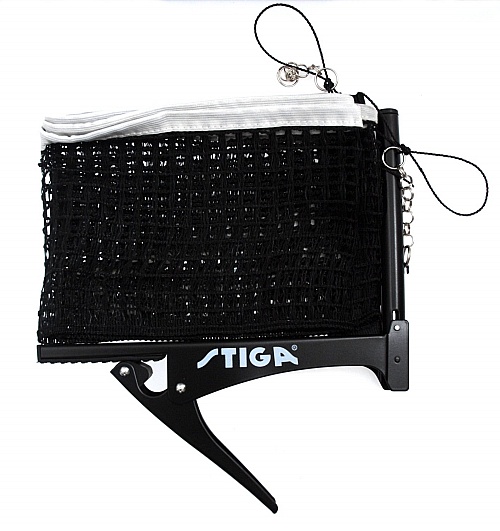 Stiga Nets are nylon mesh net, it is one of the best table tennis nets that constructed with metal post and can be used for heavy duty. It has a tension adjustment system and it comes with easy instructions. This table has halves which fold into each other. Each table leaf has its own wheeled base.
You may refer to this video on how to assemble and tighten this Stiga ping pong net.


JOOLA Club Set
Joola tennis nets come with a solid metal body, integrated height and tension adjustment. It is mounted with a clip system attachment. There is also the Joola permanent table tennis net set that needs no disassembling.

Butterfly Stallion Net Set
Butterfly table tennis nets and posts are high quality with screw-on, felt tipped clamps to secure brackets without scratching the table top. The ring chain allows you to adjust the net tension. The adjustable screws allow you to calibrate the nheight. This set fits tables up to 1.5" thick and the price is quite reasonable.

Donic World Champion Net Set
Donic Clip Net Sets are green and easy to set up because it has the same quality, height and tension adjustable features. It is a professional net and post with strong mounting brackets. This Donic ping pong net price is about $55 to $65.

Killerspin 603-03 Apex Table Tennis Net and Post Set
Killerspin Aurora and Apex net and post set is constructed with cotton material and is of heavy duty durable steel post. The post has rubber padding for table top protection. The price is about $40 to $50.

KETTLER Vario Indoor/Outdoor Net & Post Set
The KETTLER net & post set is constructed with a 66″ wide nylon mesh net. It has a tension adjuster tabs to easy for quick installation. This net set is fits for any table tops with the thickness of 16mm (5/8″), 19mm (3/4″), 22mm (7/8″), and 25mm (1″).

Yasaka Master Net Set
Yasaka Master Net Set is a collapsible metal net post that is make for easy storage and can be used for many hours.
It is a professional net & post set that feature with strong mounting bracket. The regulation height net conveniently attaches to the post. It has the tension adjustment and is ITTF approved.

Most of these table tennis net options come with a manufacturer warranty of 30 days. The posts are made up of heavy duty steel which gives maximum durability. The quality is improved by including systems for tension adjustment. They are easy to assemble.
The post is provided with a rubber or felt padding to give protection to the table top. In addition it provides a tight fit when attached to the table. Some table tennis nets offer an independent adjustment in the post, which is used to correct it's height.
Some stylish versions of nets, and table tennis paddles for that matter, come with flashy logos. An adjustable ring chain ensures it is firm and taut. Sometimes a net gauge is provided in the package for proper adjustment of the table tennis net height.
Outside of the traditional home table tennis game, the most commonly used nets in clubs are constructed of extra solid metal. This is able to bear constant usage for years. The adjustment system is a micro vertical one. The table has to be folded up at the end of the day and the net has to be stored safely for future use – a convenient storage bag is used for this purpose.
There are even some ping pong net options which can be used for outdoor games. They can withstand outdoor elements, like sun, dust, etc. These nets can last for ages, and are ideal if you're the type that plays ping pong with the idea of getting fresh air at the same time!
Places that you can look to get the net are Amazon, Target, Costco, and Walmart. In UK, you can try to get them from Argos.