Many players are tunnel-visioned when it comes to table tennis equipment. Bats, balls, and tables occupy much of their thought. Consequently, many other types of equipment do not get the attention they deserve, a prime example being ping pong nets and posts.
This is a crucial mistake. A saggy net will ruin your gameplay and have you wishing you bought a quality net from a reputable manufacturer. They are well worth investing in, and when they are adequately looked after, they last far longer than most equipment.
What Different Kinds of Nets Are There?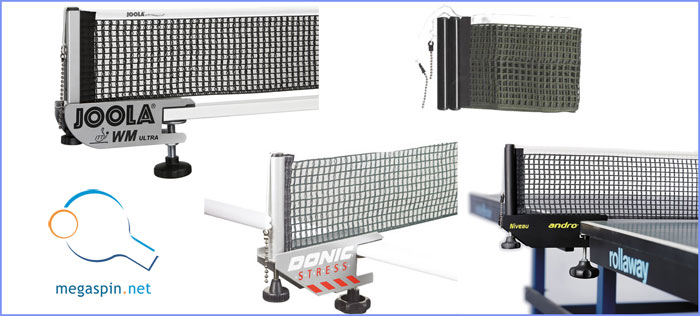 There are four different types of net assemblies to choose from:
Permanently affixed to the table

Spring-loaded clip

Hand-tightened screw clamp

Retractable nets
1. Permanently Affixed to the Table
These nets come with the table, which means replacing them is a little challenging. Some are made of metal — think stationary table tennis tables, while others are made of the usual mesh. Cornilleau tables are the first that come to mind for the latter. The 300X Outdoor is a great example.
If you are a serious player, a spring-loaded clip or hand-tightened screw clamp net are better choices for you. But if you do opt to go for a fixed net, avoid metal ones. The ball bounces off of these nets very irregularly, which will disrupt high-quality training. Another example is on the JOOLA City table.
2. Spring-Loaded Clip
These kinds of net use a simple spring-loaded clip to attach themselves to the table. They are very popular as they are quick and easy to install — far more than screw clamp nets. So if you're lazy like me and want to get playing straight away, the spring-loaded clip net might be the one for you.
3. Hand-Tightened Screw Clamp
Think of the hand-tightened screw clamp as the primary table tennis net used for competitive table tennis. If you've played in competitions before, chances are you were using one of these.
They provide the greatest stability and are the easiest to adjust. You simply can't go wrong with a hand-tightened screw clamp net. This kind is a great ping pong net for any table as you can firmly tighten the clamp, especially on thin surfaces. Or conversely, you can loosen it to fit extra thick surfaces.
4. Retractable Net
Retractable nets are more suited for players on the go (these models are the best portable ping pong nets). For instance, those who might convert a friend's kitchen table into a ping pong table. They are very lightweight and can adjust to fit surfaces around 2" thick and 6' wide.
They make an excellent gift for table tennis lovers and are rather inexpensive. However, if you will be playing a serious match, opt for one of the other nets. I can almost guarantee that upon bringing out a retractable ping pong net, your opponent will be far from amused.
Which Table Tennis Net and Post Should I Choose?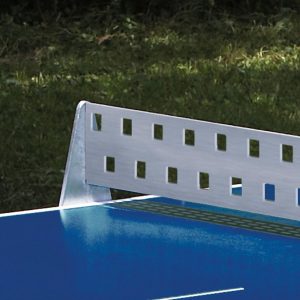 Choosing a table tennis net and post is largely a matter of personal preference. Often beginners go for fixed and retractable nets, intermediate players choose spring-loaded clips, and advanced individuals select hand-tightened screw clamps. Yet this is a massive generalization. Consider the features of each before buying.
With all that being said, we recommend:
Intermediate players should get either a spring-loaded clip or hand-tightened screw clamp net.

When purchased from table tennis manufacturers, these nets are robust and highly functional. Most have height and tension adjustment, which is ideal if you are a serious player. I'd avoid non-table tennis brands as they are often flimsy.

Beginning players would like a retractable net.

It allows them to play virtually anywhere, but equally, a

spring-loaded clip net

is a superb option.

Avoid fixed nets

simply because they are more difficult to replace. If, for instance, your current spring-loaded clip net becomes damaged after a few years, it's easy to acquire another. But the process of replacing an affixed net is a little more complicated. You'll have to source the specific affixed net for the table and fit it yourself.
If this whole decision-making process is too much for you, then I'd just get a hand-tightened screw clamp net. More often than not, they are the best. And if you look after it, it should last for many years.
The Best Ping Pong Nets and Posts
Here are our favorite table tennis nets and posts for this year with details and recommendations about each one.

DHS Table Tennis Net & Post Set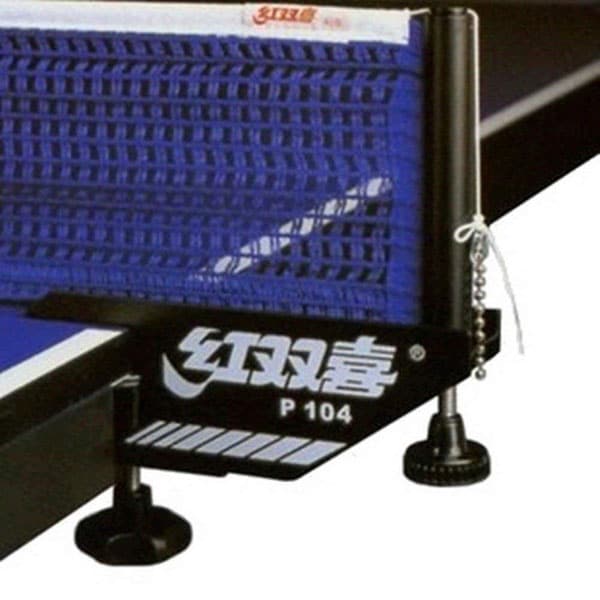 This 72" net by DHS is the most affordable hand-tightened screw clamp on our list. At its price point, it is the best ping pong net. It pairs simple height and tension adjustment with the stability of a secure screw clamp. It even comes with a net gauge which is an excellent addition.
The only other feature it could have included is a carry case, but at its price, the inclusion of this would surprise us. Besides, you can always use the box it comes in, which many payers tend to do.
A net such as this is more than suitable for high-quality training or match play.
Pros:
Solid net & post quality

Affordable

Height and tension adjustable

Lightweight

Net gauge included
Cons:
Longer to install than spring-loaded clip nets

JOOLA Inside Net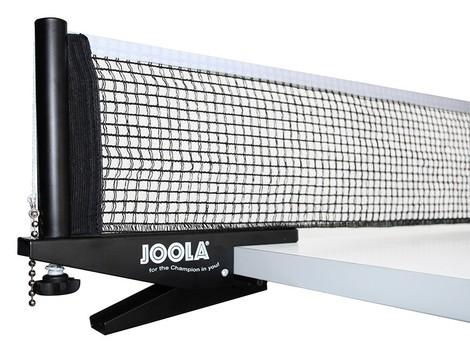 If you are looking for an affordable clamp-style net, the JOOLA Inside could be just what you are after. Cheaper than most other models, it fits tables up to 1.5" thick, thicker than the Donic Clip Net and Post can handle.
As you would expect, you can adjust both the height and tension of the net, which is a big plus. We really can't see much wrong with it at all. This is another net that is suitable for high-level players.
Pros:
Inexpensive

Firm hold to the table

Height and tension adjustable
Cons:
Doesn't fit as many table thicknesses as some hand-tightened screw clamp nets
Donic Clip Net and Post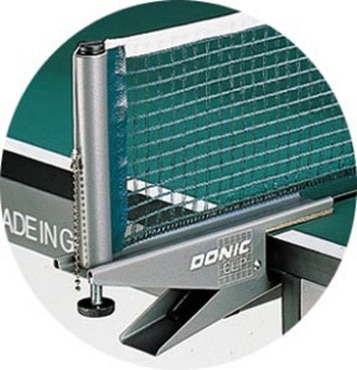 Donic Clip Net Sets are blue and easy to set up because it has the same quality, height, and tension adjustable features. It is a professional net and post with strong mounting brackets.
It is built with practical steel and is lacquer with epoxy. There is a spring device that makes the fastening easy.
The rivets inside the clip device help to fix the rubber elements. This provides good protection to the table.
This Donic ping pong net price is about $55 to $65.
Pros:
It is very durable.
Easy to set up and fasten the net.
Cons:
It won't fit for tabletops that are thicker than 1″ since the maximum clamp opening is only 1 1/4″.

STIGA Premium Clipper 72″ Net and Post Set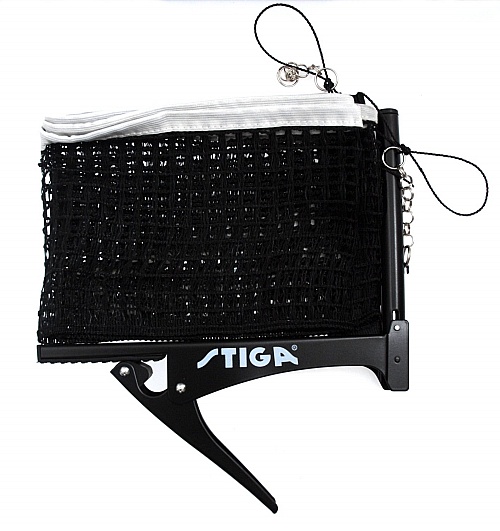 The Stiga Premium Clipper is a spring-loaded clip net. This makes it perfect for beginners or players who want a table tennis net and post that they can install quickly.
It features heavy-duty steel posts and a premium cotton blend net. It is also USA Table Tennis (USATT) approved and features a tension adjustment system. It doesn't have any height adjustment features; therefore, it isn't ideal for competitions. You can, however, check that its height is correct using the included net gauge tool.
Pros:
Net tension is adjustable

Quality net at a reasonable price

Sturdy and solid build

Net gauge tool included

USATT approved
Cons:
Net height is not adjustable

Friction to hold the net in place needs improvement

JOOLA Club Competition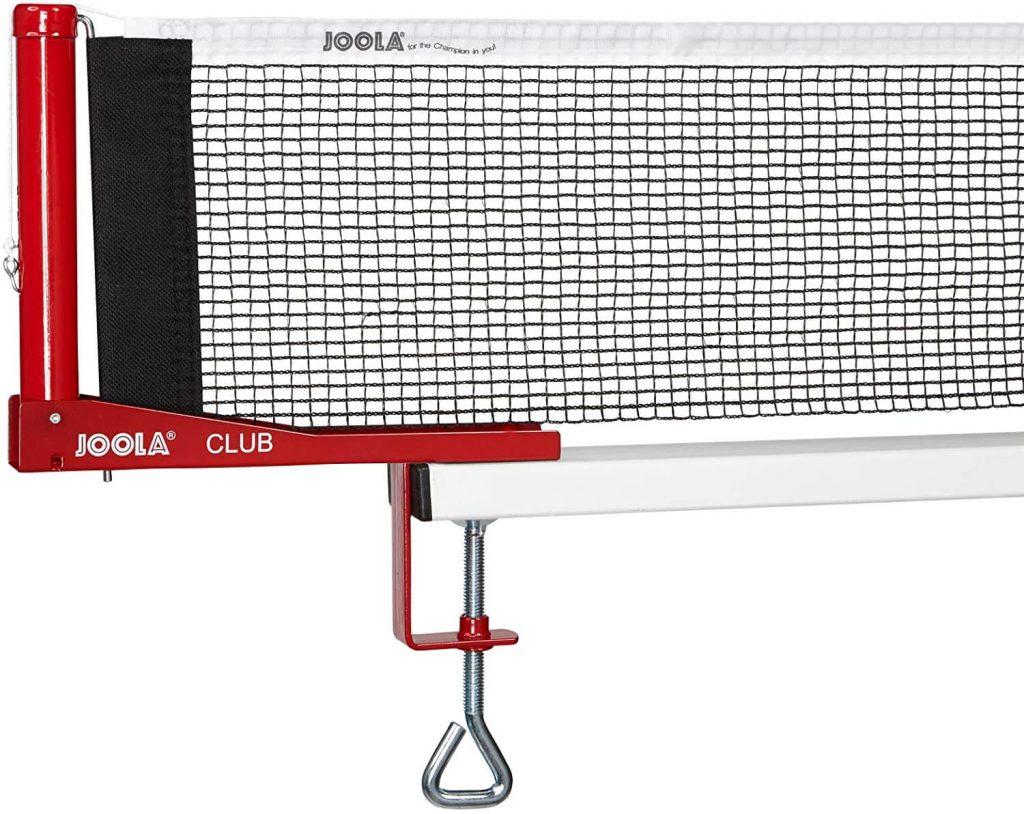 The JOOLA Club Competition net and post set comes with a solid metal body and integrated height and tension adjustment. It is mounted with a hand-tightened screw clamp attachment for maximum stability.
However, the screw clamp is not as easy to turn as others in its class — a large knob would be far easier. As the name suggests, it is best suited for club play. You rarely see red nets feature at serious events.
Pros:
It can firmly stay in place for a long time without the need for retightening

Fits a variety of table thicknesses

Both height and tension adjustable

Lightweight
Cons:
It can be quite hard to set up

Doesn't look as professional as other models

JOOLA Retractable Portable Net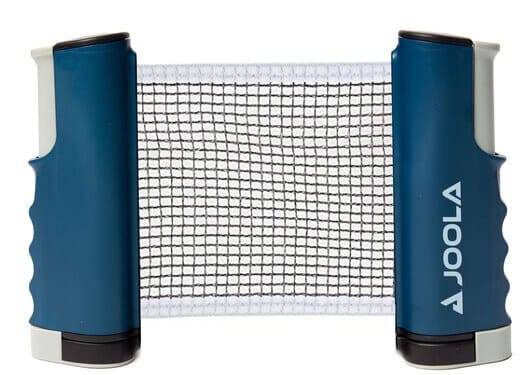 The JOOLA Retractable Portable Net is a lightweight net that can turn virtually any table into a makeshift table tennis table. It's compatible with any surface up to 1.75" thick and any length up to 5.75ft long — that's even wider than a standard table tennis table!
Of course, the drawback to this net is that there are no height or tension adjustment features. But then again, you can't have everything. The JOOLA Retractable Portable Net is best suited for beginners or anyone who wants to play table tennis on non-standard tables.
Pros:
Lightweight

Fits a variety of surfaces

Quick and easy to fit

Inexpensive
Cons:
No height or tension adjustment

Not very strong

JOOLA WX Net and Post Set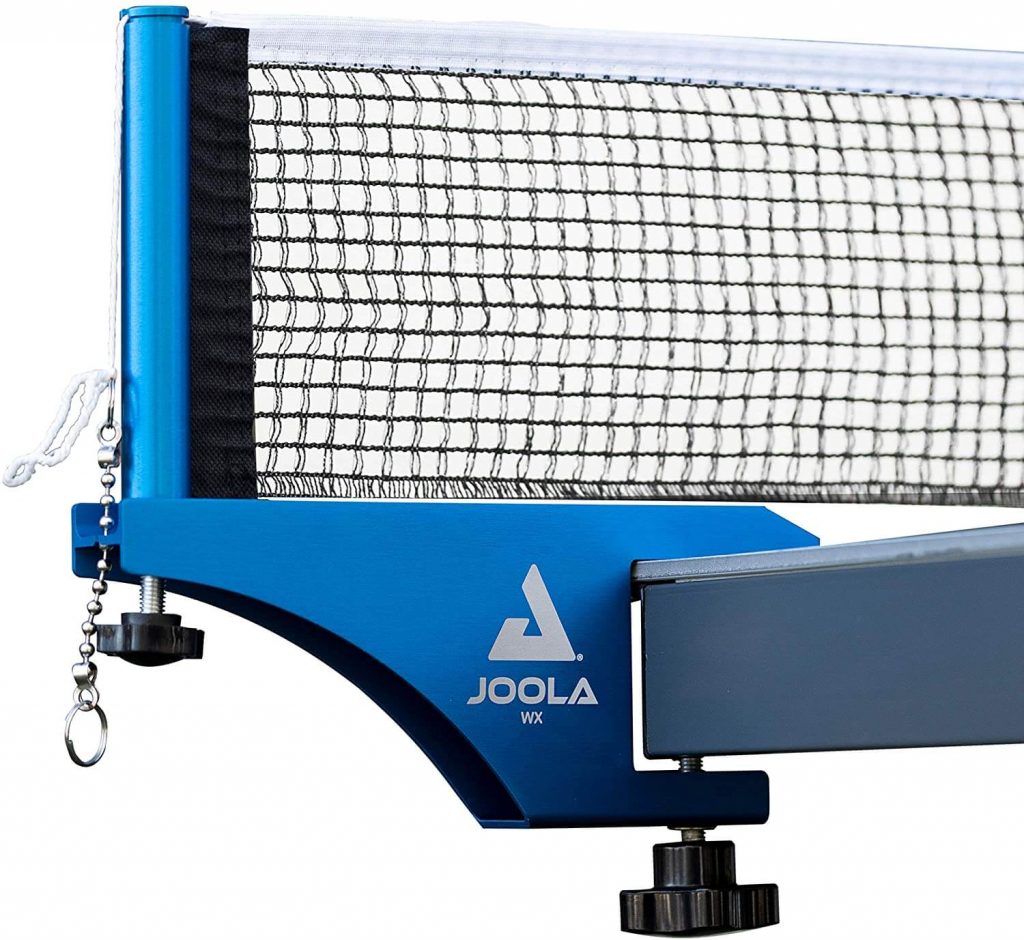 What makes the JOOLA WX so unique is that you can use it indoors and outdoors. Made from rust-resistant aluminum, it's a great all-around net that can enhance your outdoor practice. It features a hand-tightened screw clamp attachment, compatible with tables anywhere up to 1.5" thick.
You can also easily adjust its height using the adjustable screw beneath the post or tune the net's tension using the chain.
We recommend this net for all skill levels. For an outdoor net, it is surprisingly advanced!
Pros:
Suitable for use indoors or outdoors

Inexpensive

Fits a variety of table thicknesses

Height and tension Adjustable

Has a firm hold on the table
Cons:
Takes longer to fit than other styles of nets

Butterfly AJ Net Set
This Butterfly AJ Table Tennis Net Set can fit all standard size ping pong tables. It is the replacement of the Butterfly Stallion Net Set. Utilizing a hand-tightened screw clamp attachment, the AJ Net Set can open to a maximum of 1.75″ thick which is very admirable.
You can calibrate both the height and tension of this net, making it suitable for more advanced play in matches instead of just home use. One minor issue is the height adjusting screw is rather thin, which doesn't give you significant leverage for twisting it.
Pros:
Very robust

Opens up to 1.75" thick

Height and tension adjustable

Comes with a net gauge
Cons:
Height adjusting screw a bit fiddly

Butterfly Elite Clip Net Set
The Butterfly Elite is another example of a great clip-style net. Manufactured for regular heavy-duty use, it is ideal for league matches and tournaments. As with all quality nets, the clamps have rubber protectors to avoid damage to the surface of the table tennis table.
Both the height and tension of the net are adjustable to ensure optimal playing conditions. We also like that it comes with a carry case — nets can become pretty tangled in your bag, which is a pain. So if you do a lot of traveling this net could be the ideal choice for you.
Pros:
It is heavy-duty

Height and tension adjustable

Comes with a carrying case
Cons:
Will not fit especially thick tables

What Are the Requirements of the Net and Post?
There are many nets available on the market but not all meet the requirements of the sport. The International Table Tennis Federation (ITTF), the governing body for table tennis, states that for nets to meet regulations, they must meet the following criteria:
Consist of a net, suspension, posts, and clamps

Net shall be suspended between either post at the height of 15.25cm with posts not exceeding this limit

The net must be 15.25cm from the table's surface across its whole length

The bottom of the net must be as close to the table as possible and connect to the posts across its entire height.
You will also find that nets tend to follow the same color scheme. Approved ITTF nets are either blue, black, or green with a white strip across the top. For a full list, check out their approval page.
How to Correctly Fit a Net and Post
Fitting your net is a simple process, but I will break it down to make sure you are prepared for whichever model you purchase.
Some nets will have little to no installation. Take affixed nets, for instance, they are already fitted, so you don't have to clamp them to the table. But for most nets, you would:
Slot the posts into the base of the net and connect them to the table

using the nets locking mechanism. Some fit quickly, while others like the hand-tightened screw clamp can take a bit longer.

Adjust the height of the net.

This is a feature available on many but not all models. Turn the knob on the underside of the net's post until the net reaches a height of 15.25cm. Ideally, we recommend using a

net gauge

to help you.

Adjust the net's tension.

Again, most, but not all nets, offer this. To adjust a net's tension, tighten or loosen the chain. Then slot it into place, usually using the notch at the outermost edge of the base of the net.
Conclusion
As you can see, you have several excellent options when choosing the best ping pong nets and posts.
For advanced players, the DHS Table Tennis Net & Post Set is the standout pick, in our opinion. As a hand-tightened screw clamp net, it provides super stability, and you can adjust the net's height and tension to ensure it meets playing requirements.
What separates the DHS Table Tennis Net from others in its class is its affordability. It is around half of the cost of most other hand-tightened screw clamp nets, which speaks for itself. The more expensive models do not offer any additional features, therefore there is no need to spend the extra cash. You're better off pocketing the difference and putting it towards a quality pair of rubbers.
For beginners or players that like to play on the go, we recommend the JOOLA Retractable Portable Net. Its versatility to fit on virtually any table positions it above the other models. It can easily adjust to thin or wide tables so that you can play ping pong almost anywhere.
And finally, if you are planning on playing outdoors, we suggest the JOOLA WX Net and Post Set. As the only model on our list that is rust-resistant, none compare for outdoor gameplay. Its high-quality construction will even meet the demands of advanced players.