There are different table tennis glue that you can use for fixing or replacing your existing table tennis rubbers.
Do Not Use the Banned Speed Table Tennis Glue
There is the water-based glue and the speed glue. The speed glue is illegal, and it is not accepted in the official tournament because of the hazardous nature of the substance used to produce it.
So I strongly advise that you stay away from speed glue and use water-based glue for affixing your rubber to the table tennis blade.
There are different table tennis glue out there, but here are some of the best glues for table tennis rackets I will recommend for you.
Butterfly Free Chack II
Free Chack II Glue is a new glue being released by Butterly. It is an enhanced version glue of Free Chack. They feature this newly formulated glue with latex-based adhesive. It has a stronger bond than Free Chack where it can hold a very strong bond within the blade and the rubber so it will not come off easily.
The Free Chack II glue dry pretty quick on your blade after you apply it on your rubber and blade. Its viscosity is high with a very thin liquid. You can barely complain about this close to perfect glue.
It allows easy removal of excess glue from sponge and blade surface.
The glue is very runny which is easy to create a mess. So be careful when you are using this glue because it can get pretty messy if you spill some glue out.
Also, you need to prevent the glue to get in contact with your clothing cause it will be very hard for you to get off.
When you want to rip off the rubber from your blade, it can come off pretty easy. If you seal your blade before applying the glue, then it can also help in taking the rubber off easily.
This Free Chack II is specially designed for Spring Sponge rubbers including the Tenergy series and SpinArt rubbers.

Butterfly Free Chack
Butterfly Free Chack is a very good table tennis glue. It is free from any toxins or VOC substance and made from natural rubber. It is easy to remove from the blade if you want to replace your rubber.

Butterfly Free Chack 500ml with 50 Sponges

XIOM I-Bond
This is a super glue for affixing your rubbers to your blade. It is an easy-to-use water-based table tennis glue.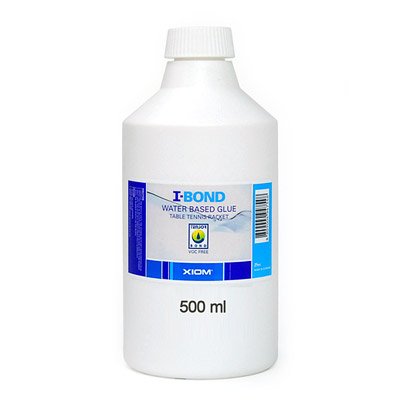 XIOM I-Bond Glue 500ml
The XIOM I-Bond is clean and safe from any toxic or VOC substance. It has a white sponge at the tip of the bottle which is used to apply the glue.
You have to understand that water-based glue is stronger than speed glue. It can damage the surface of your table tennis blade so it is highly recommended that you use The XIOM I-Bond sure on your blade before using the XIOM I-Bond table tennis glue.
Related post:
Table Tennis Rubber Guide