If you are planning to buy, or have already bought table tennis set for your home, you will probably want to consider buying a cover to protect the table when it is not in use. For tables that fold vertically in half, there are numerous covers available on the market that will protect it from dust, dirt, knick (if inside), weather, and sun damage (if outside).
As with all table tennis supplies, there are numerous choices of brands from which you may choose when buying your table tennis cover. We'll look at a few and give you an overview of the brand and the covers it offers.
One of the most popular brands for all table tennis gear is a company called Stiga. Stiga is a Swedish company that now sells premier equipment for competitive and at-home play all over the world. This includes not only tables, paddles, balls, ping pong ball machine, but also include table tennis covers. Stiga sells a table cover that is indoor use but that covers a table that is folded (vertical) or unfolded (horizontal, just like how you play on it).

STIGA Table Cover
They design the STIGA Indoor/Outdoor Premium Table cover for both indoor and outdoor use. This table cover can be well protecting your ping pong table from wear and tear. The material that made the STIGA cover is durable and you can actually be found this material that made the great quality automobile covers. You can cover your outdoor table tennis table with it to prevent dust and dirt or rusting happened to the table.
Another global leader in table tennis supplies and accessories is a company called Butterfly. Their primary North American distributor is Martin Kilpatrick. The Kilpatrick/Butterfly partnership offers a stylish black table tennis cover with the pink Butterfly logo and nylon handles. It is measured to fit most tables for at-home play.
This STIGA ping pong table cover fits the STIGA table perfectly. Once you have this cover with you, you can just cover up your table and place it outside. You won't need to worry about any element and all forms of weather conditions.
Pros:
Can get for a decent price.
Good craftsmanship.
Cons:
Easy get ripped.
Seams can tear apart easily.

Butterfly Weatherproof Table Tennis Table Cover
This Butterfly table tennis table cover not only fits for all tables made by Butterfly, but it also can be used for most other brands' tables. If you have been tired and frustrated of getting those PVC covers that often crack and tear easily, then this should be the one you are looking for.  This Butterfly table tennis table cover is not made of cheap PVC with tarp material but is made of weatherproof nylon instead.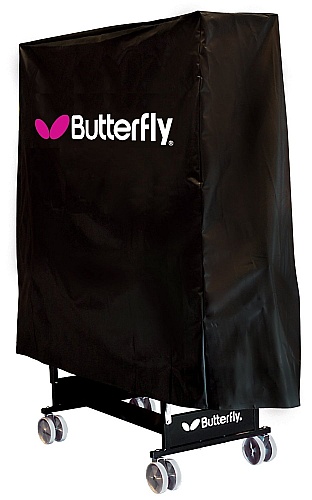 The cover can be well worth your little investment as the material that made it is of quality one. It can provide you with full coverage for your whole table when it is folded up.
Pros:
Nice and well-made cover.
Durable and can be used for many years.
Cons:
The price is high.
No hole available at the edge of the cover. Therefore, you cannot lay a rope to tighten the cover.
If you are interested to get this Butterfly table cover, you can purchase it from Amazon.

Joola Table Tennis Cover
If you are looking for table tennis cover for the pool table, then this JOOLA Dual Function Table Tennis Cover is definitely met your needs. It can cover your table in storage or playing position. Thus if you buy a table tennis conversion top and need to cover it together with your pool table, you can do so with this Joola cover.
However, one disadvantage of this equipment is it only recommended for indoor use. It may not able to withstand the outside weather condition and it is not waterproof. You need to do serious consideration before buying it to avoid wasting money if you end up need to place your pool table or ping pong table outdoor.
Pros:
Velcro edges for fast and easy adjustments.
Ideal cover for folding tables.
Cons:
It can slide off easily with small movement or touch.
Is not able to cope with heavy-duty.

Mr.You Ping Pong Table Cover
You can use the Mr. You table cover on all ping pong tables no matter indoor or outdoor. For outdoor, even though it is weatherproof, you will need to ensure the table is in a folded position before you put on the cover.
The cover is produced with quality material that makes it not easy to rip off. It is made with durable fabric that makes it to withstand all weather conditions.
Pros:
Great fit for all tables.
It is tear-resistant.
Featured with fastening cord that makes it easy to pull up.
Cons:
The zipper may need improvement as it is quite fragile.

Hathaway Polyester Cover
Hathaway also got released its own model of ping pong cover. It is made of quality polyester material and it has a convenient slip that will fit most of the ping pong tables.
The cover can help to prevent discoloring, scratches, and damage to the table. It is weatherproofed as it can protect the table against different weather conditions.
There is velcro placed at the sides and ends to secure the cover.  You can only strap the velcro when the table is folding.
Even though the cover is designed for indoor and outdoor use, but it just not for prolonged outdoor use. Which means you cannot keep the table permanently outdoor with the cover.
If you have an outdoor table, you will need to get this cover to have good protection for your table.
Pros:
Is made from great quality material.
A good way to keep the table dust-free.
Cons:
It is not doing well outdoor.
It is a bit pricey compared to other covers.

Killerspin SVR Cape Cherry Forest
This ping pong table cover is built with high-quality material and can be looked luxurious. It can help in transforming your Killerspin ping pong table into a piece of art.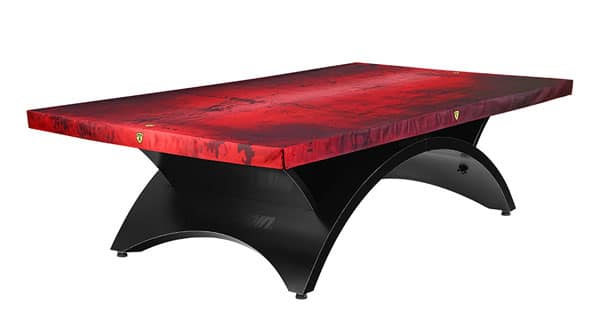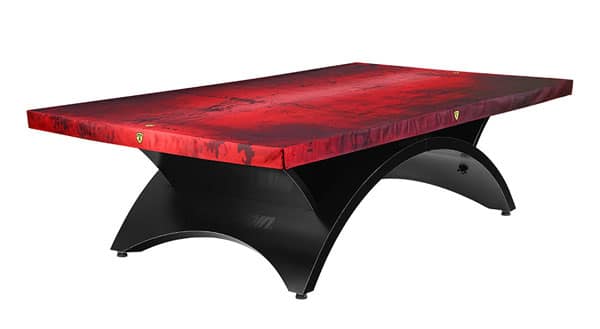 The cover is constructed with lightweight material which makes the cover to fold and remove away easily. The hook and loop of velcro straps in two sides of the edge make the cover to remain intact and fastened well to the table.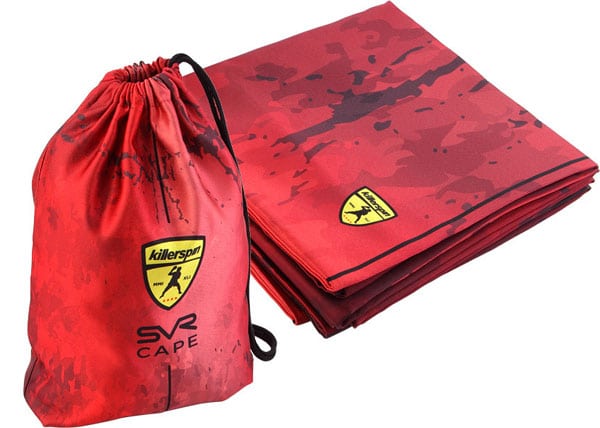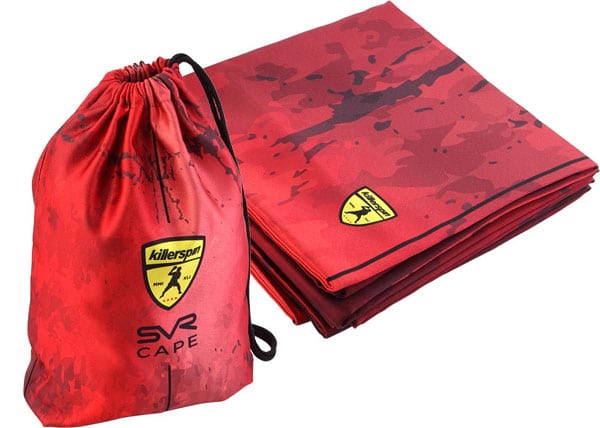 The Cherry Forest SVR Cape was specially crafted and designed by Killerspin. The design carries the purpose of offering the users the possibility of making their ping pong table to become an eye-catching display masterpiece.
Pros:
Sturdy and durable.
Very Stylish design.
Cons:
The price can be very expensive.
If the price is not an issue for you, you may get this work of art from Megaspin.

Kettler Premium Heavy-Duty Table Tennis Table Cover
This can help out to cover the table into getting wet by the rain. It is needed in the long run for you to keep your tabletop clean from dust and dirt. If your tabletop is dirty with dust on it, it may affect the bounce of the ball.
The good thing about having this Kettler ping pong table cover is it has velcro tape at the sides of the cover which makes it easy to open, close the table and lift it off effortlessly. It is not like the STIGA cover where it doesn't has velcro on the sides. This cover is not using a zipper which is because most of the time if zipper been using for some time, it fails and makes the whole top become useless.
However, the seams of this cover are having not enough strength for over-locked. If you held it up, then the sun can easily shine through the seams. You may need to get something to seal up the seams from exposing to the sunshine.
Pros:
The cover is made of high-quality material.
Air vents feature prevented it from being blown off. Airflow will go through and the moisture has a way to escape.
Easy to slide the cover onto the table without worrying about tears.
Cons:
Velcro on the side openings needs to be larger.
Not really good to withstand against rain.
You can refer here for the discussion on KETTLER Heavy-Duty Outdoor Table Tennis Cover.
These are the leading companies that manufacture table tennis gears and equipment including ping pong table covers I introduced to you.
When buying a cover, you'll want to choose between quality and durability (depending on how long you want it to last, and how much wear and tear you expect it to get). You also must decide if you want it to place outdoors.
For pricing, you can expect to spend anywhere from $20 to $90 for most of the brands discussed above, depending on where you purchase it.
No matter how much you spend, a cover at all is better than no cover, as it ensures more safety for your table when it is not in use.
Related post: