Ping pong or table tennis is one game played for the sheer fun. If you have the proper equipment, all you would need is an excuse to sneak in a game or two in your regular routine.
Even if you don't want to reach the National level, starting your game on the best ping pong table comes with an advantage.
Your ping pong table dimensions are standardized according to the International Table Tennis Federation and if luck would have it, who knows you may chisel out as a bright talent and get a chance to play in the Nationals someday! Well, jokes apart, it's actually the standard dimensions that really matter for a proper play.
Table tennis tables are quite difficult to put together prior to play. Stiga STS410Q Table tennis table is an answer to all those who cannot hold their patience long enough to assemble their tables for a quick ping pong game. Stiga STS410Q is designed for quick-play and quick set-up.
All through from installation to playtime, Stiga STS410Q features a quicker turn-around time compared to most other table tennis tables. The table has been engineered with Patented Quick Play design technology which does not require any assembly related tools.
The ball bearing wheels at the corners of each leg provide a quick and easy movement around the corner for easy storage and movement. Two of these legs can be locked to provide grip while playing. The Stiga STS410Q provides tournament-grade quality during play. The complete set includes a tournament grade net and posts for performance play.
Stiga STS410Q Table Tennis Table Features and specifications:
Stiga STS410Q Table Tennis Table comes with an innovative quick-play design
It is easy to set up for play.
Stiga STS410Q Table Tennis Table is completely tooled free installation and comes with a complete easy to follow user's manual.
The Table constitutes of a one-inch tournament blue colored playing surface and a two-inches steel support apron.
The legs of the Stiga STS410Q are made with four-inch diameter silver mag ball bearing wheels. Two of these legs are two inches and self-opening.
Stiga STS410Q Table Tennis Table Product Dimensions: 60 x 30 x 108 inches (W x H x D)
One year warranty on complete product
Space Consideration
When you buy this Stiga STS410Q ping pong table, you need to take stock of the space where you want to place it. If you want to place it in a basement, a home game room, patio or garden, a few considerations may need your attention.
Thickness
The thickness of the tabletop is one inch. With the thickness of the tabletop, the ball bounces better which should be 8.75 inches when dropped from a height of 12 inches.
Warping and bending can seriously hamper the bounce. Since this table is thick enough, you can rest assured that it will offer you with good bounce. Remember, thickness alone cannot save your table from the damage inflicted by the elements; you need to protect it from excess heat, cold or moisture.
The outdoor ping pong tables should have a protective aluminum coating on them but again they need to be brought indoors or covered with specifically designed covers to protect the wood from damage due to elements.
Sturdy Legs
The legs take the entire weight of the table. The legs of this table are very strong and thick for a steady play. Leg levelers are a good option for adjusting the height of individual legs especially if your table is set up on an unlevelled ground.
Portability
If you can't spare a permanent place for your table, the portability of this table comes to your rescue. Rollaway tables with brakes for stability is a good option for you. You can also fold the table from the middle for easy storage.
Net Posts
The table comes with two options regarding net posts, one with permanent brackets and the other with removable posts. It's your personal choice and has little to do with changing the nets.
The Reviews:
Stiga STS410Q Table Tennis Table has received 4 out of 5 stars from every user. The table comes almost 95% assembled and hence is really quick to start playing.
The weight of the package is approximately 350lbs, but the packaging is such that it does not require any kind of lifting and requires a maximum of three people to get it together in within 3 minutes.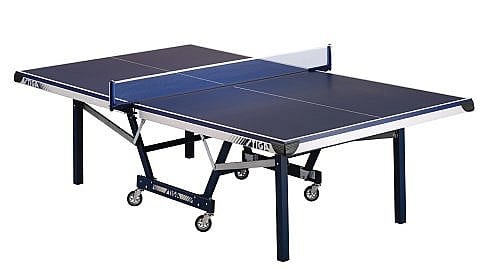 The Stiga STS410Q is a sturdy table and a good buy, as stated by one customer who acquired the table for their Ping Pong Club. It is easy to fold up and store to avoid people leaning on top of it.
Also, it is effortless to set it up back again for a quick game. Overall the entire product has been described to be very durable too.
With your recently acquired knowledge about ping pong tables, it is wise to go with the best. Stiga STS410Q ping pong table is a professional ping pong table that meets all the requirements set out by the ITTF.
Durability, versatility, and good customer care are what the company boasts of. Use the yardstick in choosing the best. I can say this is an ideal rollable table tennis table you can consider having in your house. It is a foldable table that saves space by folding it up for storage when not in use and create room for other activities.
Remember, it's not just money that you are investing. You have to devote space and, more importantly, your time and energy to a game that aims to bring your family and friends together to unwind, exercise, and honor your skills at the game. Who knows, your gang may win the Nationals someday!
More Stiga table models: