JOOLA is one of the table tennis suppliers that supplied their top quality ping pong equipment for the Olympic games. Besides, the company also happens to be the endorsed sponsor of the U.S. Nationals Tournament and US Open Table Tennis Competition.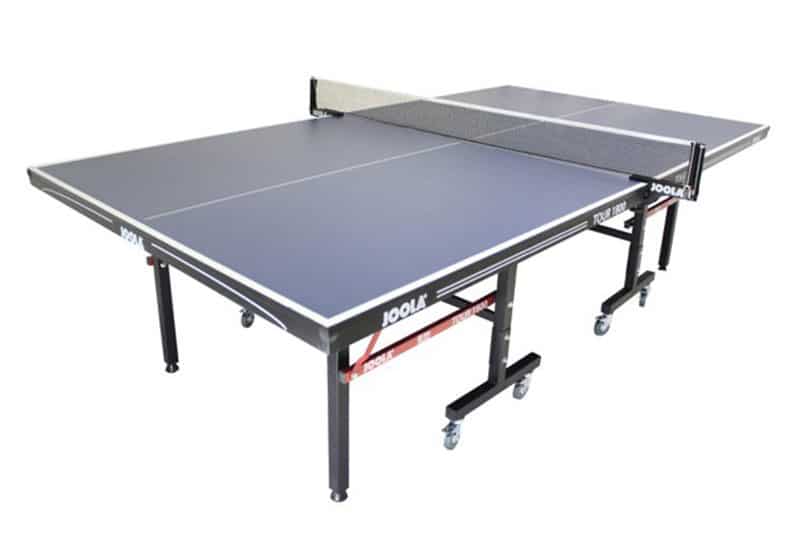 To ensure customer satisfaction, JOOLA always delights the customers with their top quality tables that are both great in design and functionality. Better yet, most of the tables supplied are of affordable price.
Specification
This is no different with JOOLA Tour 1800 Table Tennis Table. This table has an 18mm thick of painted table surface together with 40mm powder-coated metal undercarriage that painted in black.
It is designed in two table halves and each half of the table features 4 locking wheels and automatic folding legs. To ensure the safety of the table, there is a double anti-tilting device enclosed.
The table is ideal for anyone to play at home, school, or recreational clubs. Its net and post are approved by USATT and the 3/4-inch (18mm) table made out of premium wood will be able to provide you with superb bounce quality and incredible playing experience.
The tabletop of this JOOLA Tour 1800 is blue and is coated in numerous layers with the purpose to protect against damaging and bending as time goes by. The steel frame carries a length of 40mm and is powder-coated to prevent the frame from rusting.
The table also has an auto-folding trundle which makes it easy to move for storage. Besides, you may also use the table in the playback mode so that you can get extra practice with it.
Features:
For indoor play

Two-halves table for easy moving and storage

Ideal for recreational use

Powder-coated metal frame and undercarriage provides durability

2 inches locking wheels keep table stick to the ground

4 casters to ease movement

Automatic folding legs with adjustable height levelers

Features with playback capabilities

Anti-tilting devices for additional safety

Features with rollaway capabilities

Product Dimensions: 108″ x 60″ x 30″

Storage Dimensions: 62″ x 24″ x 65″

Play dimensions: 9′ x 5′

Play material: 18mm medium density fiberboard

Weight: 170 lbs

Net and post included

Manufacturer's 1-year warranty
Easy Assemble
Once you unbox everything, you will find that most of the parts are already completely assembled. There are just 8 bolts and nuts for the caster wheels that you need to assemble yourself. So, it is rather simple and effortless for you to mount up the table.
Tabletop
The tabletop is constructed with 3/4 inch (18mm) MDF painted surface. It is built with the use of medium-density fiberboard which makes the surface to be very firm and solid. By looking at the surface, we can know that it is built with great materials and the frame of the table is also very strong.
Net and Post
When you buy this table, it comes together with a net and post. 
The JOOLA professional net system is very easy to install. It is also a better quality piece compared to most other nets. There is a ring chain on the net for you to adjust the tension. You can also adjust the net to the right net height for you to play the game.
Whenever you want to take off the net, you need to lift and push it gently to prevent damaging it.
Casters
The table is featured with 4 locking casters. By having these casters, you can move the table to your desired location and then lock the caster. Once it is locked, the table will remain firmly in place.
The leg can be leveled even you place the table on an uneven floor surface as it is anti-tilting.
2 Halves Table
The table is built in 2-halves. They are foldable and easy to move. You can also use the table to play solo by placing it in playback position if you can't find a partner to play the table tennis with you.
If you have limited space in your house, then it is good for you to consider buying the folding table tennis table. This is especially ideal if you have a recreation room in your house where you have different activities to be held in the room.
Pros:
Easy to assemble.

Easy to fold up and move for storage.

Very solid and sturdy playing surface.
Cons:
The table is quite heavy.
Final Thinking
This table is rather superb in terms of quality and you may just need about 20 minutes to assemble the entire table by yourself. The whole assembly just needs you to set up and tighten 16 nuts and bolts on the legs.
This JOOLA Tour 1800 may not provide you with the same bounce quality which other competition-level or professional table tennis table will provide you with.
Nonetheless, the bounce is still considered very good for the price that you paid and the quality that you get with this incredible table. It is still considered okay for the performance if you compare the quality with other tables that of same price range.
With the 18mm inch of the thickness for the tabletop, it bounces higher than the JOOLA Tour 1500 table.
You can get this table either from Amazon or Megaspin.
Detailed Video of JOOLA Tour 1800
Other Joola Table Reviews: