Stiga is one of the very popular choices for table tennis tables for players all over the world. Today, you can find a variety of different Stiga outdoor table tennis table models that catered for different people. Each table is having its unique and distinctive attributes.
Apart from that, each table also having its own features and fitting for different price ranges. Knowing that buying a ping pong table is not cheap, it is best for you to do your homework before making up your mind to buy any of the tables.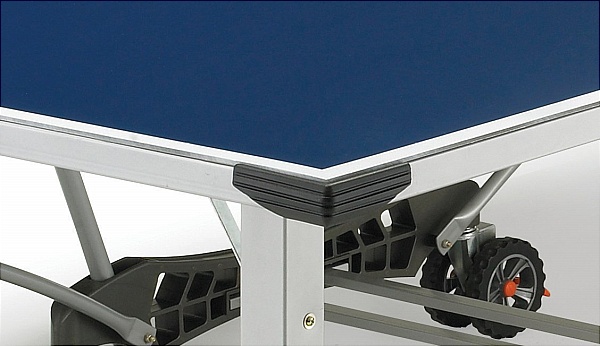 Now, I would share with you one of the Stiga tables which are known as Stiga Baja Outdoor Table Tennis Table. This table surface is constructed with weather resistant aluminum which enables it to withstand to all weather conditions.
With this sturdy implementation, it allows for consistent play and persistent bounce regardless of where you have the table set up. The 5″ all-terrain double-wheel casters provide easy mobility of the table from playing location to storage without much effort.
Features:
Patented Quickplay Chassis Design
Aluminum Composite Table Top
2″ Steel Self-Opening Legs with Leg Levelers
5″ All-Terrain Double Wheel Casters
Oversized composite caster beam with steel cross beam supports
Weather resistant
A heavy-duty welded steel support frame
Expect 2 hours for assembly
Molded corner protection pads
Galvanized hardware
Regulation style striping
Includes premium all-weather net and posts setup
Full-sized screen print on the backside of tops
Weight 125.00 pounds
Dimensions:
Packaged dimensions: 62.6″ x 57.1″ x 5.7″
Play position dimensions: 108″ (9ft) x 60″ (5ft) x 30″
Playback position dimensions: (1 side in storage position and 1 side in play position): 60″ x 68″ x 62″
Storage position dimensions: 60″ x 30″ x 62″
The Stiga Baja Outdoor Table Tennis Table features with an exceptional spot and it particularly depends on the player to figure out which location they want to place the table outdoor and they can fit it in for a short while and play in no time.
Even though many players will find this table does not provide them with the quality bounce like other outdoor ping pong table does, however, one thing that you can be sure is that there will definitely be players who do enjoy to play the game with this table.
Weather Resistant Design
The design of this monster is not really of top quality but it is constructed to be good enough to hold up against any of the factors.
As you will be noticed that the table is built with the bottom is made of top board with thickness of 10mm and sheet metal, thus you can easily discover why the table can withstand all the test of sturdiness from the abuse of players, and also endure itself against sun, wind, rain, and other weather conditions.
However, there is one significant drawback complaint by some people in which the table doesn't provide even bounce for the shot. And it's observable throughout the whole table where a player can notice the difference especially when the shot hit at the back edge of the table.
The other thing that some people may shun away from buying this table is with the reason the asking price for the table is quite expensive. Hopefully, in the near future, those suppliers will cut the price for this Stiga Baja Outdoor Table Tennis Table and many people may be then considering buying it.
View the video of Stiga Baja Outdoor Table
There are more choices of
different STIGA table tennis tables
that you can choose from.
Other related topics on Outdoor Table Tennis Tables:
* Cornilleau Sport 340 Outdoor Table Tennis Table Review
* Killerspin MyT-O Outdoor Table Review

* Cornilleau Pro 510 Outdoor Stationary Table Tennis Table Review