The Cornilleau Sport 340 outdoor table tennis table is a high-quality table that offers a wide range of features and excellent quality of play. Additionally, it is low maintenance and very convenient to use both indoors and outdoors. Expect to pay around US$1,100.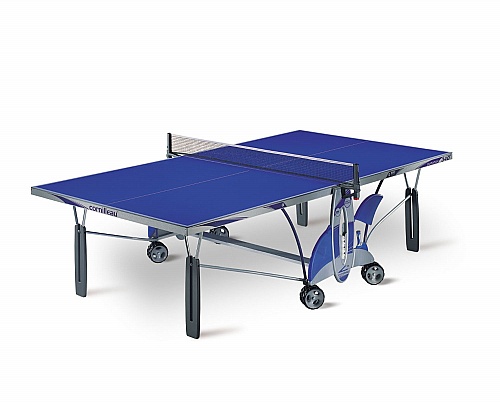 The 340 ping pong table is designed to offer maximum convenience and high-quality play. Like all other Cornilleau table tennis tables, it gives a combination of resilience, durability, and efficiency. It has the perfect combination of strength and modern technical features which make it an excellent table tennis table. It looks great too.
The table size of the Cornilleau 340 is 275 x 153 x 77 cms while the storage size is 155 x 183 x 75 cms so can fit snugly in relatively small storage spaces.
This is due to its foldable structure, which also allows you to use the table in the individual playback mode. You can do so by unfolding only one half of the table and then the table can easily be used for warm-up or solo practice.
Features:
Table size: 275cm long x 153cm wide x 77cm high ( 9′ long x 5′ wide x 2'6′ high)
Storage size: (when folded)155cm high x 183cm wide x 75cm deep
Table Top: 6mm of resin laminate with MATTOP finish
Frame: (under the table top) Corrosion/ Scratch-resistant steel 50mm
Net and Posts: ABS posts with an adjustable net
Legs: Steel legs with 3/4 height resin coating (9cm wide x 2.5cm deep)
Undercarriage: Steel and Thermoplastic polymer
10-year guarantee on the table top and 3-year guarantee on the undercarriage and other parts
Solid Construction of Playing Surface
Of course, there is no point in having a nice looking table without a quality playing surface and the Cornilleau Sport 340 outdoor table is made of 6mm high-density resin laminate which gives a firm surface for a perfect bounce.
The table top of this ping pong table also has MATTOP finish which ensures that the top is anti-glare and does not reflect too much light, making your summer game much more enjoyable. The MATTOP coating can give you 10 times less of the sun reflection compared to other table tennis tables that only use the ordinary coating.
The Cornilleau 340 comes with a solid frame made of corrosion and scratch-resistant steel. The legs are also made of steel and they are also coated with resin. It is shock-resistant so you will not feel much vibration of the table when you are playing with it.
Another feature of the table top is it is built with fade-resistant white lines. Which mean the blue playfield and white lines will not fade for many years.
Weather Resistant
This is an outdoor table so it is built with weather resistant feature. You can place the table outdoor and it can withstand all sorts of weather conditions without having any damaging on the table.
Net and Post
Besides this, there are several other features that the table has to offer. The Net and Posts contain an inbuilt mechanism by which they remain fixed and taut even after repeated folding and unfolding. Additionally, their height and tension can be adjusted easily.
DSI system
The table is specially designed and secured with 16 locking points with the implementation of the DSI System. This makes it easy to be opened even by a single person. There are 3 main levels of locking.
First locking level: The table is in the storage position and the locking controlled by centralized control.
Second locking level: This is fall prevention locking which protects the table from steeply falling down. If you open the table and releases the handle, the tabletop is blocked at 45 degrees so it will prevent any risk of accident to happen.
Third locking level: The table is in playing position and the playing surface will be locked. When it is locked, there is no risk for children even they are sitting on the table. So this can ensure the safety issue for children where it happened in some other tables where the table cannot stand with the weight of the child and collapsed.
Paddle and Ball Racks
There are separate paddle and ball storage area which is built into the table frame at both sides of the table. Therefore, when you want to play ping pong, you can just take out the paddle and ball from the rack and store them back after playing.
Wheels
There are 150mm banded all terrain, double wheels that allow easy movement of the table to move to be placed in playing position and for storage. The availability of large diameter wheels makes the table easy to roll.
Save Space
The table is built with compact technology. So, it reduces the space requirement where there is no huge space required for you to put the table in storage when it is not in use.
One of the major advantages of the table is that it is suitable both for indoor and outdoor use. As its surface is weatherproof due to the coating of resin laminate, you can use the table outdoors without worrying about any potential damage to the table. The Cornilleau 340 also comes with double wheel assembly with ball bearings, so you can easily transport the table. This feature, like many others, adds to your convenience.
Pros:
Suitable for outdoor use as this table is a weatherproof table.
Featured with playback facility where you can play ping pong by yourself even you can't find a partner to play with you.
The MATTOP coating can give you 10 times less of the sun reflection.
The safety mechanism that implements on this table makes it safe for you to use, open and close.
Cons:
Price can be a concern as it is a high-price outdoor table tennis table.
Assembly manual and instructions are not clear enough.
Summary
The Cornilleau Sport 340 outdoor table tennis table is low maintenance, a high-quality table that offers a wide range of features and excellent quality of play.
Even though the price is quite expensive and is not really affordable by most of the household, but if you are looking for a quality outdoor table tennis table that you put outside of your house and play anytime, then this is the table that you should get.

Read all other outdoor table tennis tables related posts here: