The Cornilleau Sport 500M Outdoor Table Tennis Table is another top quality table released by Cornilleau. This table is made for professional players and has been approved by ITTF for international tournament use.
Of course, you may buy for your home use as well if you have no issue with the price. The table-top is produced with a Mat-Top finish, which is an advanced technology that can reduce the shine and glare on the surface of the table if playing the game on bright days.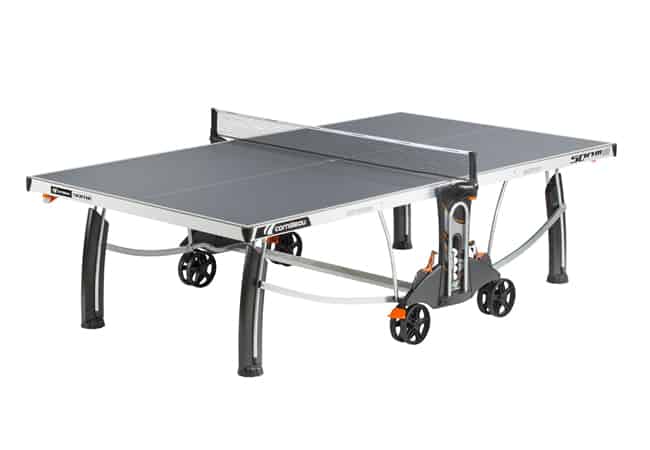 Built With Premium Quality Material
The main material used to manufacture this outdoor table tennis table is that quality non-corrosive material which makes the table to be effective against the negative impacts of moisture.
The table is weather-resistant due to the quality of aluminum material.
The Cornilleau Sport 500M Outdoor Table Tennis Table is built with a wooden inner core and aluminum as an outer layer. This table is ultra-violet and humidity resistant for durability.
The table features a designed steel body in addition to a melamine laminated top which makes it very robust in resistance to light, high temperature, and rain. It has a latch system and robust arched leg design that provides safe security support to the table.
When considering the undercarriage, the rollaway type of this table is having double-wheel casters that make the table very easy for mobility. It has a playback feature that you can even practice playing ping pong alone.
If you want to keep the table in good shape and use it for many years, I would advise you to buy a durable nylon cover to cover the table when it is not in use.

Features:

Playing Dimensions: 108″ x 60″ x 30″.

Storage Dimensions: 62″ x 74″ x 30″.

Folded Dimensions: 63″ x 30″ x 62″.

Sturdy Arched Leg Design.

Adjustable Feet for Improved Stability.

Includes a Permanent Weather-Resistant Polyester Net System with Tension and Height Adjustment.

6″ double-wheel casters with notched tread for superior grip.

Ball dispenser on each playing edge of the table.

Corner protectors for added safety.

Table Weight: 172 lbs.

10-year warranty on the top, 3-year warranty on the frame.

Made in France.
Playing Surface
The table surface is built with protective melamine coating and expansion joints. It is embedded with white lines. The tabletop has 10x less reflection and hence the light reflection will not be too bright when you play under the sun. The dense 7mm synthetic laminated top can provide you with a very good and quality outdoor rebound of the ball.
You will find a 2.5″ (60 mm) structural galvanized steel frame under the tabletop that provides good support to the playing surface to ensure you have a level playing surface.
Net and Post
The table comes together with a permanent weather-resistant polyester net system. It is adjustable for the net tension and net height. You can adjust them easily to the tension and height that you want.
Besides, there is also a retractable net that automatically folds in-between the tops for protection. Such a design will also help you to reduce storage space when you finish playing and want to store the table.
Adjustable Feet
There are large feet that come with the table. The feet are measured at 4.75″ x 2.375″ or 120 mm x 60 mm. The feet are adjustable where you can adjust the leg height to smooth out on uneven floor surfaces.
Wheels
There are 8" Double wheels casters with notched tread. They offer you a superior grip. The 2 Wheel brakes can help to secure the table in storage mode or play mode. The wheels are designed for all surfaces with safety brakes.
Safety System
The table is built with a patented DSI® safety system. By having such a safety system in place, you can open and close the table quickly and safely with a single handle accessible from the playing edge. With this, we can say this is one of the safest table tennis tables you can get in the market.
Corner Protector
There are corner protectors that you can find at the 4 edges of the table. These are added safety for you as they can offer you good protection and prevent your body to get injured by hitting the edge of the table.
Covered Racket Holder
You will find there's are a ball and racket storage each side of the table. Therefore, you can store your rackets and balls in there when you finish playing and you can just take them out when you want to play ping pong. Such a design is convenient.
Ball Dispenser
There are ball dispensers built on each table playing edge. It is effortless for you to get the ball and play the game right away.
Pros:
The table is easy to fold and unfold.

DSI® safety system makes it become a very safe table for you to play with.

The table is built with compact technology which makes it very easy and convenient for storage.
Cons:
This is a heavyweight table.

It is not a cheap table.
Conclusion
For those who are seeking for a premium quality outdoor table tennis table, they may consider this Cornilleau Sport 500m table. You can buy this table and leave it outside your house so that you won't sacrifice any of your house space to put the table.
If you are concerned about the bounce quality of the table, you should rest assured that this table is going to provide you with even bounce quality without the fear of weather effects.
The bounce will remain in great condition even after you have played with this Cornilleau Sport 500m table tennis table for many years.
If you would love to purchase this table, you can buy it from Amazon.
Video of The Product
More about Outdoor Table Tennis Tables Post: