The Adidas TiClassic Blue 16 Table Tennis Table is a high quality, easy to store table. With it's sleek, modern good looks, and price tag of around $350 seems like the perfect choice for the serious player. Throw in its easy fold system, professional level rebound factor and durable construction, and it is a top of the line indoor offering from the legendary Adidas company.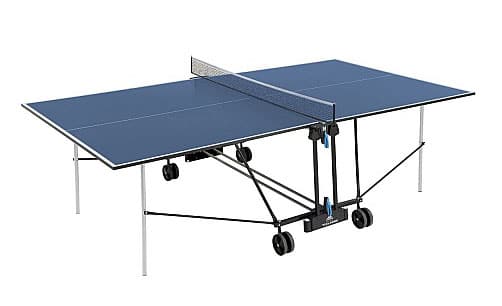 Easy Fold System
One advantage for this Adidas table tennis table is that it is easy to fold, store away and transport would be an understatement. Adidas has built this table with what may well be the ultimate fold-away system for ping pong tables.
Getting it to fold up is as simple as pulling up a bar on one side of the table, and then lifting the table up. Then you repeat on the other side. The dimension of the table is of 107.9 x 72.4 x 29.9 inches. To make moving this table tennis table even easier, it has double steerable wheels, that allow for simple, smooth transporting of the table.
Key Features
The Adidas TiClassic Blue 16 table tennis table plays like a dream. The table is constructed from 16mm special thick chipboard that's topped with a sleek blue, anti-glow matte surface.
The table's frame is durable and made from extra-wide piping for the most stable game play available. The rebound factor of the Adidas TiClassic Blue 16 Table Tennis Table has been rated at 9, which is on par with ITTF professional grade tables. That means that balls rebound higher and faster, while allowing for quick spins and fast table tennis action.
This high quality ping pong table even includes a fixed net. The height can be easily adjusted, so you'll always have the table set up and ready to go, for a quick practice session or a full day of serious, competitive play.
And if you're on your own the table quickly moves into playback mode.
Easy Table Leg Adjustments
It's not just the fixed net that offers easy adjustments either. The Adidas TiClassic Blue 16 ping pong table is built with rugged legs that are height adjustable. That way you can set up this table for stable play, even when you're playing on an uneven surface.
Summary
It's obvious that Adidas aimed to impress with the release of the TiClassic Blue 16. With the easy fold system and the amazing table surface, this is comparable to the best professional table tennis tables.
This indoor table tennis table is the ideal practice table for pros. But it's also a great choice for serious ping pong enthusiasts who are looking for a table to take their game to the next level.
So if you're looking for the highest quality ping pong table, at a very reasonable price, you can't miss with the Adidas TiClassic Blue 16 Table Tennis Table.