Table tennis tables consist of many different types such as full-size tables, mini tables, and compact tables. When you think of compact you think smaller, and you'd be right. But perhaps not in the way you think. Compact tables are in fact the same size as full-size table tennis tables when erected. Where they differ is their storage. Compact tables are a great deal thinner when folded.
Compact ping pong tables divide into two halves. This makes it easy for anyone to set up the table, or pack away each half of the table at a time without much stress or heavy lifting.
The Compact Outdoor is such a table by Butterfly. Well-priced and produced by one of table tennis' top brands, the Compact Outdoor is a great choice if you are short of space for storage.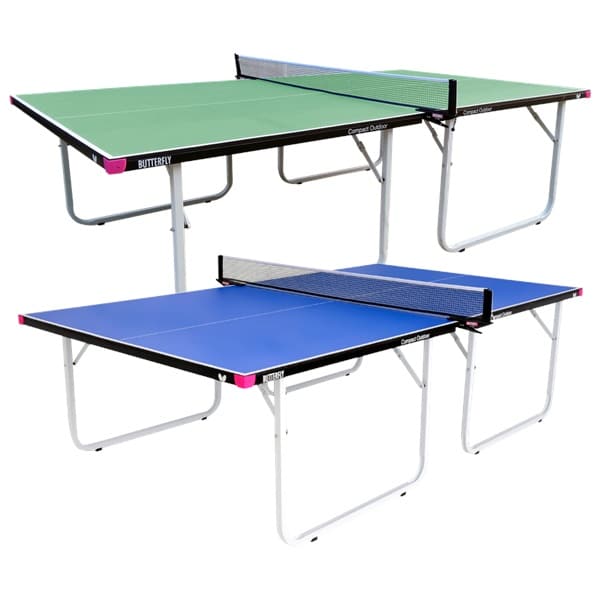 Butterfly Compact Outdoor Table Features
Size and Storage
The Butterfly Compact Outdoor features two separate halves and easy-to-fold legs which take up minimal space when in storage. The table's dimensions measure 274 cm (length) x 153 cm (width) x 76 cm (height) when put in a playing position. 
However, when folded for storage, the dimensions reduce to 137 cm (height) x 153 cm (width) x 13 cm (depth). This makes the Compact Outdoor one of Butterfly's most compact table tennis tables. So if you are short of space in your house or garage, we recommend considering the Compact Outdoor table over other bulkier models.
Each half of the table weighs about 89 lbs or 40 kg, collectively bringing the total to around 178 lbs. This is a manageable weight. Two wheels are conveniently located on the net side of the table for easy transport.
Build Quality
The Compact Outdoor table comes with a 12mm weatherproof tabletop which provides excellent bounce quality for an outdoor Butterfly table. Most Butterfly outdoor table tennis tables have a thickness of around 6mm by comparison. At twice the thickness of even some of their premium models such as the Butterfly Park Outdoor, the Compact Outdoor's playing surface is pretty amazing. 
It is also has a unique coating of DuPont for extra protection against harsh weather conditions. Butterfly claims it is virtually unbreakable! The table's undercarriage is minimalist and strong.
Assembly
The Butterfly Compact Outdoor Table Tennis Table comes completely assembled. In this regard, it surpasses the majority of tables out there which are most often partially assembled, often requiring around 15 minutes to get the table up and running.
To get the table play ready it is simply a case of taking it out of the box and opening up the legs. Push the tables together and then attach the supplied outdoor net. 
It should only take you a few minutes before you are ready to play.
Equipment and Accessories
Included with the tables is a full-size net and post set. This means you don't have to purchase one separately so you can get playing straight away. The net is easy to put on, it clips to the table with heavy steel clamps for a firm hold.
No bats or balls are included with the Compact Outdoor. However, this isn't a problem in our eyes. You are better off purchasing your own bats and balls as they will be of much higher quality.
You also don't get a cover with this model. Being an outdoor table it doesn't necessarily require a cover but we always recommend one for extra protection. You can purchase one here.
Warranty
When buying a large piece of equipment such as a table tennis table the warranty period is a factor you should always consider. Some tables come with just a year's warranty which is pretty poor, especially for outdoor ping pong tables which take a lot of punishment.
This is why we recommend the Compact Outdoor table. Butterfly provides a 3-year warranty with every purchase which provides peace of mind. 
Pros:
Available in blue or green
Suitable for outdoor play
Great bounce for an outdoor table
Occupies minimal space when you put it into storage
3-year warranty
Cons:
No fold-up playback mode for solo play
Small wheels poor for uneven surfaces
No leg levelers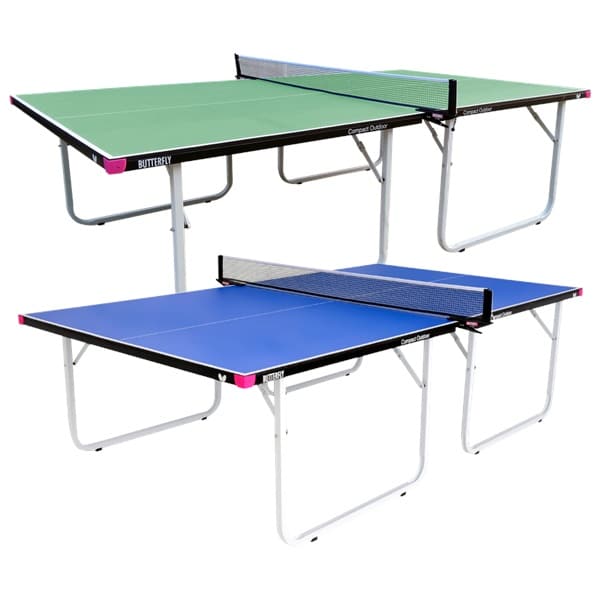 If the Compact Outdoor lacks some of the features you are looking for check out our Butterfly table tennis table guide.
Butterfly are table tennis experts and we handpicked some of our favorite tables suited from beginner level all the way through to advanced. We are certain there will be at least one table that catches your eye on that list!
Similarly, if this Butterfly outdoor table tennis table isn't the one for you consider reading our complete outdoor ping pong table guide for 2021. We painstakingly reviewed all of the tables available on the market to give you our favorite picks. 
Have Kids? Try a Mini Table Instead
Whilst the Compact Outdoor is an excellent choice for all of the family it may be a little too big for some children. This makes smaller table tennis tables a more fitting purchase. Mini ping pong tables such as the Stiga Mini are a reasonable size for kids to learn to play table tennis and enjoy themselves. They even store easier than the Compact Outdoor as well!
Another benefit to purchasing a mini table tennis table is how affordable they are. They cost a fraction of what you would pay for a full-size which is a huge advantage. Adults can still have a lot of fun on them too.
Something to be aware of is that mini table tennis tables are not suitable for beginners who are serious about improving at table tennis. Playing on a mini table harshly limits the shots you can perform which bottlenecks your performance on a full-size table. 
Therefore, if you're dedicated to improving your table tennis game on a regulation size table, a full-size model is what you should purchase.
Similarly, if your kids already have a mini table tennis table and want to step up their game and develop the basic techniques you should upgrade to a full-size. A storage-friendly table such as the Compact Outdoor is a great choice.