Here the brief discussion on various different types of Sportcraft ping pong tables for your reference if you intend to but one of this brand.
Sportcraft PX400 Table Tennis Table
Sportcraft PX400 Table Tennis Table is the one of the kind. It is built with heavy duty steel frame and stamped steel leg which can provide you with super stability and incredibly of value. This table can be easily fold up when not in use. You may need to spend some time to do the assembly job. But it is not really hard to have everything setup. You are going to have lot of fun which this quality product and it can be great value for the money that you spend on it.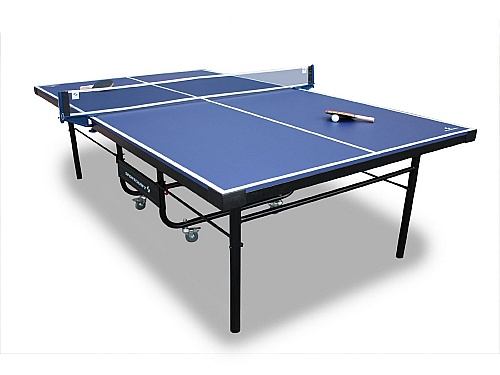 Sportcraft AMF Pro Air Piston Table
This table combines both performance and value unlike any table on the market. It has a one-inch thick coded playfield and all steel frame create a solid foundation that can handle intense gameplay. The Pro Air Piston is designed with the center-mounted net that stays in place at all times. This eliminates the need to remove the net when the table is repositioned. Apart from the top quality construction, this table best feature are the additional four gas actuated pistons that work together to make each table have feel more than 50 pounds lighter.
Two pieces table tops are heavy and naturally difficult to lift. However, with the use of pistons, it allows virtually anybody to raise and lower the table tops into standard playback or storage position.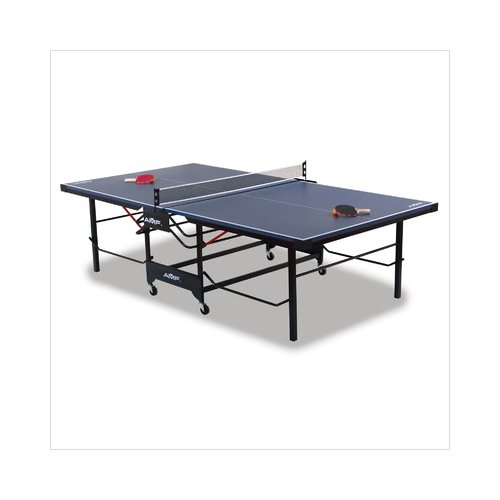 It is included with the Pro Air Piston are solid wood pro-style paddles and 3-Star table tennis balls. These are top quality accessories that won't limit your table tennis playing skills. You can simply elevate your game with the AMF PRo Air Piston table.
Sportcraft Pipeline Table Tennis Table
The Pipeline is best ping pong table for the money you pay for! By having a center-mounted net, thick play table top and durability design, the Pipeline can provide players with great value of competition performance.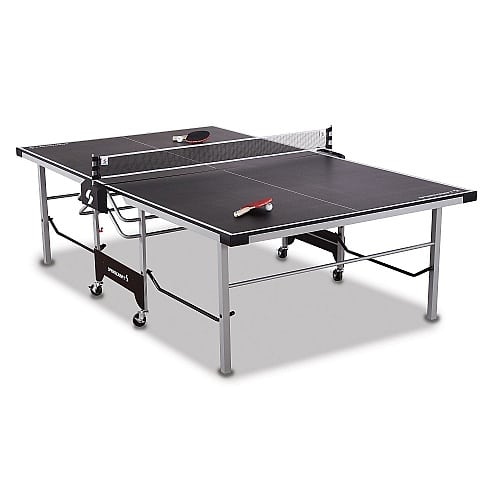 – Durable stamped steel frame and leg physically fit strongly with each other to create very robust stability.
– The table can be effortless folded up one half vertically for single practice.
– 100% laminated table top is surrounded with distinctive material to provide even bounce.
– 3 pieces of 40mm 3-star table tennis balls in orange color with consistent bounce.
– 2 sets of deluxe "pips-in" paddles that have 1mm sponge and tacky rubber for mind-blowing spin and ball control.
SportCraft Game Master 2 Piece
This is a heavy weight table which required at least 2 strong adults to assemble. However, you are going to get lot of fun once you found out the way to get the job done. Apart from the weight, the table is of great quality and is very sturdy.
The table can be folded without any difficulty for both storage and playback. It is designed in tournament size and separated in two piece of 5′ x 9′ Playfield with 1″ thick surface.
SportCraft Grand Master III
Needing to say, this is one of the finest table that released by SportCraft. It is built with quality material that can last for long time. It is well worth the money you pay for such quality table. You will notice the thickness of the table top that is well making.
When folding up, the folded size is about 6′ height x 7′ width x 3′ depth. You can take down the 2 half of the table surface and start playing the game. Steps for you to fold back for storage is fold the table surface, unlock the wheel and move to storage.
SportCraft Intrepid 2PC
This table is of good quality and selling in reasonable price. It is built with very sturdy material therefore is hard to break and getting damage. The table is designed with folding features which make it easy to fold up for moving and storage.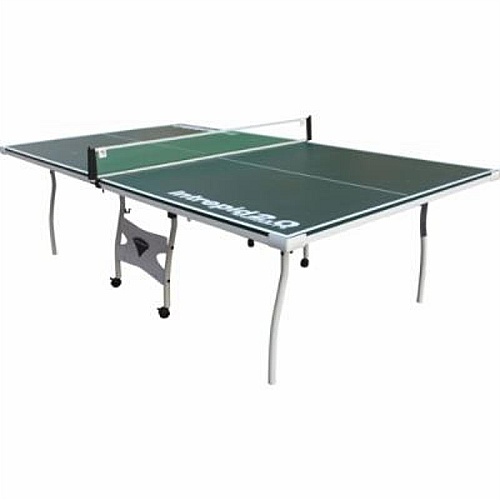 Compare to other tables, it is quite light-weighted. The quality is really good with the price that you pay for. It is especially ideal for you to play ping pong with your kids.
SportCraft Marquis
This table is very firm and sturdy. It can provide good safety which can be important if you have kids in your house. Nonetheless, the table is quite heavy and it will require at least 2 adults to assemble and set everything up.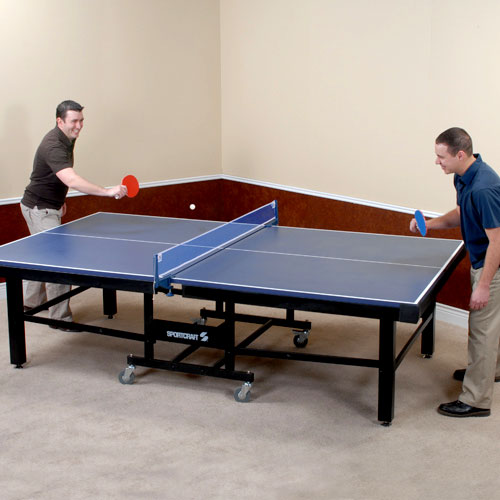 Once the table is up, you will have a lot of fun to play with it. You may roll the table to your desire location, lock the casters, and drop the 2-half of the table and you are ready to play. The table is features with a laminated playing area which can offer you with consistent bounce and speed. One disadvantage is the table lines are actually tape instead of painted. However, it is not a big deal as it won't have any effect when playing on it.
SportCraft Millenia 2PC
If you intend to buy this table, you need to know first that this table is suitable for beginners but not advanced players. The table is manufactured with a space between the two sides, making the table dimension with 9′ x 5′. You can observe the word of "Sportcraft" displays in white color on both ends of the table top. The parts are all fit together with the table and one drawback is there is no leveling adjustment on the legs.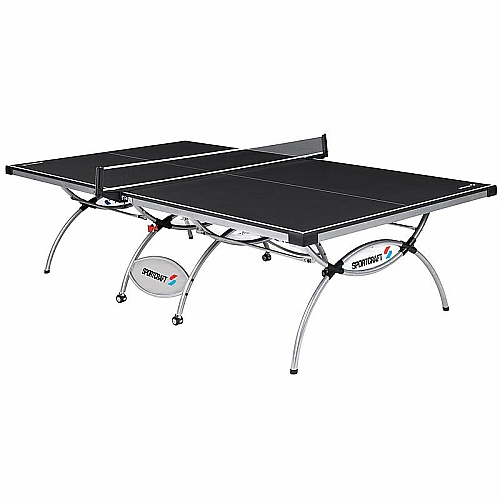 You may do your own research before buying this table. If you compare the price with other brands like Joola or Stiga, you will find this table is actually much cheaper. Other than the price, the table is very sturdy and sleek. It is good for your family of all ages to play.
SportCraft Spectrum 2PC
If you get this table you shouldn't worry about the sturdiness or getting wobbling when bump with the table. If you are a fan for 2 pieces table tops, then you are making the right choice for choosing this table. The design of the legs can be different with other brands of ping pong tables but they can definitely balance the table in great position. There are casters come along and the table can be folded into half. This made it possible for you to do some training by your own.
To set up the table, you will need to first assemble the two halves upside-down follow by flip them over to attach both tables. At least 2 strong adults are needed to carry out the task. Once complete assembled, you can start playing the game with your family of all ages.
SportCraft Pro Volley 4-PC
This is an average quality table which can bring your family together, and stop your kids from sticking on the TV screen and playing video games. The table is fit for both amateur and serious play. One of the good things of having this table is it is not so hard to assemble compare to other tables released from the same company.
However, you will need to take certain precaution when playing with the table. If you try to lower the table down, you need to notice the screw as it may strip out and break the table. It is recommended for doing anything on the table with care so that you can have a longer playing life.
SportCraft Prism 2PC
Another hard to assembled table, some said it is the nature of the tale that produced by SportCraft. The manual may lack in detail so even you follow the step by step instructions, you may still need to spend additional time to get the job done. You will be easily installed the parts at wrong place which may caused in backtracking and you will need to remove the part and start all over again. The table top is sturdy enough to provide you with durability and the folding mechanism make it easy for you to fold and move for storage.
Of course, if you are having more budgets to spend on the ping pong table, it is good for you to spend more money to buy a thicker table top table with robust leg supports which can provide you with extra safety as well.
SportCraft Folding Table Tennis Conversion Top
The conversion top is very sturdy and of great quality. It is effortless for you to put them together. Even though the table is quite heavy, but the quality is well worth the price. You are going to use it in smart way if you have a dolly. The advantage that you can get from this heavy weight conversion top is that the table won't get broken easily if you bump the table during play.
SportCraft Power Serve
You can experience some pain when you get this table and want to assemble it. You need to pay attention to the corner covers as they tend to break easily due to the design are not thick enough. The leg support also can be another issue which seem like not sturdy enough to support the table.
This table isn't get scratch easily and it can provide players with even bounce and shot for long time.
SportCraft Victor
The table is built with high quality material and therefore it is very durable. The assembly is also easy and you should have no problem to set it up. You are going to have lot of fun with the table once you finish assemble and can play immediately with your friends and family members. The table is easy for transport and storage.
SportCraft X-3000 4 Piece
This table is built with decent quality and it can last longer if you just keep the table indoor all the time. If you place outdoor, you will need to take additional care as the table may getting warped if expose to the sun.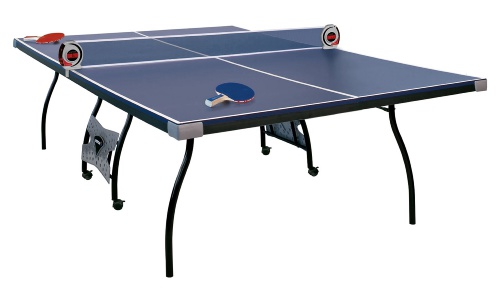 The table is foldable which make is easy for transporting and storage. The table is water resistant but you will better keep the table away from connecting with water or place it at moisture location which may damage the table. Overall, the table is ideal for leisure play but definitely not for professional players.
This is the official website for SportCraft. Feel free to visit there and find out more.