The Butterfly Europa 25 Table Tennis table is approved by the International Table Tennis Federation and is made by the renowned Japanese manufacturer known as Butterfly. It's been used by the European Championships, the 2005 U.S. Open, and the 2014 – 2016 Butterfly North American Tour.
The Butterfly Europa 25 ping pong table is known among professional players for its heavy-duty construction and thick 25mm top. The consistency of the playing surface gives a reliable bounce and reduces skids, so players can confidently play all out.
It's not for most players, though, so check out our full review below to see if it's a good fit for you.

Features
This table features a 1 inch thick blue or green wooden scratch-proof tabletop, protective PVC band, 2 by 3/4 inch steel railing, 2-inch square steel legs for stability, 2 extra mountable 5-inch rubber wheels for added mobility.
The Butterfly Europa 25 table weight comes in at 270 pounds, so it's heavy duty. The table comes in two independent foldable pieces, with each half being built with four steel legs.
It also has a 5-year guaranteed warranty, which is what you'd expect for a premium table like this.
We love this table because it makes us feel like we're playing in a big tournament, it can be assembled in two minutes, and has a high-quality build that will last for years.
Tabletop
The tabletop is 25mm thick, making it competition-ready, and offers consistent ball bounce and spin. The Butterfly Europa 25 table tennis top is built for heavy use in tournaments and clubs.
The table does not come with playback ability, so single-player practice is not possible.
But the Butterfly Europa 25 table is especially great for intermediate and advanced players who play for hours every week and want to be ready for competitions.
If you're looking for other Butterfly tables, check out our 5 favorites here.
Assembly
The table comes in two preassembled pieces and can be set up in a couple of minutes. Simply remove the table from the box, unfold at the center, attach the net, and install both 5-inch rubber wheels.
Then you're ready to play!
When unfolded, the table stands at regulation dimensions: 9 feet long by 5 feet wide and 30 inches high. But the Butterfly Europa 25 table tennis table is advertised as Butterfly's most compact model yet. The table is only 6 inches wide when folded, making it optimal for storage.
It's easy to put away, too. Just fold each half into each other, fold in the legs, and if desired, attach the two mountable wheels for easy transportation when rolling the table into position. The table can fold down to 60 inches long by 50 inches high and 6 inches wide.
Both setup and storage can be done in a matter of minutes.
Net and Post
The table comes with a National League Table Tennis-approved Butterfly Europa net set. The net posts are fastened by screw clamps that are felt-tipped to prevent any scratching to the tabletop.
The net also comes with an adjustable chain to modify the tightness of the net.
Folding Mechanism
The design is straightforward and doesn't have any complicated folding mechanisms – you just need to unfold it, and you're ready to play.
The sturdiness of the legs offers excellent support when locking the table into place. Once the table is raised, its strong base will prevent it from moving during play.
Specifications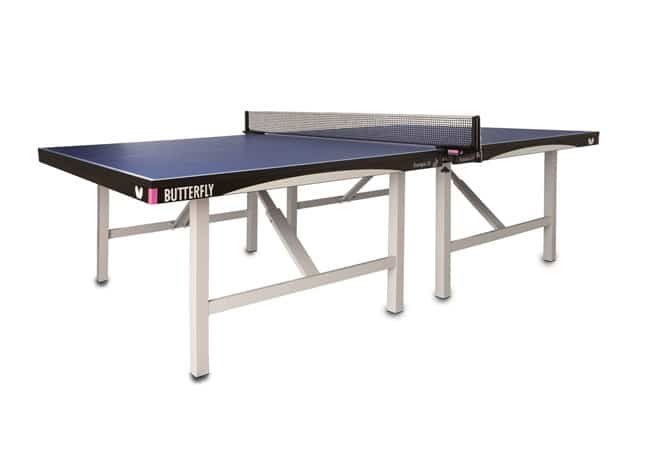 ITTF-Approved
Play dimensions: 9′(Length) x 5′(Width) x 2.5′(Height)
Storage dimensions: 60″(Length) x 6″(Width) x 55″(Height)
Color Available: Blue or Green
Two 8" wheels on each half for easy movement.
2″ square steel legs
2″ x 3/4″ steel rail/rim
Pros
Professional quality for intermediate and advanced ping pong players.

Qualified for official tournament play.

Very easy to fold and unfold.

Compact and easy to move around for storage.
Cons
High price.

No playback ability.

Indoor only table and is not waterproof.

There is no built-in ball storage or racket holders for this table.
Conclusion
With its simple design, top-grade build, and professional league specifications, the Butterfly Europa 25 is an ideal table for ping pong clubs and those that want to play on a table, just like the pros do.
The high price point will not fit most players' budgets, though. If you prefer a high-quality table at a better value, check out our review of some of the best ping pong tables this year. The Joola Tour 25 is an excellent table for most players at a much lower price.
But if you have the budget, the Butterfly Europa 25 is a table that can last in a table tennis club for years or make one heck of an addition to a game room.