Among all the table tennis table brands, Butterfly is one of the most reputable. To play your best, you don't want a table that bottlenecks your performance.  That's why ping pong professionals love Butterfly table tennis tables, and you will too. 
But Butterfly has an extensive line of ping pong tables, so which is right for you? Are you looking for the best quality or the best price? Or maybe you need a compact model to save space?
Read on to see all the features and costs of the top Butterfly ping pong tables.
Competitive Features of Butterfly Table Tennis Tables
It can be challenging for people who have not played table tennis for an extended period to identify what makes a table tennis table great. However, with Butterfly, even their basic tables receive overwhelmingly positive reviews.
This provides you with peace of mind, knowing that even if you purchase one of their cheaper models, it will still deliver in terms of quality. Yet when it comes to choosing your table, you really are spoilt for choice. Butterfly provides a wide range of tables to fit the needs of any player. 
Some standout features of many ping pong tables by Butterfly are:
ITTF Approved

Excellent bounce

Strong build quality

Compact storage 

5-year warranty
Yet this will vary from model to model. And Butterfly delivers many other great features besides these 5. 
All of us table tennis players are unique and have different preferences regarding tables. Some of us may prefer large wheels for mobility, while others may instead favor a strong undercarriage for longevity. 
Butterfly table tennis table designers try to cater to these preferences. They offer a multitude of features across all of their models. This way, there is something for everyone. The Butterfly Space Saver 22, for instance, is wheelchair friendly. 
Sometimes, people complain about the expensive tables — Butterfly is a premium brand. But with a company as reliable as Butterfly, you know that the extra investment will translate to a superior product. As the saying goes, "you get what you pay for."
Read next: If you'd like to learn more about other brands, read our ping pong table buyer's guide.
Competitive or Recreational?
With the numerous table tennis tables by Butterfly available in the market, honing in on a table to fit your needs is challenging yet vital. To begin with, ask yourself if you intend to compete or just play casually for fun. This will make your requirements in a table much clearer. 
Your main focus when shopping around should be on the depth of the table's playing surface. 
Anyone skilled or extremely passionate about table tennis should settle for no less than an 18mm thick surface. In fact, you will likely want to go thicker. Butterfly has excellent 22mm and 25mm tables available. Although with added thickness, unsurprisingly, comes additional cost. 
Yet if you are a recreational player just looking to have fun, consider saving yourself some money. Butterfly's basic home tables, such as the Butterfly Easifold Rollaway, are great affordable options.
Indoor or Outdoor?
Where do you want to play? Most table tennis players prefer playing indoors. You can use it as entertainment for the whole family or for more serious training.
You can simply wheel the table out whenever you feel like playing, and you are ready for a game. Then, when you are finished, close the table up and put it back into storage where it is out of the way. The Butterfly Compact 16 and the Butterfly Active 19 Home Rollaway are two models popularly used for home purposes. 
If it is sunny outside and you want to enjoy the great weather while practicing, an outdoor table tennis table may be a better fit for you. These tables are weather-resistant and stand resilient where indoor tables would warp. You can also wheel them indoors to use during rainy days as well.
Our Top Indoor Butterfly Ping Pong Tables
1. Butterfly Personal 19 Table Tennis Table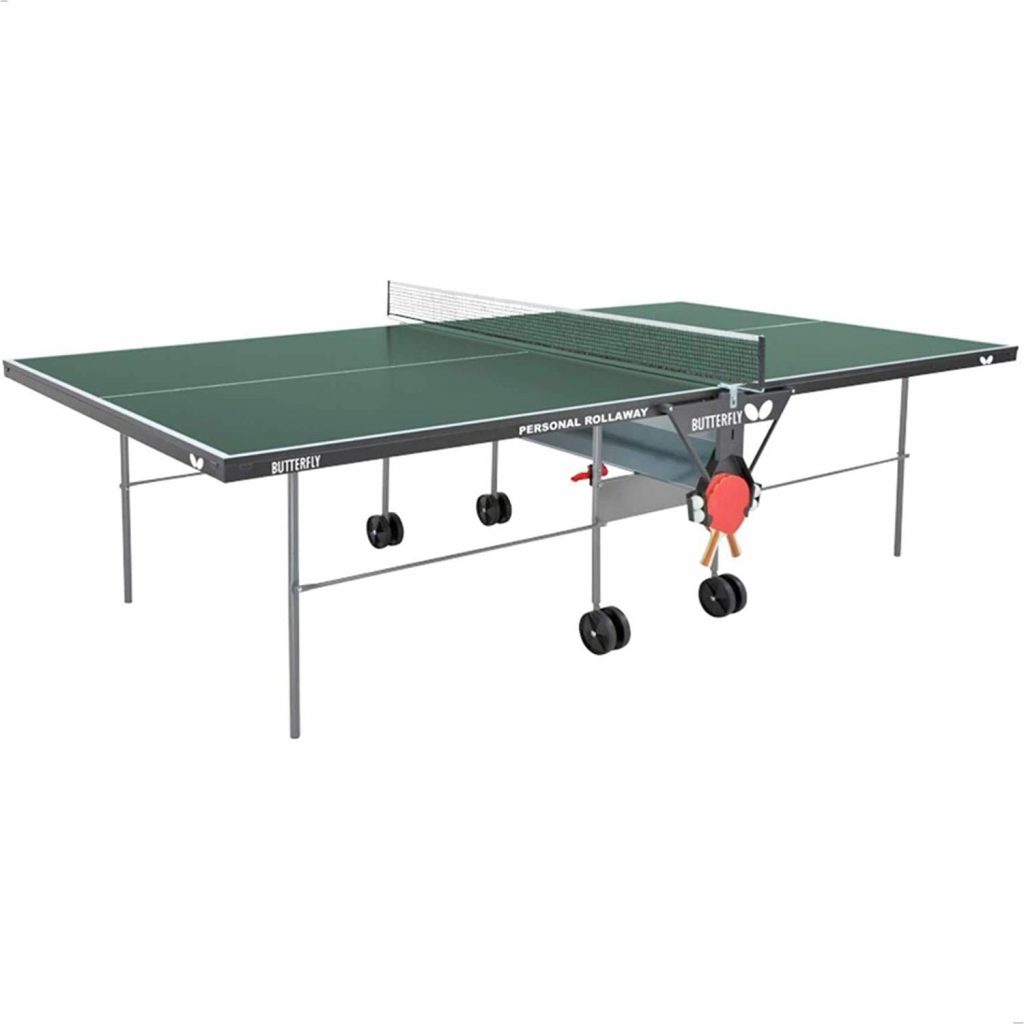 Pros
19mm thick playing surface 
3-year warranty period
Solo playback mode
Bat and ball storage 
5-inch wheels
Cons
No leg levelers
Fixed net
Fairly expensive
The Butterfly Personal 19 provides a high level of performance and durability at a competitive price. The 19mm thick playing surface is a great buy for intermediate table tennis players. Its 5-inch wheels are a standout feature, you'll have no trouble wheeling this table wherever it needs to go!
Get to know more about this model by reading our review.

2. Butterfly Easifold 19 Indoor Rollaway Table Tennis Table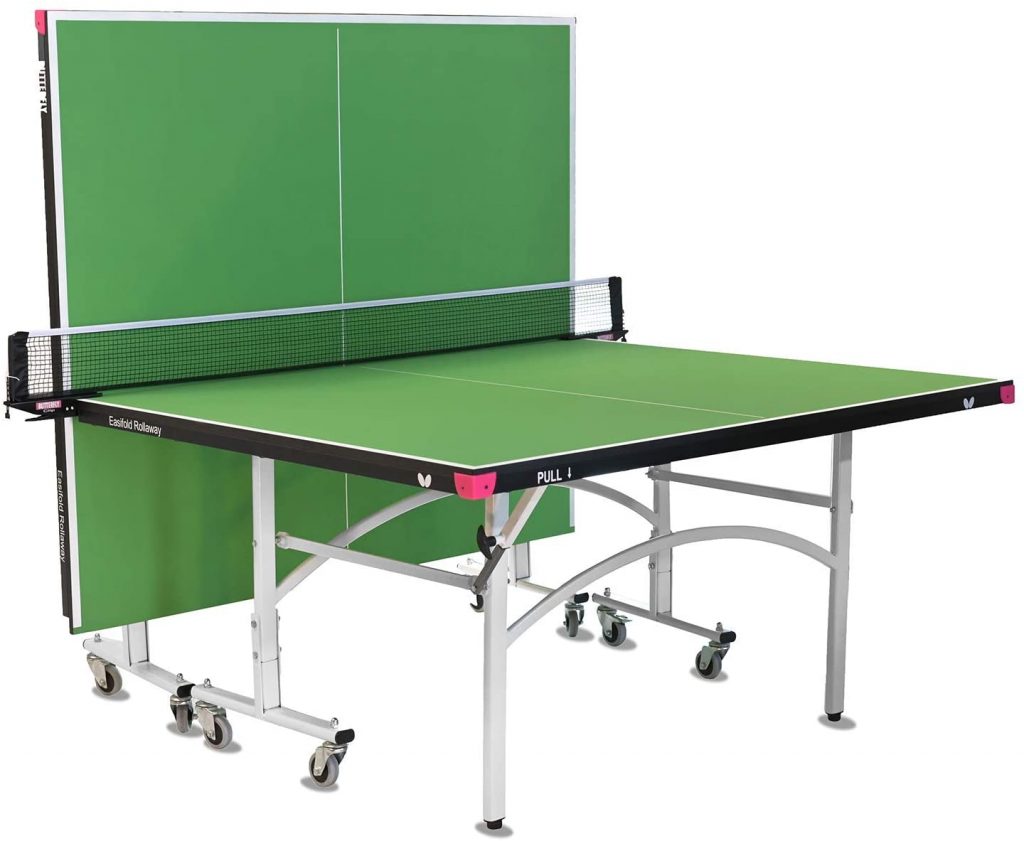 Pros
19mm thick playing surface 
3-year warranty period
10-minute setup period
Solo playback mode
Compact storage 
Butterfly clip net included 
Leg levelers
Cons
Fairly expensive
Small wheels
Playing table tennis has become a lot easier with the latest and improved design of Butterfly's Easifold 19 Rollaway table. Like the Personal 19, this table also has a 19mm playing surface. However, this model separates into two halves for easier movement and more compact storage. Find out more about this table by reading our breakdown.

3. Butterfly Centrefold 25 Sky Rollaway Table — Highest Quality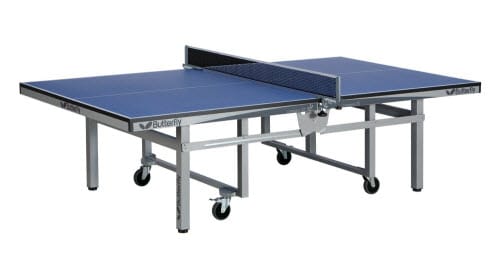 Pros
25mm thick playing surface 
Thick frame 
5-year warranty period
No assembly required
Compact storage 
5″ wheels
Tournament-grade net included 
Leg levelers
ITTF approved
Cons
The Butterfly Centrefold 25 Sky Rollaway table tennis table is one of the top ping pong tables Butterfly has ever released. With its rock-solid frame and superior 25mm thick playing surface, it meets the needs of any player. If you have the money to spend, this table will not disappoint.
To learn more, consider checking out our review.

4. Butterfly Easfiold DX 22 Table – Best Value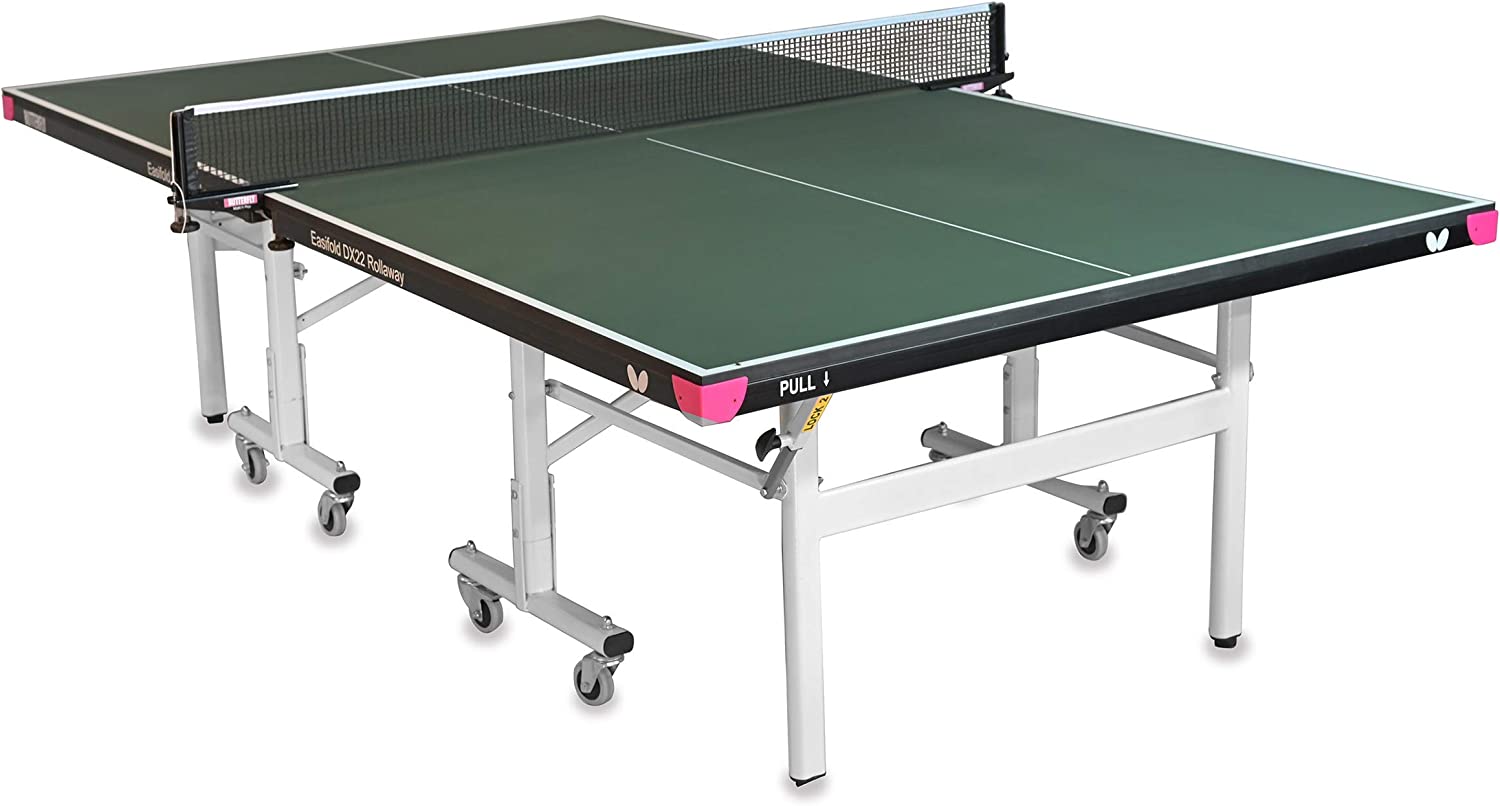 Pros
22mm thick playing surface 
Thick frame 
3-year warranty period
10-minute assembly period
Compact storage 
Solo playback mode
Tournament-grade net included 
Leg levelers
Cons
For advanced players that want Butterfly quality but can't quite afford a 25mm table, the Butterfly Easifold DX 22 is a stellar option. Think of it as an upgraded version of the Easifold 19. With a 22mm tabletop, it provides an excellent bounce. The frame is pretty thick, too, ensuring the table will last for many years. 
As a 2-piece model, the Easifold DX 22 folds compactly for storage, and when you don't have a partner available, you can erect just one side of the table to train by yourself. The main drawbacks to this model besides the cost are the small wheels. However, this is more of a nitpick as indoor tables do not need very big wheels, as they usually travel across smooth flooring. 

5. Butterfly Club 25 Rollaway Table — Editor's Pick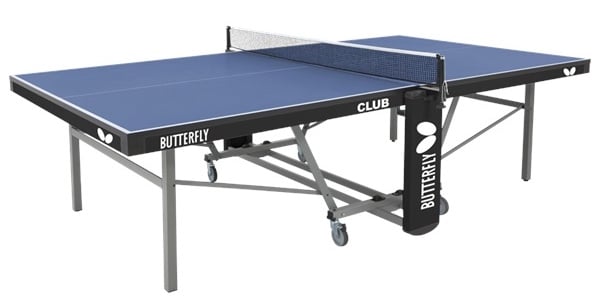 Pros
25mm thick playing surface 
Thick frame 
3-year warranty period
10-minute assembly period
Compact storage 
Solo playback mode
Tournament-grade net included 
Height adjustment
Cons
Expensive
Fixed net
Requires a lot of assembly
Heavy
As Butterfly's least expensive 25mm thick table, the Club 25 Rollaway had to make the list of our favorite tables. Now don't expect a steal of a price tag because that's not what you are getting — Butterfly is a high-end table tennis manufacturer. That being said, you are getting quality Butterfly engineering cheaper than ever before. 
The Club 25 Rollaway is a robust one-piece table that supports solo playback mode and is fairly compact when stored. Of course, its 25mm thickness is its greatest selling point, but overall it's just a very attractive table. This model has a few drawbacks, namely the weight and lengthy assembly period. However, this is remarkably common for high-end tables, and a small price to pay for the quality you receive. There's no doubt in our minds that this is one of the best Butterfly ping pong tables you can buy.
Our Top Outdoor Butterfly Ping Pong Tables
1. Butterfly Playback Outdoor Rollaway Table Tennis Table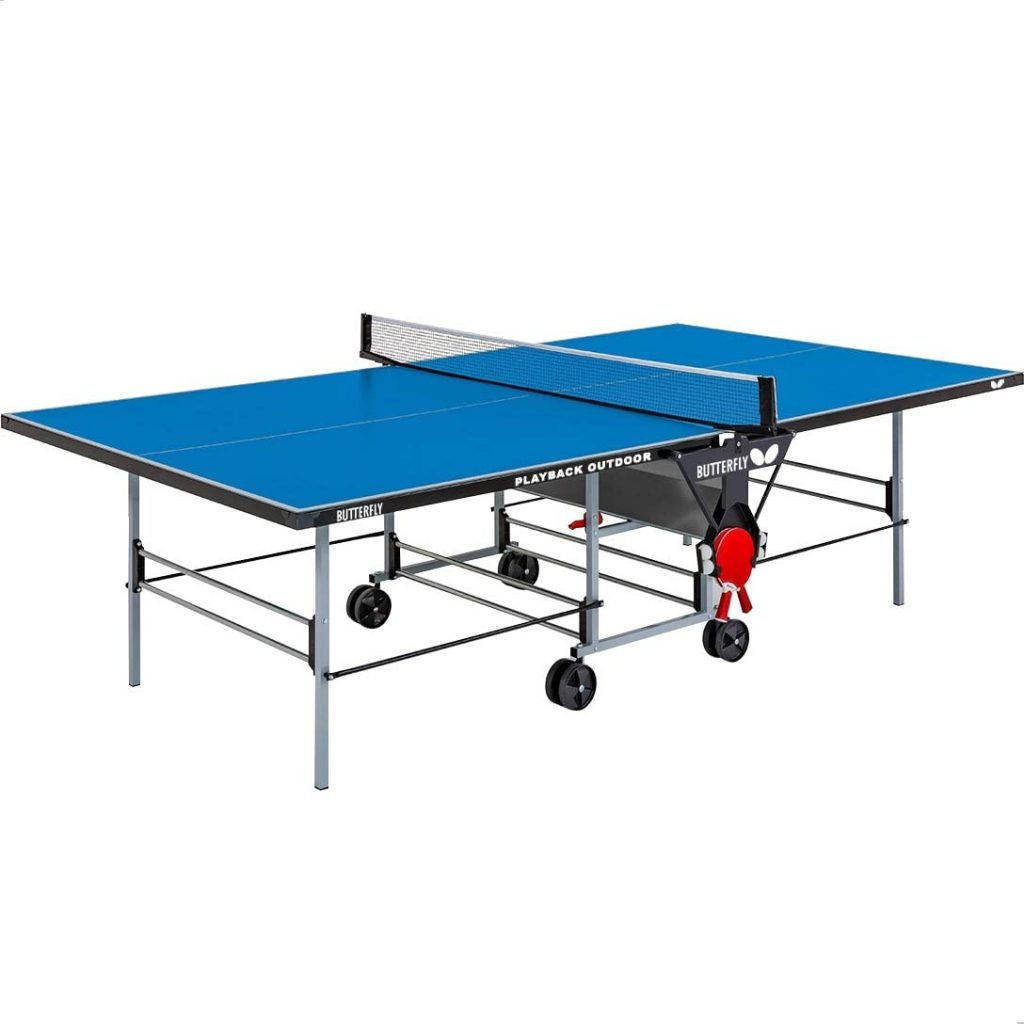 Pros
10-year warranty on the top and a 5-year warranty on the frame
5″ wheels
Bat and ball storage 
Includes weatherproof net set
Solo playback mode
Cons
6mm synthetic laminate top
Expensive
Lengthy assembly period
No leg levelers
Weatherproof net set is not easily removable 
The Butterfly Playback Outdoor Rollaway is a lightweight table to handle any weather. It features a 6mm synthetic laminate top and a stronger chassis than the Outdoor Home Rollaway.
If you want to play outdoors and don't mind undertaking considerable assembly, the Playback Outdoor Rollaway is a great option. It's our favorite Butterfly outdoor ping pong table. Read our review to see what else this great outdoor table has to offer.
2. Butterfly Compact Outdoor Table Tennis Table — Most Compact
Pros
3-year warranty
Ultra-compact
Includes weatherproof net set
No assembly required
Cons
4mm synthetic laminate top
Expensive
No solo playback mode
No leg levelers
Hard to maneuver
The Butterfly Compact Outdoor table tennis table is the ideal choice for families with limited indoor or outdoor space. When folded, the table is just 5" thick which is considerably less than other Butterfly tables, making it the best Butterfly ping pong table in terms of storage.
Sporting a 4mm melamine surface, its bounce quality is one of its weakest areas. That being said, 4mm is a somewhat common thickness among outdoor tables.
Our review provides further information to help you decide if this table is the one for you. We also have a comprehensive breakdown of all of the top outdoor ping pong tables that you may find useful.
Conclusion
By now, it should be clear that Butterfly makes many excellent table tennis tables, and were it not for the cost, they would be even more popular than they are now. Whether you are practicing for a competition or playing for fun, there should be a specific model in this list for you.
To recap, the Butterfly ping pong table that impressed us the most is the Easifold DX 22. We chose this table because at 22mm deep, it is thick enough for anyone from beginner to advanced level to enjoy. What's more, you save yourself a pretty penny by opting for 22mm over 25mm. Of course, the table has an array of other features which seal the deal, such as a robust frame and 3 years of warranty. 
FAQs
Is Butterfly a Good Ping Pong Table Manufacturer?
Butterfly is one of the top table tennis table manufacturers. They focus mostly on higher-end tables. As a result, their models, on average, cost more than the competition. However, their quality very rarely misses the mark. Butterfly tables are very common in competitive settings, you'll often see the pros playing on them.
Where Are Butterfly Table Tennis Tables Made?
While most Butterfly rubbers and blades are produced in Japan, their tables are instead built in Germany.