Are you looking for buy a ping pong table but not sure which ones are the best? Knowing which table to choose, given the number of choices, can be confusing. Deciding on features like table thickness, the size of the wheels, let alone the quality of the brand, can be overwhelming.
Well, to help, we're going to walk you through everything you need to know about buying a table tennis table. We'll also go over what we think are the best ping pong tables for 2023, so that you can make an educated decision about which one is right for your needs.
How To Choose A Ping Pong Table: A Buyer's Guide
Before we get to our individual table reviews, below we're going to cover the overall factors that go into buying a table tennis table. These are things like the thickness of the table top, the dimensions of the table, whether it's an indoor or outdoor table, among other things. Let's get started.
Table Sizes and Material
Before getting a ping pong table, you should learn about its size and the required room space to accommodate the table.
A standard size table will have a dimension of 2.74 meters long, 1.525 meters wide, and 76 centimeters height measure from the ground. We have a post on the dimensions of a table tennis table and the ideal room size for various table sizes.
Besides the table, other accessories like the balls, net, and post are also needed for playing table tennis. Many tables come with a pair of table tennis paddles and balls, as well as the net and post, so you can play right after you assemble it.
On the subject of table tennis table assembly, most tables are easily assembled, moved, and stored. Most of them have wheels and fold in two, so they don't take up too much space. However, this can vary from table to table and the larger tournament-quality tables may be too heavy for one person to handle this on their own.
There are various sizes and makes of tables. If you do not want to have a permanent table with no legs, consider the folding table. A fold-up model features brakes and rollers that will ease your task of setting the table up.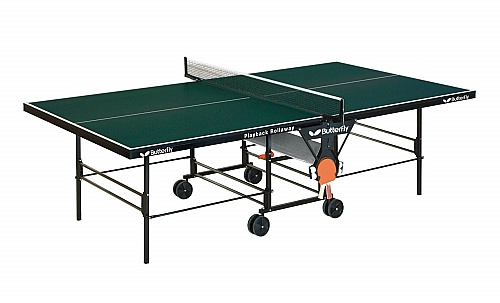 Playing Surface Material
Most table tennis tables are built out of aluminum composite materials and have warp-proof laminated tops. Some tops are made of steel and covered with plastic and aluminum. Others are made of fiberboard, but this is not ideal for the anyone at intermediate level or above.
Compact, Mini, and Midsize Table
There are also many non-standard size table tennis tables available that cater to amateur and recreational play. These tables are of a much smaller size and are meant for families, children and very casual games. They are easy to fold and only need small room space to play the game.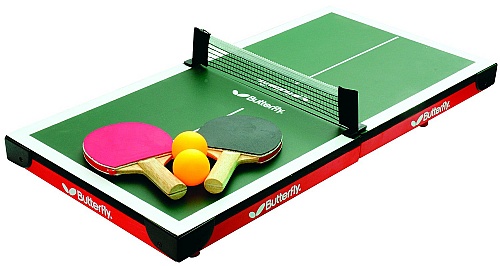 Some tables are compact and portable enough for you to take with you on travel. You can check out our mini table guide to learn more about these tables. There are currently a number of cute mini-sized table tennis tables on the market for you to enjoy playing anywhere you want.
Some reputable manufacturers are manufacturing these types of tables, and the different models that available are:
Floating Ping Pong Table
Let's be clear: floating ping pong tables are only meant as a fun summertime activity. It's nowhere near the same as playing on a regular table tennis table, but it add some fun to a swimming pool.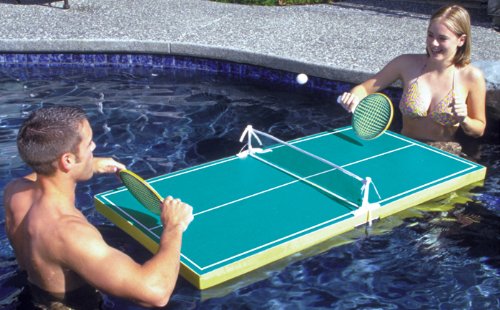 Check out more on the floating table tennis tables where you can get one in very affordable price and having fun with.
Should You Buy an Indoor or Outdoor Table Tennis Table?
Playing table tennis outdoors can be fun, but table tennis is traditionally played indoors. However, this can be a subjective decision, just bear in mind that playing outdoors requires taking some extra factors into account.
You'll need a lot of sunshine to play outside and, more importantly, it requires good, dry weather. Some tables are weather-resistant, but there are fewer of these and they can be expensive. You'll also need a table with levelers, so that they can be placed on uneven surfaces. Lastly, windy conditions might affect the flight of the ball.
But with the indoor table tennis table, you can happily play even while a storm is passing by your town! Indoor table tennis tables have a better playing surface, as outdoor table tennis tables are typically smaller and made of thinner materials.
What to Consider Before Buying An Indoor Table Tennis Table
There are a few things to keep in mind before buying an indoor table tennis table, as there are quite a few options which might result in you purchasing one that doesn't best suit your requirements.
Firstly, it is essential to pick a brand with a quality track record. There is a great diversity in terms of brands, but a few really stand out. These often come with extended warranty periods as well, which will make your life easier should something happen. Butterfly and STIGA are two of the most well known brands and they both offer some of the best tables. These are good both choices for your first table.
Next, consider the size of the room where you will place the table. In most cases, it is advisable to have a table whose dimensions are proportional to your room's dimensions.
You could also buy a foldable table tennis table. This allows you to play outside the house, on a flat surface, to break the monotony of playing indoors. Generally speaking, a foldable table tennis is easy to move around and very convenient.
The Best Ping Pong Tables for 2023
Now that you hopefully have a better idea of which ping pong table you might need, it's time too look at review for some of the best ping pong tables for 2023. We've listed ten below.
#1. JOOLA Tour 2500 Ping Pong Table
Type: Indoor
Dimensions: 108″ x 60″ x 30″
Surface thickness: 1″ (25mm) thickness with 5/8″ and 3/4″ also available
Assembly time: 10 minutes
In at number one we have the JOOLA Tour 2500, which is a feature-packed indoor ping pong table that folds, locks, and can be stored away with ease. The table is incredibly easy to assemble and only takes 10 minutes to set up. It comes 95% pre-assembled and all you have to do is attach the legs.
The table surface is made from medium-density fiberboard and has an eye-catching painted blue surface. The rolling trolley system has anti-tilting and locking devices to allow you to roll and store without it falling or moving out of place, while the safety spring-loaded latch also keeps in the folded position securely.
One particularly great feature of this ping pong table is the independent table halves for a playback position when you want to play alone. 
This ping pong table is essential for any at-home enthusiast who wants the option to play alone or with competitors, and then store the table conveniently when it's not in use.
JOOLA is one of the table tennis suppliers that supplied their top-quality ping pong equipment for the Olympic games. Also, the company happens to be the endorsed sponsor of the US Nationals Tournament and US Open Table Tennis Competition.
#2. STIGA Advantage Pro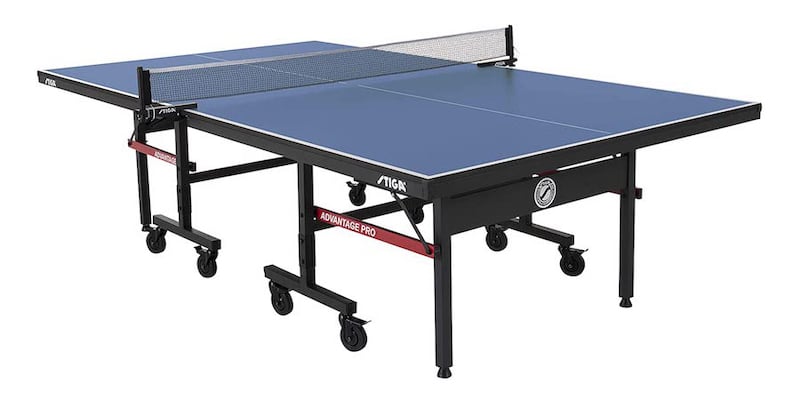 Type: Indoor
Dimensions: 108″ x 60″ x 30″
Surface thickness: 3/4″ (18mm) thickness with 5/8″ and 1/2″ also available
Assembly time: 10 minutes
The STIGA Advantage Pro is a leading choice for indoor players who want a large table ideal for playing with multiple players. This large ping pong table assembles quickly in about 10 minutes and is 95% complete upon arrival. 
It has 4″ lockable caster wheels to easily store and move the table. Additionally, you also get a net and posts with the table. for convenience and has a blue silkscreen tabletop. 
This particular table also has separate halves for playback mode when you want to practice alone. This is an ideal selection for someone looking for a great table to put in a recreation room. Like many STIGA tables, it stores easily and has a safety latch to keep it folded in place securely. 
#3. JOOLA Inside Table Tennis Table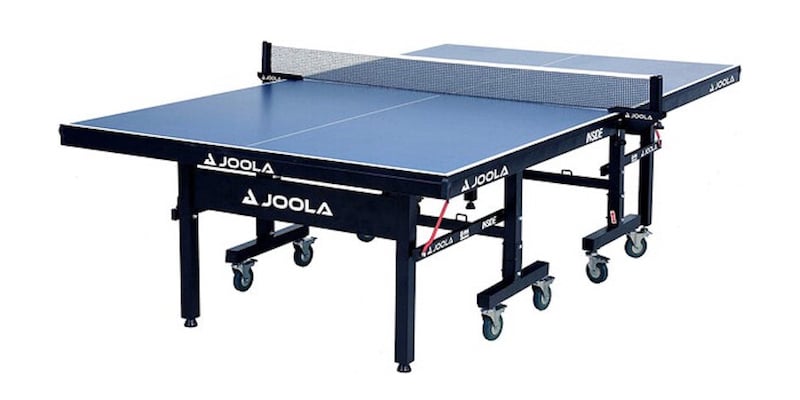 Type: Outdoor/Indoor
Dimensions: 108″ x 60″ x 30″
Surface thickness: 1″ (25mm) thickness with 5/8″ and 3/4″ also available
Assembly time: 10 minutes
The JOOLA Inside 25 is a highly versatile ping pong table perfect for people who want to play outdoors during good weather conditions. It also works for indoor use – and has regulation/tournament specifications. Whether you choose this table for entertaining or playing alone, it checks all the boxes.
It only comes with the ⅝" tabletop, featuring a black powder coating to resist rust and wear and rubber-coated feet to reduce stretching to floors. It also folds in half and rolls away for easy storage. This model comes requires only that the legs need setting up, but this takes approximately 10 minutes. 
This model offers plenty of versatility and options, making it one of the top choices for people who want to play both indoors and outdoors. However, it may be too bulky for some users.
#4. JOOLA Nova Pro Plus Outdoor Ping Pong Table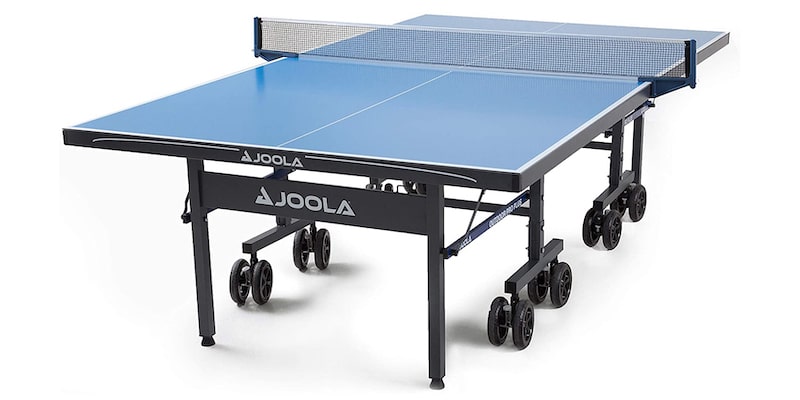 Type: Outdoor/Indoor
Dimensions: 108″ x 60″ x 30″  
Surface thickness: 6mm
Assembly time: 10 minutes
The JOOLA Nova is an excellent table to allow you to use it outdoors with friends or inside for individual practice or small get-together. It's made of an all-weather material and has a waterproof net set for use outdoors.
This indoor and outdoor model can go just about anywhere and stores easily when not in use. The large 6″ caster wheels allow you to take it across rough terrain and areas with grass or uneven surfaces. This table comes assembled, and the legs are attachable in 10 minutes. 
All you need to do is install eight bolts, and it's ready for action. The aluminum-plastic composite tabletop resists water, rust, and wear and makes it very durable and lightweight. It also has 4″ wheels to help transport it across surfaces or to roll away for storage. 
The safety latch system also keeps it firmly folded in place, and the anti-tilting locks ensure a stable surface while the adjustable leg levers allow you to play on uneven surfaces. This model only comes in a 6 mm thickness tabletop. 
This is a good general selection for those who do not want to compromise on versatility or durability. It offers plenty of value for the money and can last through most conditions and heavy use. This model is heavy, however, so it may require additional hands for assembly and moving.
#5. STIGA XTR Pro Outdoor Table Tennis Table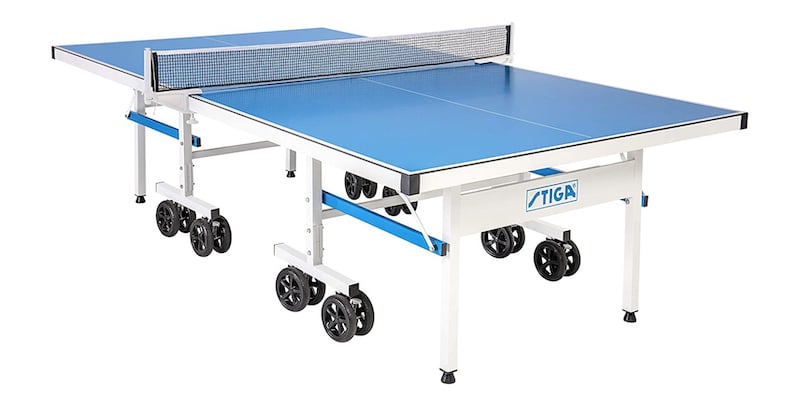 Type: Outdoor
Dimensions: 108″ x 60″ x 30″  
Surface thickness: 6mm
Assembly time: 15 minutes
The STIGA XTR Pro is the ultimate ping pong table for outdoor use. This particular model is designed to withstand the elements and goes perfectly outdoors on a patio or in a garage. It's also larger than the other standard tables. 
It has an aluminum composite top and all-weather materials to stand up to all the elements. It comes 90% assembled and takes approximately 15 minutes to put together. With self-opening legs that lock into place, it rolls into place easily and can be stored away conveniently. 
Shoppers looking for an outdoor ping pong table will be happy with the durability and all-weather features this option provides. This may not be a great choice for those wanting an indoor model, however.
#6. JOOLA Motion 18 (JOOLA Rally TL)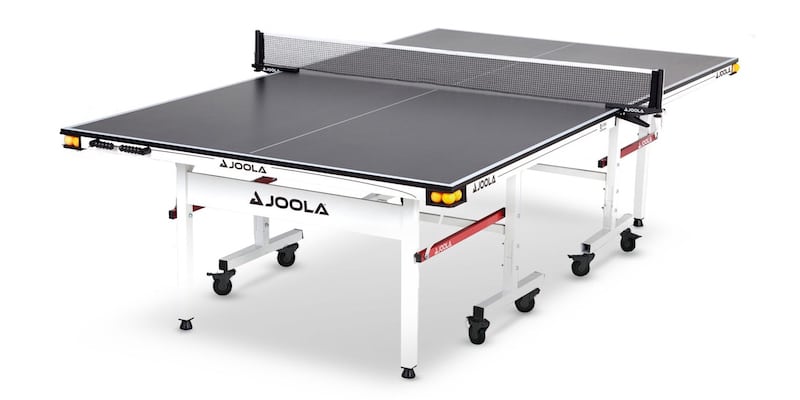 Type: Indoor
Dimensions: 108″ x 60″ x 30″  
Surface thickness: 3/4″ (5/8″ and 1″ also available)
Assembly time: 15 minutes
Indoor ping pong enthusiasts will love the JOOLA Motion 18 – or as it's also known, the JOOLA Rally TL – because it is durable and light with plenty of little extras the other tables don't provide. 
It has all the basics you would expect from a standard competition size ping pong table, but it also features four built-in ball holders that hold three balls in each, as well as a net.
The surface is a sleek charcoal-painted MDF that goes with most interior color schemes and an abacus-style scoreboard. The table features four locking caster wheels as well, which makes it to easy to store and move, like the others. The folding legs have rubber feet to reduce scratches, supported by a double anti-tilt device for stability. 
This model is quickly assembled and takes approximately 15 minutes to attach the legs, which are of the automatic folding types.
People interested in a decent ping pong table for their game room or other interior rooms will love this feature-packed model. It makes a great addition to any space. It may, however,  pose a challenge for people who don't have DIY skills.
#7. Butterfly Centrefold 25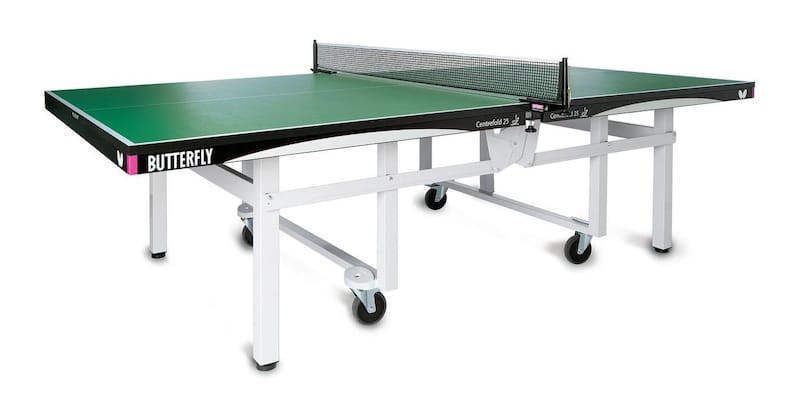 Type: Indoor
Dimensions: 108″ x 60″ x 30″  
Surface thickness: 1″ (25mm)
Assembly time: 0 minutes (Comes pre-assembled)
The Butterfly Centrefold 25 is a high-end ping pong table used for international and national competitions. It features a regulation height for paraplegic tournaments and is the only wheelchair-friendly option.
The table comes with a five-year warranty and plenty of great features. Its tabletop is made from scratch-resistant wood and comes in either blue or green, and you can choose either white or silver legs. 
The top also has a 25+ surface to provide ideal bounce and spin. It is also ready to use when it arrives and doesn't require assembly. Simply put on the pro ping pong net provided, and you're ready to play. 
If you're in the market for a high-end regulation ping pong table that will last for years, this is the ideal choice. This option is high-quality but is one of the more expensive options. 
#8. Killerspin MyT10 Blackstorm 
Type: Outdoor
Dimensions: 108″ x 60″ x 30″  
Surface thickness: 6mm
Assembly time: 60 minutes
The Killerspin MyT10 Blackstorm is great for both indoor and outdoor play. It features a weatherproof finish that offers plenty of bounce and stability. The sleek black finish is stylish and will fit well in most interior setups. It also has a convenient clip and post-net for even more versatility. 
Also complementing its modern look is the fact that this table doesn't feature the lines found on other models. This model takes up to an hour to assemble and requires certain tools to complete the process. 
This model is ideal for modern interiors and people wanting the extra conveniences this particular ping pong table offers. However, bear in mind that it takes a fair bit of effort to setup.
#9. STIGA Advantage Lite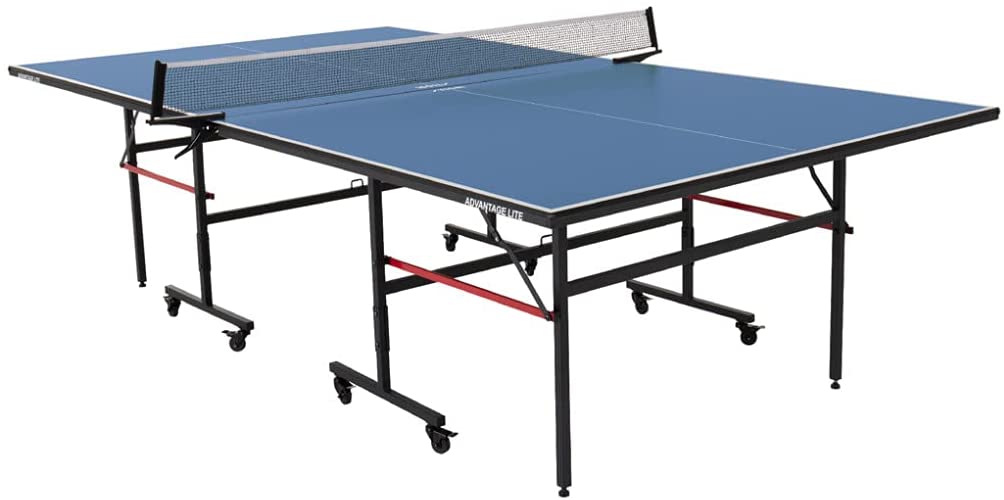 Type: Indoor
Dimensions: 108″ x 60″ x 30″  
Surface thickness: 3/4″ (18mm)
Assembly time: 10 minutes
The STIGA Advantage Lite is a lightweight table that's the younger sibling of the Advantage Pro. It's an excellent for recreational indoor play with a 12 mm thick tabletop. The top provides good bounce for an entry level table and can be folded for playback. It has 2″ lockable wheels, and can be nested for storage,
The table comes 95% assembled and it takes approximately 10 minutes to attach the legs. Attach the 72: net and post set, and it's ready to go. This relatively affordable ping pong table gives plenty of quality and features while not skimping on versatility. 
This model is great for people interested in bang for the buck.
#10. Cornilleau 540M Crossover Outdoor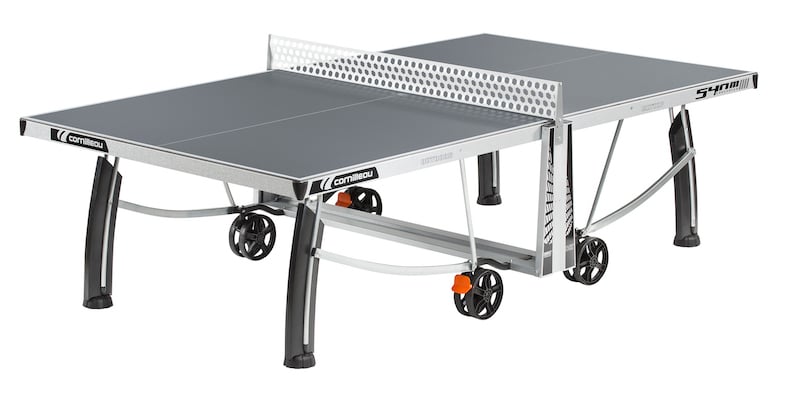 Type: Outdoor
Dimensions: 108″ x 60″ x 30″  
Surface thickness: 7mm
Assembly time: 30 minutes+
The Cornilleau 540M is an outdoor crossover ping pong table with a fixed steel net. It is foldable for easy storage and has a solid foundation and a 7 mm resin laminated top. This weatherproof model can stand up to the elements quite well.
The lines stay visible and resist fading, while the 16 locking points providing excellent safety. This table is a sound investment for people interested in an outdoor table that lasts for years. Assembly time for this model is over 30 minutes and may require special tools and glue. 
This ping pong table is a good investment for someone interested in an outdoor table that doesn't need to be stored inside during certain seasons. It's not ideal for indoor use, however, and can be bulky. 
Now You Know How to Choose a Table Tennis Table
That about wraps up our guide to buying a ping pong table, we hope you found it helpful. Just remember to buy the thickest surface table you can afford and (generally speaking) don't use an indoor table outside.
If you're still on the fence about which one to go for, we'd recommend for an indoor ping pong table, and for that, the JOOLA Tour 2500 is in our opinion the best all-around choice. It gives the buyer plenty of features, and is convenient while also offering a sturdy frame and tabletop. It's also available in a variety of thicknesses. 
If you're thinking an outdoor table suits you better, then we suggest the JOOLA Nova Pro Plus which is ideal because it offers flexible features, including a playback setup. It's also a good price for its quality and features, and makes an ideal option for people interested in easy storage and convenience.
Read More: