Cornilleau Sport One Outdoor
The Cornilleau Sport One Outdoor table tennis table is a superb table that you can set it up at the backyard of your house. It is superb since it is an excellent way for you to have a healthy activity going in your house with your kids.
And it is definitely a pleasurable way of spending your time and energy outside the house in the fresh atmosphere.
This outdoor table produced by Cornilleau can say to be a new technology product that you can buy in today. Cornilleau managed to make an absolutely innovative ping pong table by their keep improving technology.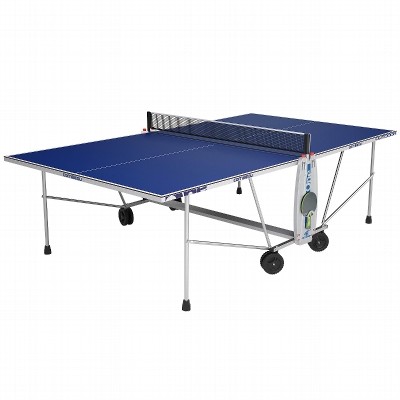 The Cornilleau Sport One ping pong table features with a compact folding mechanism which is specially designed for easy fold and unfold plus safely. If one of your hands is occupied with something, you will have no issue to open the table even with just one hand.
This ping pong table includes polyethylene net and ABS net posts that been mounted and incorporated into the carriage. You can also find convenient balls holders constructed into the middle part of the body of the table tennis table.
Specification:
Made in: France
Surface Thickness: 4mm
Playback Position: Yes
Indoor or Outdoor: Outdoor
Includes Net: Yes
ITTF Approved: No
Assembly Required: Yes
Brakes on Wheels: No
Packed Weight: 54kg
Table Weight: 45Kg
Adjustable Height Feet: Yes
Table size: 275cm long x 153cm wide x 77cm high (9′ long x 5′ wide x 2'6′ high)
Storage size: (when folded)155cm high x 161cm wide x 75cm deep
Minimum play area: 510cm long x 330cm wide (17′ long x 11′ wide), guideline only
Warranty: 3 years (10 years on the surface).
Benefits You Can Get From This Table
The Cornilleau Sport One table is without a doubt an outstanding beginner table which provides a great playing level. The table is featured with leg-levelers and bat storage which can be very useful for players.
In addition, It is weather-proofing in which it can withstand any weather condition without having any damage to the table.
If you purchase this table, you not only receive the table but you will at the same time get some ping pong bats, balls and a cover. You can then having fun with this recreational ping pong table outdoors with your family and friends.
There are still more benefits you can expect from this Cornilleau Sport One Outdoor table tennis table. You can get a decent thick playing table top which provides you a great ball bouncing, an anti-glare surface, more robust legs and superior wheels for easy movement.
All in all, it is recommended for you to buy this table tennis table if you're searching for a good quality table to place outdoor. You can get this table at an affordable price since this table won't cost you more than a $1000. It is a fantastic table which also incorporates a playback facility which enables for single player use.
Detailed Video of the Table

Read for More Outdoor Ping Pong Table Posts:
* Outdoor Table Tennis Table Reviews
* Cornilleau Pro 510 Outdoor Stationary Table Tennis Table Review