A floating table tennis table or some people call it a swimming pool table tennis table, is a small-sized table conversion top where you can put it in a pool area. The swimming pool table top floats on top of the water surface. It is perfect for you to play in the hot season, like playing water ping pong in a pool during hot summer days.
The swimming pool table tennis game is played with over-sized table tennis rackets, and the tabletop is made from soft foam with a hardtop and a net with support.
It is perfect for enjoying a table tennis game in the pool with your family using a floating ping pong table.
What You Need
Swimming pool.

Two-piece game base to be as the ping pong table.

Net and plastic post.

Two oversize ping pong paddle.

Three game balls.
Floating Table Tennis Game
Most swimming pool tables measure 40 to 60 inches long by 20 to 30 inches wide; they are grouped in the small sized table tennis table and are very good for family recreation.
As you go deeper into the pool, it will become harder to serve and return the balls, so you will get your exercise while you are staying cool.
Assemble
Unfold the two-piece game base to make them flat and become one whole piece. Install the net and post. Get ready with your paddle and ball. Jump into the swimming pool and start to have fun.
Stable on Water Surface
This ping pong set can float on the water's surface and provides players with a quality bounce to the balls. Of course, the floating table tennis table will have a net and post-assemble on the table and two oversized rackets for you to play the game.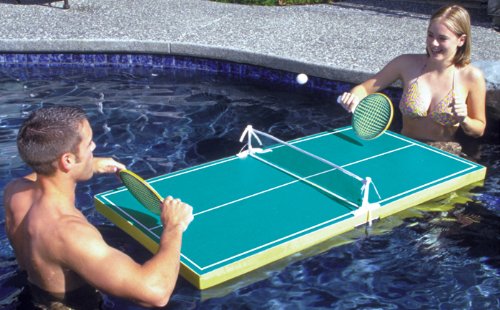 The table has a firm surface on the tabletop so that you will be able to have a solid shot along with swift play. The edges are built with soft material, making the table relatively safe for people to swim close to it without getting injured.
If you are worried about dropping your rackets into the pool, worry not. The rackets or ping pong ball will remain floating on the water. The table is made of soft foam with a hardtop, and the swimming pool table tennis table measures 27 wide and 54 long and can be folded for storage.
Completely Different With Normal Table
If you intend to buy this table, you should know it is not the same as the standard table tennis table. The dimensions and proportions are very different. The table will appear small and the rackets will be giant ones.
This table is separated into two halves, and you can fold each other nicely and fit all the equipment into cutouts for easy storage.
How If I Want to Play On The Floor Instead of In the Water?
This floating table is somewhat flexible. If you wish to play on the floor and not in the water, you can do so. What you need to do is take the floating table and put it on any hard surface. And you can play ping pong right away.
This great Poolmaster floating table for you to play water ping pong is available at Amazon.
54″ Blue Floating Ping-Pong Table for Water Ping Pong
It is another table that is available for you to play water ping pong. The table's dimension is 2″ H x 54″ W x 27″ D. This is an ideal floating table for kids between ages 4 and above.
The assembly and installation are relatively straightforward. You can take the table and put on the net. Then place it on the water, and you can start to play the game.
This floating ping pong table, comes together with a ping-pong table, 2 paddles, 2 balls, and a heavy-duty net.
You can also play out of the swimming pool like the Poolmaster floating table. You can find a hard surface and place the table on it and play.
Drawbacks
Even though it can be fun to play ping pong in the water, most of the floating tables available on the market are just not good quality.
The table's construction, paddle, ball, and net are waterproof, which is good enough to stay for long hours in the water. But the playing experience may not be that great. Since the table tends to offer people with very poor bounce quality, you will not have a consistent bounce.
The paddle and the ball purposely designed for water sport may not give you a good feel as well. You may feel not so convenient to hold the paddle, and the feel may not be that good when you are hitting the ball with the paddle.
But this is something that you need to sacrifice if you want to play the water game. As long as you only want to have fun playing some games when you are at the swimming pool, this table will serve its purpose.
You can get this 54″ Blue Floating Ping-Pong Table from Amazon as well.