Floating table tennis table or some people call it swimming pool table tennis table is a small sized table conversion tops where you can put it at a pool area. The swimming pool table top floats on top of the water surface. It is extremely perfect for you to play in hot season like playing in a pool during hot summer days.


The swimming pool table tennis game is played with over-sized table tennis rackets and the table top is made from soft foam with a hard top and a net with support.
It is very good to enjoy a game of table tennis in the pool with your family using a floating ping pong table.
Floating Table Tennis Game
Floating ping pong games are very good for fun family swimming pool party. Most swimming pool tables measure between 40 to 60 inches long by 20 to 30 inches wide; they are grouped among the smaller sized table tennis table, and are very good for family recreation.
Have a very good time with this floating ping pong set, this small sized pool table brings will be excitement for your pool game. You can play a very interesting game of table tennis right inside your own swimming pool.
As you go deeper into the pool, it will become harder to serve and return the balls, so you will get your exercise while you are staying cool.
Stable on Water Surface
This ping pong set can floats stable on the water's surface and provides players with a quality bounce to the balls. The floating table tennis table of course will have net and post assemble on the table and also two over sized rackets for you to play the game.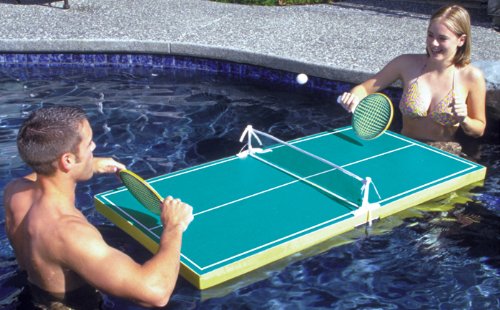 You will have a lot of fun with your friends and family. Other than swimming and diving in the pool, you can now have additional activity by putting this floating ping pong table in the water and playing around. The table is having a firm surface on the table top so that you will be able to have a solid shots along with swiftly play. The edges are built with soft material which make the table rather safe for people to swim close to it without getting any injury.
If you are worry about dropping your rackets into the pool, then you shouldn't have such worry in mind because the rackets or ping pong ball will remain floating on the water. The table is made of soft foam with a hard top and the swimming pool table tennis table measures 27 wide and 54 long and it can folded for storage.
Completely Different With Normal Table
If you intend to buy this table, you should first set out your mind by not expect this to appear to be the same as the standard table tennis table. You will find out that the dimensions and proportions are very different where you will get a feel that the table is small and the rackets that hold in your hand seem to be a giant one.
You will get a total different playing experience by playing the game in the water. You may easily getting fed up in the first place as you may having difficulty in controlling the shot, however, you will get used to it once you play for some time.
For this table, it separate into two halves and you can fold each other nicely and fit all the equipment into cutouts for easy storage.