A floating ping pong table, or swimming pool ping pong table as some people call it, is a small-sized conversion top that you can put in a pool area. They are buoyant so there is no need for support of any kind. These tables are great for sunny days to lap up the sun and have fun with friends and family.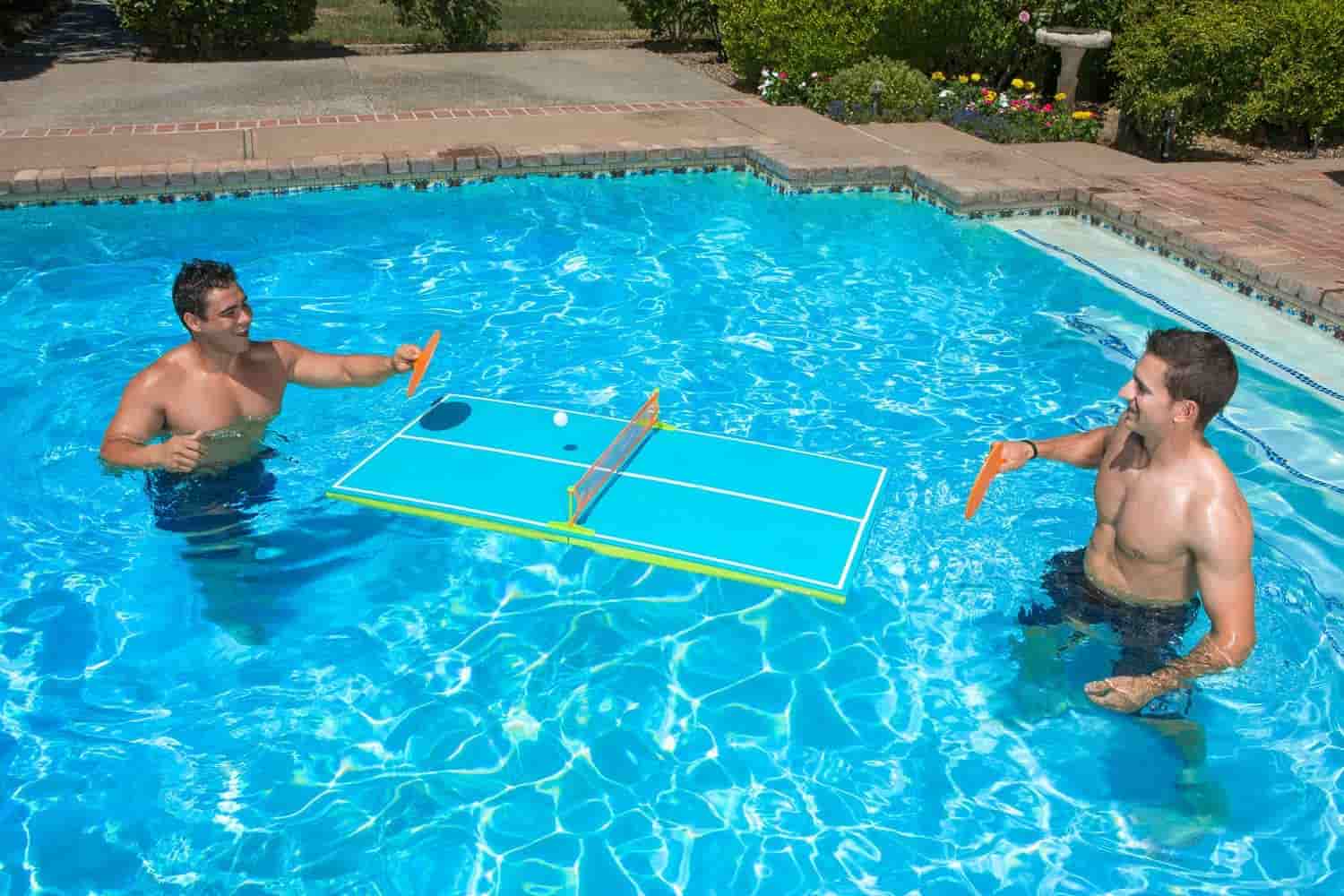 What Is a Floating Ping Pong Table Made From?
A floatable ping pong table is not filled with air, instead, it is composed of a foam base with a hard top surface so that the ball will bounce. This means the floating ping pong table for a pool is very light and is easy to carry. As these tables are mainly made from foam they are very safe. If you knock into them they simply move across the surface of the pool with no injury to yourself.
What Is Included With a Floating Ping Pong Table?
With each purchase, you get all of the necessary equipment. So you do not have to purchase bats, balls, or a net separately. The quality of each will vary from brand to brand though. Some sellers include oversized bats whereas others do not, but all bats should be waterproof. As a side note, we don't recommend using custom ping pong bats in the pool as these are not waterproof.
What You Need to Get Started
Swimming pool

Floating ping pong table (included)

Net and plastic post (included)

Two ping pong paddles (included)

Ping pong balls (included)

Extra ping pong balls (recommended)
What if I want to play on the floor instead of in the water?
Floating tables are rather flexible. If you wish to play on the floor and not in the water, you can do so. We recommend using it as a conversion top. This means you place it on an existing piece of furniture such as a table. This way it is at an adequate height to play comfortably. Of course, you can always play on the ground, but your back might ache after a while!
What Are the Dimensions of a Floating Ping Pong Table?
Most floating table tennis tables for the pool measure 40″ to 60″ long by 20″ to 30″ wide; they fall under mini table tennis tables and are good for family recreation. Being so small, they play very differently from full-size ping pong tables. The quality is also a lot lower since it is not designed with elite table tennis in mind. Therefore don't expect a great bounce and high-quality bats. 
Why Buy a Floating Ping Pong Table?
For those of us who are table tennis mad, there can come a point where endless amounts of training gets a little monotonous. So it's important to break the cycle and keep the game fresh! Floating table tennis is a great way to reinvigorate your love for the game, and with it, comes many benefits:
Adds a different dynamic to ping pong — Table moves + restricted movement
Improves your short game
Improves tactical thinking
Option for enhanced difficulty at the deep end of the pool
Helps develop relationships with people who usually don't play table tennis
How Do I Assemble a Floating Ping Pong Table?
Assembling a floating table for the swimming pool takes less than a minute. Simply unfold the table surface so that it lies flat and install the net and posts. That's all there is to it!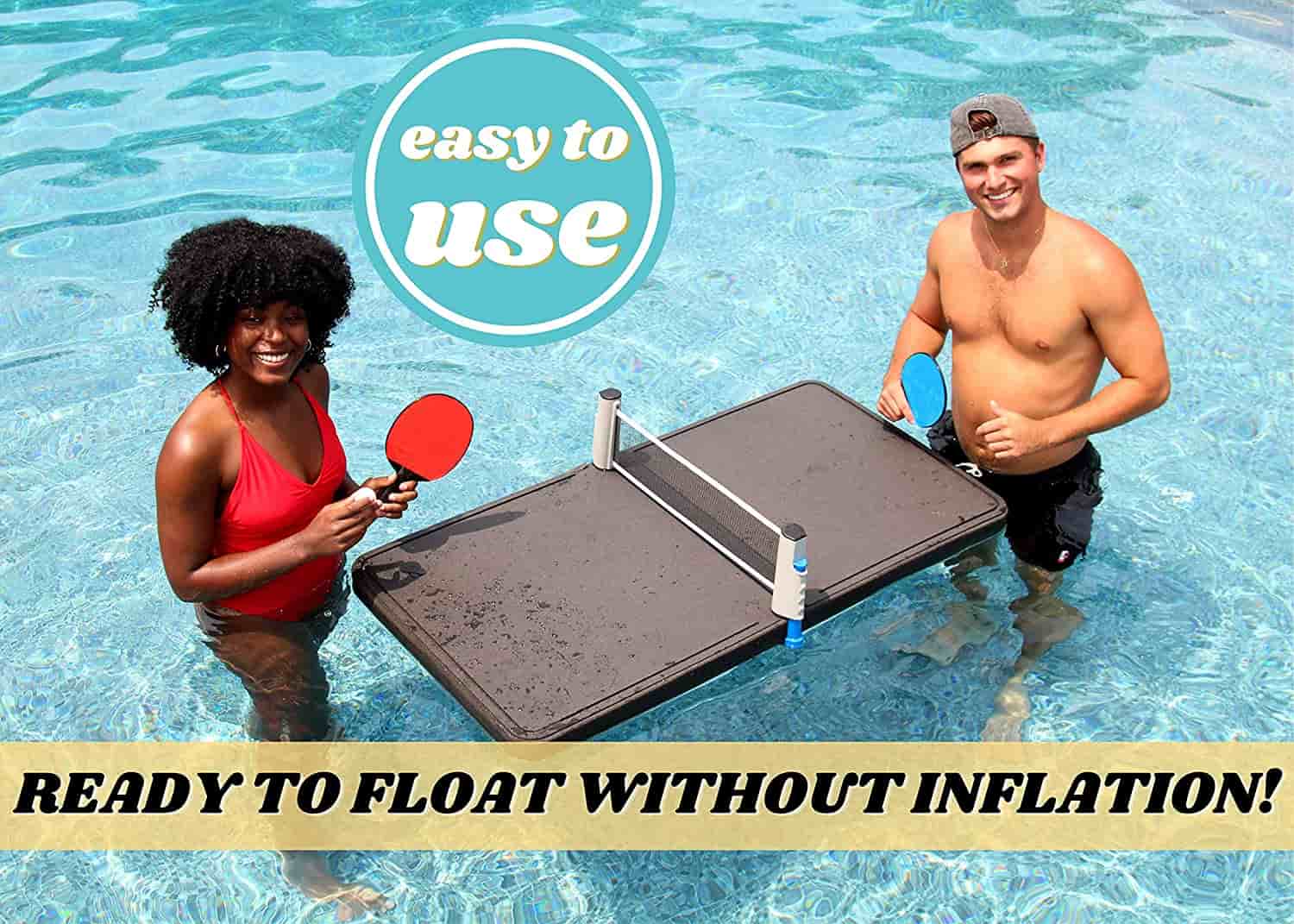 The Best Floating Table Tennis Tables You Can Buy
1. Poolmaster Floating Ping Pong Table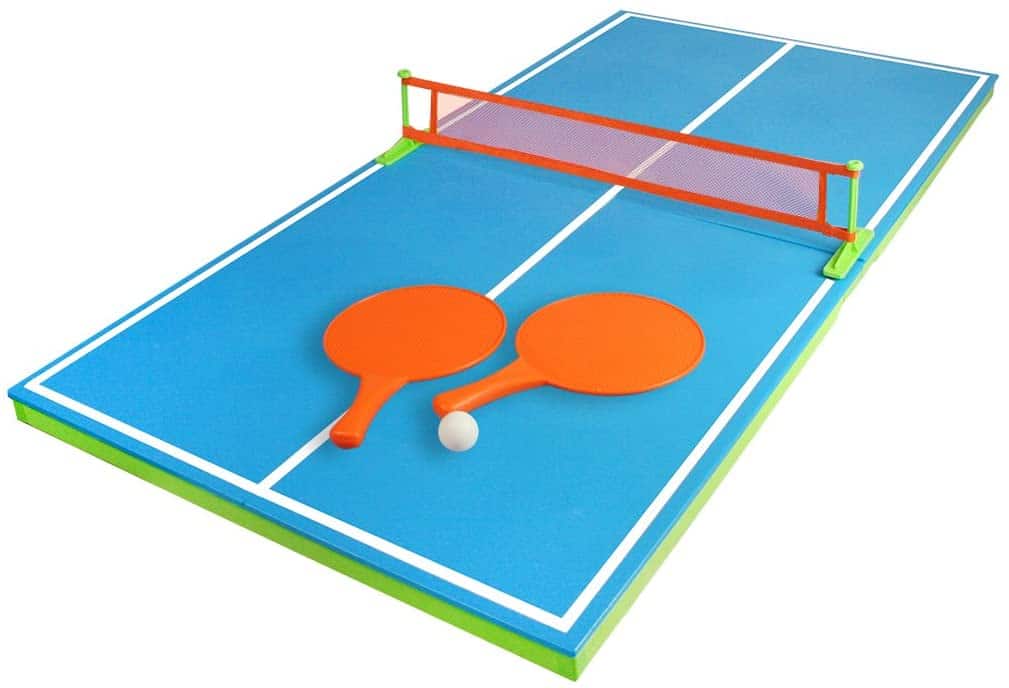 The floating ping pong table by Poolmaster measures 54″ x 27″, so it is slightly larger than the model by Polar Whale. It is constructed from non-corrosive EPS foam and uses an ABS surface as its tabletop. The net is a little flimsy with this model, as it just pushes into place and doesn't clamp down. However, as you won't be hitting the ball that hard it shouldn't prove to be much of an issue.
With the Poolmaster bundle, you get oversized bats. This gives you a greater margin for error when playing which keeps rallies going for longer. This is much appreciated on a floating ping pong table as it is hard to play consistently with the table ever-moving.
When you are finished playing you can easily keep all of the equipment together with the included storage box. The inside is molded to the shape of the parts so you can keep all of the components neat and tidy. Simply a great water ping pong table that can provide endless hours of fun!
Pros
Lightweight

Play in a pool or on a table

Oversized bats

Inlcudes Storage box
Cons
Our Rating: 7.7
2. Polar Whale Floating Ping Pong Table
The Polar Whale floating ping pong table for the pool measures 47″ x 24″. It is made of a thick dense foam that has UV protection. Unlike the Poolmaster model, it does not have an ABS plastic top. It is instead entirely comprised of foam. As such, we expect the bounce is inferior which is a shame. On the other hand, it provides maximum protection as there are hard no components whatsoever, and the table has rounded edges whereas the Poolmaster's floating table does not.
The net is also better with this model. It uses a retractable ping pong net. This means it clamps to the table more effectively and you can even take it off and use it on full-size table tennis tables. The included bats are also a little different. They are not oversized, but instead resemble the standard size for ping pong bats. If you already possess table tennis ability this is not a problem. But for absolute beginners, playing with these bats might be a touch too difficult.
Pros
Lightweight

Play in a pool or on a table

Retractable net

Very safe
Cons
Our rating: 7.2
Read more: If you're looking for a traditional ping pong table, check out our review of the best tables on the market today.