Think of playing ping pong whenever and wherever you want? The dream is now a reality with the use of retractable ping pong net. You can even place on a dining table.
Table tennis is a famous sport worldwide. It is a skill-based sport and supplemented by physical fitness. But if you want to have fun playing ping pong, you can get a retractable net set and play the game in no time.
It is possible as long as you can find something to hook up this net set, you can start to play ping pong.
Where To Get One?
There are many sport hardware stores selling this, and you may quickly get one by visiting your local hardware store. If you can't get one, you can still make an order online from online stores like Amazon, Target, Dicks Sporting Goods, etc.
Some net sets can extend out up to 2 meters which is more than enough. Others stretch to 75 inches. The height is standard net height. Most of the clamps can open up to 1.75 inches. You can clamp the net on the dining table also.
With the retractable net you can place it on any surface with a thickness of 5cm or below and in a second, you can turn your desk, coffee table, dining table, working desk, dressing table, bench into a table tennis table.
You can now play ping pong anywhere you go. Be it at home, office, park, sports centers, campground, etc. As long as there is a place you can set up the net, you can play the game.
For table tennis sets like the Tera, Stiga, and Franklin Sports, they have come together with decent paddles and typical balls with decent bounce. You can unlock and unstrap it down, stretch it out and clamp the post with the spring-loaded clamps. Some are features with alligator clips for you to lock the net onto your table.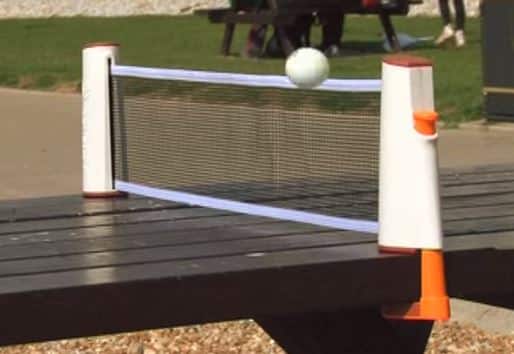 The retractable table tennis net expands between the two posts and retracts on its own. It is also a table tennis net for the dining table that you can place on.
To set them up, press down the slider grab the edge of the table and release—the spring-loaded clamps holdfast. But the rubber-coated jaws won't leave a mark behind. Pull the net across the surface and clamp it down on the other side. You are ready to play.
The net comes with two paddles. Each of them is regular size with textured rubber on both sides.
Most of the retractable table tennis nets come with ping pong balls and a mesh drawstring bag for you to store all of the pieces.
Pongo Portable Table Tennis Set
One of the most popular portable table tennis sets is the Pongo brand. This portable set can transform any table into a ping pong court. The weighted post can let you pull and place them on both sides of the table. All you need to do is set your portable net post, pull out your paddle, take the ball and start to play the game.
The paddle is made of plastic with a button to push the handle inside for easy storage. The post has the cushion bottom to protect the table surface that you play on. It has a hole where you can put your ball inside when not playing.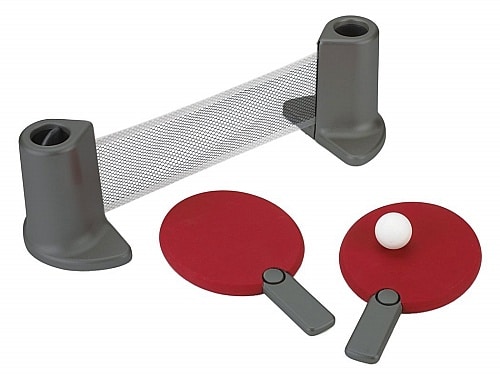 The net can stretch up to 65 inches long enough to clamp on a full-size table tennis table. It comes with a dot string bag where you can put all the stuff in there.
Features of Most Retractable Net Set
Almost all the retractable net sets are having the features mentioned below:
Easy to install and operate. Suitable to be used for entertainment.

Elasticity setting. The step for you to open, press, retract are all to be very convenient.

It is light and portable. You can carry it with you anywhere you go.
Something to Pay Attention To
When you are trying to set up the net, there are some occasions where the net will get stuck in between making the net not to retract smoothly. In case you feel that the rebound of the net is not good enough all you need to do is pull the net frame with both hands, then pull back the side and send it back and forth, and evenly adjust back and forth a few times and it will get retracted successfully.
So, if you are feeling bored and need to have some fun or need some activities to pass sometime in the summer days, then this retractable table tennis net is one that best suit you.
If you think this net set is just not what you are looking for, there is also standard ping pong net available if you need one to place on your indoor or outdoor ping pong table.
You can get this retractable net set from Amazon.