Today let's talk about table tennis return board or rebound board. It is a board made to help table tennis players to train their game solo.
If you like to play table tennis, but you can't find a suitable partner to play with you, you can now get this return board, and you can play against it.
There are 2 rebound board manufacturers that I will discuss here. They are P3 Rebound Board and Wally Rebounder. Both are skilful in building the quality board for players to play table tennis at home or a club alone. 
P3 Rebound Board
The P3 is a "rebound" board commonly called table tennis return board designed with an angled surface with few connected boards. The completed board makes it possible for the bounce and return of the ball. The board can be adjusted down or tilted up.
It allows you to perform loops, forehand spins, and backspins. Anyone can practice their skill with it as it can effectively improve your eye-hand coordination and footwork. Thus, this is an excellent piece of training tool.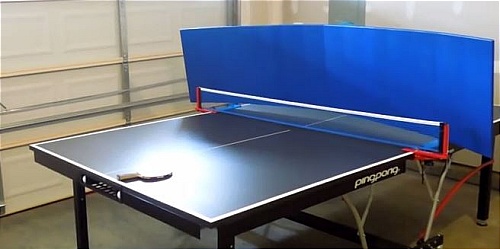 P3 rebound board functions somewhat similar to a table tennis robot, but it does not involve any electricity or automation. The DIY or homemade board is coated with many layers of paints to make it crack-proof. It should be solid such that a ping pong ball shouldn't be able to crack the board.
 The veneer pieces are attached for the ease of moving and sliding on the table. 
The P3 board is still a design prototype and not a production model that is not attractive. The board is made from the whole bunch of scrap plastics that mixed. You can just put it up and place on the table tennis table, once it is in position, you can start playing your solo game with this machine.
Watch The Videos To Know More About the Table Tennis Return Board
Some videos demonstrate to you how you can play the game with this ABS plastic. It is a molding joint that can easily get broken, so you need to be careful when holding the board to the table. The mold is joined with the plastic compound, which can be fragile at the beginning development stage.
When talking about a table tennis return board, many boards are made using rubber. The rubber is the main difference in the product that provides ball rebound and spin.
But this board is built with ABS plastic. As this P3 board is still under development, the mold made from the heavy plastic combination can easily get broken. Thus, further R&D and improvement are required.
Ping Pong Partner Official Website
The website is currently seeking table tennis enthusiasts to help them with the funding of productions costs, and if you think this P3 rebound board is worth production, you can contribute to their website at pingpongpartner.com.
If you are interested in knowing how to make a return board for yourself, you can get in touch with them, and they will have all the information available for you.
This video shows you the TSP table tennis return board pro also used by a lot of people.
I found there is no table tennis return board for sale on big shopping sites like Amazon or eBay. I think this product is not in demand and therefore no seller is selling them on these popular sites. However, if you are looking to get one to practice the ping pong game alone, you may still get one from 
Wally Rebounder
. The board costs about $200.
Wally Rebounder
Wally Rebounder is a handmade rebound board that Matt and Richard produce. They are based in Austin, Texas. The rebound board is built with lightweight material, for ease of movement and storage.
Construction
The patented mounting system makes it possible for you to adjust and tilt the board to the position you want. It also can be adjusted to different angles so that you can train for different strokes.
The board comes with tripod stands where you can easily use it to adjust your height. It is handy if you want to place the board from the table further, you will adjust the height for the player to hit the ball right to the board.
It is built with 7 hardwood layers, so the quality is guaranteed. You can get an excellent return of the ball for every shot you hit to the rebound board.
The board surface is made of smooth polyurethane, which is buckling and warping resistance. Such a design can give players a very realistic blocking partner feel.
Playing Experience
When you first get the rebound board, please spend a few minutes getting familiar with the board's bounce return. It requires all the focus to do the exercises correctly.
You will see a significant improvement in your overall playing skill after training with the rebound board. You will play with more consistency where you will be able to hit more balls than before.
After some time, you will observe a significant improvement of your topspin if you use the board to train with the stroke.
You can generate with a more powerful shot and can drop to the point to the opponent's table with more accuracy. It is an excellent way to practice your technique and generate more spin.
Related post: