Searching for the optimal table tennis rubber is no easy feat. There are thousands of options out there and a general lack of quality information. So let us lend you a helping hand. As table tennis experts, we know a thing or two about rubber selection. We've made the mistake of buying shoddy rubbers before and we've learned from it, so no need for you to fall down the same rabbit hole. 
Before we cover what we believe to be the top 10 best table tennis rubbers, we'll first discuss the properties of table tennis rubbers. This is a vital step that you should not overlook.
| Image | Name | Type | Buy Now |
| --- | --- | --- | --- |
| | Butterfly Tenergy 05 | Inverted | CHECK CURRENT PRICE |
| | Yasaka Rakza 9 | Inverted | CHECK CURRENT PRICE |
| | Tibhar Evolution MX-P | Inverted | CHECK CURRENT PRICE |
| | Butterfly Sriver | Inverted | CHECK CURRENT PRICE |
| | Yasaka Mark V | Inverted | CHECK CURRENT PRICE |
| | DHS Hurricane 3 National | Inverted | CHECK CURRENT PRICE |
| | TSP Curl P1R | Long pips | CHECK CURRENT PRICE |
| | Yaska Rakza PO | Short pips | CHECK CURRENT PRICE |
| | Yasaka Anti-Power | Anti-spin | CHECK CURRENT PRICE |
| | Nittaku Fastarc G-1 | Inverted | CHECK CURRENT PRICE |
Best Table Tennis Rubbers Buyer's Guide
As a serious ping pong player, you should pick a high-quality rubber that suits your playing style. Playing with the wrong rubber attached to your blade may restrict your overall performance. Conversely, with the right rubber, you can speed up your progression. Here are some table tennis racket rubber properties that will help you discover the best table tennis rubber for you.
Type of Table Tennis Rubber
The biggest decision you have to make when choosing the rubber for your ping pong paddle is the kind of rubber you want to go for. While the vast majority of rubbers are inverted, you should not overlook the other types, as they can be very effective if you use them properly.
Inverted Rubber
This refers to ping pong rubbers where the pimples face inward into the sponge. The outside is smooth and ideal for producing spin. It also behaves normally — you can both produce spin and are susceptible to it.
Short Pimples
Short pips rubbers are somewhat like opposites to inverted rubbers. The pips face outward as opposed to inward. Therefore they strike the ball directly. This changes the way the ball behaves. Short pips reduce the incoming spin, making it very tricky to play against. This type of rubber is particularly good for attacking balls that bounce a little high — even if they are loaded with backspin.
Long Pimples
Long pips are perhaps the trickiest of all the types of table tennis rubbers. While they are often used defensively, long pips also have some (albeit limited) offensive ability. It is so difficult to play against that long pimples can either increase the spin on the ball, reverse it entirely, or throw back a dead ball. Horrible stuff!
Anti-spin
Anti-spin does what it says on the tin. It kills the spin on the ball. It has a mostly frictionless smooth surface, and its pimples are facing inward into the sponge, exactly like inverted rubbers. Despite its nature to kill the spin on the ball, anti-spin can produce spin to some degree, just much less than most other rubbers.
Thickness
<1.5 mm: Optimal for the defensive style. The thin sponge helps deaden the ball and slow the game down. Great for blocking and chopping.
1.5 mm – 1.9 mm: Great for the allround style. Offers a mix of control and speed. Ideal for players that mix up topspin and backspin or those that focus on consistency and only occasionally go for winners.
2 mm+: This is the thickness you want if you love to attack. These rubbers are great for players who love to loop and smash.
Spin, Speed, & Control
Once you've chosen your preferred type of rubber, it's time to delve more into the playing characteristics. This is especially true if you've picked an inverted rubber, as they vary wildly. Each rubber is assigned a spin, speed, and control rating by its manufacturer. These give a rough estimation of how they perform. However, I find that they are often pretty inaccurate; I recommend checking out reviews for the rubbers that interest you. Fellow players can really help to inform your decision.
If you're a beginner, you should seek a high control rating with a relatively low spin and speed rating. And as you improve, you can bump up the speed and spin, as this will help enhance the quality of shots you perform.
Tacky vs Non-Tacky
When it comes to producing spin, you have two distinct qualities that will help you rotate the ball: tackiness and grip.
Tacky rubbers are highly popular in China. They possess stickiness which the ball adheres to. You can perform a simple tackiness test by placing a table tennis ball on a flat surface, pressing your paddle against it from over the ball, and lifting it upwards. Tacky rubbers will lift the ball up off of the surface, grippy rubbers will not.
Grippy rubbers have a lot of friction, which helps rotate the ball. These rubbers often have softer sponges than Chinese rubbers and are very popular in Japan and Europe.
Hardness
Sponge hardness affects how your ping pong paddle rubber feels and the quality of shots you can perform. Hard sponges prevent the ball from sinking into your sponge, reducing the amount of spin the top sheet can impart. This makes them fitting for speed lovers — hard sponge is ideal for smashing.
Soft rubbers instead flourish at looping. They produce more spin and have more feeling. That being said, a rubber that is too soft may feel lackluster, and at an advanced level, hard sponges are becoming increasingly common for loopers.
Best Rubbers for 2023 — Table Tennis Rubber Reviews
1. Tenergy 05 — Strong Catapult Effect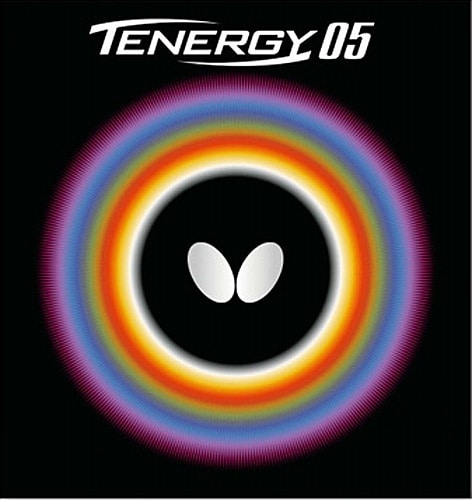 Pros
Very high spin
Very fast
Widely used by professionals
Cons
Expensive
Hard to control
Tenergy 05 is a medium-hard grippy inverted rubber. While expensive, many people consider Tenergy 05 is easily worth the money. It offers crazy high levels of spin and a strong catapult effect, making it deadly in the offensive game. And it's not just keen casual players who love the way it performs, it's also the pros. It is one of the most widely used table tennis rubbers by professionals. I'd also say it's probably the most common rubber at an advanced level. Therefore it had to make our list as one of the best table tennis rubbers.
To learn more, check out our Butterfly Tenergy 05 review.
2. Yasaka Rakza 9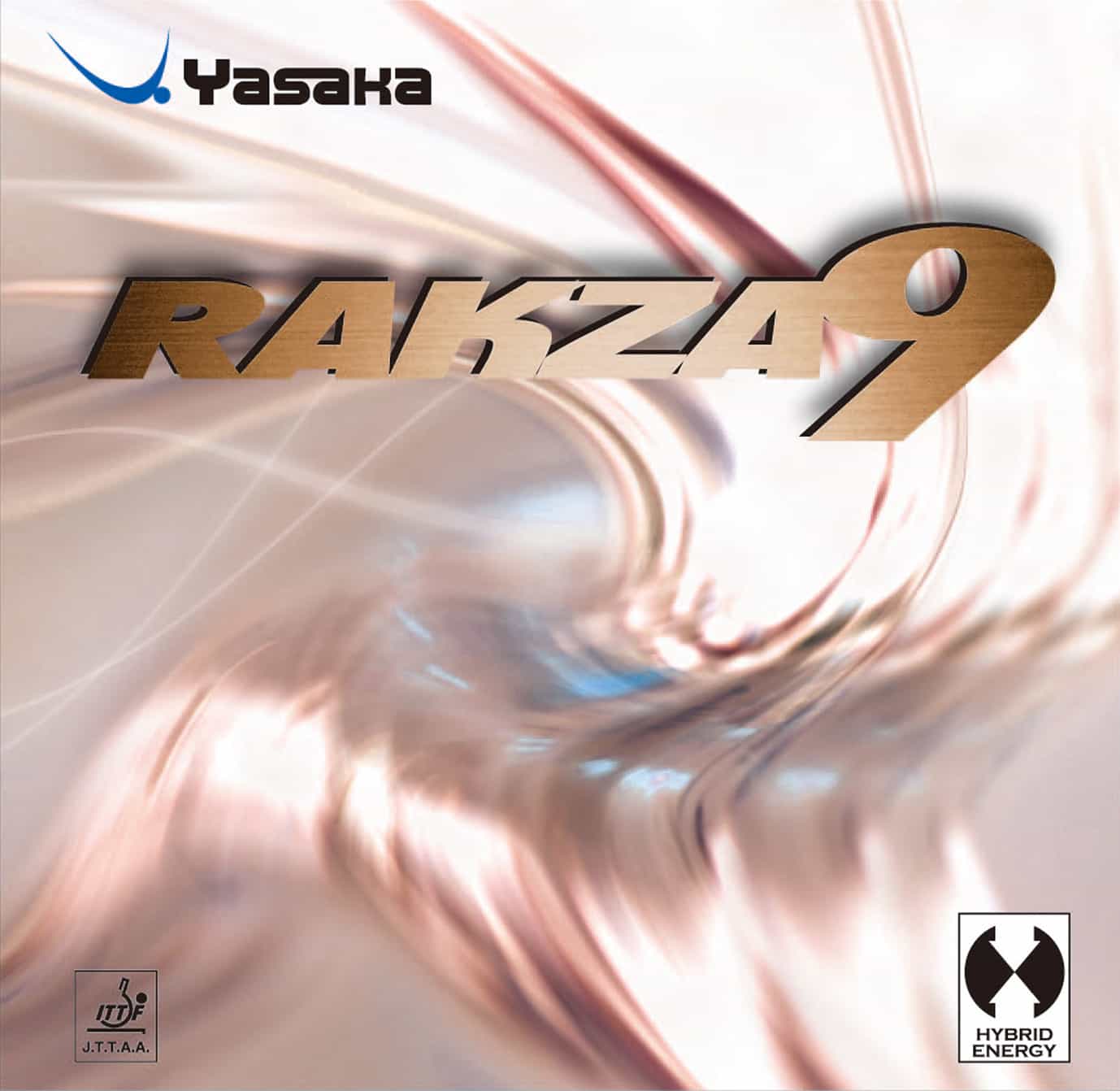 Pros
Very high spin
Very fast
Well-priced
Cons
As of the time of writing, Rakza is Yasaka's top-of-the-line series. While all of the rubbers in this range are great, we have chosen to select Rakza 9 due to its increased pace compared to the other models. It's super quick and has very high spin to go with it. This rubber makes a great alternative to Tenergy 05 as they are similar in many areas, such as hardness. However, it has a considerably lower throw angle, so players should be aware of this.
3. Tibhar Evolution MX-P — Blistering Speed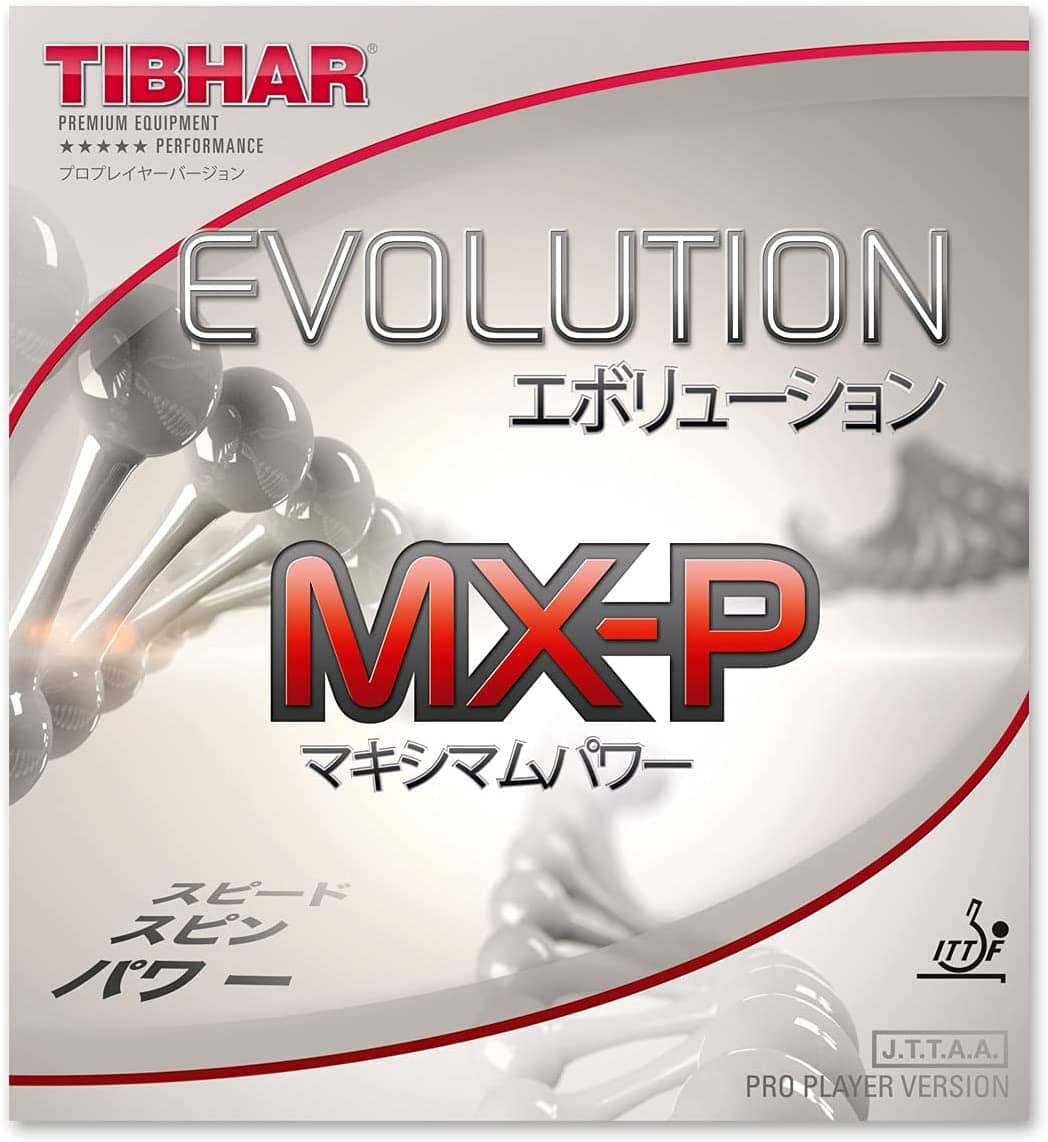 Pros
Very high spin
Top speed
Fairly spin insensitive
Cons
Hard to control
Poor durability
Evolution MX-P is well known for its insane speed levels — it's one of the quickest rubbers available. But it's not only fast but also very spinny, making it a great choice for modern-day attackers. Besides its being difficult to control, the issue with this rubber is its durability. The sponge is heavily tuned in the factory (you'll notice a strong chemical smell when you open it up), making Evolution MX-P deadly. Unfortunately, this tuning wears off after a month or two, depending on usage, leaving you with a much more tame rubber. As such, it's one of the best ping pong rubbers, but only if you are happy changing your rubbers quite often.
To learn more, check out this Tibhar Evolution MX-P review by Ping Pong Ruler.
4. Butterfly Sriver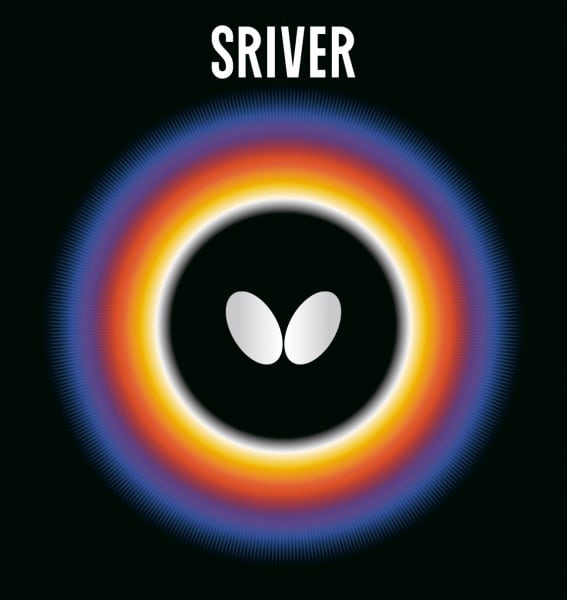 Pros
High speed and spin
Controllable
Well-priced
Cons
Not as fast or spinny as top rubbers
Butterfly Sriver has long been considered a classic table tennis rubber. We think it's one of the best table tennis rubbers for control and spin, its pace is also pretty respectable. In the late 1970s and 1980s, many world-class players used Sriver, in fact, over 20 World and 70 European titles were won with the Sriver. While it's true that modern equipment has become faster, Sriver remains a great option for intermediate or advanced players.
It feels softer than the rubbers covered thus far and has a fairly low throw angle.
5. YASAKA Mark V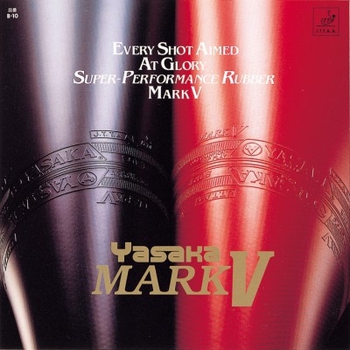 Pros
High speed and spin
Controllable
Well-priced
Available in many thicknesses
Cons
Not as fast or spinny as top rubbers
Much like how Sriver is one of the old-school legends for Butterfly, Mark V is the equivalent of Yasaka. Upon its release, it was very popular with professional players, and it helped said players win many titles. Today it remains a popular choice over two decades after its release, which is highly impressive.
Mark V generally complements an allround game. However, it's fairly versatile given that you can buy it in thicknesses from 1 mm to max. This means even pure defenders or attackers can use it greatly. In my opinion, it's a great choice for developing intermediate players.
To learn more about Mark V check out our dedicated review. 
6. DHS Hurricane 3 National — High Tackiness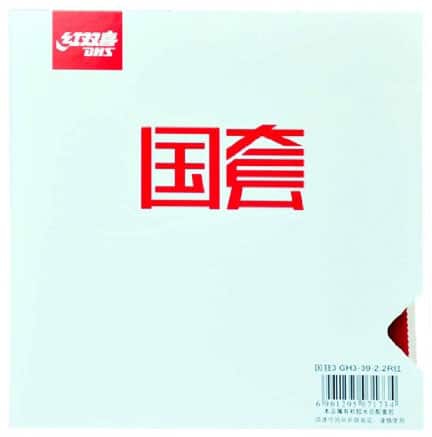 Pros
High speed and spin
Controllable
Many gears
Cons
Very expensive
Picks up dust and dirt easily
DHS Hurricane 3 National marks our first tacky rubber. It's pretty quick and capable of very high levels of spin. However, it plays very linearly and has many gears, so if you don't put much effort into your strokes you don't get that much speed in return. This makes it very easy to control if you need it to be, making it the exact opposite of the likes of Tenergy 05 which has a built-in catapult effect and does not play linearly whatsoever.
A drawback to Hurricane 3 National is the cost. While the standard Hurricane 3 is inexpensive, the National version is very pricey. This is because it was specifically designed for the Chinese national teams who require peak quality.
7. TSP Curl P1R — Super Deceptive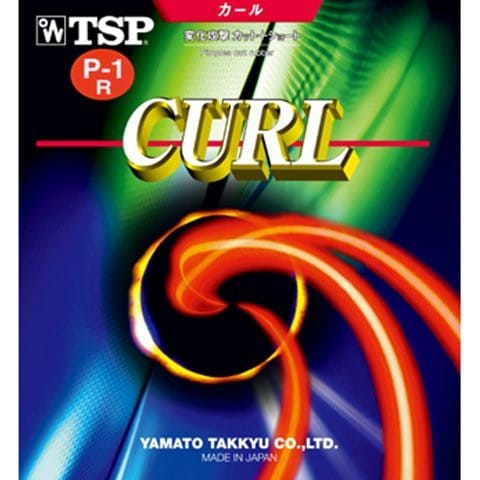 Pros
Very deceptive
Controllable
Inexpensive
Cons
Limited attacking potential
As the best ping pong rubber in the long pips category, we have TSP Curl P1R. It is one of the most popular long pimple rubbers because it is very deceptive and capable of producing high levels of spin. It has the softest and longest pimples among the TSP Curl lineup making it a nightmare to read for your opponents. The rubber is also pretty damn cheap which is an added bonus. We recommend purchasing one sheet and combining it with an inverted rubber on the other side to make you even harder to play against.
8. Yasaka Rakza PO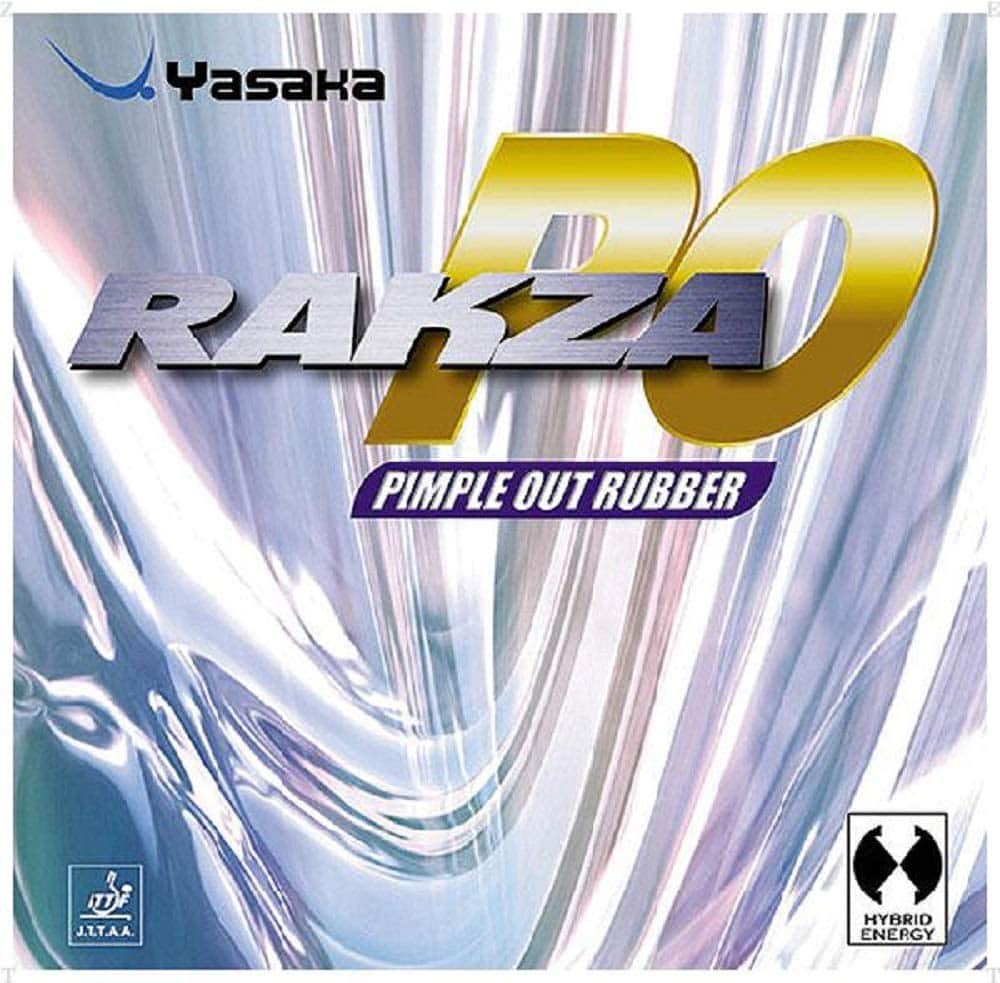 Pros
Very fast
Highly durable
More spin than you would expect
Cons
A little difficult to use
Fairly expensive
For our short pips rubber, we have another product from the Rakza lineup: Rakza PO. This rubber has rapidly grown in popularity in part due to its use by Mattias Falck who is tearing it up on the world stage. Where traditional short pips rubbers have very limited spin capabilities, Rakza PO is actually pretty spinny thanks to its Hybrid Energy Power Sponge technology. Of course, it also has ridiculous pace, as you would expect, making it a delight for overwhelming your opponents during topspin rallies.
My only critique is that it's a little difficult to use as it doesn't have a high margin for error and cost. Rakza PO is fairly expensive for a short pips rubber.
9. Yasaka Anti-Power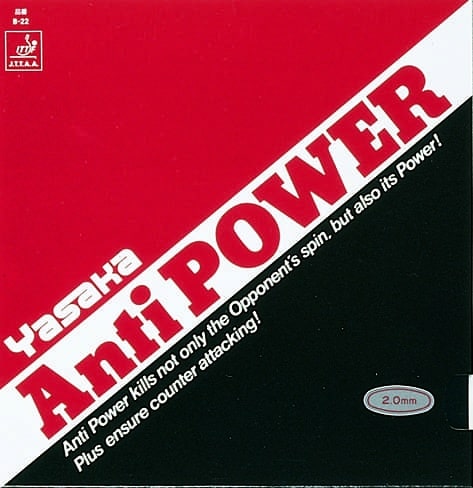 Pros
Makes you tricky to play against
Inexpensive
Cons
Although anti-spin rubbers are not particularly popular with most players, we thought that we had best include at least one kind on our list. The honor goes to Anti-Power, an inexpensive rubber produced by Yasaka. They market this model as not only killing your opponent's spin but also their pace, this makes blocking rather simple. However, to use it to its full effect, you should pair it with an inverted rubber and throw out offensive shots every so often. This will be sure to give your opponents difficulty!
10. Nittaku Fastarc G-1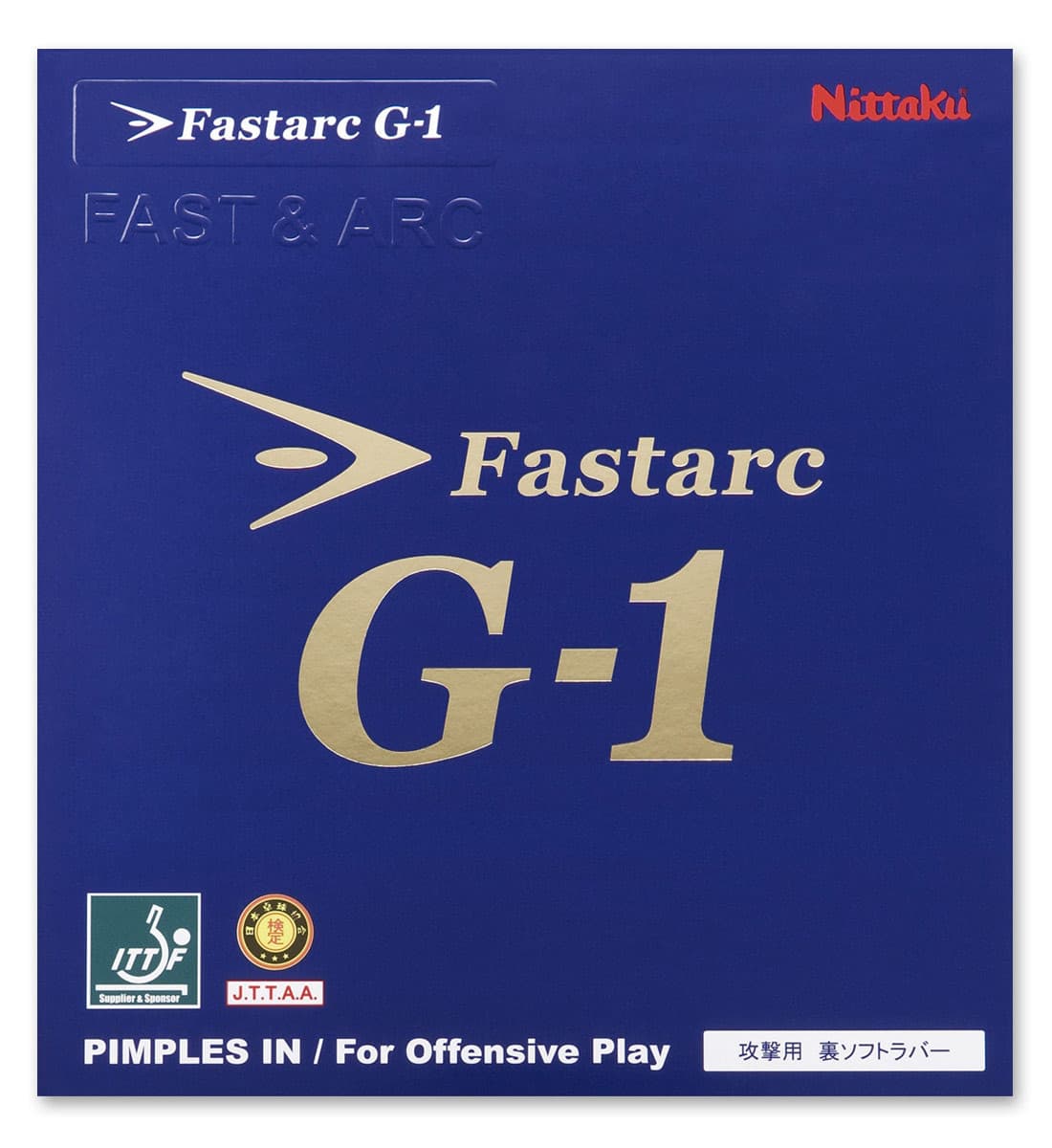 Pros
Very high spin
Very fast
Highly durable
Cons
Nittaku Fastarc G1 is a Japanese rubber with very high spin and speed. Like Tibhar Evolution MX-P it is medium-hard, and it has a slightly higher throw angle. Used by professional players Mima Ito and Masataka Marizonio, it is a super rubber for advanced players. And its high durability means you don't have to replace it quite as often as most rubbers. Of course, with its high speed and spin, it is not the easiest rubber to control, but that's a small price to pay for its offensive capabilities.
Conclusion
Finding the best table tennis rubber is no easy task, but hopefully, one of our top 10 selections caught your eye. We did our best to cover a range of styles, so unless you are an absolute beginner, there should be a viable option for you.
To recap, Tenergy 05 is a super choice for fast and spinny attackers, but both Evolution MX-P and Rakza 9 are great alternatives for players who prefer to play more directly with a touch more pace. On the other hand, Hurricane 3 National is our best rubber for players who like tacky rubbers. Just be aware that it's pretty costly!
Switching it up, TSP Curl P1R is our rubber choice for deceptive long pimples, while Rakza PO is our recommendation for short pips lovers. Finally, for the few of you who are looking for an anti-spin rubber, we think Anti-Power will be to your liking.
FAQs
What Is the Fastest Table Tennis Rubber?
There are a lot of rubbers in contention for having the most speed, such a rubber is Tibhar Evolution MX-P. Fresh out of the box with its factory boost, we feel it's the fastest rubber that you can buy.
Which Table Tennis Rubber Is Best?
The best rubber in table tennis is dependent on your style. Assuming you're an advanced attacker, Tenergy 05 is certainly one of the best rubbers that you can buy. Super fast and super spinny, it has all the tools you need to up your game. It is also one of the most popular rubbers among professionals and keen club players so it's highly likely that you will enjoy using it.
Are Thicker Rubbers Better?
Thicker rubbers are better for players who like to attack. If you sport an offensive style, we recommend purchasing rubbers with sponge that measures 2 mm or greater in thickness. If you play defensively, thicker sponges are not a good fit for your style. The best table tennis rubbers for you instead have sponge that measures 1.5 mm or less.
Related post: