Yasaka Mark V is arguably the most popular table tennis rubbers in the world. Over 20 years that Mark V has been shining as a solid rubber in world-class championships with its dynamic spin and speed capability.
It helps many professional table tennis players to win numerous championships over the years. It is the prominent leader among rubber profile and presents the absolute finest quality of rubber. It is one of the first rubber blending natural and synthetic rubbers.
Review of Yasaka Mark V
Over 2 decades that Mark V has been shining in the table tennis world stages. The rubber is arguably one of the all-time best-selling rubbers. It is very suitable for all-round players from intermediate to professional levels while it seems to be a little sticky for the beginners.
The great adhesive surface of MARK V rubber makes the rubber to be able to generate a lot of spins. This is especially loved by players who love to play with spinny shot.
Thanks to the newly developed micro-adhesive surface, coupled with the ability to increase the elasticity and spin (DATSYSTEM), which fully enhance the spin ability and power stability of the rubber.
Even though it is not the best in speed nor spin, it offers you a very great balance between fine speed, great spin, and fantastic control.
In addition, it is ultimately a forgiving rubber so this rubber still allows you to return a fine ball even with imperfect technique or stroke. This is very helpful for intermediate, or even high-level players to perform loop, backspin, and block. This Mark V is a very consistent and durable rubber which can last for many years.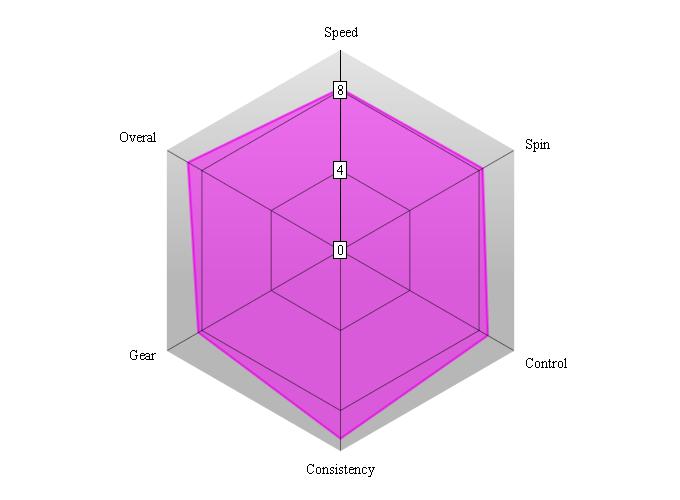 Yasaka Mark V Performance
Note: The graph reflects the real user's experience which may not be identical to information from the manufacturer.
Mark V Thickness
When coming to the thickness of the rubber, many people tend to be confused and have no idea on how to choose the right one for them. With this, the Mark V rubber is existed to solve your problem where it comes with different thickness to offer different players with different level of control, speed, and spin.
Personally, I would think the thickness of 1.5mm is a decent rubber that can't give you very fast speed. But they can give you more control over the ball. While 1.8mm is faster and it can give you the balance between control and speed.
It is rather recommended to put 1.8mm on both sides of your blade if you want the thickness of the rubber to be. If you want more speed, it will be great for you to go with 2.0mm.
Ideal to Paired with Hard Surface Carbon Blades
Given the fact that Mark V is a little bit soft with excellent controllability, it is commonly paired with a hard surface carbon blade to increase its power.
Regarding the price, this is one of the most cost-effective table tennis rubbers ever (only around USD$35). It is a little cheaper than its rival rubbers, such as Butterfly Sriver.
After all,  Yasaka Mark V is one of the first rubber that blending natural and synthetic rubbers. It is more than 2 decades that this rubber has been a strong weapon in world class championship play with its dynamic speed and spin.
Playing Experience
Mark V is very versatile where you can play any shot you like. By having this rubber, it makes blocking easy in which you can perform excellent control for blocking and counter hitting.
The rubber also can offer you a great balance of control and power on topspin. It can give you a very good spin and you will find it is rather easy for you to place the ball. Besides, you can have versatile to serve with great control.
When I do a little test on the rubber, I can feel that it is not a very tacky rubber. If you try to stick it with a ping pong ball, it won't pick the ball off the table.
The rubber is pretty durable. I have played with it for 3 months and the rubber is still in very good shape like a brand new.
It is a soft top sheet which is very squishy on the surface. The sponge for the rubber is not soft or super hard either. Even though you may not get a superb loop, but it is still okay for me.
You may get a lot of spin from the serve you generate. Also, it is a good rubber for chopping. I can chop the ball quite well when my opponents are generated a lot of speed and spin from their shot. The chop that it gives me is very effective.
It is backhand and forehand compatible. I have tried to play the rubber with my backhand and I just feel it is quite good
I would recommend you to use a medium to a medium hard blade to unlock the full potential of this rubber.
Pros:
This rubber is a great choice for players of any level. If you are looking for rubber that can offer you with a great performance in terms of speed, spin, and control, then the safest rubber for you to go for would be this Yasaka Mark V.
Ideal rubber for both offensive and defensive players.
It is quite light and is a good fit for heavier blades.
Cons:
You may need some time to adjust yourself to get adaptive to the rubber as it is a very fast rubber that can give you a lot of spins.
Product Information
Type:

All-round

Hardness:

Medium

Speed:

90

Spin:

90

Control:

78
It is highly recommended for intermediate to high-level players. All in all, Mark V is the first rubber choice for active offensive players who love to play fast shot close to the table.
Best Blades for Yasaka Mark V
Offensive: Butterfly Amultart, Butterfly Sardius, Xiom Alexo
All-round: Nittaku Tenor, Xiom Strato, Yasaka Malin Extra Offensive
Overall Rating: 4.4/5
This is a review of Yasaka Mark V rubber. If you are looking for Mark V table tennis paddle, you can refer to this link.
Related post: