Bluefire M series is an innovation of table tennis rubber from Donic that offers players superb speed and power. FD3-technology is a new high-tech generation of rubber derived from the combination of large-pored blue sponge and super spinny top sheet.
This M1 is a Blue Fire series rubbers that being produced by Donic. In terms of color, it has red and black colors, which are very good. This rubber sleeve belongs to pimples with single sponge distribution for the rubber surface in terms of type.
Many table tennis players have tried this rubber, and most of them found it a quality rubber. One of the remarkable features of this rubber is the blue sponge material used on the rubber. The so-called cake sponge is the pore of the sponge, very obvious.
In Germany, this type of sponge is trendy and is widely used in the country. It doesn't matter if you are professional table tennis players or amateurs. They love to use this type of sponge.
This sponge has a large number of pores. After blending with slender rubber, it can achieve excellent performance. Because it is a single sponge, it can reduce the entire table tennis racket's weight to the greatest extent.
For those who have strict weight requirements for table tennis rackets, the Bluefire M1 rubber is just a good fit for them.
The top sheet rubber comes with inverted long pimpled for enhancing flexibility and sensational feeling. Overall, the Bluefire M1 offers you very fast speed with high topspin throw angle, which will maximize your spin power.
Test With Table Tennis Robot
Although there is only a single sponge, it does not affect the traction. Some people have tested this rubber with other multi-layer sponge rubbers. They use a table tennis robot to throw the ball with a similar speed to test on the rubber.
The test found that the traction of the ball for Bluefire M1 is just as good as those rubbers with the multi-layer sponge. The performance of the backhand shot is even better.
For the forehand, it can just let the player generate a high-speed spin and powerful shot. So, for the aggressive forehand player, this rubber is very suitable.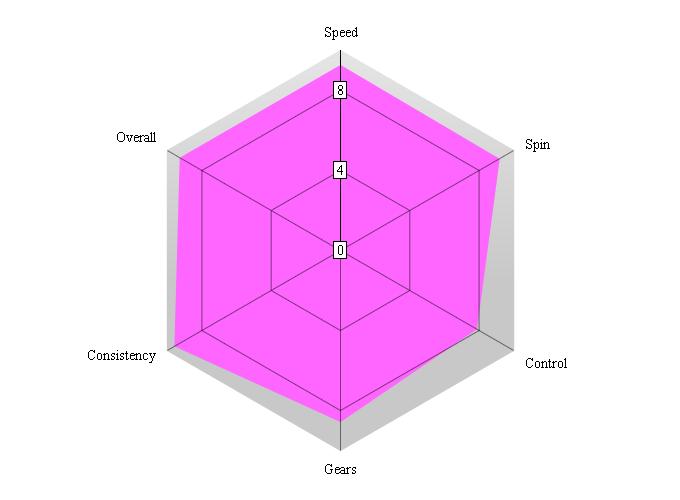 Donic Bluefire M1 Performance
Note: The graph reflects the real user's experience which may not be identical to information from the manufacturer
Review of Donic Bluefire M1
Bluefire M1 is a modern high-end offensive table tennis rubber from Donic. The model M1 comes with the most challenging surface in the series, which allows you to gain more speed and spin power. This rubber is quite perfect for professional topspin lovers who have a pretty high budget (over USD 55).
Product Information
Type: offensive, super spin.

Surface: medium-hard (a little bit hard).

Characteristics: highly dynamic, extremely spinny top sheet.

Recommended for: professional or advanced players with consistent strokes who prefer to use a hard rubber.
The sponge and top sheet of this rubber are physically hard for a spiny rubber 47.5 degree (harder than Yasaka Rakza 7, but slightly less than Butterfly spin art). It also comes with a bit long inverted pimple inside, which slightly enhances its flexibility and catapult effect.
Speed
In term of speed, this is one of the fastest rubbers in the up-market. Its speed is very impressive, especially for a topspin shot (equivalent to Butterfly Tenergy 05). Its speed and power will shine even more on close to mid-distance play.
Control
Even though Donic Bluefire M1 comes with quite excellent controllability, especially for near the table strokes, you still need solid skills to hit the ball properly. Besides, it is not a forgiving rubber which means perfect technique and stroke are required.
So, it is more suitable for professional or advanced players than the beginner. If you are looking for a bit more forgiving or softer rubber, Donic Bluefire M3 is your better choice. This rubber performs brilliantly on flicking and touching the ball near the net, which is quite impressive for a high-speed rubber. It allows you to flick the ball over the net beautifully in a fast and precise direction.
Blocking
Blocking the ball is another strong point of this rubber. Donic Bluefire M1 can return an incoming ball with very fast counter speed. Moreover, the rubber itself is not too sensitive to the incoming spin ball, which will significantly help you gain more controllability for blocking the incoming spin ball.
However, its controllability on far distance play is not that great, especially when it is integrated into a hard surface blade. It seems to be a bit difficult to control directly from a far distance. Therefore, it would be better to integrate with softer blades.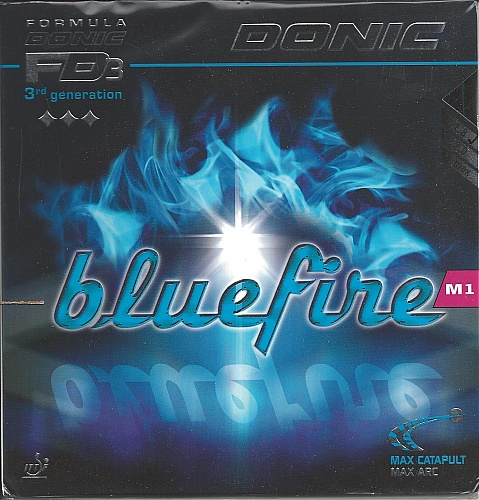 Spin
Donic Bluefire M1 performs an exceptional level of spin power in term of spin, especially for the topspin loop. It is very consistent and solid for the counter loop, but you need to put a bit extra effort into a strong shot. It comes with a very excellent catapult effect that allows you to brush the ball nicely with excellent dwell time.
Loop
The power loop from this rubber will help you to create chances for executing a killer smash easily. Nevertheless, given that Donic Bluefire M1 is a hard rubber surface, it is less flexible than other softer rubber.
As a result, you may need solid skill to execute the topspin loop properly. Donic Bluefire M2, and M3, on the other hands, may allow you to perform the topspin loop easier but with less power.
Overall, this rubber is very significant for a high-level aggressive player fascinated with speed and spin. Even though its performance is quite phenomenal for mid-close to the table, its performance for far distance stroke is a bit disappointing. It is recommended for any advance offensive players who love to play within a short and compact area.
If you are looking in buying this rubber, you can get it from Megaspin.
Recommended Table Tennis Blades for Donic Bluefire M1
Butterfly Timo boll Spirit, Xiom Aria, Nittaku Violin, Butterfly Michael Maze, Yasaka Malin Extra
Overall rating: 4.6 / 5
Related post: