Product Information
Type: Offensive, Super spin
Hardness: Medium
thickness: 2.0mm
The new Hybrid Energy, Rakza 7, is the new innovation rubber from Yasaka. The top sheet contains mainly natural rubber gum which greatly enhances the level of grip and the power of spin. The top sheet is also integrated with the "Power Spongy" that works with perfect synergy. With extra grip, it is easy to control for both direction and distance for the hard stroke. Its durability is improved due to an increase in the percentage of natural gum.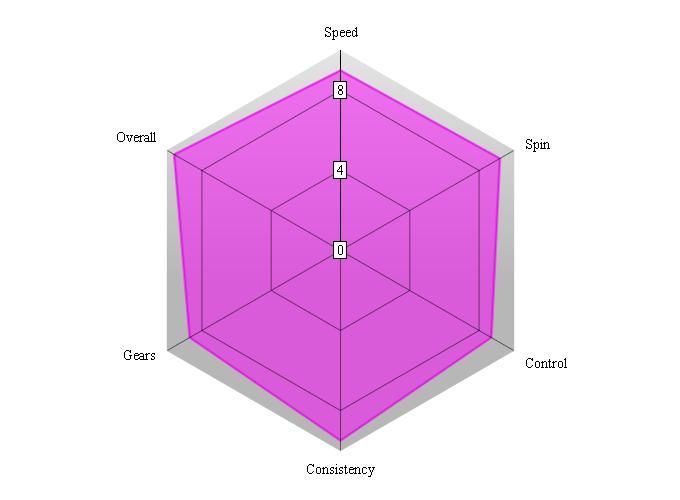 Yasaka Rakza 7 Performance
Note: The graph reflects real users experience which may not be identical to information form the manufacturer
Review of Yasaka Rakza 7
This is arguably one of the best new generation rubbers from Yasaka. It is a phenomenal offensive weapon for all aspects: speed, spin, control and gears. Given the fact that this is an upmarket offensive rubber, it is commonly compared to its legendary rival, Butterfly Tenergy series. Physically Rakza 7 has harder surface with lighter weight. Even though its speed, and spin power is on par to its rival, Rakza 7 is arguably superior for its controllability.
In terms of defense, this rubber assists you to perform awesome blocks. It allows you to return super fast ball with high precision for both direction and distance. This enables you to control paces of the game superbly. In addition, Rakza 7 is a relatively forgiving rubber (compare to other super speed rubbers) . The forgiving characteristic will help you to return a fair ball even with slight mistakes.
Regarding speed, even though it is not the fastest rubber in the world, at least it is very close to. I think its power is on par with Tenergy 05 but Rakza 7 has better control. It arguably contains best ratio between speed and control.
In term of spin (which seems to be the highlight of this rubber), it allows you to execute monstrous spin ball from wide range of speed and distances. It performs well for all kinds of spins (topspin drive, loop, side spin, or even backspin). It is arguably one of the most powerful spinny rubbers in the market with relatively lower throw angle than Tenergy 05.
Regarding serve, Rakza 7 is incredibly great for serve due to its precision of spin, direction, and weight control. This characteristic will help you to open the game beautify.
It is highly recommended for all round table tennis players (ALL+) from intermediate to professional levels (with relatively high budget).
Recommended Table Tennis Blades for Yasaka Rakza 7
Super speed:Xiom Hayabusa, Nittaku Tenor
Super spin: Nittaku Acoustic, Xiom Strato
Balance: Xiom Aria, Nitaku Violin, Buttefly Michael Maze
Overall rating: 4.9 / 5
Butterfly Sriver Rubber Review