Nittaku Acoustic is a 5-ply an all-wood blade. The plies are layers of limba and tung-tree. The texture of limba is harder than other woods. Its appearance is exquisite, and the workmanship is also very detailed.
Coupled with acoustic technology bonding with its infiltration technique is to fill the catheter with glue to make it feel to have similar strength and rigidity to a single board.
The color of the handle and the logo on the face material are very beautiful. The blade itself is very thin, and its face material is even ultra-thin.
Handle of the Blade
The racket has an excellent feel in hand. Although everyone has different preferences for the handle, the handle of this blade is very comfortable as far as I am concerned.
It is worth mentioning that the Nittaku Acoustic blade is only available for FL and ST, making it very inconvenient for many people who like the AN handle.
Product Information
Type: All-round

Surface Hardness: Soft

Ply: 5 plywood

Feel: Middle

Size: 257 x 150 mm

Weight: 88g ±

Thickness: 5.7mm ±

Speed: 86

Control: 67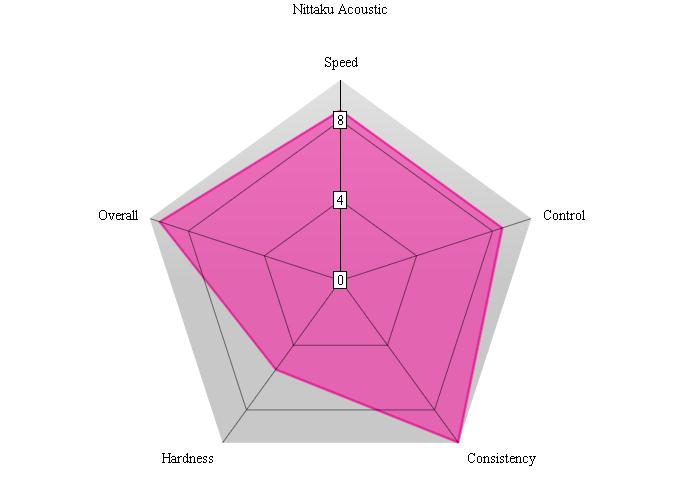 Nittaku Acoustic Performance
Know More About Nittaku Acoustic Blade
Despite its very high price, this is arguably one of the best Nittaku all-round table tennis blades. It is perfect for all-round players who are fascinated by fancy spin play from near to far distance. It features a superb balance between control, speed, spin, and paces.
Control
Regarding controllability, it offers you great control and touches while still maintains a reasonably impressive speed (compare to other wood blades). The Nittaku Acoustic is pretty thin and light for 5-ply woods with only 82 g. Given that it is made of pure wood, it always offers you a better feeling and sound than the carbon composite blades.
It is suitable for control loop play from both forehand and backhand. However, it is not working well for 3rd-ball attackers.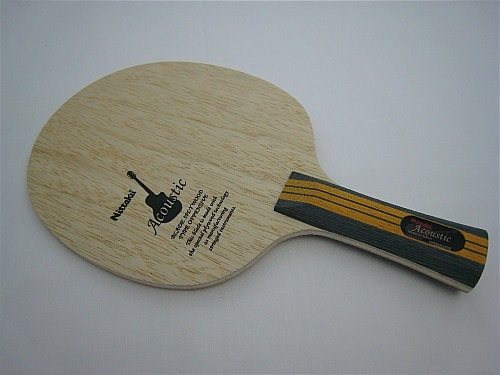 Speed
Even though the speed may not as fast as other carbon blades, it can still generate enough momentum for your shot.
Spin
The prominent feature of this blade comes to its spin ability. This paddle allows you to perform monstrous spin from near to far distances. It enhances the super spin rubbers like Nittaku Narucross, or Yasaka Rakza 7 to produce the best spin power.
It is especially great for playing looping, topspins, or chop. By playing such strokes, the blade can help to generate a very viciously and spinny ball.
It is highly recommended for all-round intermediate to high-level players who come with a high budget.
Nittaku Acoustic vs Violin
For the speed, Acoustic is faster than Violin. But for the feel of the blade, the Butterfly Violin table tennis blade gives a better feeling than Acoustic.
Oddly, Nittaku Violin is softer than Acoustic. For my testing, I can feel Acoustic is softer than Violin. And Violin is at least to be considered as a medium-hard blade.
My Playing Experience
The Acoustic is a relatively fast blade. It can save you energy when playing close to the table. It would help if you did not exert too much of your strength when playing the game. And the sweet spot of this blade is larger so it can offer players a very stable shot.
When I first held this blade, I assumed that Acoustic should be a very hard blade. My assumption was based on the sound I heard when it hits the ball.
But when I got a chance to grip this blade and try it out, I realized that I couldn't judge the Acoustic blade simply by my ear. The actual grip is quite comfortable, and it can give me a great feel.
The acoustic sound is short, and it is reasonable to say that the deformation is small. But the deformation of the wooden blade surface material can give me quite a good traction and throws of the ball.
When I try to do some sidespins, it is evident that the ball hits back very quickly after touching the blade. There seems to be an accelerated process, and it makes me feel the blade is like a catapult.
The Acoustic blade is a combination of crispness and toughness. By having this blade, you can play a balanced game.
Read also: Nittaku Acoustic Carbon Table Tennis Blade Review.
Conclusion
Nittaku Acoustic blade attracted many people's attention because of its high price and the use of two-star players, Malong and Fukuhara.
As far as the appearance is concerned, the workmanship, material selection, and texture are extraordinary.
Compared with the ayous wood, the paulownia core lacks toughness with less strength, because it does not rely on the large core's overall deformation to exert the forces. Instead, it depends on the thicker and tough surface materials to do so.
But also because of this, the control of the ball will be more stable. It is more suitable for the combination play of drive and loop. The excellent feel will make you fall in love with this blade.
When hitting the ball, the feeling of vibration is transmitted to the hand. The blade feels harder and faster, and the quality is believed to be in the middle and upper class for the pure wood.
The feels are perfect, and the ball hits on the blade is very crisp. There is a natural feeling which may result from the bonding technology that benefits from the stringed instrument.
Due to the hand feel advantages, there is a feeling of total control when driving the ball. The Acoustic does not require you to exert too much force to make a powerful shot. The tough surface and subsurface can help you to exert a great power for your shot.
The speed is faster, and the attack is relatively solid, but the weakness is due to the sweet spot's lack of toughness.
The spin is not good enough. If you exert much strength to make a shot, it feels very comfortable to let the ball out from the blade.
Acoustic blade keeps a blade that keeps everything in balance. It is a balanced blade with particular strengths. Its strength lies in the stability and high threat of moderate power. It is a blade that is suitable for all-round players.
You can buy this Nittaku Acoustic blade from Amazon or Megaspin.
Recommended Table Tennis Rubbers for Nittaku Acoustic
Offensive play: Yasaka Rakza 7, Xiom Omega IV
Spin play: Nittaku Narucross, Yasaka Rakza 7
Overall Rating: 4.8 / 5