Background of TIBHAR Table Tennis
TIBHAR is a German company that found in 1969. It is one of the most influential brands in Europe. The company's products are available in more than 100 countries worldwide. Lately, TIBHAR has signed up with a lot of top table tennis players like Samsonov, Freitas, and others to promote the company products.

The most famous products released by the company including famous blades like Stratus Samsonov Carbon, Black Carbon, Volcano X, Norm, and Freitas. For rubbers, they also have Legend Destroyer, 5Q, Quantum, Evolution and many more.
Founder of the Company
The founder of TIBHAR is Tibor Harangozo, who is a world recognized table tennis coach and former world-class table tennis player. He used his first 3 characters of his own name which is the "Tib" and "Har" to make the name of the company.
The headquarter is situated in the capital of Saarland in Saarbrucken, Germany and it is now run by the Berg family.
Initially, TIBHAR only produced the blades and rubbers that especially design based on the specific request by professional players. But very soon the company start rapidly develops its production to more areas. Today "TIBHAR" has become synonymous with the world of high-quality table tennis products that range from amateur to world-class competition.
Develop into China Market
After the company invaded into China market in 2002, TIBHAR managed to provide reliable service for the majority of Chinese table tennis enthusiasts and professional players with the virtue of their technical superiority. In November 2006, the company was officially opening its Chinese company to provide more quality and quick service to all of its Chinese customers.
Let's us take some brief reviews on some of the rackets and rubbers that produced by TIBHAR.
Blades
Black Carbon – Tibhar Flare/Concave
This is a blade that is produced with the cooperation of TIBHAR with the table tennis experts from Korea and China. The stiffness of flare or concave that built with the blade provides overwhelm speed. This blade is designed and built with innovative carbon concept.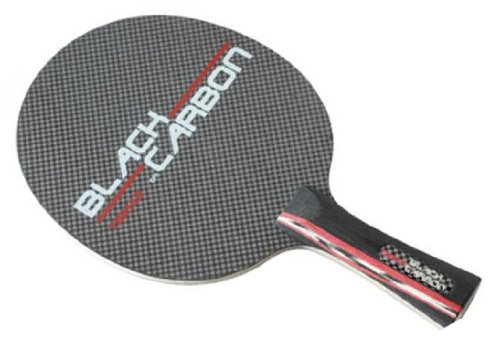 If you are holding with this Tibhar table tennis blade, you will found it is very good for you to play with a looping shot. You will feel the ultra-fast speed that is very durable throughout the game. It can offer you with good control as well. In addition, due to the multi-layers of Carbon fiber, you can sense the big sweet spot that gives you a very consistency touch.
You can feel the spinning of the ball when you are doing some topspin even the carbon layer might not have any vibration when you give the shot.
Rating:
Speed: 95
Control: 80
Play Style: OFF+
Weight: 82g
Wood Feel: Medium Hard
Price: $80
TIBHAR Black Silver Blade
This is a blade that quite rare for people to use it. It has the features of lightweight, and it is built with 5-plies carbon that is suitable for Allround players. The soft surface can give you very fast speed and genuine control of the ball if you take a little test on the speed by doing some fast hits.
If you attach the right rubber like the Nimbus or Norm on the blade, it is going to help you to score the point with the right game techniques.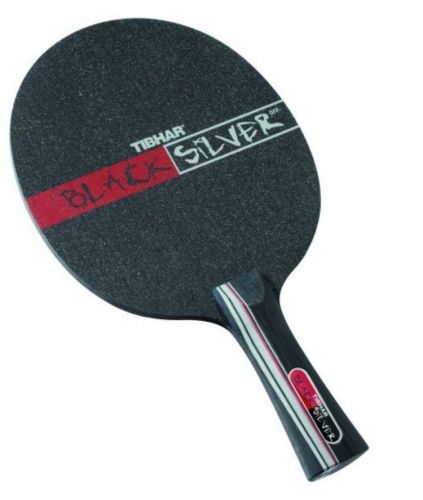 With the special design on the wood surface, It will offer you with very great spin. The appearance of the blade also will give you with the eye-catching silver sparkle feel.
Nonetheless, I think this blade is only selling in Europe. You can get from Amazon in UK if you intend to get one.
Rating:
Speed: 78
Control: 77
Play Style: ALL
Weight: 80g
Wood Feel: Soft
Price: $30
TIBHAR Stratus Samsonov CB Carbon
The stringent standard that set by TIBHAR in picking premium quality wood types to produce the blades makes the company stands out from others. This blade is a blade that built with high-quality Kevlar carbon.
The blade is well fit for offensive players who also looking for good control of the racket. The Kevlar carbon that made this racket allows you to have the hardness that you need and can provide you with a very steady play.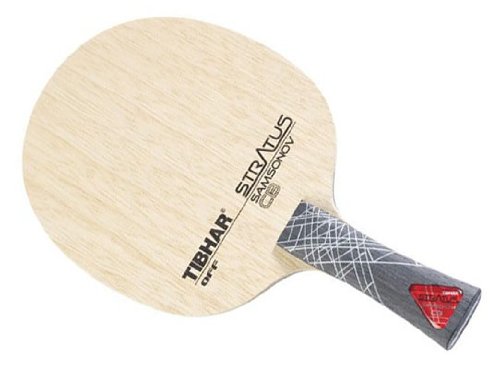 Generally, this Stratus Samsonov CB Carbon is a great racket that not only can give you fast speed and good control. It also can give you a very good feeling as well.
Some people may think that the Tibhar table tennis blade is a little heavier than others but once you used to hold it, you will feel the solidity that it gives you. It can definitely give you extra power for your shots when you getting this blade to play table tennis.
Rating:
Speed: 89
Control: 89
Play Style: OFF
Handles: AN, FL, ST
Weight: 80g
Wood Feel: Medium
Price: $100
TIBHAR Volcano X
TIBHAR Volcano X is considered as a complete racket where the bat is pre-assembled with Volcano rubber. This Tibhar table tennis racket is built with high-quality materials and it can offer you with great value for the money you paid for.
The adhesive rubber surface can let you perform with a different spin and the blade is very fast for you to play in a competitive match. Some said this is one of the most complicated pre-assembled rackets that they have but most of them still love the features that it offering them.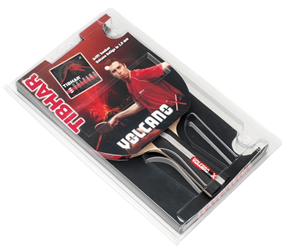 Overall, this Volcano X can give you with fast speed, good feel, good control, and great value. This blade is especially ideal for offensive players to get one and play in all-round game.
Rating:
Speed: 80
Control: 87
Play Style: OFF
Rubber
TIBHAR Legend Destroyer
You may think that you are getting a great deal with the purchase of this Tibhar table tennis rubber and for the price you pay for. The rubber can be somewhat harder on its surface. If you get the sponge and attach the rubber on the right blade, it can actually produce a very fast speed for you.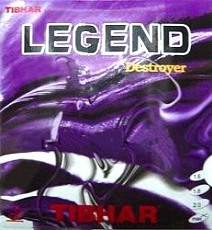 The Legend Destroyer that being released by Tibhar Table Tennis is an innovative ping pong rubber that has been produced and released with the collaboration of the Worlds' leading players. It features with exceptional unique pimple which is soft that can offer players with great response throughout the play.
Rating:
Speed: 75
Spin: 84
Control: 83
Hardness: Medium Hard
TIBHAR Norm
This rubber can be a great value for the money that you pay for to get one of it. It is especially very good for beginner to buy and attach it on their blade. The ideal blade to put on this rubber is the TIBHAR P.Chila Light or TIBHAR Black Silver.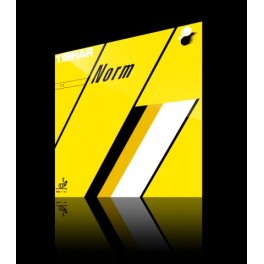 With the combination of this rubber with the right blade, it can offer you with good loop and spin when you are playing a lot of topspin. The delicate coating on the surface can give you a very well control of the game.
Rating:
Speed: 55
Spin: 65
Control: 90
Hardness: 30-40°
Strategy: ALL-
Related post: