This Joola Carbon Pro table tennis bat is designed for competitive players who are having intermediate playing skill and are looking for the right bat for them to advance in their games.
Construction of the Bat
Let's take a look of the construction of this Joola bat.
Blade
The blade is built with 7-plies wood. The Carbowood is the replacement of carbon fiber which makes the blade to be an even better one. It is a consistent offensive wood that built with the blade. It has a flared handle on that made from specifically glued veneers with 2 carbon layers for a better feeling.
Rubber
This is an ITTF approved racket that comes with 4 You rubber sheets. The pre-assembled rubber is having a smooth surface of 1.9mm thick sponge which may not tacky enough to do forehand loops and drives.
Handle
There are flared handle for the bat. Such a design help to increase the power, control, and accuracy of the bat. The flared handle makes the bat to be the best choice for optimal grip. This is good in helping to increase the speed and control.
The bat can generate with decent speed and spin among the Joola competition category. By playing with this bat in the game, you can find it is rather easy for you to handle and change the playing stroke between forehand and backhand.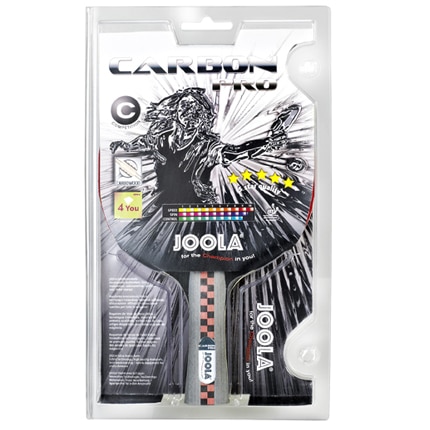 The Carbon Pro is enhanced with the new carbon wood technology which offers players with a larger sweet spot. It is built with decreasing vibrations resulting in better stroke accuracy.
The bat is the right choice for offensive players who are looking for an edge to further compete in table tennis.
Durability
This Joola Carbon Pro table tennis bat is made of durable wood + carbon with a decent quality of rubbers. You will have no issue to play with this bat for a couple of years. However, when your skill improved, you will definitely need to swift to other better racket which can give you more power you need to advance your skill to the next level.
It Is Worth to Buy?
The price of this Joola Carbon Pro bat is about $50. But the performance is not as good as the bat is of the similar price range like the Palio Master 2 or Stiga Evolution. It can only perform like the Killerspin JET 200. The price may not match with the quality and performance it offers.
It can still be a perfect present for you to give away to your friends or family members who are just starting to learn to play ping pong. This can be a good bat for them to start with. The bat has come with a gift box that can be sleek look and elegance.
Rating:
Speed: 98
Spin: 92
Control: 86
Speed
The speed is not very fast. It is just decent speed that you can get with this bat. It just cannot compete for the speed with Stiga Pro Carbon. Stiga Pro Carbon is having much faster speed. But for players who are not looking for too fast speed of the bat, then this bat might be suited for them.
Spin
The bat can offer you with just decent spin. So you don't expect to have a great spin on the ball for the shot you make. There are many bats with cheaper price can offer you with a similar spin as this bat too.
Control
The good thing about this bat is it can offer you with quite great control especially if you are doing a lot of looping in topspin.
Specs:
Veneer: 7-plies (5 wood + 2 carbon)
Rubber: 4 You(1.9mm)
Technology: Carbowood
Handle: Flared
Head Dimension: 6.10″ x 6.06″
Weight: 170g
Pros:
You can have a superb control by using this pre-made bat.
Is a lightweight bat to have.
Cons:
Only can offer you average speed and spin.
The rubber is not tacky enough, Which make it hard to make spins and loops.
Price is expensive for similar specs of the bat.
The price of about $50 for this bat is quite decent. But compared to other bats that are offered as similar prices, it is just not up to the expectation for the price that it asked for.
I would think there are many other cheaper bats can do as good as this bat. I have tried Killerspin JET 200 and I think they just offered me with quite similar feels in terms of speed and spin. But I can get Killerspin JET 200 at quite a low price which is just about $18. This price is much cheaper compared to Joola Carbon Pro.
Even if compared to the Palio Master 2 which have a similar price range, I would think that Palio Master 2 is a better quality bat that I will want to have. I ever tried to play with Palio Master 2 from one of my playing partners and I think that this bat can give me very good spin and I especially love the grip of the handle which gives me very good feel when I hold it in my hand.
For beginners, if this is the first bat that they get, they might have a little surprise with how good this bat can help them to improve their overall playing skill. But for intermediate players, this is just not the bat that they will be looking for.
If you are just looking for a decent bat for you to play ping pong at your recreational time, you can definitely choose the Joola Carbon Pro which will offer you with good control and you will play a very stable game. You can even win in the game against your opponent who you tend to lose in your routine play when you are starting to use this bat.
This is because with the control, it can help you to better adjust your playing style and when you start to have good control over the ball, your skill will be much stable and you will improve your playing style after some time.
If you are interested to get this bat, you can buy from Megaspin.