Butterfly Timo Boll ALC is one of the favorite paddles for three times European champion, Timo Boll. This European famous player is inspired and worked with Butterfly's technicians to develop the blade that offers even more speed than his previous model. The paddle does not only provide faster speed but also produces very heavy topspin to suit his style.
Butterfly Timo Boll blade offers you an extraordinary mix between speed, heavy spin, and control. The combination of this blade along with Butterfly Tenergy rubbers greatly helps him to secure all three of his Titles at 2008 European championships.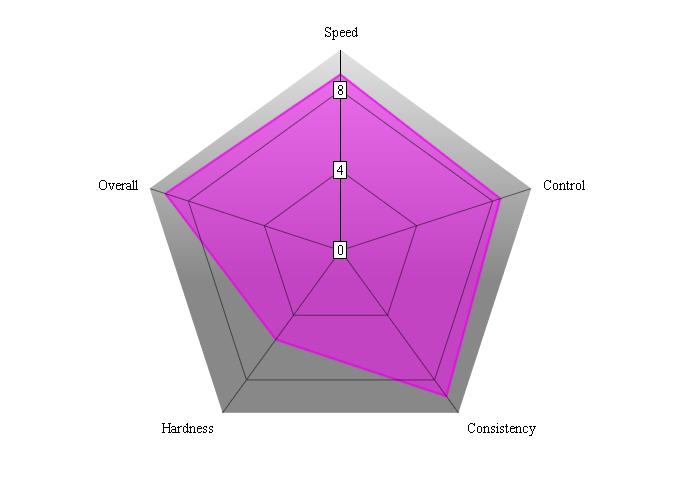 Butterfly Timo Boll ALC performance
Note: The graph reflects real users experience which may not be identical to information from the manufacturer
Review of Butterfly Timo Boll ALC
Timo Boll ALC is a very popular table tennis blade among Butterfly's fans with a reasonably high price (around USD$130). The paddle is commonly paired with Tenergy rubbers to enhance its speed and spin power. It is arguably one of the best balance offensive blades from Butterfly.
Product Information
Type: Offensive
Surface: Medium
Weight: 88 g
Piles: 7 (5 woods + 2 AC)
Blade Size: 157x150mm
Physically, The blade has a relatively soft touch for an offensive blade. It comes with a fine weight (approx 90 g) and large sweet spot. The paddle offers less vibration and excellent dwell time which will greatly help you to perform topspin technique.
In terms of speed, while Timo Boll ALC offers pretty decent power (better than average offensive blades), it is still not as fast as the upmarket offensive ones like Butterfly Schlager, Butterfly Primorac Carbon, or Butterfly Amultart.
However, this Butterfly blade offers much better and smoother controllability. I would say its speed and power is very close to Butterfly Jun Mitsutani and slightly faster than Timo Boll Spirit. You may need to push a little bit extra effort for a killer shot.
Regarding spin ability, Timo Boll ALC is quite phenomenal for topspin play. It offers high throw angle with magnificent dwell time. It allows you to easily lift a heavy backspin ball with almost effortless especially with the support from Tenergy 05 rubber.
The paddle offers you many gears enabling you to generate various topspin powers form medium to very heavy loop. This will confuse your opponent well especially in the near table play. I would say this blade is quite prominent among the popular offensive blades for spin ability(significantly better than Primorac Carbon, and Schlager).
Butterfly Timo Boll ALC features very nice controllability with very low vibration. Your strokes will be very stable and sharp. In addition, it allows you to switch between attack to counter-attack quickly. This will enhance the paces of the game superbly.
In terms of defense, You can perform very excellent block like a pro with very precise direction and power. Given the fact that this blade is quite soft and less powerful than other aggressive blades, it is more suitable for short to medium distance play style.
Overall, this blade offers you very well balanced between speed, spin, and control especially when it is paired with Butterfly Tenergy Series. It offers you less vibration, great dwell time with full control. It is highly recommended for intermediate to professional players who come with a little bit high budget. If you have a lower budget, Butterfly Timo Boll Spirit seems to be a more interesting option.
Recommended Table Tennis Rubbers for Butterfly Timo Boll ALC
Butterfly Tenergy series, Butterfly Sriver
Overall Ratings 4.6 / 5
Difference between Timo Boll ALC and Timo Boll Spirit
Firstly, let's get this out the way, there is very little difference between the Timo Boll spirit and ALC. They practically have only color and logo differences. If you are looking for the faster of the two blades the Timo Boll ALC might be your best choice.
The defining factor for a player is not which one you choose, but which weight you ask your blade dealer for. They are pretty much in the same weight range but from 10 blades I can compare the Timo Boll ALC comes out fractionally heavier and would be for that reason faster.
The Butterfly Timo Boll ALC almost needs no explanation. It is the blade used by Timo Boll. It is almost identical to his previous blade the Timo Boll Spirit. But it is supposedly a fraction faster, and some say feels better too.
Without a doubt, the best Butterfly table tennis blade is a little more expensive, but sometimes you just have to say hey, I love Table Tennis so much that this blade is not that different to buying the best wine, cheese, clothes etc.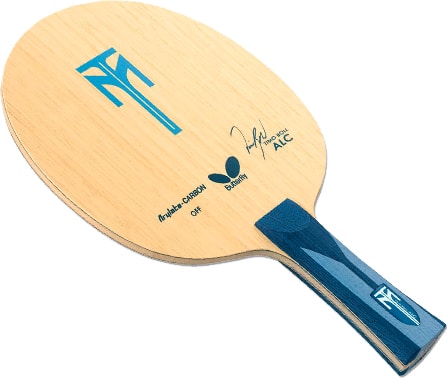 If you are looking for this blade, you can get it from Amazon
.
Now the Iolite is a faster blade than either of them because of two things. The first is that the top veneer is Hinoki and the second the blade is thicker.
All I can honestly say is that the Iolite felt wrong in my hand, for the way the thin handle sat. The Timo Boll's have perfect handles or grips and sit in the hand perfectly and the thickness of the blades is what I believe to be as perfect also. I hate thick and thin blades.
They are thick enough to stop vibration and not too thin so you can feel like the sweet spot is consistent through the head. Thin blades play aerodynamically better and sit better in the hand and play better at close to the table.
In terms of spin, I believe all the blades are much of a muchness. But the Timo Boll blades have "10 times" more feeling. With the Iolite, I couldn't feel the ball. To me, ball feedback is essential to fine motor skills such as spin on serves.
In a nutshell, I would choose a Timo Boll spirit first (cheaper), Timo Boll ALC next (look better and if you want the fastest Boll blade), Iolite if you want the fastest but with a terrible feeling.
Although the Timo Boll Spirit vs ALC comes down to cost and weight primarily I think the finish of the Boll ALC is worth the extra $20. If you run your fingers across the blades, the ALC feels like it has a smoother finish.
Related posts: