The Butterfly Timo Boll Spirit is named after the young German player Timo Boll and is one of Butterfly's popular Arylate-Carbon blades. This blade series features are excellent vibration control, a large sweet spot, and a crispy feel. It keeps the comforting touch of the blade and control with the combination of arylate fibers and carbon.
It is a top-quality blade and is especially fit for European players who relish looping play. The blade offers players a good balance of both control and speed.
Rating:
Class: OFF
Speed: 8.5
Control: 8.4
Weight: 89g
Plies: 5W,2A/C
Play Quality Game With Great Blade
Usually, the table tennis bat will be small in size, and it is the deciding factor for the player's strikes. Many players will not be comfortable with their bat, and hence they cannot play the game correctly, and they will lose the game.
Therefore the players pay utmost attention while buying a bat. Since there are many models and brands available in the market, it may be challenging to find the best among them. To get a clear idea, they can go online and read the reviews given on the sites. That will be a better source for them to know the features of the table tennis bat.
It will be better to go through the buying tips on many online sites. The reviews given on the site will be beneficial for first-time buyers. However, it is advised to buy from leading brands rather than worry about the quality and other factors.
The Butterfly Timo Boll Spirit is one of the best table tennis blades in the market, and hence those searching for a good one can go for this. It has a standard design and excellent quality, and it is intended for expert level players.
Ideal for Players with Offensive Playing Style
Most of the experienced players will play offensive. This bat will be very convenient and suitable. Players who prefer other kinds of play methods can also use this model from the brand Butterfly. Another impressive factor about this bat is the weight. It is very light in weight with 89g; thus, the players can make quick and powerful strikes.
For quality and durability, the bat is designed with five layers of wood and two layers of carbon. The bat's wide-area allows impactful strikes, and it has a flared handle so that the shake hand players can use this bat with the most excellent grip.
Likewise, there are many features in this Butterfly Timo Boll Spirit. Players can buy this blade and enjoy the play with utmost speed and control.
My Experience With Timo Boll Spirit Blade and Rubber
Even though I love the Butterfly Ishlion very much, I think it didn't give me the level of spin that I wanted to have. Therefore, I ended up shifting to the Timo Boll Spirit, which is the rubber that I intended to get to fulfill my spin needs. I bought a Timo Boll ALC blade, but I quickly abandoned the blade and went back to Butterfly Ishion, which I think is more suitable for my playing style. Well, the added dwell and weight keep me to swing away from my beloved rubber, which is Butterfly Tenergy 05.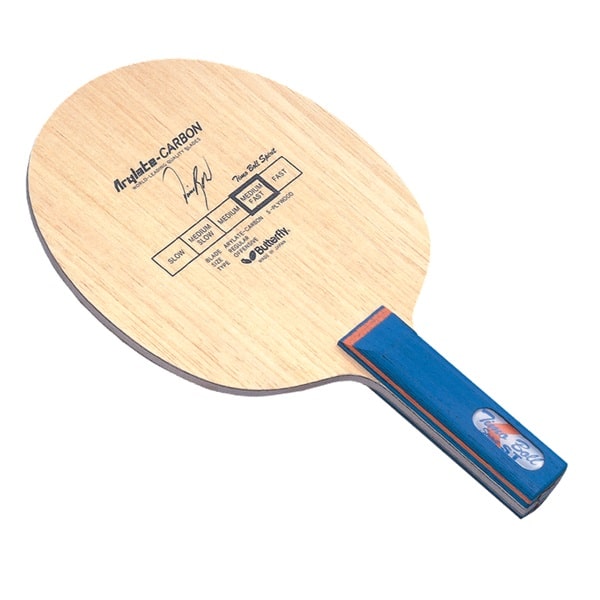 A few weeks before the Queensland, I went back to Tenergy 64 on my backhand and did very well with it. So now, putting it on the TBS and comparing Tenergy 64 with spin art on the new blade is quite exciting.
I love the Timo Boll Spirit, which amazes me. I was kind of scared that I would come to the same conclusion as before. But I have not used the Tenergy 05 on it yet. It is a worry! Spin art has a much lower throw, so it partly reduced the thing I didn't like about the Boll ALC with Tenergy 05. Don't get me wrong. The Boll ALC with Tenergy 05 felt like absolute magic but just not suitable for the way I played then.
Timo Boll Spirit Hardness
I have heard some people say that Timo Boll's spirit is a hard blade. I'm afraid I have to disagree with that. I have been using an Ishlion for years now, and many people say it is too hard. I know that the Ishlion is a harder blade, but it is a pretty soft carbon Hinoki blade. Something like a Schlager Carbon or Timo Boll Tricarbon is hard. Back on topic. The TBS not only got Arylate interwoven into the carbon, but it also has a bit of vibration.
The Arylate softens the blade for sure and slows down the ball's impact and exit, both giving a more considerable similarity all over the surface or sweet spot and slowing down the outgoing ball.
Timo Boll Spirit Rubber
Last week, I quickly tried out numerous rubbers and was surprised that of all the blades I have tried in my life, no blade has been suitable for so many various rubbers.
11th May 2010 I have finally removed the Butterfly Spin Art from the Timo Boll Spirit. It was excellent, and I would choose it before any Chinese rubber, but it is not my style. I am not patient enough, and I feel spin art has limits when dropping balls a meter back from the table. I learned to counter loop with it, but it just doesn't play anywhere as dangerous as any Tenergy. Today I stuck down my Tenergy 05 on the forehand onto the Timo Boll Spirit. Oh my god! What a relief!
I am looping again on my forehand instead of being cautious. What do I miss about my Ishlion? The lighter weight a little. But honestly, I feel the strokes' stability with a slightly heavier blade makes up for it. For the first time in a very long time, I feel like I barely miss the table when I open my loops or counter loop my opponent's attacks.
The only thing I have trouble with is the insane fast power drives, but they are still easier to receive with the Timo Boll Spirit.
Related post: