The Butterfly Photino is considered one of the lightest blades produced by Butterfly. It is made up of a lightweight composite blade with two layers of ZL fiber in the middle of the blades. They are considered to be harder than regular carbon yet lighter than ordinary blades.
Butterfly always provides the highest quality materials, although with a very high price tag to match them. They provide blades made of various materials used for various types of playing. Some prefer power-hitting, while some may consider agile tactics like this Photino blade.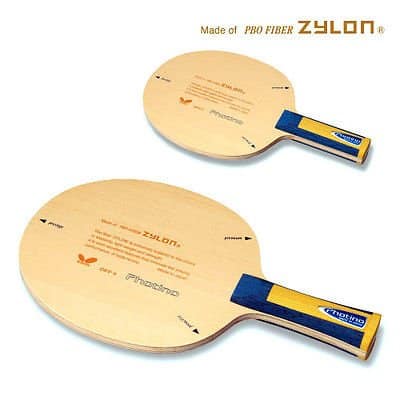 Blade Specification:
Speed: 94

Control: 80

Weight: 88g

Feel: Medium

Handle Style: Flared only
The blade is manufactured with high-quality wood layers and is combined with Zylon Fiber that allows the blade to have an elastic property, which is why the blade is very fast. It's a very balanced blade and is mainly considered an attacking blade used in high-speed situations. The ability to switch between hard and soft shots is a very desirable aspect and cannot be achieved with a carbon blade.
Attributes:
Offer players with good dwell time. The overall blade is quite thick.

Especially effective in attacking as the smashing is optimum.

Providing players with consistency on drives and blocks.

The handle is yellow, which is not a standard color for the blade, and some people may not like it.

The resounding crack sound can be impressive when you do some smashing on the ball.
Precision and control
Photino blade is made of 2 layers of Cypress, 2 inner layers of Zylon fiber, and a central Kiri core. Zylon adds flexibility and hardness, allowing softer shots for slow swings but a level of hardness for faster strokes. The Photino has a catapult effect; the more energy put into the shot, the faster the ball bounces off the blade.
It can produce a ton of pace on loops because of its flexible Zylon fiber and has reasonable control over close ranges. The blade's touch and feel are much better than a carbon blade and provide a superior grip. It feels soft and gives the player the confidence to place the ball anywhere on the table with precision.
Unmatched Quality
The Butterfly Photino can be considered a winner in most departments and the best tool in the market for a close controlling, attacking, and aggressive game. The Photino sells for around 180 dollars, and the price is justifiable for the level of quality of the product we get. A blade that requires a combination of high speed and controls, Photino is the one to buy.
My Experience With The Blade
It is a beautiful blade that is specially made for top players. The blade is lightweight and made of innovative ZL fiber. ZL fiber is the new material that features almost the same characteristic as carbon, but it is even harder, lighter, and more flexible compared to carbon.
One of the Butterfly Photino's outstanding characteristics is the blade is built with solid and thick Hinoki top ply with a measurement of approximately 1.4mm. With such a design, the blade provides a player with a very soft touch. The touch on it is excellent, and if you slow down your strokes' pace, you can feel the absorbent and soft touch of Photino.
All I can say is that the Butterfly Photino is an excellent blade by all standards. The blade can offer anyone with reasonable control and aggressive attacking in the game.
Rating:
Speed:91

Control:85

Play Style: OFF+

Weight:88g

Wood Feel: Medium
My View
I love this blade very much. It gives me ultimate speed, high throw, highest catapult effect of all blades, I think. The blade is not too hard with a nice feeling and good touch because of vibrations. It is suitable for a fast and spinny game in all distances with the best balance in the catapult, ball feel, and control.
Nonetheless, it is not suitable for players who want a challenging and stiff blade for power shots near the table because it's just medium-hard. But for the Allround Off+ attacking style, it is one of the best blades ever. (Of Course, the best ZLF Blade available and much better than a Boll ZLF!)
Well Placement For The Shot
I got it with Catapult 2.1 on FH and Flextra 1.9 on BH. The BH is perfect, and I can place my shots very well and with a lot of power. The FH is taking me a lot more time to learn. I'm not sure I made the right choice for FH rubber, given my skill level.
FH has a lot of speed and spin, but there's a big difference in how the ball travels with slam vs. finesse shots. That being said, when I hit the ball the way it's supposed to be hit, it's a thing of beauty. The sound is distinct as well when you hit the ball off the paddle's sweet spot. With my limited experience, I'd say this paddle is oriented towards players that like to smash the ball but still have lots of spin & control.
Very Controllable
I have used numerous blades for the past few years. More than 10 from the likes of Stiga, Joola, and Butterfly. My worst experience was Michael Maze with arylate carbon. It was uncontrollable. I have used the Photino for 2 years now, and it remains the best of all blades I have used thus far.
It has a tremendously good wood feel with no vibrations whatsoever. It is shod with Tenergy 64 on the forehand and Bryce on the backhand.
It is excellent in all aspects of play, from pushes to topspins. Very powerful from mid-table for topspins and consistently hits its mark. I have tried the Innerforce but found that it has vibrations, which I do not like. So far, this is the perfect blade, and there is no need for me to look for another!
All I can say is this blade is AWESOME!! Looping is easy. I am using Butterfly Photino with Hurricane 3 Neo on both sides, and it's perfect. Control, loop, counter loop, Push, and Chop are very stable and controllable. Highly recommended. Try using Tenergy 25 FX; I think it would go great with this blade.
Related post: