For many years DONIC has been engaged in research on the vibrations of table tennis rackets. With the Dicon and Senso technologies, DONIC launched the first results of this research that has led to a revolution in the construction of table tennis blades.
To go to the next level, DONIC engineers have designed, modified, and optimized entirely new design patterns of table tennis blades and tested them in conjunction with their top players in hundreds of tests.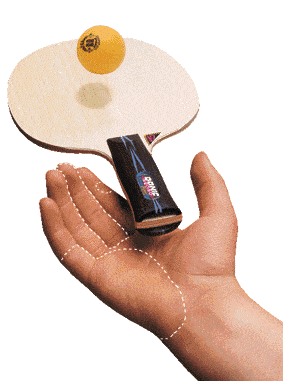 The result is Impuls technology. It is a revolution in blade design that is specially designed for the 40 mm ball!
Blade Vibration
The vibration characteristics of a blade determine ball feel: The longer a blade vibrates, the more uncontrollable the feedback of the ball will be. The Impuls blades have superior vibration damping compared to traditional blades.
High speed and outstanding control: These opposite playing characteristics have been combined!
DONIC has expertly glued seven veneers together using DONIC's newly developed contact glue. This unique gluing technology has been combined with hard beech outer veneers to produce blades with superior speed plus unequaled control.
Due to the unique characteristics of the glue, the feel for the ball is unrivaled. You will have a clear and distinct picture of how the ball will bounce. You will experience a high catapult effect with increased speed and spin that is proportionate to the power of your stroke.
Plies: beech, koto, balsa, ayous, balsa, koto, beech.
Donic Persson Impuls Offensive
One of the Donic excellent blades would be the Donic Persson Impuls Offensive blade. You should attach the blade with the Donic Bluefire M1 rubber to make the best combination for the red and black. It is the maximum sponge that you should consider having.
It can be a fast paddle with speed and spin ratings of 96. Thus it is an incredibly tacky sticky rubber. However, the control is much lower where you need to sacrifice a certain level of control as it only has about 70.
Nonetheless, it is a great paddle with a medium weight where the carbon seems to add some weight to it, giving you some natural quick speed. Since it got a great spin offer, if you have an aggressive forehand and backhand push, you can do good defensive shots where the ball will stick to it and whip around.
It has the essential flare with a standard shake hand where you may need to sand down the handle a bit as it can be a bit rough and uneven when you hold on to it. Once you have sanded, you will have a smooth and fine grip.
You will then get an idea of how the DONIC blade is made and how the speed is like with the ever-improving technology. Indeed, it will have a better ball bouncing, so you should have less concern about the bounce quality if this is the primary concern yours.
Donic Topspeed Blade with Calibra LT Sound and Donic Baxter D-25 Rubbers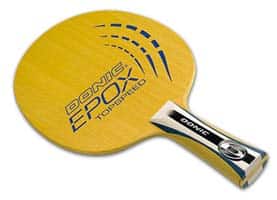 For the next few weeks, I was testing out a blade that I had tried before, but did not stick with. Previously I had used a Donic Topspeed blade with Yasaka Mark V rubber and had felt it was a little heavy for my tastes, although it was certainly spinny and powerful.
Now I am trying this very powerful blade with some Stiga Calibra Sound (2.0 thickness) on the forehand, and Baxter D-25 (1.9 thickness) on the backhand. Both rubbers are on the light side, so blade and rubbers together end up being a relatively lightweight setup.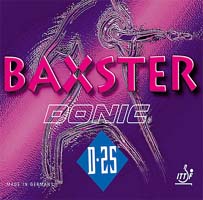 I had always shunned pips-out rubbers because I didn't want any trickiness to my game… didn't want my opponents to feel like they were playing a trickster player. But many of my ping pong friends have told me that this rubber is not tricky, and that it just allows me to control oncoming spin a lot better, which is what I wanted to experiment with. It's a whole different feel, of course, and it didn't seem right at first, but I'm sticking with it for a few more weeks before I declare anything.
So far, I can indeed return more of those really spinning serves from the good players at my club, and even some heavy topspins that I usually block off the table. But it's really early in my testing, so hope to report later on in this thread.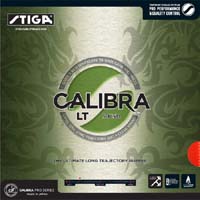 As far as the Calibra Sound is concerned… I do believe I have found a new favorite forehand rubber. It's so pleasingly lively and has such a satisfying sound to it, it just makes playing really enjoyable. The speed is more than adequate, often times surprising the opponent with unreachable kill shots.
My first sheet of it was the max version, which also was just as pleasing to play with. I'm trying the 2.0 thickness now to see if I can get a more solid feel… a purely psychological element that I am after. Will report more on this as I test it out in the coming weeks.
Overall, I am just now getting used to the setup after having played with it for about 2 weeks. It looks hopeful!
Related post:
Donic Schildkrot Carbotec 20, 50 and 100