Looking for a blade upgrade? You need look no further than Butterfly blades for table tennis. Butterfly blades are the most popular available and they not only perform exceptionally, but they are also very stylish. My last two blades were Butterfly made and I'm sure there's a Butterfly blade out there that will catch your eye.
Featured Products
Butterfly Blades Overview
Why Choose Butterfly?
In case you're not in the know, Butterfly is one of the most popular table tennis brands worldwide. This is even though they are more expensive than most of their competitors — their quality simply has consumers returning for more!
While their rubbers are top-notch and widely used, I would say their table tennis Butterfly blades stand out a little more. I see them all time among fellow players, and I love how they play and feel. Butterfly table tennis blades only use the finest wood, and each blade must pass strict quality testing before it is approved for sale.
The Top 5 Butterfly Blades Reviews
Before we get into specific Butterfly blades, it's important you know how to choose a blade. Each blade has several different properties which suit a particular style. To choose the right Butterfly blade for your style, you need to understand which characteristics to look out for. Fortunately, we have a guide with all this info to save you some time.
1. Butterfly Timo Boll ALC — Best Overall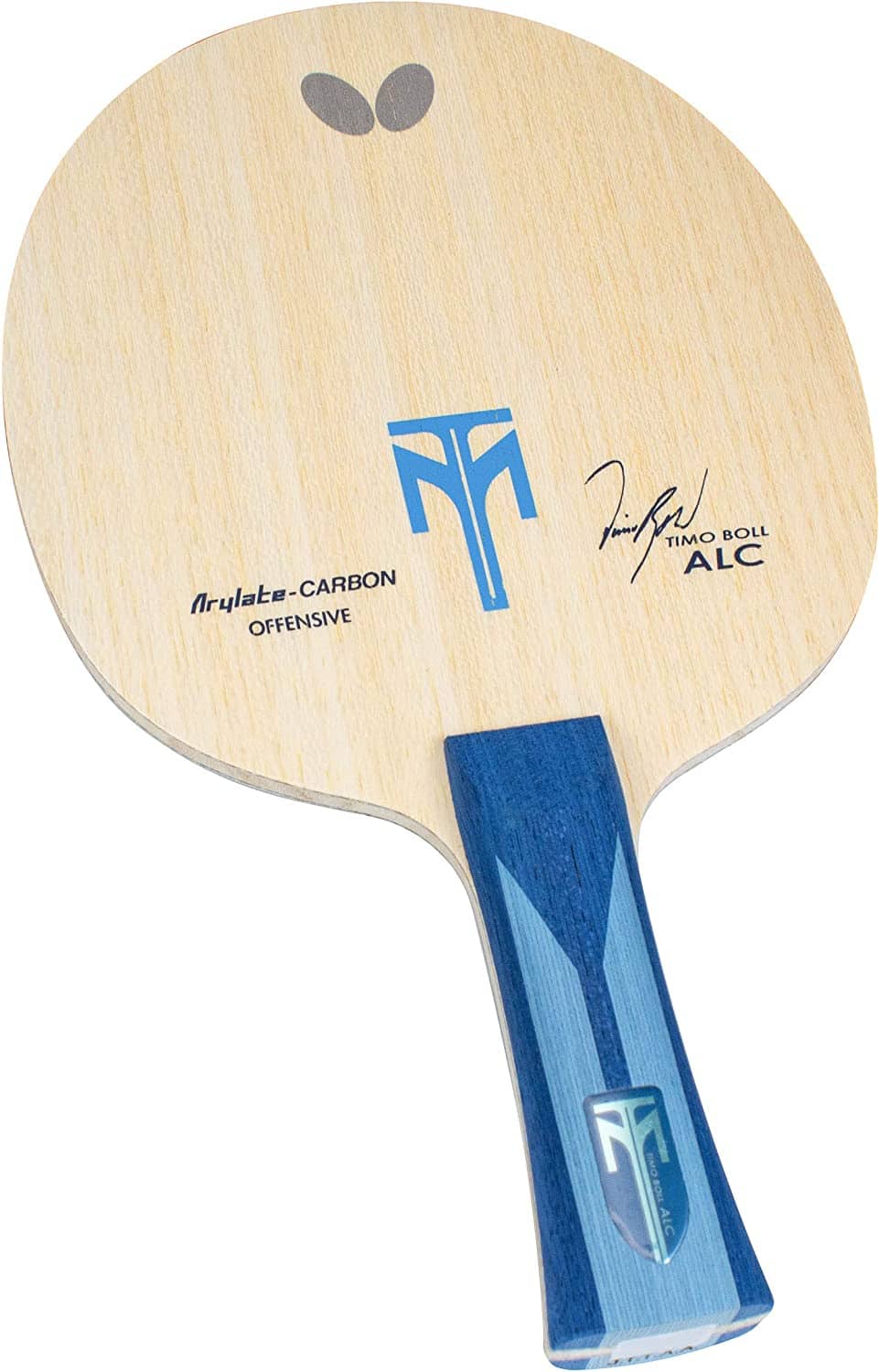 Product Information
Type: Offensive

Feel: Medium-hard

Weight: 86 g

Plies: 5W+2ALC

Size: 157×150 mm

Thickness: 5.8 mm 

Handle Size: 100×22 mm (ST), 100×24 mm (FL, AN)

Handle Types: Straight, flared, anatomic
Pros
One of the most popular blades ever
Fast
Great for looping
Good feeling
Very stylish
Cons
As one of the most popular blades, it should be no surprise that the Timo Boll ALC would feature on this list. Timo Boll, and a handful of other pros, are very popular at the top level. It is also my personal blade of choice as I love how it performs. To me, it's got the perfect balance of speed and control. I also felt a considerable boost to my looping game when I switched from the Michael  Maze OFF-.
There doesn't appear to be any particular weak area to the blade, it does everything I need as an attacking player. I feel both at home opening up with flicks or looping far away from the table.
While the blade is a little expensive, it is much cheaper than some of the other Butterfly blades on this list. This is down to its age, as it features ALC layers — this tech has been around for a long time. However, its prevalence shows that players still love Arylate Carbon and the Timo Boll ALC remains one of the best blades you can buy.
To learn more about this outstanding blade, check out our full review.
2. Butterfly Viscaria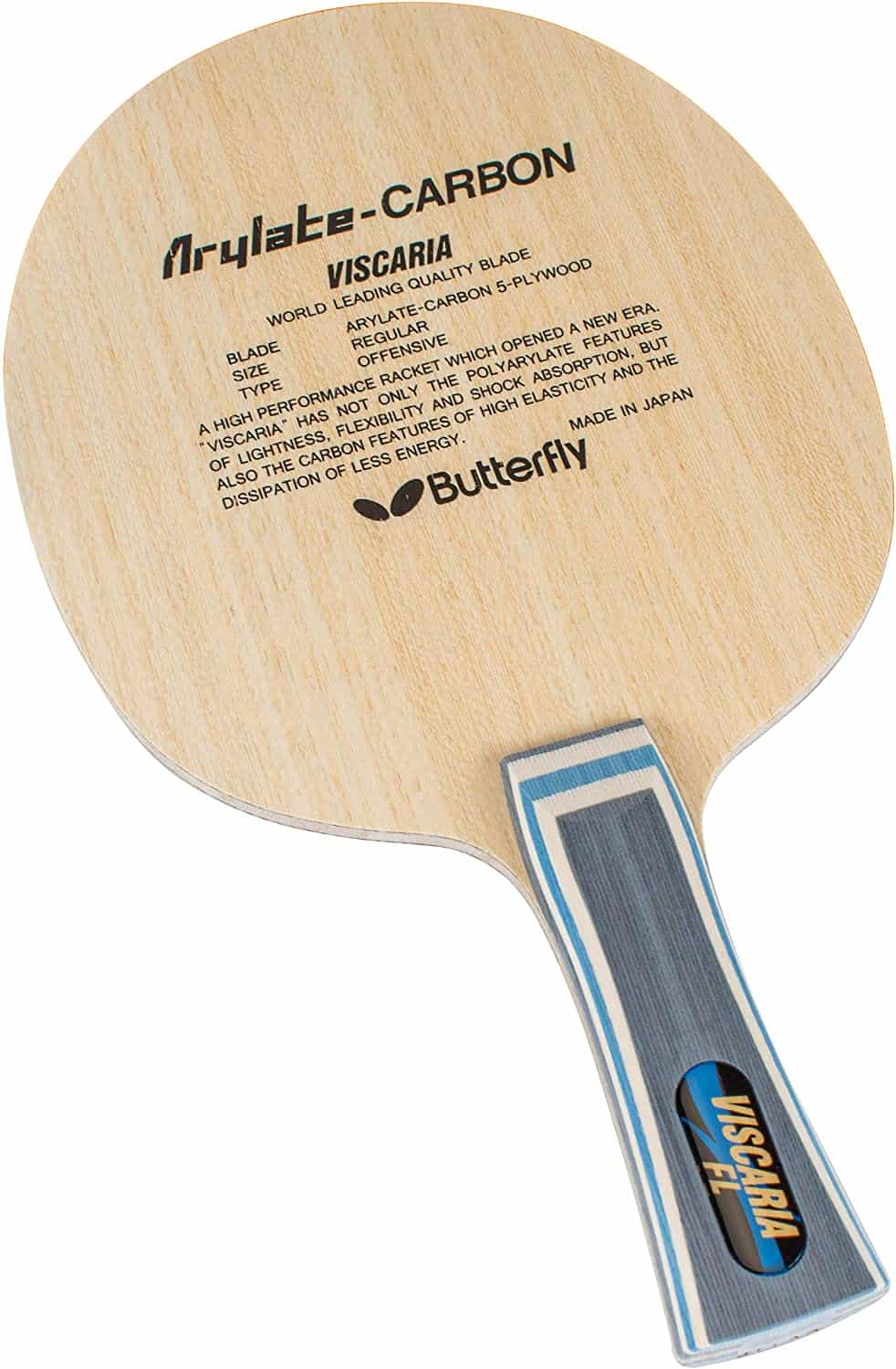 Product Information
Type: Offensive

Feel: Medium-hard

Weight: 87 g

Plies: 5W+2ALC

Size: 157×150 mm

Thickness: 5.8 mm 

Handle Size: 100×25 mm (FL)

Handle Types: Straight, flared, penhold
Pros
One of the most popular blades ever
Fast
Great for looping
Good feeling
Cons
A blade that is perhaps even more popular than the ALC is the Viscaria. It is the oldest blade on this list, first released in 1993! The fact it is still so popular today is a testament to Butterfly's long-standing superior levels of quality compared to other brands.  However, choosing between it and the Timo Boll ALC is a very difficult task as these Butterfly blades are just so damn similar.
They share an identical composition of koto-ALC-limba-Kiri-limba-ALC-koto, so they virtually have the same playing characteristics. They are also priced the same.
Besides the differing appearance, some players think that the Viscaria is a tiny bit slower but has a little more feeling and control. Largely though, the blades are tough to tell apart. Personally. I prefer the Timo Boll ALC, but maybe this is my bias as it's been my blade for around 8 years.
In fact, Timo Boll was one of the first players to switch to the Viscaria. He did so at around 15 years old. However, when the Timo Boll ALC was first released in 2008, he switched once again as he preferred the way it plays.
If you're interested in learning more about the Viscaria, give our full write-up a read.
3. Butterfly Amultart ZLC — Super Speed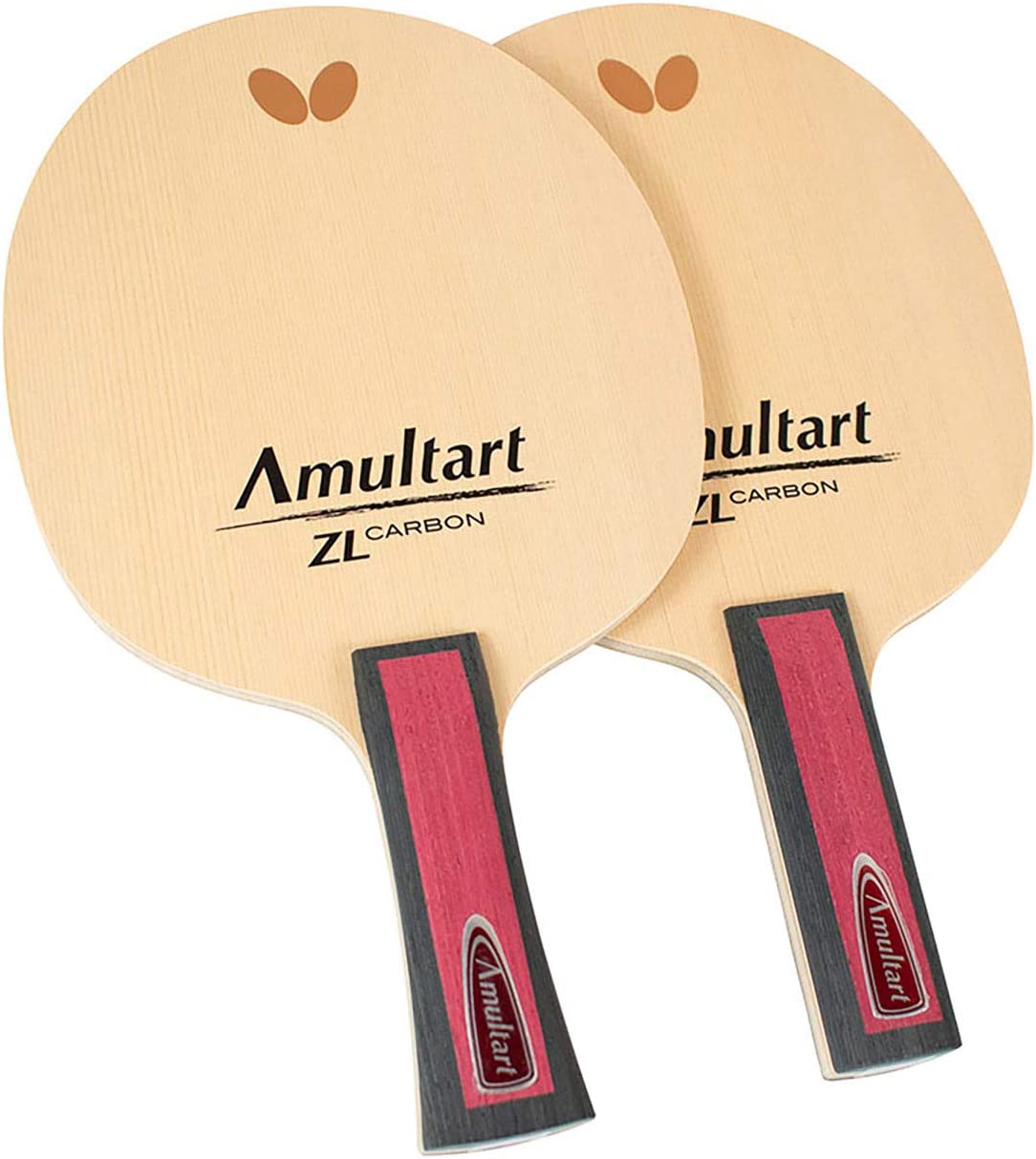 Product Information
Type: Offensive+

Feel: Hard

Weight: 84 g

Plies: 3W+2ZLC

Size: 157×150 mm

Thickness: 7.1 mm 

Handle Size: 100×25 mm (FL)

Handle Types: Straight, flared
Pros
Very Fast
Unbeatable for smashing
Good for looping
Cons
Expensive
Poor control
Poor feeling
Where the other blades on this list are somewhat versatile, only one thing is on the Amultart ZLC's mind. And that is speed. The Amultart is a blisteringly fast blade even by professional players' standards.
According to Butterfly, it is the second fastest blade they make, only narrowly falling behind the Sardius blade. What I find so interesting about the Amultart ZLC is its 5-ply composition. Usually, we associate fewer plies with slower blades, but this is not the case here. The Amultart ZLC has a composition of hinoki-ZLC-Kiri-ZLC-hinoki.
That's right, there's no ALC in this blade, but rather ZLC. ZLC is a blended combination of standard carbon with ZL fiber. Traditionally, ZLC gives the blade a mix of speed, elasticity, and strength, but there's not much elasticity to speak of with this blade. The Amultart ZLC is very stiff and hard. This makes it excellent for smashing, and loop kill shots.
Its high pace levels are explained by the presence of ZLC layers and its thickness. The blade measures 7.1 mm thick, which is far above average.
If you're going to purchase the Amultart ZLC, just know that it is a beast, and you have to exercise good control to keep the ball on the table — this is one of the reasons it is not popular with the pros.
You could always choose to pair the blade with softer rubbers to raise the control and feeling of your setup. To learn more about the Amultart ZLC, give our review a read.
4. Butterfly Mizutani Jun ZLC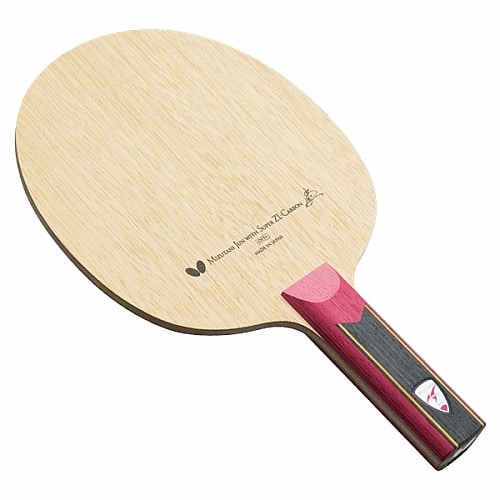 Product Information
Type: Offensive

Feel: Medium-hard

Weight: 86 g

Plies: 5W+2ZLC

Size: 157×150 mm

Thickness: 5.7 mm 

Handle Size: 100×22 mm (ST), 100×24 mm (FL, AN)

Handle Types: Straight, flared, anatomic
Pros
Fast
Great for smashing
Great for looping
Very stylish
Cons
Expensive
Fairly low feeling
The Butterfly Mizutani Jun blade was created in collaboration with Japanese rising star Mizutani Jun. Like most high-end Butterfly blades, it is made with 5 layers of wood and 2 layers of additional components. However, where most blades go for standard carbon layers, the Mizutani Jun ZLC instead uses ZL Carbon like the Amultart ZLC.
Despite this fact, the Mizutani Jun ZLC is a little stiff. It is also fairly on the hard side. This makes it great for smashing and other fast direct shots. It is only a little slower than the likes of the Butterfly Amultart ZLC but has considerably more feeling. It gets a vibration property rating of 11.2 on the Butterfly blades chart. The Timo Boll ALC, by comparison, is 10.3, so its feeling is not quite on par with our favorite blade (lower number=more feeling).
Another quality going for the Mizutani Jun ZLC is its looks. While Butterfly blades always tend to look pretty great, the Mizutani Jun ZLC goes a step beyond. The design looks very professional, and I really like the red, black, and white handle with the silver logo; definitely among my top 5 looking blades.
If you're interested, you can also pick up this blade in the super ZLC variant. The Mizutani Jun Super ZLC is a new Butterfly blade that is more expensive but faster.
5. Butterfly Petr Korbel — Feeling and Control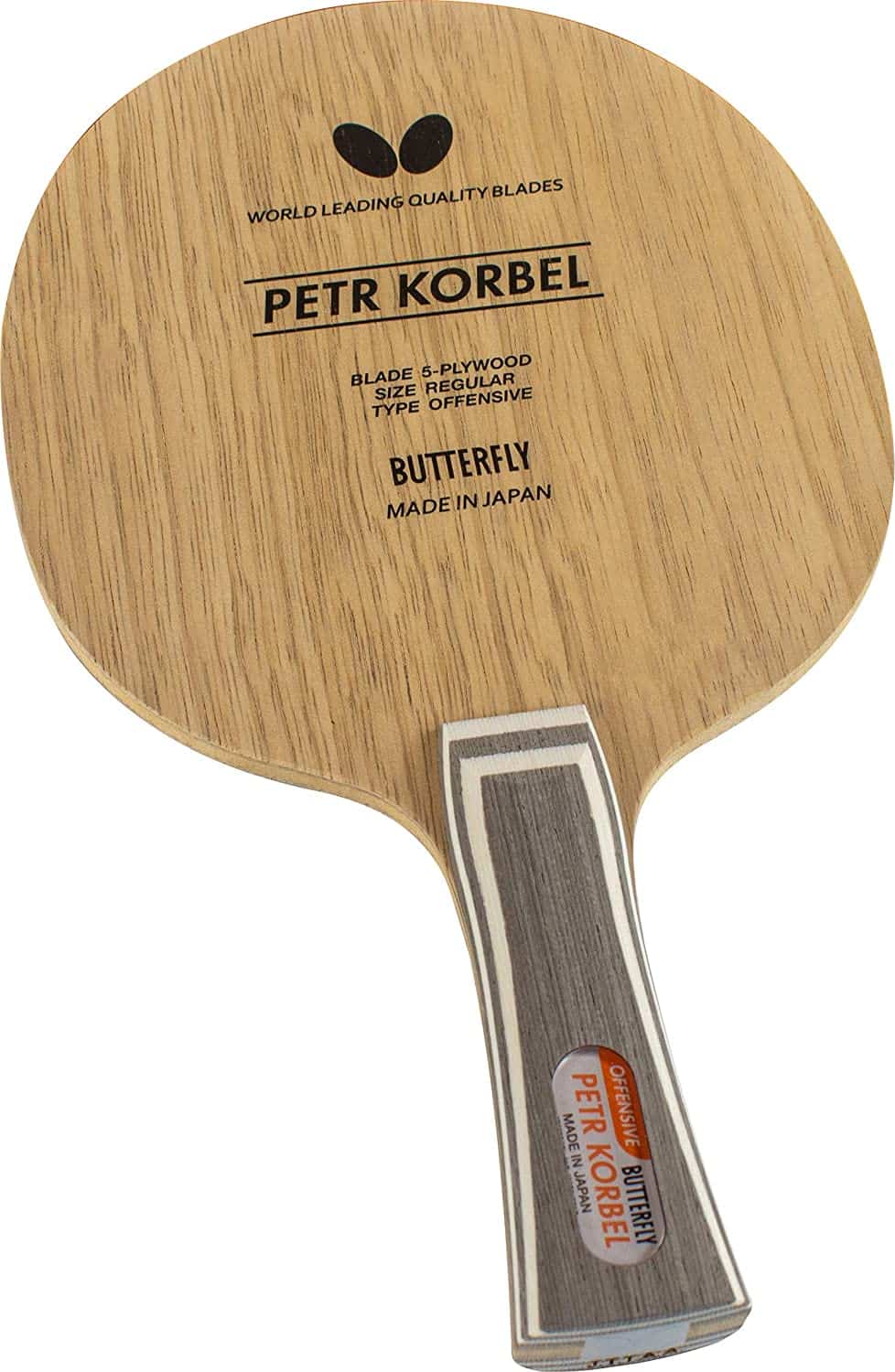 Product Information
Type: All-around

Feel: Medium

Weight: 91 g

Plies: 5W

Size: 158×152 mm

Thickness: 5.7 mm 

Handle Size: 100×23 mm (ST), 100×24 mm (FL)

Handle Types: Flared
Pros
Inexpensive
Good feeling
Good control and speed
Great for looping
Cons
Plain-looking
Too slow for some players
A little heavy
The Petr Korbel blade feels very different from the other Butterfly blades discussed thus far. This is because it is an all-wood blade. With no carbon layers, it is significantly slower, hence giving it an all-around classification. On the other hand, it is far more controllable, and you also get more feedback from your shots. The composition is limba-limba-ayous-limba-limba.
In my opinion, this blade is fitting for controlled players who don't necessarily feel the need to kill every ball. However, you can play that way if you choose. Andrej Gacina, who uses the blade, certainly does! I also feel that it has a lower barrier of entry compared to the other blades we've spoken about. Therefore if you're not at an advanced level just yet, it's a good one to consider as it is one of the top 10 best-selling all-wood blades.  Of course, if you're a beginner, it is hard to avoid though.
Conclusion
Butterfly blades are expensive, but more often than not, they are worth the price tag, provided you are serious about improving.
Choosing a blanket Butterfly blade for table tennis for anyone reading this post is tough as we all have our own styles. That being said, I feel like it's hard to go wrong with the Timo Boll ALC. Most of us play an offensive game in today's meta, and the Timo Boll ALC is great here. Looping, serving, smashing, it has it all. I don't think I've ever met a player who had a bad word to say about this particular blade, so this is the one I recommend.
If you enjoyed this post, you might also like our table tennis rubber guide. After reading this, you'll hopefully have your blade and rubber sorted!
Freelance writer. Table tennis enthusiast. Lover of all things online. When I'm not working on my loop game I'm probably binge-watching some fantasy show.