Butterfly Boll TriCarbon
Product Information
Type: offensive
Surface Hardness: Hard
Super fast speed with three carbon layers
Very powerful and precise
Specs: six plies + three carbon layers
Thickness: 7,8 mm
Blade size: 158×150 mm
Handle shape: ca. 100×25 mm
Weight: 95g
Boll Tricarbon performance
Know More About Butterfly Boll Tricarbon
The offensive table tennis blade with three extra carbon layers is arguably the most powerful and fastest blade from Butterfly. Because of three extra carbon layers, it comes with very heavy weight (95 g) and super hard surface. The control is just fine for its super fast speed. It is perfect for smashing and blocking.
However, due to its super hard surface and very heavy weight, it gives you a different feeling from other carbon composite blades. To utilize an extra benefit from carbon layers in the middle, you must hit the ball much harder than other carbon blades. Some players may feel very uncomfortable with it, but once you mastered it you will experience lightning speed after smashing.
Regarding loop, you can also generate a great amount of topspin in the combination with soft rubbers, such as Nittaku Narucross Ex-Soft. The price is pretty reasonable compared to its quality (80 – 120 $USD). It is only recommended for advanced level – professional table tennis players.
Since it has a special characteristic, you should try before making a decision to buy this blade. If you want a fast blade with a more common style, the Butterfly Primorac Carbon, Butterfly Schlager, or Butterfly Amultart may be a better option.
Recommended Table Tennis Rubbers for Butterfly Boll Tri Carbon
Offensive – All round: Butterfly Tenergy
Spin: Butterfly Tenergy, Nittaku Narucross Ex-Soft
Overall Rating: 4.5/5
Butterfly Michael Maze
Product Information
Type: Offensive
Surface Hardness: Medium
Weight: 85 g
Feel: Medium
Anatomic: Straight
The famous, Arylate/Carbon, a blade from Butterfly is inspired by a playing style of Danish rising star, "Michael Maze". This table tennis paddle offers more control and speed than the Timo Boll Spirit model. It is ideal for hard hitters with mid-hard feel.
Butterfly Michael Maze Blade Performance
This is one of legendary offensive table tennis blade with great combination between speed and control from Butterfly. It is pretty similar to its predecessor Timo Boll Spirit with the slight enhancement of speed and control.
It is commonly used with medium – hard table tennis rubbers, such as Butterfly Tenergy series, Butterfly Bryce Speed FX. Even if this is not the fastest blade, Carbon layer in the blade enhances the great speed with excellent feeling while Arylate features very smooth control.
Regarding spin ability, even if this blade is not the best for heavily spin play, it still offers you a fairly good topspin loop from close to mid distances. The price is relatively high (around USD$120–150) but still cheaper than Nittaku instruments series.
It is recommended for intermediate to high level all-round–offensive player who prefer driving and smashing over the technical loop with a fairly high budget.
Recommended Table Tennis Rubbers for Butterfly Michael Maze
Butterfly Tenergy 80, Butterfly Bryce Speed Fx, Yasaka Rakza 7
Overall Rating: 4.6/5
Butterfly Mizutani Jun
Product Information
Type: Offensive
Feel: Hard
Weight: 91 g
Plies: 3Woods+2 ZL Carbon Blade
Size: 157x150mm Blade
Thickness: 5.7 ST
Handle Size: 100x22mm
FL Handle Size: 100x24mm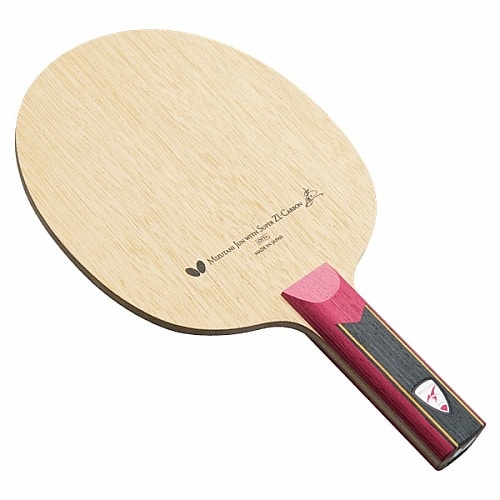 Butterfly Mizutani Jun paddle is inspired by the Japanese rising star "Mizutani Jun".
This Butterfly Jun Mizutani blade is a piece of fine craftsmanship. There is a fine blade finishing with the great texture of the composite material, combined with a stylish pattern and colors.
The blade can provide players with more effective feeling in the short game compared to other blades. It also can offer fast topspin with top speed. Besides, it is a very fast response for shots and blocks as well.
One disadvantage of this Butterfly Jun Mizutani blade is that you will have less control for the game. It is ideal for far table defense and close table offense.
It can be really easy for you to perform a counterattack, and pretty effectively for you to play in the close table given that it withstands tricky spin loops and you could perform a soft spin smash loops. However, you may experience for some times the ball may hit to the net while playing in the mid-table loop to loop.
You may have a very good feel about the bounce on the blade and it can provide you with very fast speed. The blade's performance can be sustained even though you didn't change the rubbers for quite some time. It is good for you to put the Tenergy rubbers on the blade and it will give you an incredible spin of the ball.
Overall, this blade is very stable and can offer a hard touch for topspin players. It is extremely ideal to play the mid-distance shot because the blade is made of ZL Carbon fiber.
You can buy this blade from Megaspin.
Butterfly Chinese AL
Product Information
Type: Offensive
Hardness: Medium – Hard
Plies: 5W+2A
Blade Size: 158x150mm
Butterfly Chinese AL is a fast table tennis blade developed for heavy topspin stroke with two extra layers of Arylate fiber. These two extra layers are not only maximized spin power but also for better directional control. The Chinese AL Blade is an ideal blade for aggressive topspin players who love to add extra speed into their paces.
Butterfly Chinese AL Performance
Review of Butterfly Chinese AL
The Chinese AL is another very cost-effective blades from Butterfly with under USD$100. Arylate is added into the blade for extra aggressive spin and power. Physically, it comes with reasonable weight, not too light neither too heavy (I think it is around 90 g).
Its surface is considered as a medium to hard which is quite reasonable for the fast blade with good control. The feeling is close to Ma Lin extra offensive from Yasaka with an upgrade on speed and spin power.
In term of speed, even though it is not the fastest blade like Butterfly Amultart or Boll Tri Carbon, it is still very fast for an aggressive blade (better than average upmarket offensive blades). On plus side, it is the fast blade that comes with reasonably great control.
It allows you to block and defend a strong stroke from your opponent easier. You can push the ball back to very accurate direction with very excellent speed; so this is perfect for modern counter-attacking play.
Even though this blade is not the best for control like Butterfly Innerforce, or Butterfly Balsa Carbo X5, its ratio between its speed and controllability is quite phenomenal.
However, the highlight of Butterfly Chinese AL comes to its spin ability. As mentioned before, this blade is designed for enhancing the fast top-spin play. it offers you a good dwell time with a great feeling when you are brushing the ball up. The ball goes fast with super high spin power.
The combination of great speed and monstrous spin makes an almost unstoppable killing shot. As the blade surface is quite hard and stiff, you may have various choices of soft to mid spiny rubber to pair with, such as Xiom Vega, Nittaku Narucross Ex soft, Butterfly Tenergy 05, or Donic Baracuda.
Regarding serve, this weapon allows you to perform various kind of tricky serves. It comes with many gears and paces with unbelievable precision. Butterfly Chinese AL is not only great for serve, but also reasonably good for returning the serve since it comes with great controllability.
Overall, this is a very excellent offensive weapon and one of the best cost effective blades from Butterfly. It is quite perfect for a budget player who loves speed and spin play.
If you are looking for this blade, you can get it from Amazon.
Recommended Table Tennis Rubbers for Butterfly Chinese AL
Offensive: Butterfly Tenergy
All-round: Butterfly Sriver, Yasaka Mark V
Spin: Nittaku Narucross Ex-Soft, Donic Baracuda
Overall Rating: 4.7/5