Nittaku blades are world-renowned for their exceptional quality. The Acoustic series, in particular, has proven very popular with players. And while we love what Butterfly has to offer, you simply cannot ignore Nittaku's quality when shopping around for your next blade. In fact, there are a few Nittaku blades that I'm eyeing up as I consider switching up my setup.
So let's take a dive into the world of Nittaku blades and see what's on offer in 2023, as many of the previously available blades have now been discontinued.
Featured Products

Why Choose Nittaku Blades?
While Nittaku table tennis products are widely popular among players, their blades, alongside their table tennis balls, are what they are most well-known for. They use the finest materials and sell them at highly competitive price tags. To put Nittaku's blade quality into perspective, Butterfly, another top blade manufacturer, has 14 blades rated in the top 100 by players worldwide. Nittaku table tennis blades, on the other hand, occupy a staggering 22 spots. That is more than any other company.

Nittaku Blade Reviews
Nittaku Tenaly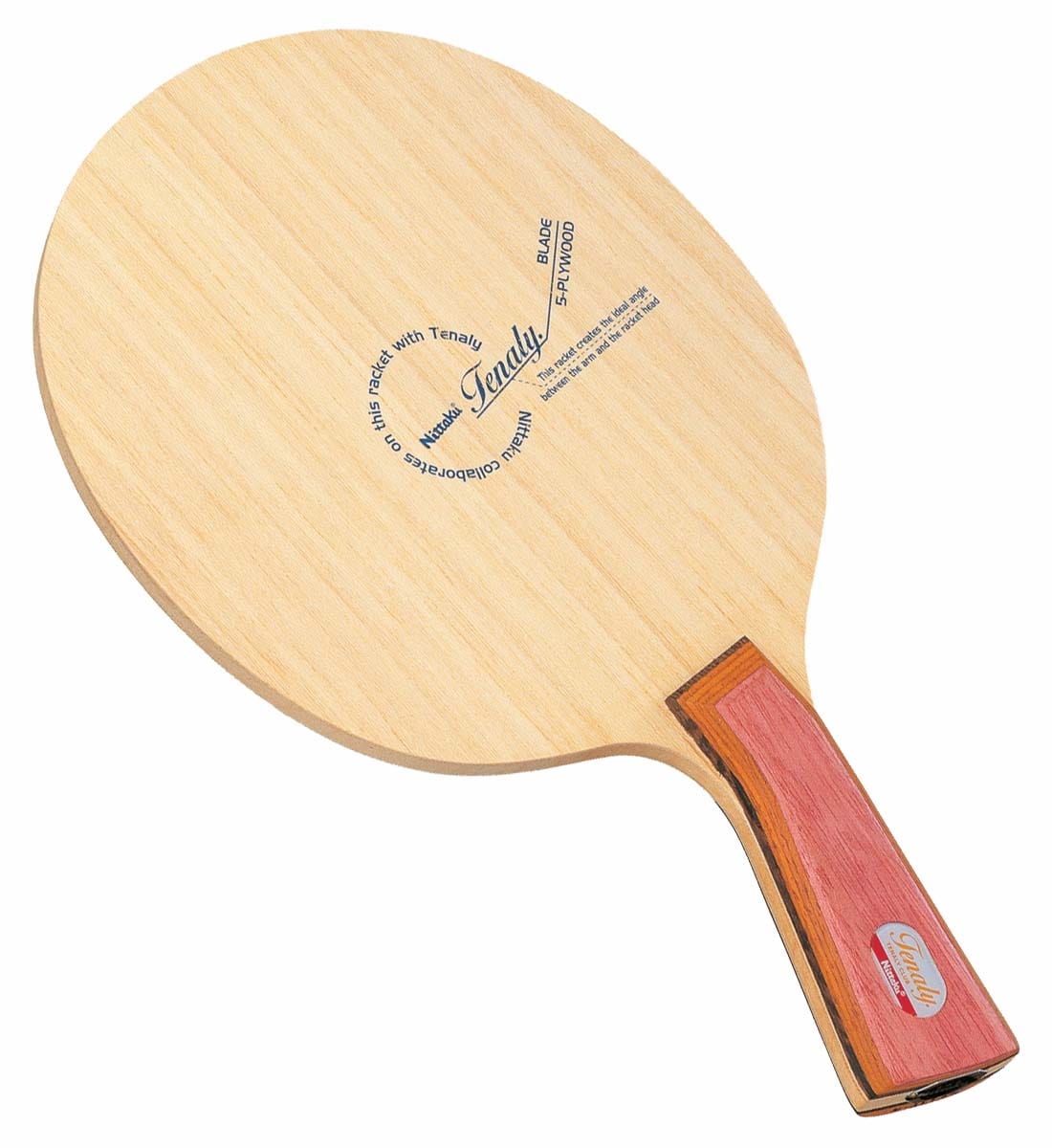 Specifications:
Speed: 7.9
Control: 9.2
Stiffness: 4.3
Hardness: 4.2
Type: Allround / offensive
Material: 5-ply wood
Weight: 90g
Pros
Unique blade design
High control
Cons
The Tenaly is certainly the most out there of Nittaku's blades for table tennis on this list. As I'm sure you may have noticed, the handle has a curve, which promotes a more natural feeling when holding the blade. The word "Tenaly" actually means "to become the hand," which is rather fitting. Very few blades adopt non-standard handle shapes, so if you want to try something a little different, the Tenaly is a good option to consider.
The drawback to having an asymmetrical blade is that you can't twiddle your bat at all. This makes it a poor choice for players who use a mix of an inverted rubber and a long pips rubber.
The Tenaly has a 5-ply all-wood construction and plenty of control. Great for all-round players.

Nittaku Acoustic — Best Overall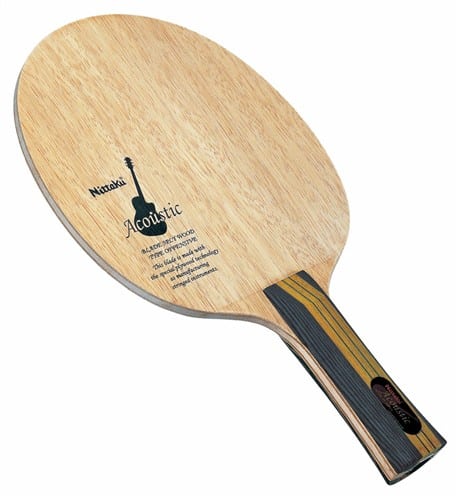 Specifications:
Speed: 8.6
Control: 9.3
Stiffness: 4.3
Hardness: 4.9
Type: Offensive
Material: 5-ply wood
Weight: 88g
Pros
Widely popular
Uses premium materials
Great feeling
Fast
Cons
The Nittaku Acoustic is their most popular blade yet and is world-renowned for its exceptional quality. It is a part of Nittaku's Acoustic series. This is a line of blades made from premium materials also used in constructing stringed instruments.
Unsurprisingly, given its high quality, it is a relatively pricey blade. However, unlike others around its price range, it features no carbon layers. Instead, the Acoustic is a 5-ply all-wood blade made from four layers of limba and one layer of tung. This gives the Acoustic a lot of feedback from shots and also more dwell time compared with most carbon blades which are stiffer. Despite the lack of a carbon layer, the Acoustic is still pretty fast, so allround and offensive players will enjoy using it.
These qualities have led to this table tennis Nittaku blade achieving legendary status. And despite being fairly pacey, its high level of control and feeling makes it a great choice for intermediate players.
Read more about the Nittaku Acoustic in our full review.

Nittaku Acoustic Carbon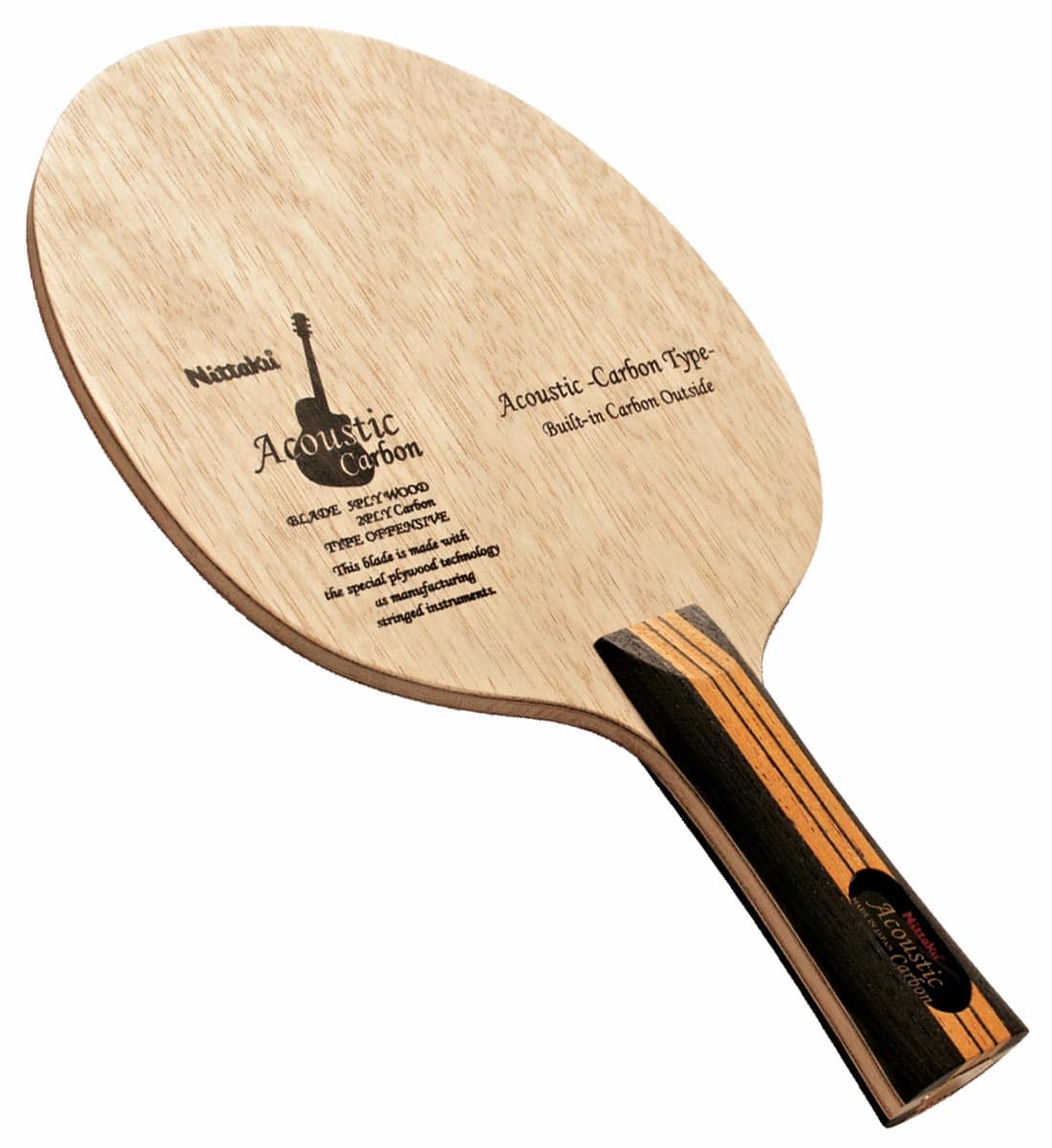 Specifications:
Speed: 9.3
Control: 9
Stiffness: 6.3
Hardness: 6.5
Type: Offensive
Material: 7-ply 5 wood and 2 carbon
Weight: 92g
Pros
Widely popular
Uses premium materials
Good feeling
Very Fast
Cons
Less feeling and control than the regular Acoustic Carbon
Expensive
A little heavy
The Nittaku Acoustic Carbon is another blade that is a part of the premium Acoustic series. It only has one fundamental construction difference from the regular Acoustic, which is the addition of carbon layers. Two new FE carbon layers are inserted in the second and sixth ply beneath the outer limba layers. This gives the Acoustic Carbon far more pace than the standard version making it more appealing to, particularly offensive players.
The issue for some is that the pace comes at the cost of stiffness and hardness. Of course, this makes the blade better for smashing, but you also lose dwell time and a bit of feeling. The way I see it is that the Acoustic is a great balance between an all-wood blade and a carbon blade. While, in reality, it is made from carbon, Nittaku's fine engineering has given it a feeling that is fairly close to that of an all-wood blade while increasing speed. Fine work indeed.
For all you penhold users, this is one of the few Nittaku Penhold blades around. You can pick up the penhold version here.
For more info about the Acoustic Carbon, read our guide.

Nittaku Violin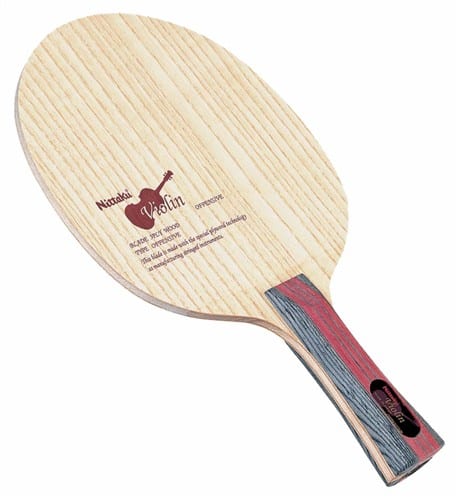 Specifications:
Speed: 8.3
Control: 9
Stiffness: 3.2
Hardness: 4.2
Type: Allround / offensive
Material: 5-ply wood
Weight: 88g
Pros
Widely popular
Uses premium materials
Great feeling
Highly flexible
Cons
The Nittaku Violin is another addition to Nittaku's range of premium blades that use stringed instrument material. It is one of the most popular blades of this range and plays somewhat similarly to the Nittaku Acoustic.
Like the Acoustic, it is a 5-ply all-wood blade weighing 88g. However, it has a completely different composition of white ash-white ash-Kiri-white ash-white ash. This gives the blade a fairly hard feel with great flexibility. It is more flexible than the Acoustic, making it a little easier to impart spin.
The main complaint I hear regarding this blade is its pace. Players often feel that it will be faster than it is, which leads to disappointment. Therefore, I'd recommend pairing the Violin with some pacey rubbers such as Fastarc G-1 to bump the speed up a little bit if you enjoy playing a fast game.

Nittaku Violin Carbon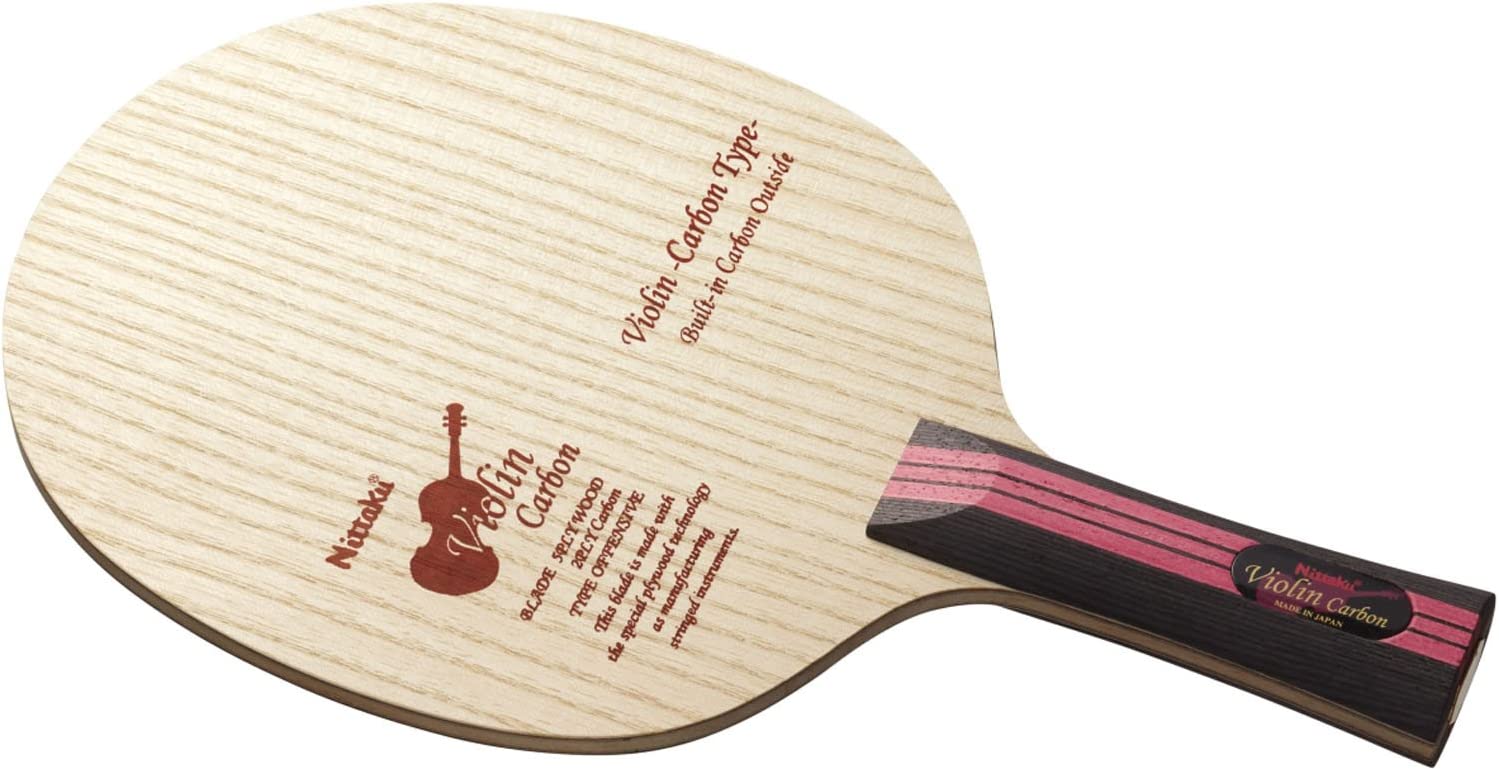 Specifications:
Speed: 8.5
Control: 8
Stiffness: 5
Hardness: 6.7
Type: Offensive
Material: 7-ply 5 wood 2 carbon
Weight: 90g
Pros
Widely popular
Uses premium materials
Good feeling
Faster than regular Violin blade
Cons
The Violin Carbon is a faster and stiff version of the regular Violin, much like the relationship between the Acoustic and Acoustic Carbon. It uses two FE carbon layers.
Most attackers will likely prefer the carbon version as the regular Violin is very flexible and has a lot of vibrations. On the other hand, the Carbon still has some flexibility and good feeling, but the quantity of unnecessary vibrations is greatly reduced.
Furthermore, the Violin Carbon addresses the main complaint about the Violin: the pace. The Violin Carbon is noticeably quicker, and the increased stiffness and hardness means you can use soft rubbers if you like. One thing to note is that it is a little heavy at 90g.

Nittaku Rutis Revo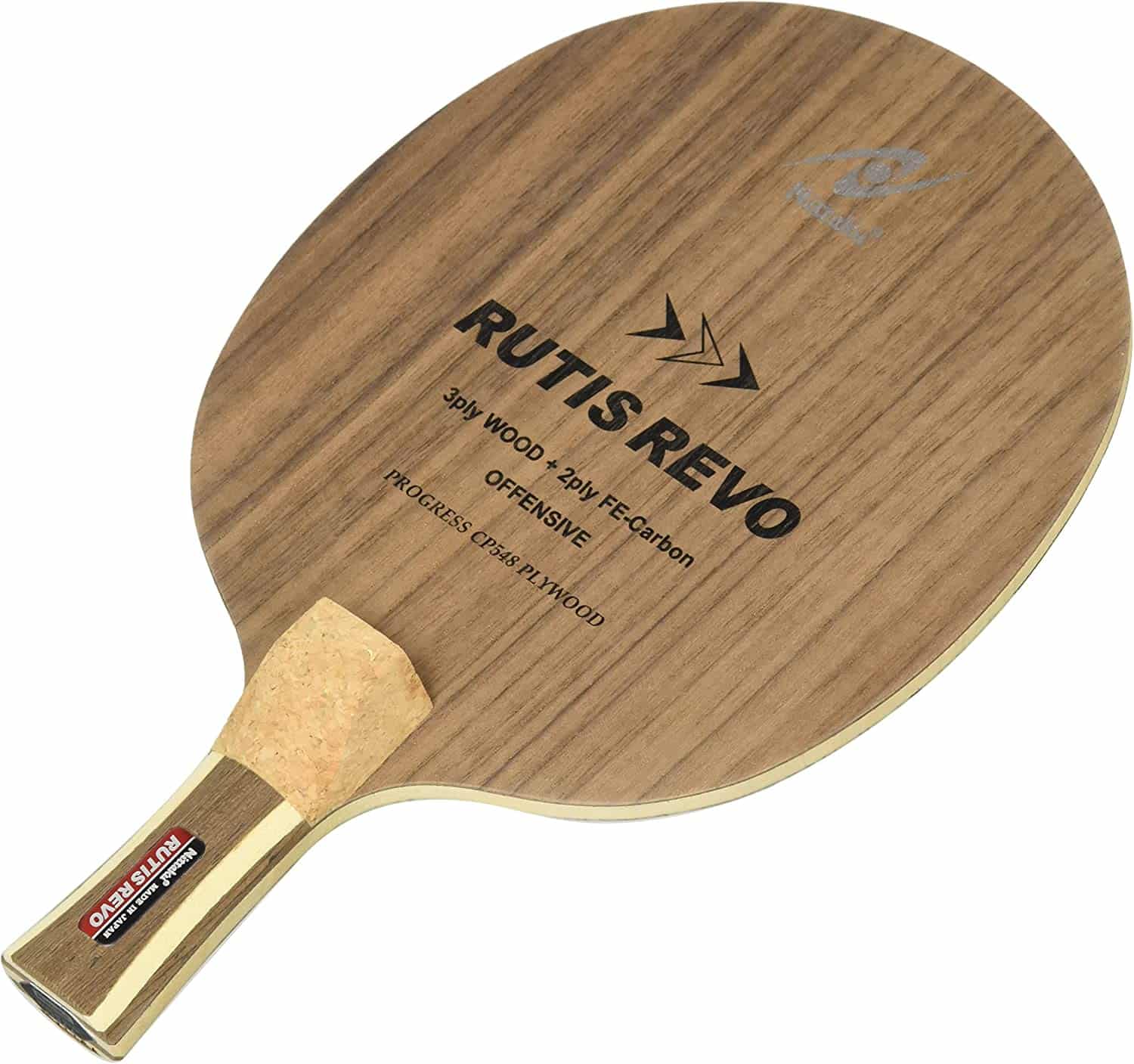 Specifications:
Speed: 8.8
Control: 9.2
Stiffness: 7.4
Hardness: 6.4
Type: Allround / offensive
Material: 5-ply 3 wood 2 carbon
Weight: 85g
Pros
Unorthodox composition
Great for smashing
Comfortable to hold
Cons
The Rutis Revo is a Japanese penhold blade that is a new addition to the Rutis series. This blade by Nittaku has a somewhat unorthodox composition as it is 5-ply rather than 7-ply and has two layers of carbon. Two main changes were made from the original Rutis blade. Nittaku enlarged the central core by 0.2mm and switched out the old G-carbon for the newer FE-carbon — the same kind found in the Acoustic Carbon.
This is one of the lighter carbon blades due to the fewer overall plies. It's also pretty stiff and hard. Great for players who like to play direct with lots of smashing and punching, but not so good for pure loopers.

Nittaku Mima Ito Carbon — Fastest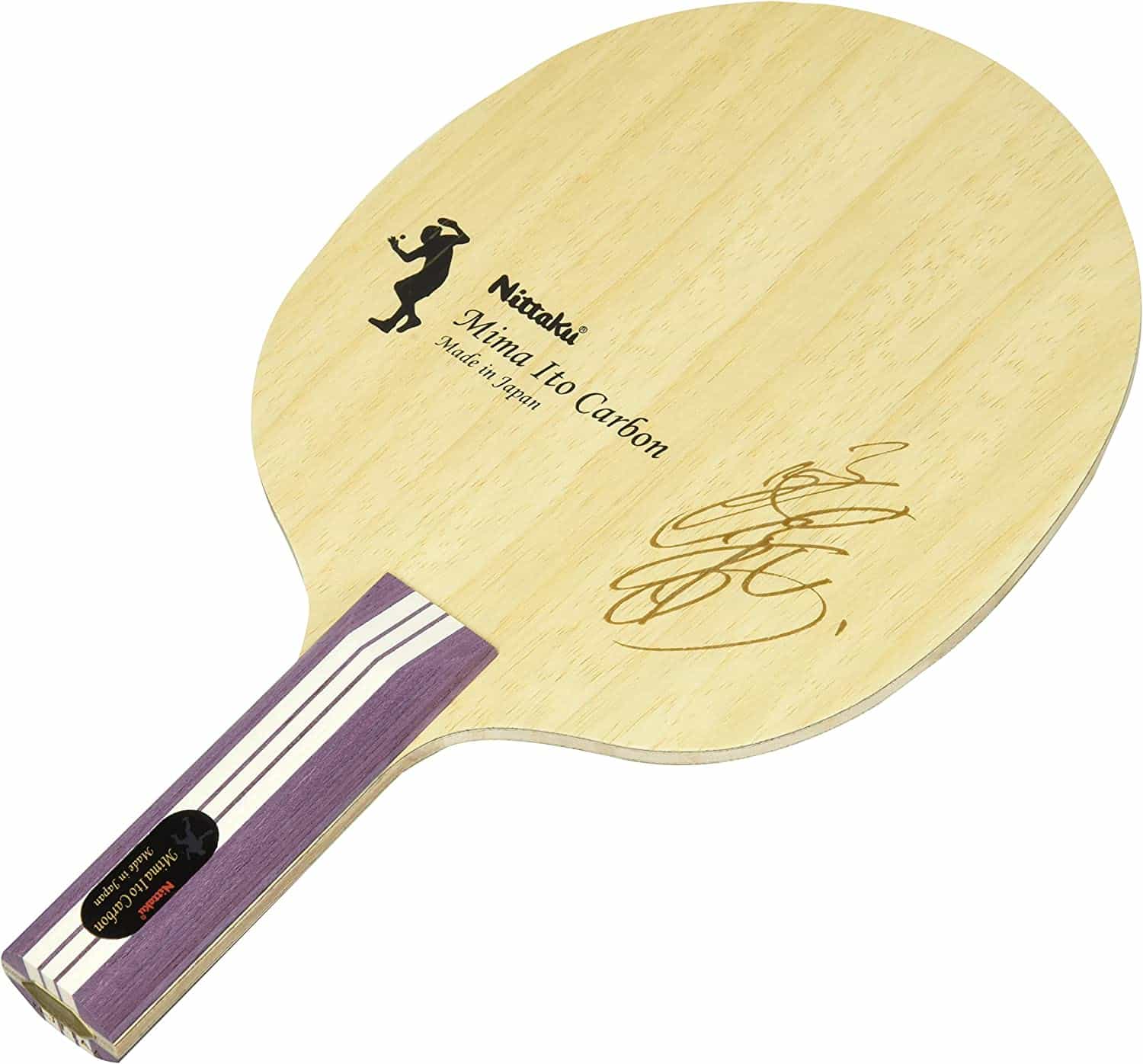 Specifications:
Speed: 9.4
Control: 9.6
Stiffness: 5
Hardness: 6.7
Type: Offensive
Material: 7-ply 5 wood 2 carbon
Weight: 90g
Pros
Uses premium materials
Eye-catching handle
Good feeling
Fast
Cons
The Mima Ito Carbon has an identical construction to the Acoustic Carbon blade. World number 5 Mima Ito had been using said blade for many years, and to celebrate her 20th birthday, Nittaku saw fit to gift Mima a signature blade.
The Mima Ito Carbon has a modified grip to improve switching at the crossover. It's a very eye-catching blade thanks to its purple and white stripes that run down its length. Unsurprisingly, it's pretty pricey, but then again, all signature blades are, and it does use the same premium materials as the Acoustic Carbon, so its price is to be expected.

Nittaku Kasumi Basic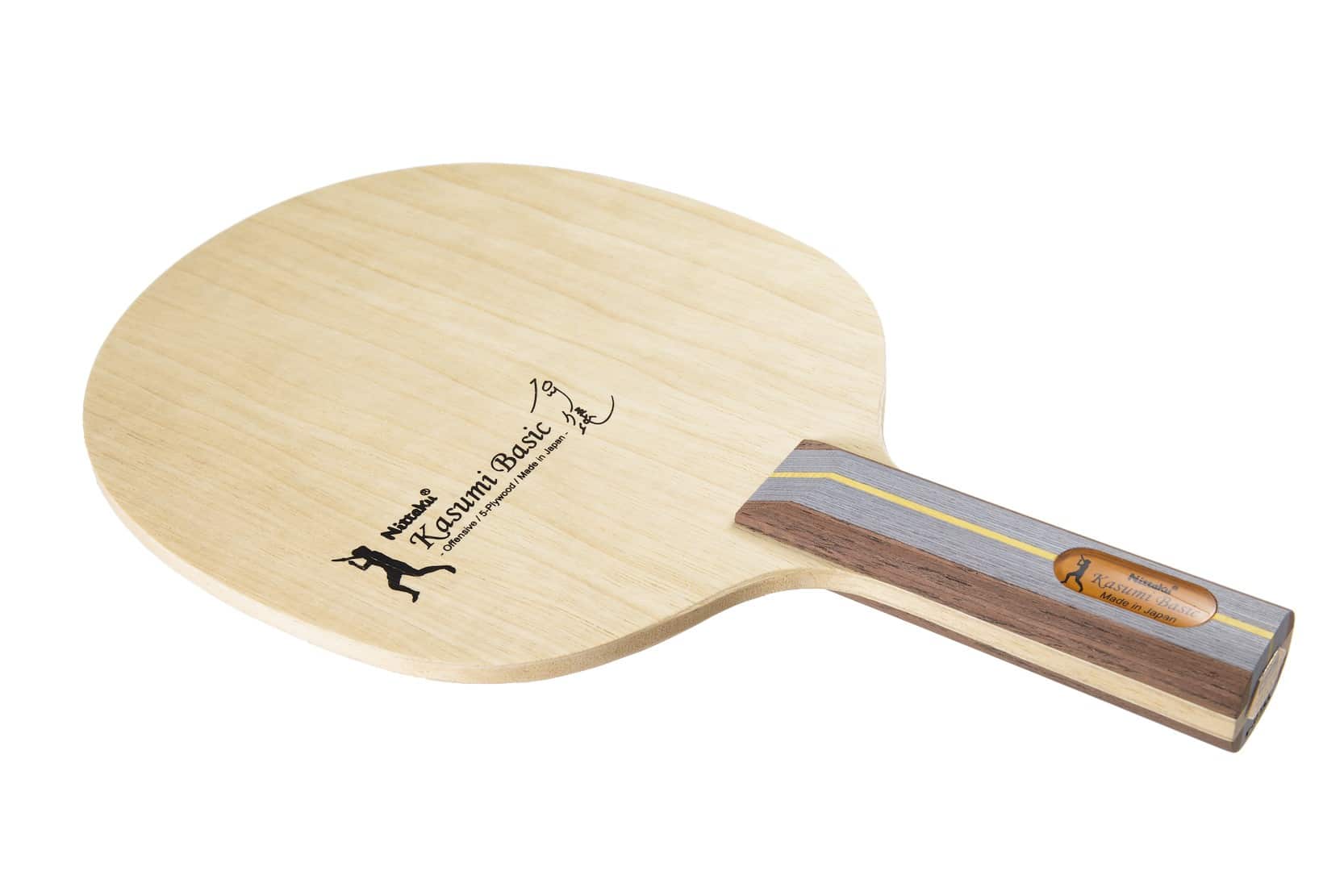 Specifications:
Speed: 8.5
Control: 9
Stiffness: 3.7
Hardness: 3.9
Type: Allround /offensive
Material: 5-ply wood
Weight: 85g
Pros
Best-seller in Japan
Inexpensive
Great feeling and touch
Cons
Too flexible and soft for some players
The Nittaku Kasumi Basic is a 5-ply all-wood blade that was previously used by professional player Kasumi Ishikawa who now uses the Butterfly Viscaria. The blade played a major role in helping her reach the final 8 at the World Championships in 2009.
While fairly quick, the Kasumi Basic has copious amounts of control and is fairly soft and flexible. This makes it very versatile and a great stepping stone before picking a more specialized blade. It is also remarkably cheap and is a best-seller in Japan, so it is well worth considering. Given its softness, I'd exercise caution pairing it with soft rubbers as it may leave your racket feeling unresponsive. Medium rubbers or harder are a better fit, in my opinion.

Nittaku Factive Carbon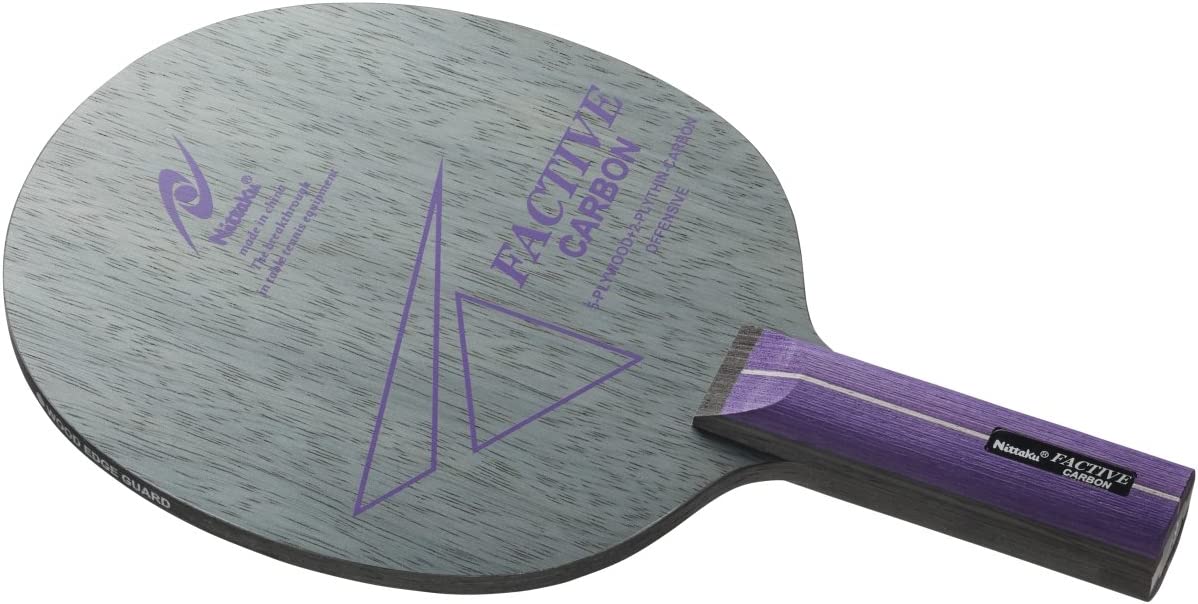 Specifications:
Speed: 9.3
Control: 9.2
Stiffness: 6.7
Hardness: 6.5
Type: Offensive
Material: 7-ply 5 wood 2 carbon
Weight: 82g
Pros
Stylish design
Inexpensive
Fairly lightweight
Wooden edge guard
Cons
Carbon composition makes it a poor pick for beginners
The Nittaku Factive carbon is a very attractive carbon composite blade with an eye-catching grey racket face and a purple handle with a black window.
The most advertising aspect of this blade to me is the price. It's very cheap for a Nittaku blade that includes carbon layers. This may be explained by the carbon they used — it is a thinner layer than what is standard. Having these thin carbon layers also helps make the blade lightweight. At 82g, it is very light for a blade with 7-ply composition.
A unique aspect that caught my eye is the wooden edge guard for protection. You rarely see this as edge tape is usually purchased separately and applied once the rubbers are fixed to the blade. And I imagine this is what many of you will do if you purchase the Factive Carbon, as it will provide more protection than the included wooden edge tape. That being said, the wooden edge guard is a definite plus as it helps promote longevity.

Nittaku Septear — Soft Feeling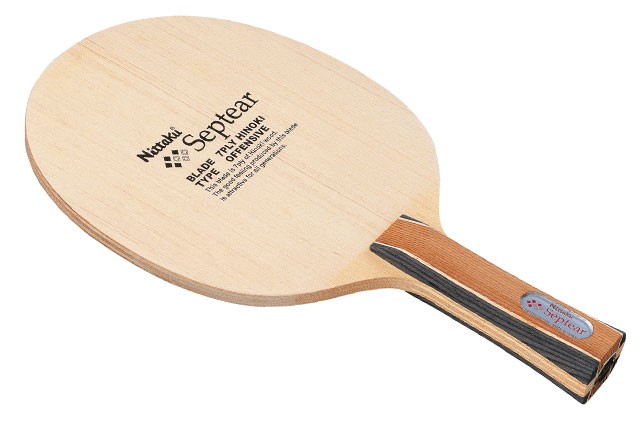 Specifications:
Speed: 8.6
Control: 8.7
Stiffness: 4.7
Hardness: 3.8
Type: Offensive
Material: 7-ply wood
Weight: 85g
Pros
Made entirely from premium Kiso Hinoki wood
Super touch
Good weight for a 7-ply all-wood blade
Cons
Too soft for many players
For our final Nittaku blade, we have the Septear. The only blade on this list has a 7-ply all-wood composition. All 7 layers are made from Kiso Hinoki. A special group of Hinoki woods are only harvested when they have reached at least 300 years of age. Most blades use Hinoki layers sparingly, but the Septear goes right against this trend.
As Hinoki is very soft and fast, and no other plies are present in the blade, this is exactly how the Septear plays. It also has exceptional touch and control and weighs just 85g which is lighter than expected for a 7-ply all-wood blade.

Conclusion
Nittaku blades are among the highest quality blades that you can buy, and while the Acoustic range is fairly expensive, many of their other models are not. Having looked at all of the blades they currently sell in 2023, a few stood out above the rest, but one, in particular, impressed us the most: the Nittaku Acoustic.
It may seem like the obvious decision, but it kind of is. We picked this blade above the rest because it is not only one of the best Nittaku blades ever made in our eyes, but it is also one of the top-rated blades by players today. This is even though it is fairly old and carbon blades are becoming increasingly popular. Its superior feeling and fine craftsmanship make it a solid buy for any competent attacker who values control and feeling.