Are you looking to upgrade your ping pong paddle? Looking for the best one but not sure what to go for? Well you've come to the right place. In this post, we review what we think are the 10 best ping pong paddles on the market in 2021 as well as provide a complete buyer's guide to help you choose the perfect bat for you and your needs. Let's get started.
How to Choose a Ping Pong Paddle: Buyer's Guide
On any boring day, ping pong is a great way to entertain family or guests. It can be done indoors or outdoors. For serious players, a game of table tennis is the best way to prepare for a competition.
Owning equipment like table tennis paddles, tables, allows you more practice. Having these facilities at home is a great idea.
Of all this equipment, the racket is the first item you should own. Professional players know it has an impact on your play. Before purchasing one do enough research.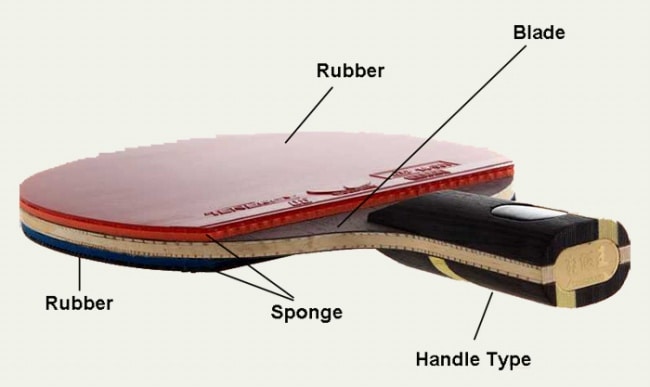 The table tennis racket is composed of 4 parts: handle, blade, rubber, and sponge. The combination of these parts determines the quality of a racket.
We often refer to the terms of table tennis rackets and sponges such as speed, spin, control, bounce, soft or hard. In fact, these indicators have no industry-unified values, but they are the terms that major racket manufacturers categorized for users to use as a reference when choosing their rackets.
Many people don't put a lot of thought into the kind of ping pong paddles that they buy.
However, having the right ping pong paddles is a wise investment that will last you long. It is essential to the kind of experience that you have and how well you perform when you play.
If you play ping pong frequently, and are considering improving your game or playing on a tournament level, then knowing how to pick the right ping pong paddles can be valuable.
Get A Durable One
While most ping pong paddles are cheap, these versions are less durable and break easily. Virtually anyone who has opted for these cheaper ping pong paddles can attest to the numerous incidents of broken handles and rubbers that come unglued.
In the end, it is always wise to spend a few extra bucks for a decent ping pong paddle, than to have to buy several within a year. The best bet is to buy one that is not pre-made.
Blade Type
For those looking to improve their skills or become more competitive, it is important to consider the type of blade that you want in a ping pong paddle. Blades that are too fast or too slow can have a tremendous impact on how well you play.
If you want to compete professionally at ping pong tournaments, you should look into the more professional ping pong paddles on today's market.
Top manufacturers such as Butterfly or Stiga, offer the most proven and tested ping pong paddles out there.
Shakehand and Penhold
In general, blades are dividend into 2 types which are shakehand and penhold. Shakehand handles are more popular while penhold are favored by Asian players.
Handles
For shakehand, there are 3 types of handles which are FL, ST, and AN.
ST: It is known as a straight grip. The handle enables a player to change grip as they play.
AN: It is known as anatomic grip. The handle is built with wave-shape. It can fit the palm well and at the same time provides stability to the player.
FL: It is known as flared or concave. The gravity center is closer to grip and the blade well fits in the palm. This is the type used by most of the international players.
For penhold, there are 2 types of handles categorized into Chinese style(CS) and Japanese style(JP).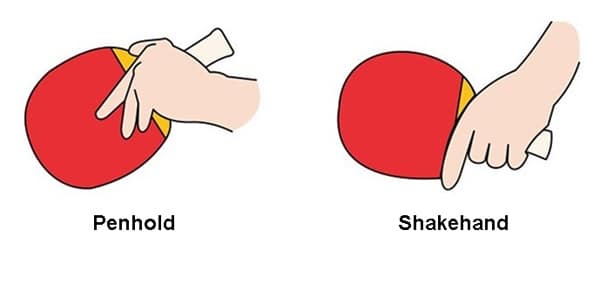 Measurement on Blade
For a table tennis blade, the indicators used are thickness, weight, material, layer, shape, and some personal preferences.
The effect of thickness on performance:
In simple terms, the thicker the blade, the more rigid it is, the thinner the blade, the more thorough the feels.
The thicker blade is fast and suitable to play a fast stroke. Often used by offensive players. The thinner blade can generate great spin. It is sought after by players who like to play sidespin.
The effect of weight on performance:
The heavier the blade, the greater the density the blade has. In addition to the material, the degreasing process will also affect the weight.
For a blade built with a high density of wood, deformation is small. It uses the blade to play a fast stroke.
The effect of the material on performance:
This should be combined with the thickness. Soft and thin blades (5.3-5.6) are mostly in arc-shaped. Hard and thick blades (more than 6.5) are mostly built for offensive play.
The thickness between 5.7-6.5 is commonly used in offensive play combined with arc play.
Different Types of Rackets
Paddles come in different kinds. Remember your skill is at stake depending on the type you are going to purchase. The wrong racket may not present you with the outcome you want to achieve.
Recreational or Pre-made paddles
The rubbers on this type of paddles are already assembled. Beginners and recreational players use this type.
It is important to know that the average lifespan of ping pong paddle rubber is about one year. Change frequently. It is cheaper to buy new rubbers than to buy a new set of ping pong paddles.
Custom made paddles
High-performance paddles are the best to use if you are serious about playing the sport. You will be able to achieve the type of spin and speed you want to apply in your game. This is possible through the high-grade rubber and blade used to create this racket.
The type of material will depend on your playing style. In any game, customized paddles have an edge over recreational rackets.
Which To Choose?
Custom made rackets have an advantage over regular ones. It is only a good idea to purchase one if you are a regular table tennis player or want to enter a competition. If you are just playing for fun, stick with pre-made paddles.
So you have decided to purchase a custom racket? Assess your playing style. After doing this, choose the appropriate paddle. As you improve your play, you can change the rubbers, blades, or the whole paddle itself depending on your style.
There are many benefits of owning your table tennis paddles.
The Best Table Tennis Racket Reviews
Here is a list of the top 10 best table tennis rackets I think is ideal for an intermediate player. The list covers those famous brands of best table tennis racket companies and manufacturers. I will select one model out from each brand and provide a brief review on each of them.
The review covers the racket ideal for spin, speed, and control. After this, I hope you can choose an ideal one.
#1. STIGA Pro Carbon Ping Pong Paddle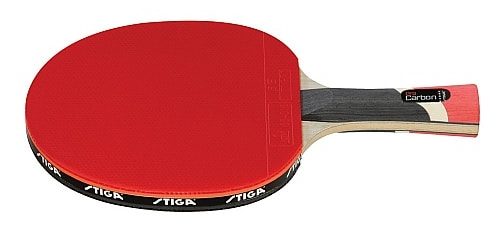 This STIGA Pro Carbon bat is quite heavy and is a bat with superior quality for professional play. Thus, this table tennis bat is great for aggressive players who love to do power shots and spin.
It is not so good if you would love to have more control. So, if you are a defensive player, then this may not be the right racket for you.
One thing that sets this paddle apart from others is the carbon built on the blade. As the weight of the racket is quite heavy, you may need some time to get used to it.
Pros:
Features a sleek outlook.
It has a great handle.
It can give you plenty of spins.
Cons:
The handle may need improvement as it is not so comfortable to hold. You will need to sand it down till your grip is comfy.
Not suitable for long-distance play.
If you want to know in more detail about this STIGA Pro Carbon bat, you can look at the link below:
2. DHS Hurricane Long 5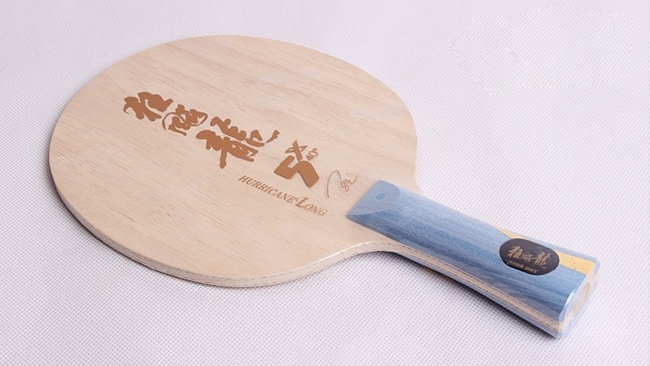 Speed:97
Control:93
Plies: 5 + 2AC
Thickness: 5.9 ± 0.1mm
Play Style: OFF+
Weight: 92g
Wood Feel: Medium Hard
The Hurricane Long 5 is the new upgraded model. There are some changes in the blade structure to increase overall performance. This is a 7-ply aromatic carbon fiber blade that using the "core protection" technology.
The blade can give a powerful shot. The force can be transparent and smooth.
The feeling of hitting is crisp and fast. You can feel the spot where the ball hits and bounce on the blade. If you compare with Hurricane Long 3, the sense of power and speed of Hurricane Long 5 has been improved. This blade is harder, faster, and has a solid feel.
This blade can generate a solid feel when hitting the ball. The arc tends to be lower, but the spin is slightly weaker. The ball can get off the blade very fast. You may need to do a certain adjustment when playing the loop.
It can give you a very powerful shot when doing backspin. It can generate a lot of spins and the speed is very fast. I have to say that the backhand is very good, more solid than the Hurricane Long 3.
The blade is very stiff, but the ball control is still good. The feel is clear and fault tolerance performance is very good. You can easily control the ball's drop point and speed.
If you want to play a better backhand stroke, you may get a softer rubber for your backhand. This is a relatively stiff blade.
Overall, DHS Hurricane Long 5 is a 7-ply all-wood + carbon fiber blade. It is a very fast blade with a woody feeling that enables topspin dominance. It can offer you a clear feel and stable playing stroke. It is a top-quality blade with a consistent style of the Hurricane series. The blade is best suited for a close-to-the-table playing style.
3. Xiom Vega Euro
XIOM presents a sturdy highly effective blade which is known as Vega Euro. The blade features a revolutionary enlarged attack window which is well matched for aggressive players.
This is a great weapon and a nice blade for the professional spin. They make the top ply of the blade with Limba wood. It is of the lower end that not give you a quick shot but the speed is still quick enough. You can get a lot of touches and feel when holding this racket in your hand.
It can let you play looping games well and the blade is very flexible. Besides, it allows you to perform a closed-angle stroke and playing a short game. It can be very controllable with full arm swing.
The XIOM Vega Euro blade is an OFF – blade made with 5-ply wood 2-ply carbon, the thickness is 6.1 mm.
Zephylium/X-Carbon construction.
Zephylium: For Maximum spin and control
X-Carbon: For maximum catapult
Jointless Wood
They make each veneer of a single piece of wood. They are not jointed from two to one. The cost might be high, but with jointless wood, the blade would give better vibration to the player.
Rating:
Speed:91
Control:96
Play Style: OFF
Weight:90g
Wood Feel: Medium
Pros:
Nice speed, control, and feel. Medium-heavy.
Huge sweet spot.
Great blade. Control is a little ahead of speed.
Cons:
Sometimes you may not find inner power, particularly when you try to loop the ball.
You can get this XIOM Vega Euro blade from Amazon.

4. STIGA Carbonado 290
The STIGA Carbonado 245 and 290 live up to their name. They are constructed with thicker TeXtreme® with 200 grams of carbon per square meter.
The blades have a double amount of carbon when compared to the previous carbonated series.
With such a substantial amount of carbon used to build the blade, STIGA is focusing on increasing the blade speed to make it a fast response when playing table tennis.
The build quality of these 2 blades is great. The speed that generated from this blade is incredible. You can get a satisfying control with it. If you play offensively, you will get a great feeling every time you hit the ball with the blade.
Rating:
Speed:99
Control:58
Play Style: OFF+
Weight: 97g
Plies: 7 (5 ply wood + 2 ply carbon fiber)
Pros:
They construct the blade with great quality wood and nice finishing.
It can give you great blocking even with a strong loop drive.
Cons:
Low performance when you use it to chop with long pimples.
Very expensive
You can get this blade from Megaspin.

5. Donic Ovtcharov Carbospeed
This is the fastest blade model that is being released by Donic. The veneer construction of the blade is of 5-plies which is comprised of Hinoki, Kiri, and 2 Carbon Plies.
The Donic Ovtcharov Carbospeed as its name suggests is a very fast blade that offers players exceptional stiffness and hard to break. You will enjoy playing with this blade, as it can keep on providing you with tons of high speed.
You may drive and hit with this blade close to the table easily. The throw is off the straight line when compared with most other blades.
It can be tricky for you to play the loops in medium dwell where you need to use your wrist strength and have a swift movement to avoid over the table. This blade is ideal for offensive players.
Rating:
Speed:95
Control:80
Play Style: OFF+
Weight: 85g
Wood Feel: Hard
Pros:
Delicate craftsmanship with exquisite finishing for the handle.
Easy to use and offers players great control.
The blade is not only hard but can achieve its optimum performance with fast rubber.
Cons:
Low performance for chop and block stroke.
You can get this blade from Megaspin.

6. Butterfly Zhang Jike Super ZLC
This Zhang Jike Super ZLC is extremely fast. People feel it generates strong bounce when the ball hits the blade.
When using the Zhang Jike Super ZLC, I found that the ball can stay longer on the blade. I have to accelerate fast to generate a lot of spins or return underspin. As the play produces a lower arc, you will feel confident to loop against underspin ball.
It is a fast blade but at the same time, it still retains a great amount of spin. When I perform a serve with the blade, I get a really good touch on the blade. But when I loop against the ball, I found it is harder for me to generate high arc to get over the net. It is also pretty good at dropping shot.
Usually, with a fast blade, it is hard to do drop shot because the ball tends to go high easily. But for Zhang Jike Super ZLC, I still managed to control the lower arc well with enough spin.
For players with less power, this blade is ideal for you as it gives power and helps to improve your weakness when doing a mid-table shot.
To me, this blade is not aggressive enough. When I need the ball to go more direct and forward.
The blade has accurate control with excellent balance for speed and spin.
Zhang Jike ZLC Blade is faster and has more power. At the same time, it also gives you good control. Overall I would say it's a combination blade with the fastest speed, heavy spin, and strong power.

Rating:
Class: OFF
Speed: 96
Control: 76
Plies: 5W + 2SZLC
Thickness: 5.6mm
Head Size: 157x150mm
Anatomic Handle Size:102x24mm
Flared Handle Size: 100x25mm
Straight Handle Size: 100x23mm
Weight: 90g
Reaction: 123
Vibration: 111
Pros:
Great quality with superb design.
Extremely fast and powerful blade.
Gives a lot of spins.
Cons:
Difficult to generate high arc ball.
The price can be expensive.
You can read more reviews about this blade here.

7. JOOLA Rossi Emotion
This is the original offensive blade from Joola.
It built with 7-ply with 2-ply HINOKI, 2-ply KOTO, 2-ply carbon and 1-ply of AYOUS. This produces an extra-large sweet spot in a high position.
They categorize this blade as fast speed and high control. The weight of the blade is about 85 grams.
Generally considered the Rossi Emotion to be evenly balanced. However, the rubber sheet that uses with the blade is important.
They use a classic fiber among its carbon to increase the sweet spot and speed to the blade, at the same time reducing vibration. It meets the high demand for impressive players.

Rating:
Speed:86
Control:88
Play Style: ALL/OFF extreme
Weight:85g
Wood Feel: Medium Hard
Pros:
The blade offers a balance between looping and driving and a feeling of stability.
It is a very quick blade for offensive players with superb control.
It is a well-balanced blade for its playing characteristics.
Cons:
Didn't perform well with soft rubber. The blade won't add much power to your loop and drive.
You can get this blade from Megaspin.

8. Yasaka Ma Lin Extra Offensive
Product Information
Type: Offensive
Surface Hardness: Medium
Weight: 84 g
Plies: 5
The fast offensive 5-ply table tennis blade is inspired and developed in cooperation with former 2008 Olympic Gold Medal Winner Ma Lin. Wonderful speed performance for attacks, counter-attacks, and block with a large sweet spot.
The integration of hard outer veneers and selected Scandinavian pine veneers enhance the power of blade while the thick, medium soft center veneer features a very great ball feel.
Know More About Yasaka Ma Lin Extra Offensive
This is a light-weight bargain table tennis blade with impressive quality from Yasaka. Even though it is not the best in speed nor spin, it offers a great mix between power and paces with a large sweet spot.
Given the fact that it is a pure wood blade, it offers great touch and feels in exchange to less speed and power. This means you may need to add extra effort compared to other carbon blades for smashing and driving. It works great with flexible table tennis rubbers like Butterfly Sriver, Butterfly Tenergy or even Yasaka Mark V.

In regards to spin, this blade potentially allows you to generate awesome spins, it requires reasonable skill and technique to execute. Beginners or intermediate players may need to take time to get used to it.
Overall, this is a fine offensive table tennis blade with a relatively low price. It is recommended for intermediate to high-level players who love the feeling of pure wood.
Recommended Table Tennis Rubbers for Yasaka Ma Lin Extra Offensive
Offensive: Butterfly Tenergy
All-round: Butterfly Sriver, Yasaka Mark V
Spin: Nittaku Narucross Ex-Soft, Donic Baracuda
Overall Rating: 4.5/5
Pros:
You can use this blade to play a super fast ball.
An ideal blade that can generate a lot of spins.
Cons:
The racket can be quite heavy after adding two rubbers at both sides of the blade.

9. Killerspin Diamond CQ Premium
This Killerspin Diamond CQ Premium is the latest blade released by Killerspin. It is the premium edition of the RTG blade. The blade comes with superior rubber sheets which give a great amount of spin.
However, if you don't like the rubber sheets that are pre-assembled on the blade, you can remove and replace them with your favorite. You can take off the rubber sheet effortlessly since the rubber is attached to the blade with VOC-free glue.
Killerspin Diamond CQ Premium is designed to provide a superb blade for offensive players who are playing with an aggressive style and do not want to lose spin and control.
If you are a serious table tennis player and wish to improve your skill, you may consider getting this blade. It can assist you to improve your game to champion status.
Rating:
Speed: 98
Control: 80
Play Style: OFF+
Weight: 178g
Plies: 7 (5 ply composite wood + 2 ply carbon fiber)
Pros:
The blade offers players steady control and powerful spin.
The blade is built with an ergonomic grip.
Cons:
It won't offer players a lot of dwell time.
When playing a loop in the game, it's hard to do a smooth loop.
You can get this racket from Megaspin.

10. Stiga Infinity VPS V
They consider this as the brand new VP technology that is built in this blade with the veneer precision system.
It is treated by having a distinctive heating and cooling process. The processing time and temperature are measured precisely.
This is an offensive blade that will provide you with a solid touch and feel.
By getting this Infinity VPS V, you will see all the possibilities and key elements in today's modern game. It allows you to have the feasibility of making quick and powerful topspin shots.
They develop together with the blade with top players from the Chinese national team. It's specially designed for players with offensive-minded to produce powerful topspin strokes.
I have played with it and I love this blade very much. It's smaller than the other of Stiga blades but it offers me incredible control and feeling. It is ideal to play near the table or a step away.
Rating:
Speed: 95
Control: 80
Play Style: OFF
Weight: 85g
Wood Feel: Medium Hard
Pros:
You will get the solid touch and feeling with this blade.
You still receive sufficient power even playing at mid-distance of the table.
It is a lightweight blade.
Cons:
The wood is soft. The blade can be easily damaged if you accidentally hit it on the table.
You can get this blade from Amazon.

11. Butterfly Primorac Carbon
This is one of the famous offensive rackets that is released by Butterfly. This blade has a 5-ply wood. The thickness is around 5.7 mm. The combination of Cypress layers and carbon fiber makes the Butterfly Primorac Carbon an excellent blade for offensive players. It can offer players a great amount of topspin and fast speed.
It is a great combination of a stiff structure and a soft compact feel. Even though it is not as fast as the Timo Boll blade, it can offer you with great control.
When you try to play with some looping, this racket doesn't generate lots of power and spin but it performed highly with looping. It makes you become more consistent and you can feel your ball are really in good control.
If you get this blade and practice for a while, you will find your hit became faster and more powerful. It is a blade that is well fit for offensive players. You could easily place the ball wherever you want.
Overall, it has all-round features especially for players who are favor of control than speed.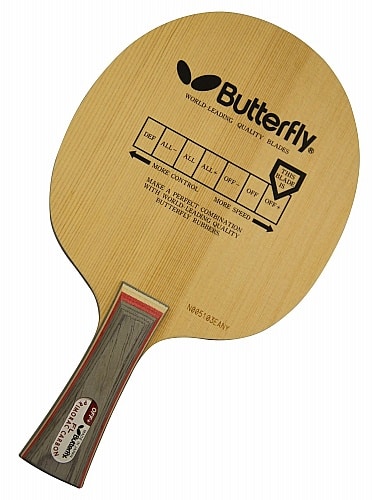 Rating:
Speed: 93
Control: 74
Play Style: OFF+
Weight: 88g
Wood Feel: Hard
Ply: 5 (3 Plywood + 2 Carbon)
Pros:
The blade can offer players with great control, speed and spin.
It can fit almost any rubber.
Cons:
Not a blade for professional players. It only suits beginners and intermediate players to develop their skills further.
You can read the detailed review of this blade by following this link.
Conclusion: Which Ping Pong Paddle Should you buy?
So, that about sums up our post on the best ping pong bats, we hope you found it useful. Just remember to take a close look at the paddle's ratings and don't get something with too much power if you're just a beginner. Aim for a slower bat with less power and spin so you can learn to control the ball's placement first.
If you're still on the fence about which one to go for we'd suggest taking a look at the STIGA Pro Carbon. The combination of the blade and rubbers make it one of the best pre made paddles on the market. As you can see from the reviews it gets we're not the only ones to think so too. For more information and to get the best price click below to check it out.