Are you looking to upgrade your ping pong paddle, but you're not sure what to go for? Or perhaps you're about to buy your first paddle, and you don't know where to begin? Well, you've come to the right place.
This guide covers the best ping pong paddles available in the market today to help you fight the right bat for your skill level. After all, choosing a paddle is serious business. Choose the wrong one, and you could stunt your development. Trust me, I know! I stuck around with poor-quality rackets for far too long, which strongly restricted my attacking ability and knowledge of spin. So don't make the same mistake. Invest in the best ping pong paddle for you as it will help you to improve.
Which is the right ping pong paddle for you, though? 
Read on to learn everything you need to know. 
Quick Answer: The Best Ping Pong Paddles
Ping Pong Paddle Reviews
The following paddles are some of the best on the market. We've provided discussion and some pros and cons to go with each. Let's get started.
1. Killerspin JET 800 Ping Pong Paddle — Best for Intermediate Players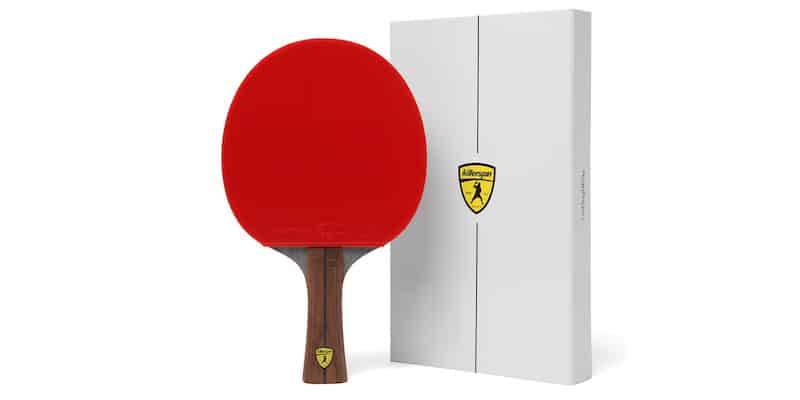 Ratings:
Speed: 9.5
Spin: 9.0
Control: 8.0
In at number one, we have the Killerspin Jet 800 paddle from the Killerspin Jet series. It's one of a collection of preassembled rackets ranging from the JET 100 all the way up to the JET 800. The JET 800 is the latest model from the series, and it is engineered for competitive play. This paddle has a 7-ply composition containing five plies of wood and two of carbon. The 7-ply construction is what gives the Jet 800 such a remarkable pace. However, it isn't blisteringly quick like professional ping pong paddles are. As such, we feel it is the best table tennis racket for intermediate ping pong players. If it was any quicker we would instead have had to classify it as an advanced ping pong paddle. 
A cool extra with this paddle that you won't get from any brand other than Killerspin is the memory bookcase. Made out of laminated cardboard with a magnetic enclosure, it serves both as a case for your paddle and a means to write scores and other table tennis messages. Pretty neat!
Pros:
Offers great speed and spin
Durable and constructed with great quality material
Includes storage box
Cons:
Might be heavy if you are not used to quality paddles
Not suitable for beginners
No edge tape to protect the rubber and the blade
2. STIGA Pro Carbon Ping Pong Paddle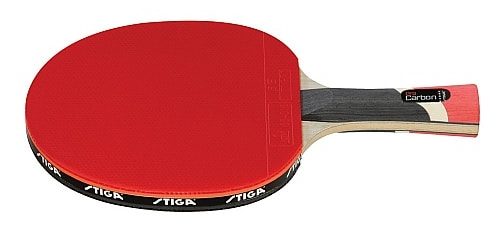 Ratings:
Speed: 9.9
Spin: 10.0
Control: 8.0
The STIGA Pro Carbon is a heavy bat with superior quality for high-level play. It is an excellent choice for aggressive players who smash and use a lot of spin. However, it is not so good if you want control. This may not be the right racket for you if you're a defensive player. Such players will instead want a slower blade with a thinner sponge.
One thing that sets this paddle apart from many of the others on this list is the carbon in the blade. Like the Killerspin Jet 800, it is a 7-ply paddle, meaning it is faster and a little heavier than most so you may need some time to get used to it. Unlike the Jet 800, however, it uses Stiga's WRB technology. This balanced weight distribution tech moves the center of gravity to the point of contact on the blade. In my opinion, this actually makes it unbalanced, as the paddle is head-heavy. That being said, some players like it, and it does have the advantage of better feeling as the vibrations in the handle are more pronounced.
We have a more detailed review of the STIGA Pro Carbon available so check that out for more information if you're interested.
Pros:
Good feeling
Offers high spin and great power
Sleek design
Cons:
Might be heavy if you are not used to quality paddles
Not suitable for beginners
#3. STIGA Raptor Table Tennis Racket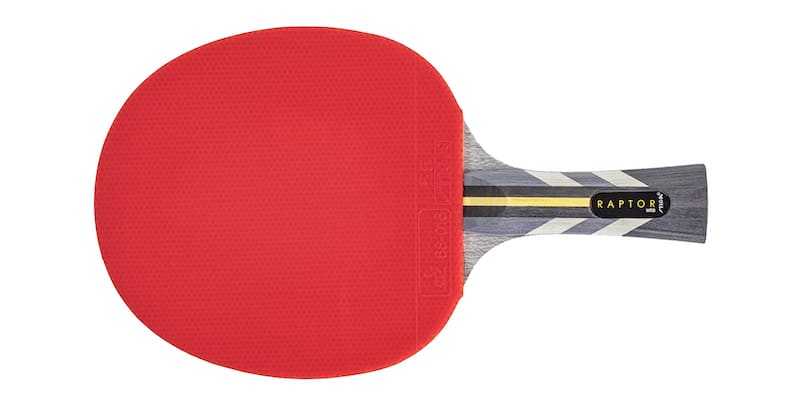 Ratings:
Speed: 9.9
Spin: 10.0
Control: 8.0
In at number three, we have the relatively new STIGA Raptor. It's very similar to the Pro Carbon weighing in at 1.2 lbs and having the same 7-layered blade, 5 of which are made with balsa wood coupled with 2 layers of lightweight carbon. This means you get all the power and speed of a thick 7-ply blade without the heavy feel.
Regarding the rubbers, the STIGA Raptor has the same STIGA S5s as the Pro Carbon. This provides more control over the ball thanks to its ACS technology. They work particularly well with the 2 mm sponge thickness that really helps the ball bounce off the paddle, giving more speed and a hefty amount of spin. On the other hand, it's probably not the best paddle for beginners as it's too lively. But if you're leveling up your game and want a reasonably priced racket, then we'd definitely recommend checking out the STIGA Raptor.
Pros:
Good for aggressive players
High spin and speed
Sleek design
Cons:
Might be heavy if you are not used to quality paddles
Not suitable for beginners
#4. JOOLA Infinity Balance — Best Value for Money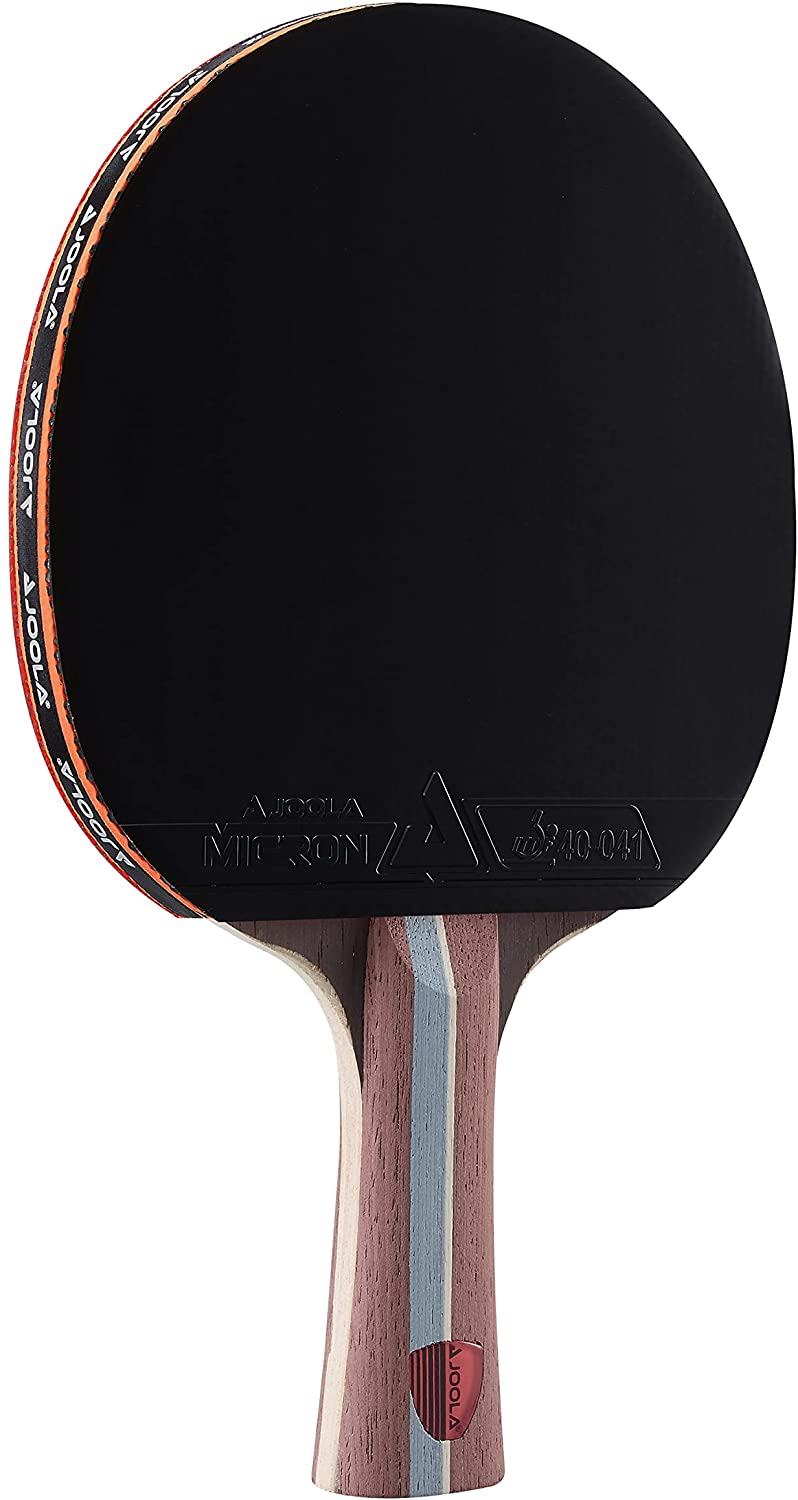 Ratings:
Speed: 8.0
Spin: 8.0
Control: 9.5
Up next, we have the JOOLA Infinity Balance, which features a 7-ply all-wood blade. This is a happy medium in between the 5-ply wooden blades and the 7-ply carbon blades. The additional two wooden layers increase the pace and weight over traditional 5-ply wooden blades, and the paddle preserves its feeling by opting for wood over carbon. This means the Infinity Balance has exceptional feeling and good pace to go with it — perfect for intermediate players who play an all-round game. 
But wait, there's more to like. Not only is it a great performer, but it is also remarkably priced. This makes the Infinity Balance the best ping-pong racket for the money. So if value is what you are after, you need look no further. 
Pros:
Great value for money
Great feeling
Fast smashes
Forgiving
Cons:
Will challenge beginners since it's quick
#5. STIGA Evolution Ping Pong Paddle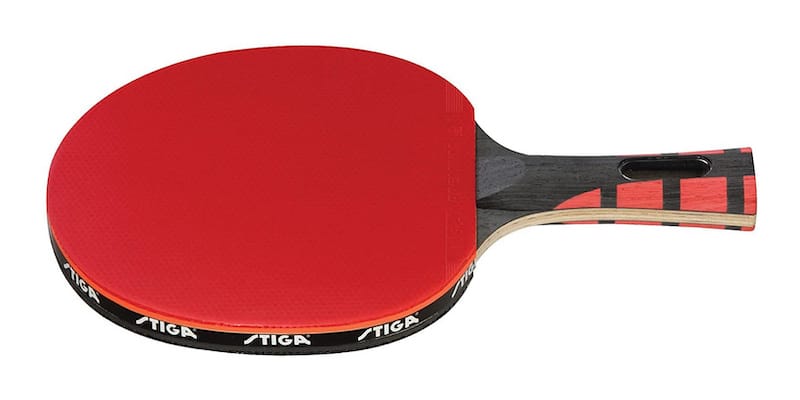 Ratings:
Speed: 9.6

Spin: 9.4

Control: 9.0 
The STIGA Evolution is another top ping pong paddle for the price, and it is an excellent choice for any beginner who's ready to take their game to the next level, thanks to its fantastic control-to-speed ratio. Control is critical if you want to be more precise with your shots, and the Evolution can help improve play in this aspect. 
It also delivers plenty of power due to STIGA's various manufacturing technologies. With a bigger sweet spot than other rackets, the Evolution can help improve the quality of your shots. Unlike the Pro Carbon and the Jet 800, this racket doesn't include any layers of carbon, therefore, it is lighter. This suits players who enjoy playing close to the table, where resetting quickly is more important. 
The Evolution is made up of a 6-ply blade that packs a punch (but isn't too overwhelming), and pairs with great ITTF-approved STIGA rubbers that feature a 2 mm sponge. We feel it gears slightly toward the offensive style. However, all-round players or even defensive players can still make great use of it.
As a final selling point, the STIGA Evolution is highly affordable, making it a worthy investment if you're ready to take the next step in your table tennis game. We feel it would be a solid gift for newer ping pong players, and it is well-deserving of a place on our list of the best rackets for table tennis.
Pros:
Offers good mix of control, spin, and speed
Good feeling
Excellent for beginners
Highly affordable
Cons:
Too slow for some offensive players
#6. DHS Hurricane II Ping Pong Paddle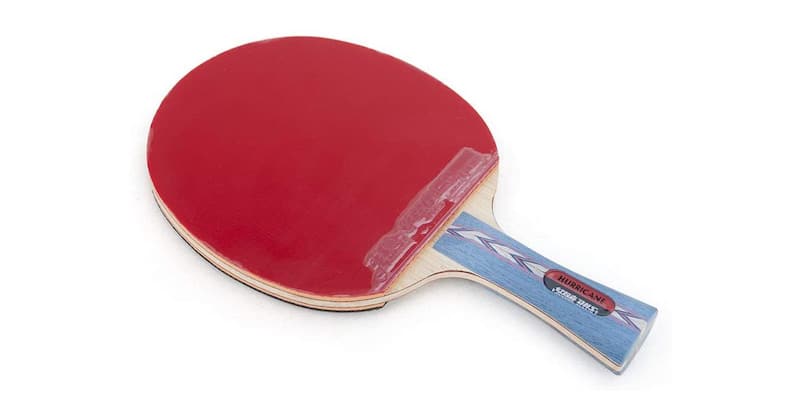 Ratings:
Speed: 8.7

Spin: 9.4

Control: 8.0 
The DHS Hurricane II is a solid choice for intermediate players looking for a racket that delivers incredible spin.
What differentiates the Hurricane II from other models is the different rubber models it features on each side. The red side uses the highly popular DHS Hurricane 3 rubber. This is a tacky high-spin rubber that is commonly used among professional players. As for the black side, it uses another DHS rubber: G555. This rubber is actually very similar to Hurricane 3. It's super tacky, and has good pace, but nothing exceptional. 
We recommend this paddle for players who like to play in a linear way, i.e. you get a predictable ball speed relative to the power of your stroke. On the other hand, we don't recommend this for players who want maximum pace. It has no built-in catapult effect and really suffers when you start attacking far away from the table. 
Included with the racket is a carrying case to keep it safe and two ping pong balls. While you can certainly find cheaper bats available, it is remarkably well-crafted and a good ping pong paddle for the money.
Pros:
Offers a high degree of spin
Good control 
Different rubber types on each side
Good for intermediate players
Cons:
Suffers away from the table
Comparatively expensive
#7. Palio Expert 2 Ping Pong Paddle
Ratings:
Speed: 6.0

Spin: 9.0

Control:

7.5
Expert Table Tennis and Palio, a Chinese brand, recently produced rackets for players of all levels, and there's plenty to love about their Palio Expert 2. If you're moving out of the beginner level and want to improve quickly, you might want to try this racket. 
The Palio Expert can help you reach the next level with its sticky CJ8000 rubbers, which have a soft sponge and a tacky top sheet that allow you to generate plenty of spin – all while maintaining control. Plus, while the paddle is not particularly fast, it still has more than enough speed to put the ball away when needed. So you shouldn't let the low speed rating concern you.
Reviewers like that you can buy the rubbers separately and replace them when you need to, and it also includes a carrying case to protect your investment. Overall, this tournament-approved paddle provides the balance between speed and control required to reach intermediate levels of play. If you're serious about improving, it may be perfect for you. 
Pros:
Offers great spin and decent control
Good for those stepping out of beginner-level play
Comes with a carrying case
Cons:
#8. Idoraz Table Tennis Paddle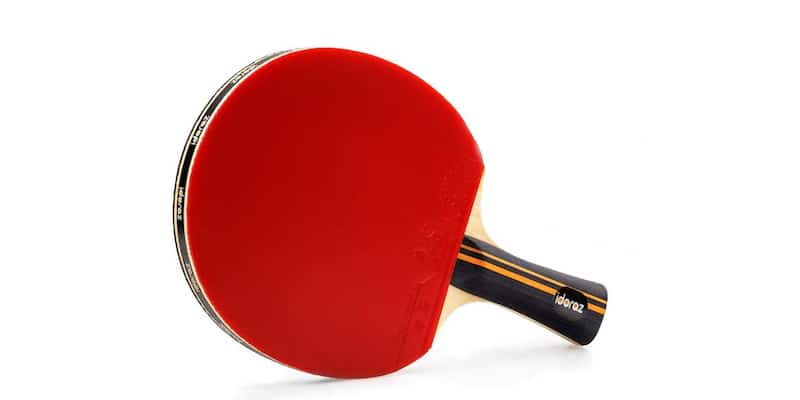 Ratings:
Speed: 9.9

Spin: 9.3

Control: 9
The Idoraz table tennis paddle is a good choice for beginners and can help you develop your performance. The 2 mm rubbers offer some nice spin, and it also good pace to go with it — its speed is its most alluring stat.
Usually, we wouldn't recommend an unknown name like Idoraz, however, it is one of the most popularly reviewed paddles on Amazon, and it also is pretty cheap. The Idoraz paddle may be relatively unknown, but it is still one of the best table tennis paddles for beginners.
Pros:
Well-priced
Good feeling
Suits offensive players
Cons:
Unknown table tennis brand
#9. Killerspin Jet 200 Ping Pong Paddle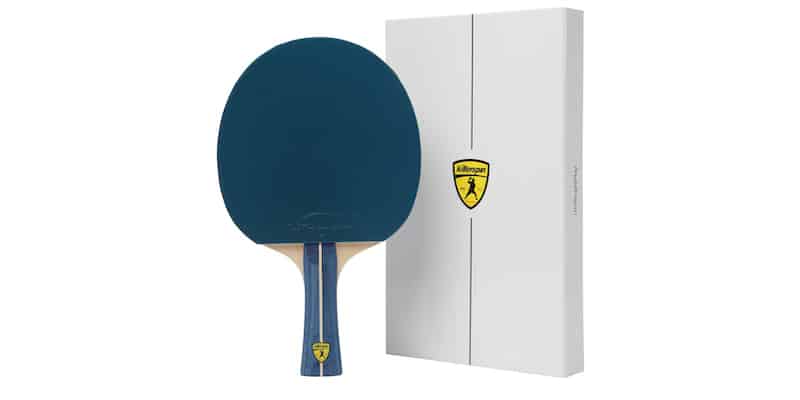 Ratings:
Speed: 7

Spin: 6

Control: 8.5 
Killerspin has plenty of excellent paddles to choose from, and despite being a relatively new brand, they are impressing players. The Killerspin JET 200 is an entry-level paddle that will support novice players as they work on their game. If you need to develop ball control and perfect basic strokes, this racket is a sound choice.  
Like many other beginner paddles, the JET 200 features a 5-ply blade made solely from wood for good feeling and control. It has a flared grip handle, which is the most popular grip type, and features rubbers in 3 fun colors, which you can choose from. They are lacking when it comes to speed, but this shouldn't be much of an issue if you are an absolute beginner.
We consider this to be the best table tennis bat for players just starting the sport who have very poor ability. The lack of pace makes it highly forgiving — perfect for players who struggle to keep the ball on the table consistently. Equally, it could be a good option for defensive players who are a little more skilled but still not quite at the intermediate level.
One thing to note is that the JET 200 is not ITTF-approved, so if tournament play is in your future, you might want to look elsewhere. We don't see this as much of a negative though, as absolute beginners should not be competing officially for some time, if ever. By that time, they will need to upgrade paddle anyway.
Included with the Jet 200 is a ping pong case to keep your racket safe.
Pros:
Good paddle for absolute beginners
Reasonably priced
Choose from 3 fun colors
Includes storage box
Cons:
Too slow for most players
Not ITTF approved
#10. Butterfly 401 Ping Pong Paddle — Best for Beginners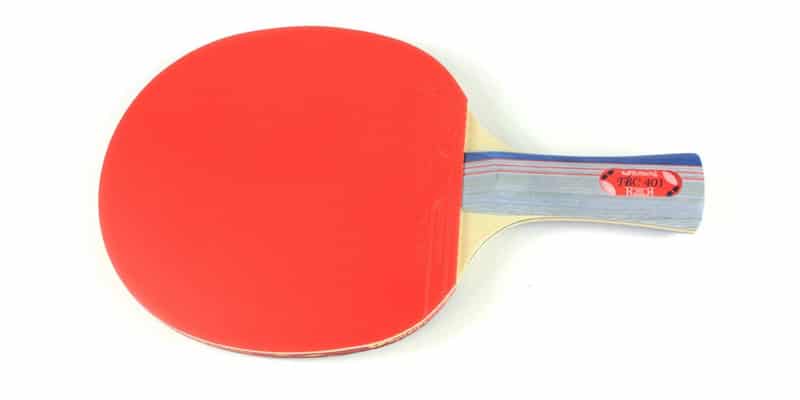 Ratings:
Speed: 8

Spin: 8

Control: 8.5
The Butterfly 401 is a tournament-level paddle that lots of reviewers would describe as a solid all-around option. And at a price that won't break the bank, players can develop their game without making a significant investment. While it doesn't offer the best speed, it generates decent spin and provides a good amount of control. 
Reviewers note that its most notable feature is the long-lasting design of the rubber, which is the 2.1 mm Butterfly Yuki rubber; it maintains its tackiness for quite a long time. The 401 also has an ergonomic grip to make play more comfortable, though it's important to note that the paddle is a bit smaller than some others. If you have large hands, you may want to look for something else. 
Despite a few drawbacks, the Butterfly 401 is a popular model for beginners — it has outstanding reviews among players. If you want a lot of bang for your back, it's certainly worth checking out. To us, it's the best racket for table tennis novices. This model even comes with a carrying case to protect your purchase.
Pros:
Perfect for the all-round style
Good spin
Value for money
Includes case
Cons:
Small paddle, not good for those with large hands
Little weak when it comes to power
As our recommendation for elite players, we have the Timo Boll Proline paddle. It features the Timo Boll ALC blade and Tenergy 05. These are some of the most popular equipment premium manufacturers Butterfly has ever produced. And this isn't just according to regular consumers, it includes the pros. In fact, to many, Tenergy 05 is the best rubber of all time, therefore, it should come as no surprise that we recommend it. 
Tenergy 05 is a very spinny rubber that utilizes Spring Sponge technology. This means it excels far away from the table where the catapult effect can kick in. As for the blade, the ALC is stunningly beautiful and perfectly blends feeling and rigidity. It is excellent both for touch-play and for smashing. While this top paddle has a lot we can compliment, there are a few drawbacks. The first of which is the cost. It's the most expensive paddle on this list by a fair margin, so it may be out of your budget.
The second drawback is that it's hard to control. However, if you're at an advanced level, you should become accustomed to it after a short while. 
Pros:
Very fast
Very high spin
Features highly popular rubbers and blade
Cons:
Tough to control
Expensive
How to Choose a Ping Pong Paddle: Buyer's Guide
The Anatomy of a Ping Pong Paddle
Table tennis rackets have 4 parts: the handle, blade, top sheet, and sponge. The combination of these parts determines the quality of a bat.
Table tennis paddles are often benchmarked by speed, spin, control, handle type, and softness or hardness. However some of these indicators have no industry-unified values, therefore it is tough for consumers to cross-compare rackets from competing brands.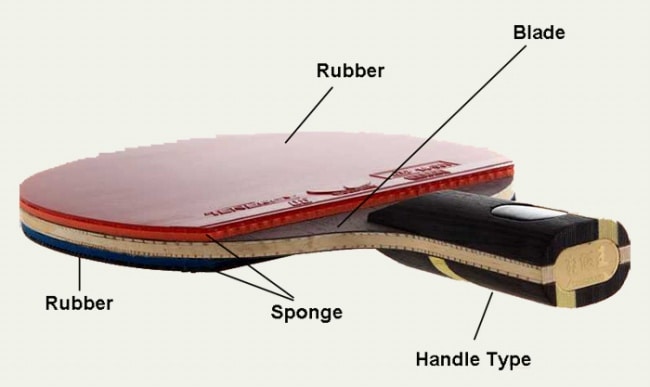 Ping Pong Paddle Grips and Handles
There are two main grips for ping pong rackets: the shakehand grip and the penhold grip. Each handle type emulates the motion it is named after. Penhold handles, for instance, are shaped in a way that is comfortable as if you were holding a pen, as this is how you hold the paddle.
The biggest difference between the two grips in terms of functionality is that the penhold grip offers much more freedom of movement, while shakehand is better for backhand. Ultimately, though,  it's up to you to pick what's more comfortable — there is technically no best ping pong paddle handle type. Penhold grips are more popular in the Asian scene whereas shakehand tends to dominate everywhere else.
Shakehand
For shakehand, there are 3 types of handles: FL, ST, and AN.
ST: Straight grip. The handle enables a player to change grip as they play.
AN: Anatomic grip. The handle is built with a wave shape and fits the palm well while also providing stability.
FL: Flared or concave grip has a thinner handle in the center and a wider handle at the base. It is the most popular handle type.
Penhold
For penhold, there are 2 types of handles categorized into Chinese style (CS) and Japanese style (JP).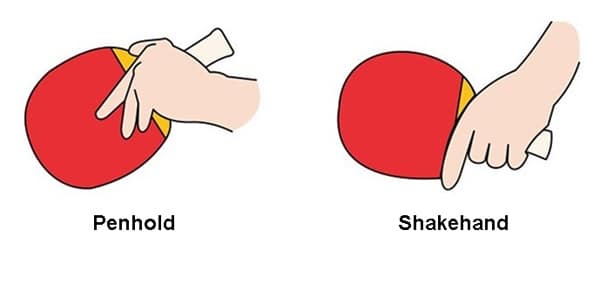 Table Tennis Blade Qualities You Need to Know
Besides the obvious categories of spin, speed, and control, table tennis blades are often classified by stiffness, weight, and composition. These are important characteristics that you should not overlook if the information is available. Especially among advanced equipment.
Below is a table that offers a summarized take on how each impacts performance.
Stiffness
Weight
Composition
Stiff blades are the best at retaining their shape when they contact the ball. This causes the ball to be quickly repelled from its surface. As such they are the best for smashing.

Heavy blades can take a while to get used to, especially in the hands of a beginner. With sizeable weight behind them, they are often fast, and it can take you longer to reset to the ready position.

All-wood blades contain no layers of carbon. The result is a flexible blade with a lot of feeling. This is the perfect blade composition for beginners.

Flexible blades bend slightly on impact. While this means they are slower at repelling the ball, they can hold it for longer. The result is that they are better at producing spin. 

Beginners like light blades because they feel more natural. Even many advanced players try to find light setups to get in position quicker.

Light blades, generally speaking, are slower than heavy blades. However, the right composition can break this trend.

Carbon blades are fast, they usually include 5 layers of wood and 2 layers of carbon for a speed boost. 

The increased pace and reduced feeling mean that only high-level intermediate players and up should really use them.
Tips to Help You Find a Quality Paddle
While it's super easy to identify top-rated ping pong paddles in person, we are mostly restricted to determining the quality of rackets online, given that's where you will be buying them. Fortunately, there are still ways to ensure that you don't fall for a poor-quality paddle.
Made by a Top Table Tennis Brand
A good rule of thumb is to stick with the top table tennis brands. These guys are well-respected and rarely put out weak equipment. In fact, at the beginner level, it's tough to go wrong. Their paddles should comfortably exceed the quality of competing unknown brands. After all, they are table tennis specialists!
ITTF-Approved
The next step is to look for an ITTF logo at the bottom of the rubber. This indicates that the paddle is eligible for use in a competitive setting. Given paddles with an ITTF logo have approved testing, they are much more likely to be higher quality than paddles without an ITTF logo. In fairness, I have used a few decent non-ITTF-approved paddles over the years, but they are not worth pursuing. Finding such a paddle amongst the rest is not easy; if you want to compete, you are not allowed to use it.
Well-Weighted
A surefire way to tell a racket is poor quality is if it feels far too light. Such rackets use poor-quality wood and very thin rubbers. You should absolutely avoid these. Unfortunately, they are hard to identify online, as weights will not be listed for these paddles. On the flip side, if a seller lists the racket's weight, chances are its decent quality. You can also always pick up something of similar weight to help you feel it's the right weight.
Good Spin
One of the most obvious difference makers between the good and the bad are paddles which have decent spin potential. Poor-quality rackets have almost no grip; as such, they are bad for learning the game's mechanics — spin is super important! 
Once more, spin is tougher to determine online than in-person, but there are still ways to approximate a bat's spin. The first is to read the manufacturer's rating. Any quality paddle comes with a spin rating. While these are often exaggerated, they can give you a ballpark estimate as to whether it's a low-spin or high-spin paddle.
A better option is to read player reviews. These are more honest but are, of course, influenced by subjective opinion.
Which Ping Pong Paddle Should You Buy?
So, that about sums up our ping pong paddle review. Hopefully, we helped identify the best ping pong paddles for your ability. Just remember to take a close look at racket ratings and don't get something with too much power if you're just a beginner. Aim for a slower bat with less power and spin instead, as this is the right ping pong paddle for your ability.
If you're still on the fence about which one to go for, we'd suggest looking at the Killerspin Jet 800. The combination of the blade and rubbers make it one of the best pre-made paddles on the market.
FAQs
Does a Ping Pong Paddle Make a Difference?
Your ping pong paddle choice has a big impact on your performance. If you choose a racket that suits your style and table tennis skills, you will perform optimally and continue to improve. However, purchasing the wrong paddle will negatively affect your performance and sports progression.
Are Expensive Ping Pong Paddles Worth It?
Expensive ping pong paddles are almost always worth the money. They use higher quality materials than cheap paddles, enabling you to perform to the best of your ability. However, the more expensive you go, the less value you get for your hard-earned bucks. Beyond around $250 (the price of many ping pong paddles for professionals), the price increase may not be worth the small performance increase for some. 
How Much Should I Spend on a Ping Pong Paddle?
You should spend as much on a paddle as you are comfortable spending. That being said, if you can't afford $30 I would save up until you reach this point, as rackets in this range mark a noticeable improvement. You can spend hundreds of dollars at the other end of the spectrum, but we would only recommend this if you are at an advanced level. There is no need for beginners to spend that kind of money. 
What Is the Best Table Tennis Paddle for Beginners?
For beginner-level people, the Butterfly 401 is the best paddle you can buy. It has very high control, which is essential for a player just beginning to learn the game. It also currently rates as an "Amazon Choice" product due to its exceptional feedback from players.