Are you looking to upgrade your ping pong paddle but you're not sure what to go for? Or perhaps you're about to buy your first paddle and you don't know where to begin? Well, you've come to the right place.
Getting the right ping pong paddles is a wise investment that will last a long time. It is essential to the kind of experience you will have and how well you perform when you play. If you play ping pong frequently, and are considering improving your game or playing on a tournament level, then having the right ping pong paddles can make all the difference.
While most ping pong paddles are cheap, these versions are less durable and break easily. In the end, it is always wiser to spend a few extra bucks for a decent ping pong paddle, rather than having to buy several within a year (and possibly spending more).
Quick Answer: The Best Table Tennis Paddles
How to Choose a Ping Pong Paddle: Buyer's Guide
Before we get into the actual list of options, let's see how a ping pong paddle is actually designed. Players will find that certain grips may suit them better, so it's worth knowing about this a little more.
The Anatomy of a Ping Pong Paddle
The table tennis racket has 4 parts: handle, blade, rubber, and sponge. The combination of these parts determines the quality of a racket.
Table tennis paddles and sponges are often benchmarked by speed, spin, control, bounce, and softness or hardness. But in fact, these indicators have no industry-unified values, but they are the terms that major racket manufacturers use so that buyers have reference points when choosing their rackets.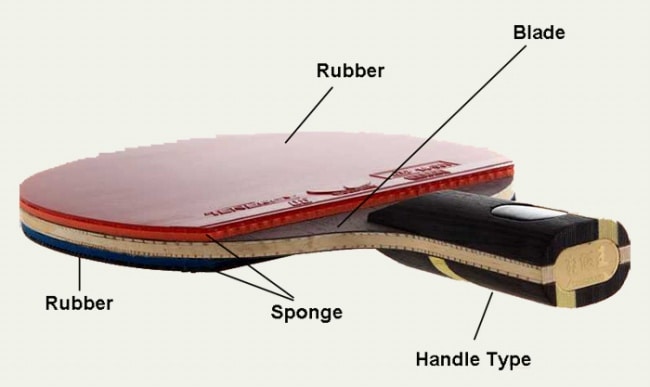 One of your first considerations should be the handle type, which comes in two forms.
Ping Pong Paddle Grips and Handles
Those two handle types are shakehand and penhold, which pretty much take the shape of a handshake or holding a pen. The biggest difference between the two is that a penhold grip offers much more freedom of movement, but ultimately it's up to you to pick what's more comfortable. Shakehand handles are more popular while penhold handles are favored by Asian players.
Shakehand
For shakehand, there are 3 types of handles which are FL, ST, and AN.
ST: Straight grip. The handle enables a player to change grip as they play.
AN: Anatomic grip. The handle is built with a wave-shape and fits the palm well while also providing stability.
FL: Flared or concave grip with the center of gravity closer to the grip. This type is used by most international players.
Penhold
For penhold, there are 2 types of handles categorized into Chinese style(CS) and Japanese style(JP).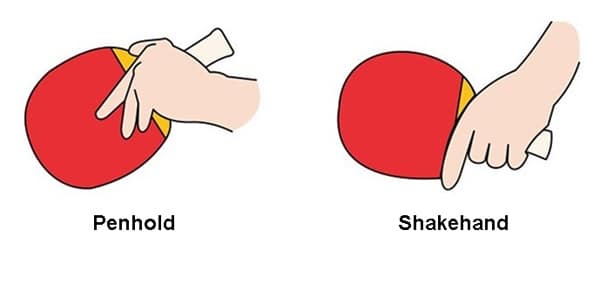 Blade Measurements
Thickness, weight and material also play a big part in determining your performance. The table below offers a summarized take on how it impacts performance.
| | | |
| --- | --- | --- |
| Thickness | Weight | Material |
| The thicker the blade, the more rigid it is, the thinner the blade, the more thorough the feels. | The heavier the blade, the greater the density the blade has. In addition to the material, the degreasing process will also affect the weight. | This should be combined with the thickness. Soft and thin blades (5.3-5.6) are mostly in arc-shaped. Hard and thick blades (more than 6.5) are mostly built for offensive play. |
| The thicker blade is fast and suitable to play a fast stroke. Often used by offensive players. The thinner blade can generate great spin. It is sought after by players who like to play sidespin. | For a blade built with a high density of wood, deformation is small. It uses the blade to play a fast stroke. | The thickness between 5.7-6.5 is commonly used in offensive play combined with arc play. |
The Best Table Tennis Rackets
Now let's move onto what you're really here for. The following paddles are some of the best on the market, and we provide a list of pros and cons to go with each. Let's get started.
1. Killerspin JET 800 Ping Pong Paddle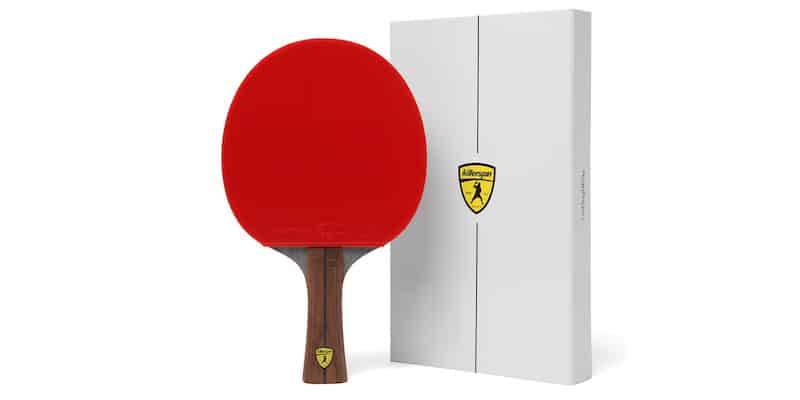 Ratings:
Speed: 9.5
Spin: 9.0
Control: 8.0
In at number one we have the Killerspin Jet 800 paddle from the Killerspin Jet series. It's one of a series of preassembled rackets range from the JET 100 all the way up to 800. The JET 800 is the latest one on the list and it is engineered for competitive play. It has a sponge layer with rubber on the outside. The flared grip measures at 3.7″ long. It is a bit heavy, giving you more power. If you're playing defensively, this bat is ideal for you.
The good power means you should be able to hit it return the ball even if too far away from the table. When you first use the Killerspin JET 800 to play ping pong, your shoulder might feel a little sore initially. But you will find that this bat has a lot to offer once you get used to.
Pros:
Offers massive spin and good bounce
Durable, and constructed with great quality material
Offers great control of your shot
Cons:
Heavy
No protective strip or edge tape to protect the rubber and the blade
#2. STIGA Pro Carbon Ping Pong Paddle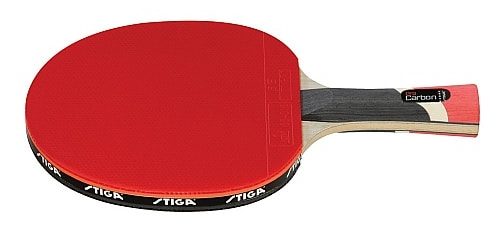 Ratings:
Speed: 9.9
Spin: 10.0
Control: 8.0
This STIGA Pro Carbon bat is a heavy bat with superior quality for professional play. It is an excellent choice for aggressive players who power shots and high spin. However, it is not so good if you want control. If you're a defensive player, this may not be the right racket for you.
One thing that sets this paddle apart from others is the carbon built on the blade. As the racket is quite heavy, you may need some time to get used to it.
We have a more detailed review of the STIGA Pro Carbon, so check that out for more information.
Pros:
Good for aggressive players
Offers high spin and great power
Sleek design
Cons:
Heavy
Not suitable for beginners
#3. STIGA Raptor Table Tennis Racket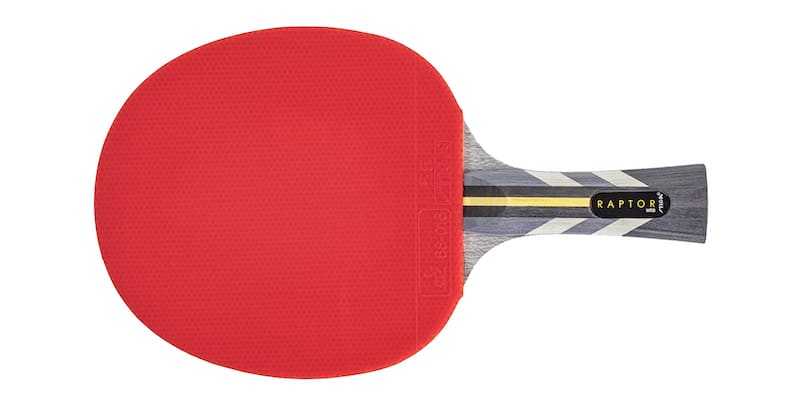 Ratings:
Speed: 9.9
Spin: 10.0
Control: 8.0
In at number three we have the relatively new STIGA Raptor. It's very similar to the Carbon Pro weighing in at 1.2lbs and having the same 7 layers blade, 5 of which are made with balsa wood coupled with 2 layers of lightweight carbon. This means you get all the power and speed of a thick 7-ply blade without the heavy feel.
When it comes to the rubbers, the STIGA Raptor has the same STIGA S5s as the Pro Carbon. This provides more control over the ball thanks to its ACS technology. They work particularly well with the 2mm thick sponge layer that really helps the ball ping off the paddle, giving more speed and a hefty amount of spin.
That being said, it's probably not the best paddle for beginners due to the ratings. But if you're leveling up your game and want a reasonably priced paddle, then we'd definitely recommend checking out the STIGA Raptor.
Pros:
Good for aggressive players
Offers high spin and great power
Cons:
Not suitable for beginners
#4. JOOLA Infinity Balance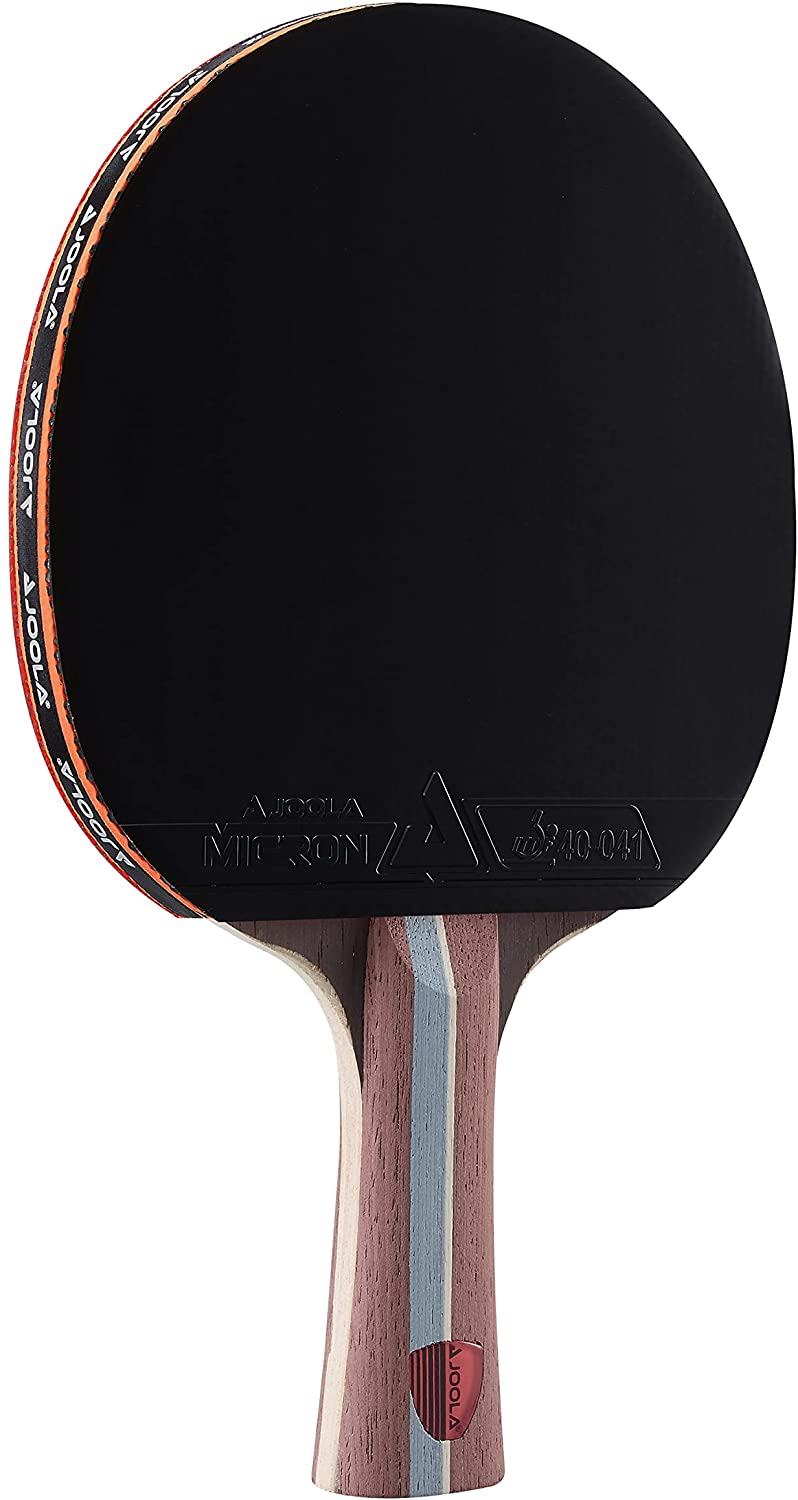 Ratings:
Speed: 8.0
Spin: 8.0
Control: 9.5
Up next we have the JOOLA Infinity Balance, which features a 7-ply all-wood blade. This is a happy medium in between the 5-ply wooden blades and the 7-ply carbon blades, so good for all-round play. 
This is the ideal racket for those who have mastered the basic skills of ping pong and wish to advance their playing to the next level. When you first get this bat, you may need a few weeks to practice and get used to it. Once you start to adjust to the bat, you'll quickly see why it's a step up from more basic paddles.
Pros:
Great value for money
Fast smashes
Forgiving
Cons:
Will challenge beginners since it's quick
#5. STIGA Evolution Ping Pong Paddle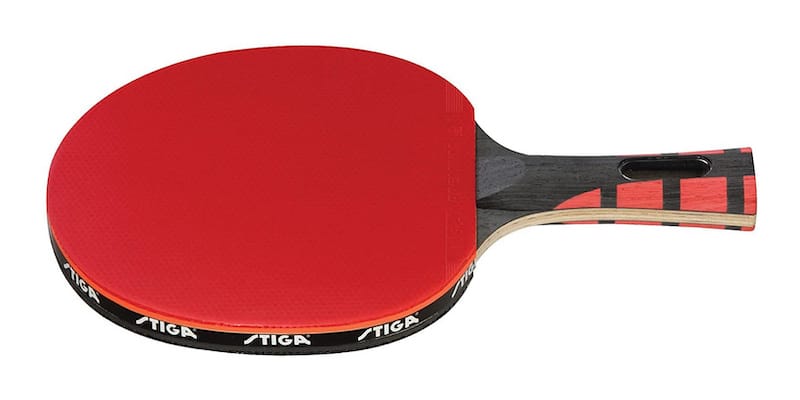 Ratings:
Speed: 9.6

Spin: 9.4

Control: 9.0 
Another great affordable ping pong paddle is the STIGA Evolution. It's one of the best-priced paddles on our list and is an excellent choice for any beginner who's ready to take their game to the next level, thanks to its fantastic control to speed ratio. If you want to send the ball more deliberately, control is critical, and the Evolution can help improve play in this aspect. 
It also delivers plenty of power, thanks to STIGA's various manufacturing technologies, and with a bigger sweet spot than other rackets, the Evolution can help increase your accuracy. This table tennis racket is lightweight, and it suits players who enjoy playing close to the table, where it's useful in improving stroke technique. 
It's made up of a 6 ply blade that packs a punch (but isn't too overwhelming) with great ITTF-approved STIGA rubbers and a nice a 2mm sponge. Put all that together and you get a great paddle that packs a punch but with enough control for a novice.
Plus, the price of the STIGA Evolution is affordable, which makes it well worth investing in if you're ready to take the next step in your table tennis game. It makes a great gift for newer table tennis players and is well-deserving of a place on our list of top table tennis rackets.
Pros:
Offers great power and spin
Excellent for beginners
One of the more affordable bats
Cons:
Takes some practice and skill to manage control
#6. DHS Hurricane II Ping Pong Paddle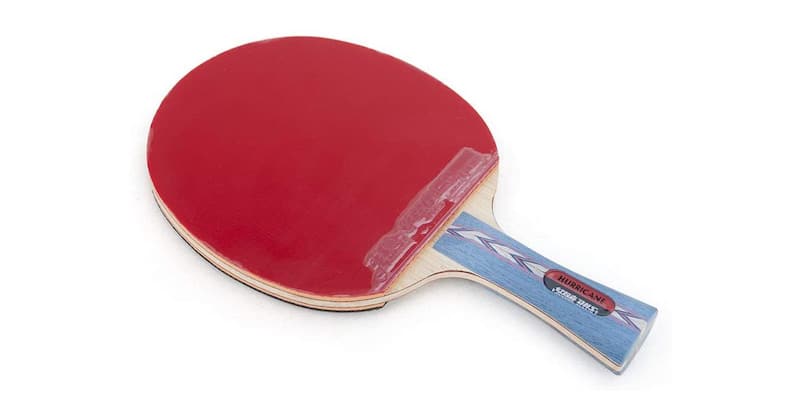 Ratings:
Speed: 8.7

Spin: 9.4

Control: 8.0 
The DHS Hurricane II is a solid choice for intermediate players looking for a racket that delivers incredible spin.
What differentiates the Hurricane II from other models is the different rubber types it features on each side. The side with the Hurricane rubber is better for offensive players who like to produce spin. Flip it over, and the G555 rubber on the other side provides a more tacky surface, allowing you to focus more on control. 
The only real downside to this paddle is that some reviewers note that the G555 rubber loses tackiness quickly, but even so, the Hurricane is an excellent professional-caliber option. It also includes a carrying case to keep it safe and two balls. You can certainly find cheaper models available, but if you want superior craftsmanship, you can't go wrong with this one.
Pros:
Offers a high degree of spin
Different rubber types on each side
Good for intermediate players
Cons:
Rubber can lose tackiness
Comparatively expensive
#7. Palio Expert 3 Ping Pong Paddle
Ratings:
Speed: 6.0

Spin: 9.0

Control:

7.5
Expert Table Tennis and Palio, a Chinese brand, recently came together to produce rackets for players of all levels, and there's plenty to love about their Palio Expert, now in its third generation. If you're making the move out of beginner levels, and want to improve quickly, you might want to try this racket. 
The Palio Expert can help you reach the next level with its sticky CJ8000 rubbers, which have a soft sponge and a tacky top sheet that allow you to generate plenty of spin – all while maintaining control. Plus, this heavy-weight paddle delivers the power you need to beat your opponents. You certainly won't have to worry about using a lot of effort to send the ball.
Reviewers like that you can buy the rubbers separately and replace them when needed, and it also includes a carrying case to protect your investment. Overall, this tournament-approved paddle provides the balance between speed and control needed to reach intermediate levels of play. If you're serious about improving, it may be perfect for you. 
Pros:
Offers great spin and decent control
Good for those stepping out of beginner-level play
Comes with a carrying case
Cons:
#8. Idoraz Table Tennis Paddle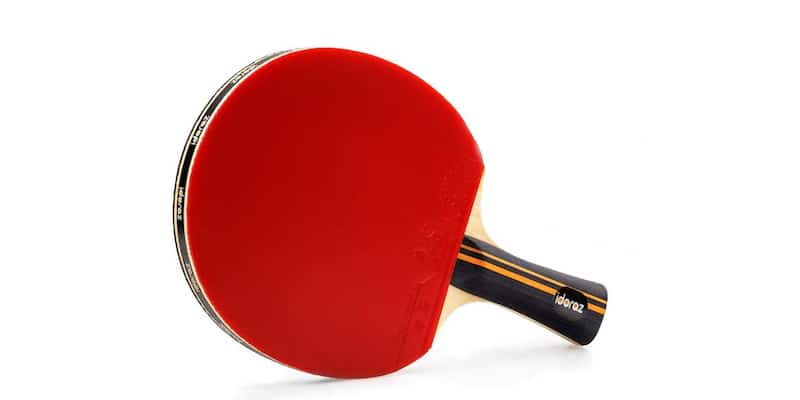 Ratings:
Speed: 9.9

Spin: 9.3

Control: 9.0
The Idoraz table tennis paddle is a good choice for beginners and can help you take your play to the next level. The 2.00 mm rubber coating offers some nice spin, and the grip is also quite good.
It is ideal for players who love to do a lot of offensive attacks. There's a real solid contact when the ball comes into contact with the ball. Overall, this Idoraz table tennis bat can give you excellent speed, spin, and control.
Pros:
Decent all-round bad
Good for offensive players
Quality grip
Cons:
May take some getting used to
#9. Killerspin Jet 200 Ping Pong Paddle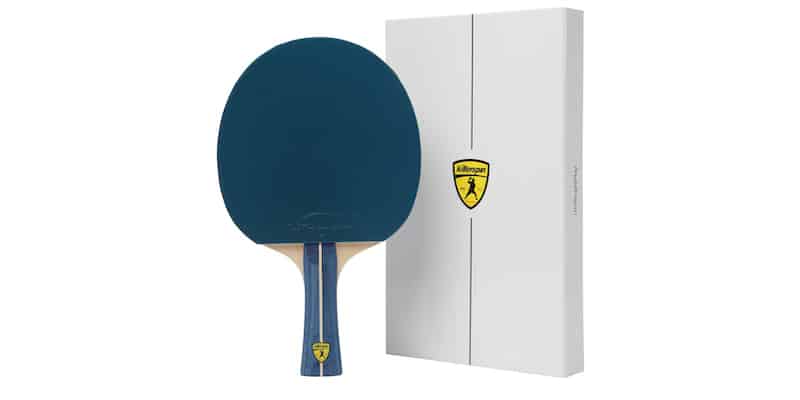 Ratings:
Speed: 7

Spin: 6

Control: 8.5 
Killerspin has plenty of excellent models to choose from, and despite being a relatively new brand, they are impressing players. The Killerspin JET 200 is an entry-level paddle that will support novice players as they work on their game. If you need to develop ball control and perfect basic strokes, this model is a sound choice.  
The JET 200 features 5-ply blades that are made from wood, like many other paddles. It has a flared grip handle, which is the most popular grip type, but the rubber quality is where it differentiates itself. Killerspin's rubber quality is often better than its competitors. It won't give you the power that a better racket like the Stiga Titan would, but the price is reasonable.
One thing to note is that the JET 200 is not ITTF-approved, so if tournament play is in your future, you might want to look elsewhere. That said, beginner players can benefit significantly from this paddle, which includes a ping pong case to keep your racket safe.
Pros:
Good paddle for beginners
Reasonably priced
Cons:
Doesn't offer as much power as some other models on this list
#10. Butterfly 401 Ping Pong Paddle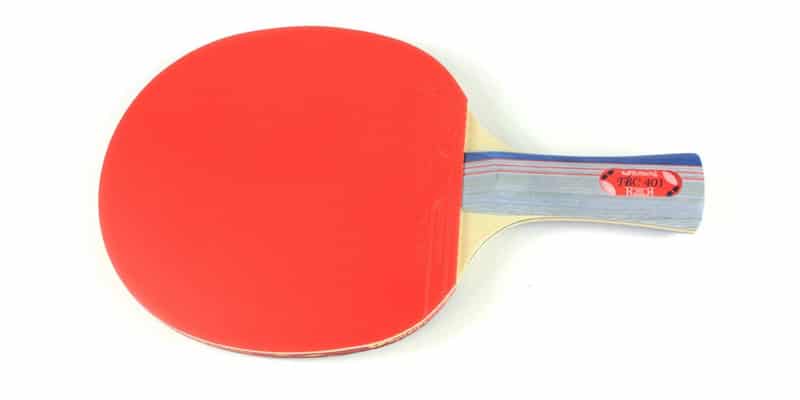 Ratings:
Speed: 8

Spin: 8

Control: 8.5
The Butterfly 401 is a tournament-approved paddle that lots of reviewers would describe as a solid all-around option. And at a price that won't break the bank, players can develop their game without making a significant investment. While it doesn't offer the best speed, it generates excellent spin and provides a good balance turn and control. 
Reviewers note that its most notable feature is the long-lasting design of the rubber, which is the 2.1mm Butterfly Yuki rubber; it maintains its tackiness for quite a long time. The 401 also has an ergonomic grip to make play more comfortable, though it's important to note that the paddle is a bit smaller than some others. If you have large hands, you may want to look for something else. 
Despite a few drawbacks, the Butterfly 401 is a popular model with all kinds of players, from novices to table tennis veterans, and it's got plenty of positive reviews. If you want a lot of bang for your back, it's certainly worth checking out. This model comes with a carrying case to protect your purchase.
Pros:
Good all-round option
The bat is lightweight but can give you strong hits.
Value for money
Cons:
Small paddle, not good for those with large hands
Little weak when it comes to power
Which Ping Pong Paddle Should You Buy?
So, that about sums up our post on the best ping pong bats, which we hope you found it useful. Just remember to take a close look at the paddle's ratings and don't get something with too much power if you're just a beginner. Aim for a slower bat with less power and spin so you can learn to control the ball's placement first.
If you're still on the fence about which one to go for we'd suggest taking a look at the Killerspin Jet 800. The combination of the blade and rubbers make it one of the best pre-made paddles on the market.