JOOLA was founded in the early 1950s and is headquartered in the small town of SIEBELDINGEN, Germany. The company is capable of manufactures and provides high-quality competition sport equipment including table tennis rackets for players from all over the world.
JOOLA is a sports brand in Germany, the company is well known for its high standards of quality, continuous product innovation, and vertical marketing.
The company continuous communication with the world's best table tennis players and provide the equipment that they need. With their dedication to the sport, Joola managed to create the status and good image in the table tennis world.
Lately, JOOLA has introduced a series of Spinforce table tennis rackets. These rackets were produced with the purpose of bridges the gap between recreation and professional players.
I would love to share with you on the series of the Spinforce rackets which are 300, 500, and 900.
Joola Spinforce 300
The overall construction of the Joola Spinforce 300 is really cool and nice. It is lightweight and is made out of wood and foam. Technically, it is constructed as a 5-ply blade but you may only see 3 layers with your eyes.
The rubber that attached to the blade is just a decent one, but its surface is quite sticky. However, if you have a lot of friction on it, then you can't move and slide it very much. You may take a closeup look at the racket and you will see the dot obviously showing on the rubber surface especially for the red rubber.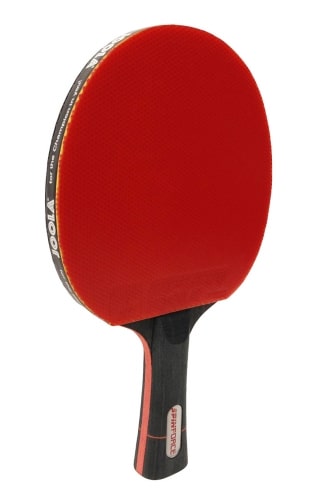 Specification
Blade: 5 Plywood Blade
Handle: Flared
Rubber: New Infinity Rubber
Sponge Thickness: 2.0mm
Sponge Hardness: Soft
ITTF Approved
Speed: 100
Spin: 110
Control: 80
Nice Grip
Many people like to have the blade is because the Spinforce logo is indented on the grip which gives them quite a nice feel. The grip handle of the bat is all made of wood with 3 layers. They are nicely pressed together and you can sense the solidity on it.
When you receive the bat, you can see the rubber is being wrapped nicely and is having very good protection. If you take a ball and move on the rubber surface, the ball can really have great contact with the surface of the racket. It really grips the ball very well.
This is important because when the ball comes and you are trying to aim at the ball, you want the ball to stick and then to bounce it off.
The Joola Spinforce 300 is a bat that bridges the gap between amateur and professional. It can be said to be like some kind of semi-professional racket. Even it is not the best racket that you can get but it is a great racket especially in the price range it offers which I think is worthwhile.
You can get this Spinforce 300 racket from Amazon or Megaspin.

Joola Spinforce 500
The Joola Spinforce 500 is an ITTF approved racket for tournament play. The racket can help any player to get more speed when playing ping pong.
The racket is constructed with the purpose of helping offensive players to improve their attacks and optimizing their spin. You can use the racket to defeat your opponent in any tournament if you master the racket well. It is built with JOOLA Infinity Rubber which will increase the control of the ball. The flared handle is good in helping you to practice your forehand and backhand strokes.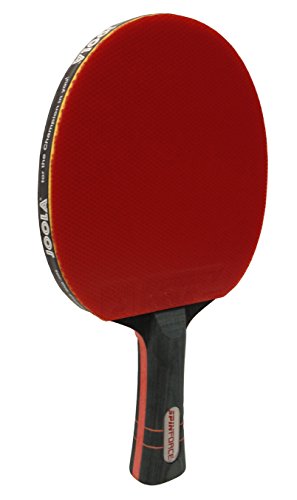 Specification
Blade: 7 Plywood Blade
Handle: Flared
Rubber: New Infinity Rubber
Sponge Thickness: 2.0mm
Sponge Hardness: Soft
ITTF Approved
Speed: 102
Spin:110
Control: 79
The blade is produced with 7-layered plywood. It is really good at increasing the speed for you to play in a fast game. You can perform an offensive loop with this racket and you can master the sped up the game better.
For some players, this is a great all-around racket for them as it can offer them with a great balance between speed and control. They may need some time to get used to the racket but it won't take long for them to master it and playing well in the game.
You can get this racket at a quite affordable price and you will probably fall in love with it and carry it with you every time you go to play table tennis.
You can get this Spinforce 500 racket from Amazon or Megaspin.

Joola Spinforce 900
This is the most advanced level racket in the Spinforce series. The racket is constructed with 7-layered carbon plywood and JOOLA Infinity rubber. The rubber is made of max soft sponge which makes it possible for players to have good spin and control of the ball.
This racket is ideal for an advanced player as it can offer them great speed, stability, and strength. It is well fitted for all aggressive offensive players.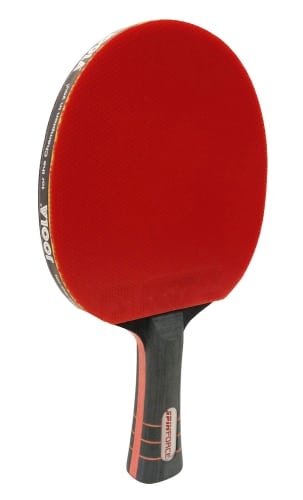 Specification
Blade: 7 Plywood Carbon Blade
Handle: Flared
Rubber: New Infinity Rubber
Sponge Thickness: 2.2mm
Sponge Hardness: Soft
ITTF Approved
Speed: 105
Spin:112
Control: 78
The Spinforce 900 is having a flared handle that makes the grip to be very comfortable when you hold the racket in your hand. It can help you perform an ideal stroke for both forehand and backhand.
The mechanics of the racket is good. It can offers players with excellent spin, speed, and control. Thus, it is an ideal racket for a player to use to develop an offensive playstyle and generate more spins on their shots.
The racket is of par value in comparison with Butterfly mid-level rackets. The offering price is rather competitive. If you were practice table tennis for some time, and you have reached a certain level of your playing skill, then you can consider buying this racket. This racket is also best suit for aggressive players who are looking for more speed and spin shots.
Drawback
One of the drawbacks for having this racket is the rubber that is used on it. Some of the players are having issues where the rubber is getting deteriorates on the edge after playing for some time. If you have the racket to be in contact with the table, there are high chances this issue will happen.
You can get this Spinforce 900 racket from Amazon or Megaspin.