Yasaka is a famous Japanese brand in manufacturing table tennis equipment. It is not as famous as Butterfly but has quality equipment. Let's take a look at some quality Yasaka table tennis blades.
Yasaka Dynamix 17
Product Information
Type: Offensive
Surface Hardness: Hard
Weight: 90
Ply: 17
Yasaka Dynamix 17 contains seventeen layers with a weight of 90 grams. The layers are a combination of wooden veneers (light/soft/hard/thin), carbon fibers with very high torsional strength, and synthetic fibers with both good flexibility and high torsional strength.
The optimization of the layers features an ultimate powerful weapon for aggressive play style including the great ball feeling.
Yasaka Dynamix 17 offers you a very big "sweet spot" for broadening hitting area with maximum control.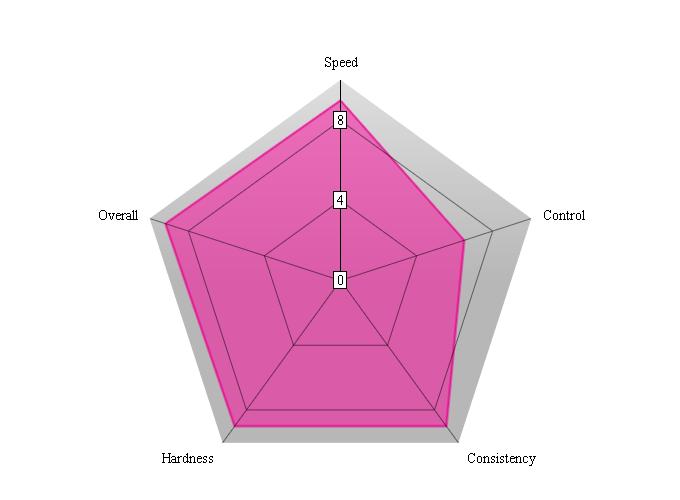 Yasaka Dynamix 17 Performance
Know More About Yasaka Dynamix 17
The Dynamix 17 is another excellent offensive table tennis blade from Yasaka. The blade comes with a very stiff and hard surface offering you super fast speed with no vibration. So you will experience a great feeling when you smash.
It is also great for looping with medium to soft rubbers, such as Nittaku Narucross Ex-Soft, or Donic Baracuda. This blade offers you many gears which means it can be used for a wide range of speed from short to far distances.
However, this blade may suit high-level players who already have good control since the blade requires a reasonable controlling skill. It is recommended for a high level to advance players.
Recommended Table Tennis Rubbers for Yasaka Dynamix 17
Offensive style: Butterfly Tenergy Series
Spin style: Nittaku Narucross Ex-Soft, Donic Baracuda
Overall Rating: 4.6/5
Yasaka Advance 3D
Product Information
Type: Offensive
Surface Hardness: Medium
Ply: 7
Handles: straight, concave, anatomic, pen
Hardness: Medium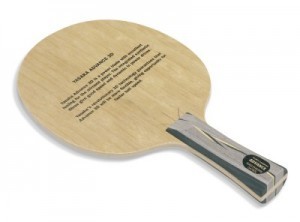 Technicians at Yasaka have constructed the powerful ADVANCE table tennis blade by integrating synthetic fibers within the plywood blade. This unique innovation of two directional synthetic fiber glued into veneers using Yasaka's own temperature and fixing methods will provide offensive players with a new dimension to their attacking play.
The 3D Technology guarantees that ADVANCE will be more flexible giving the opportunity for faster ball speed.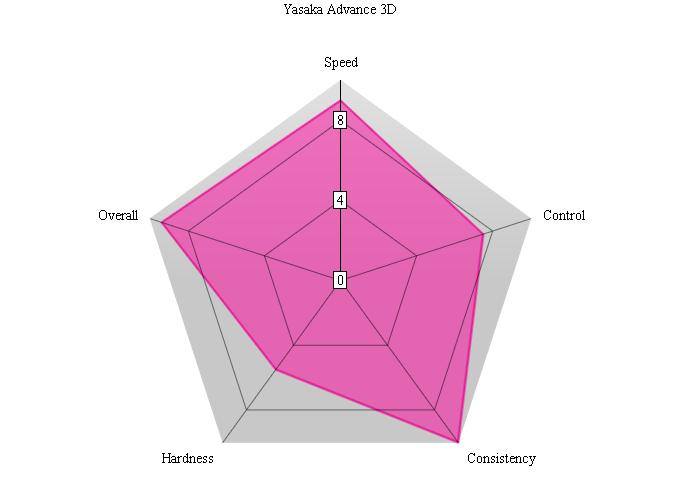 Yasaka Advance 3D Chart
Know More About Yasaka Advance 3D
This is a very cost effective offensive table tennis blade from Yasaka. It is relatively cheap with excellent performance. It offers pretty decent speed while it is still controllable. Even though its speed is significantly slower than its fellow "Yasaka Gartien Carbon 3D, and Extra 3D", it offers better topspin play with longer dwell time. This blade is pretty light for a 7 plies blade with only 85 g
One drawback of this blade is you need to push more effort to make a fast and powerful stroke compared to carbon composite blades.
This blade is recommended for intermediate offensive players who love to play in the short-mid distance.
Recommended Table Tennis Rubbers for Yasaka Advance 3D
Offensive Style: Xiom Omega
All-round: DHS Hurricane 3
Overall Rating: 4.6/5
Yasaka Sweden Classic
Product Information
Type: All Round Hardness:
Soft Plies: 5W
Weight: 82 g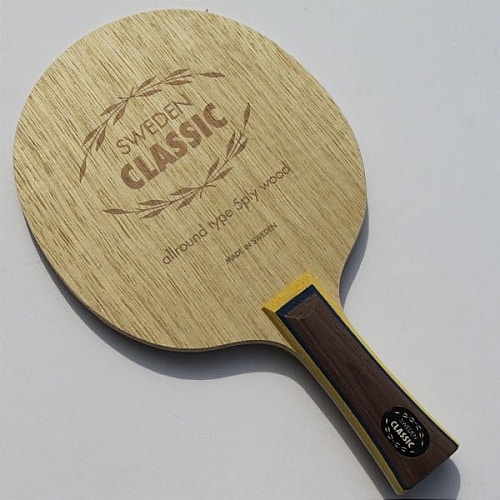 Yasaka Sweden Classic is a superb touch and feel blade offering an exclusive strategy for players who prefer to play aggressively.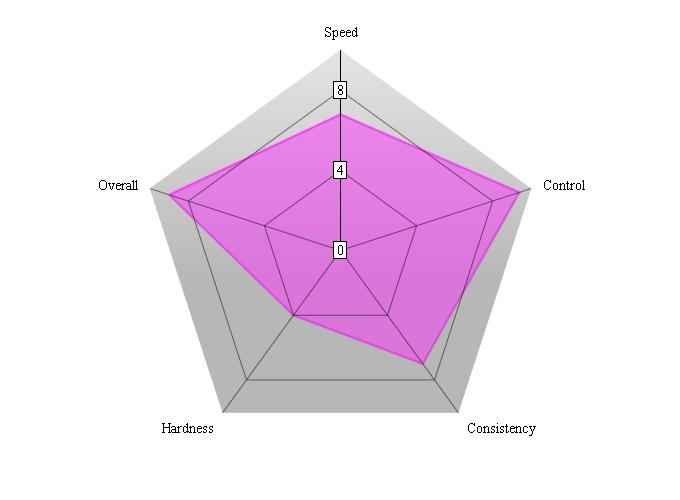 Know More About Yasaka Sweden Classic
This Yasaka Sweden Classic is an excellent all-round table tennis blade that is fit for the different level of players range from beginners to advanced players. The blade features with a large ST grip which makes it rather flexible and soft. It is possible for you to play any style you want as this blade is designed to cater for different style needs.
It can also become an offensive blade that provides you with a fine touch. One disadvantage of the blade is the regular size makes it not so good in conventional defense but this is not a big deal for most of the players. In addition, the blade can make great pips and inverted combination for playing a close and short distance table game.
Unparalleled feels of the table tennis ball provide an ideal blade for advanced players to combine their technical attack skill by drawing close to the table. This Yasaka Sweden Classic blade is one of the favorite blades for a lot of defensive players because it can provide them with great control.
It can absorb the ball speed from the shot of opponents and also can perform great blocks. In the meantime, it has a very fast speed with tensors or glue effect rubbers. You need to seal the blade well because it can easily get splinters.
You can get this blade from Megaspin.
Yasaka Gatien Extra: The Best Allround Blade for Beginners
Yasaka Gatien Extra is one of the most popular and long lasting blades out there. It was extremely popular back in the '90s and many pros have used it. Wang Hao and Ma Lin used this blade for several years in the speed glue era.
In my opinion, it was the best table tennis blade in the speed glue era. I really enjoy playing with this blade along with the classic Sriver rubbers.
It provides excellent feeling and control along with tons of spin in your shots. The only "negative" is that it lacks speed away from the table. But this is something you should worry about when you reach a very high level of play, where you have developed excellent technique and speed is becoming a really important factor in game situations.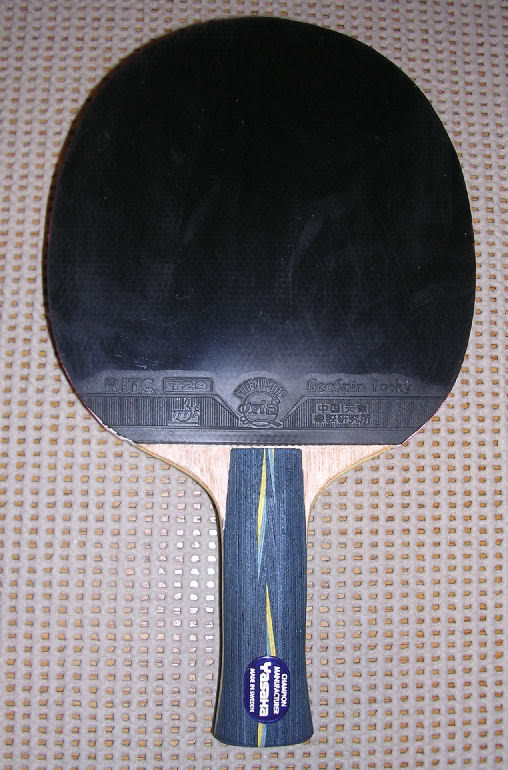 I will review this blade from a learner's point of view, because at a high level of play every player chooses what suits him best. This blade suits everyone who wants to learn table tennis strokes with quality.
Overall Feeling 8.5/10: Assuming that limba & ayous provide the best feeling when used in table tennis blades (10 out of 10). It gives excellent feeling in spinny shots and provides amazing accuracy for placement shots. You have the feeling that you can do anything with this blade.
Materials Used:  Outer ply is anegre (anigre), the second ply is limba and the core is ayous. So the ply construction is anegre – limba – ayous – limba – anegre. Thickness is 5.5 mm providing very good flexibility.
Feedback: 9/10. The thin anegre ply (relative hardwood material) along with the inner soft limba ply and the ayous core provides tremendous feedback in all of your shots. Flicking is great, pushing is well controlled. When looping the ball you can feel it sink deep inside the wood, thus giving you extreme accuracy along with spin in your shots.
Counter hitting and smashing are also very good and easy to master with this blade. Blockers will also love it, you can block absolutely everything with minimum effort in terms of control.
The sweet spot is very large, compared to the head size of the blade. The head size is 156 X 150 mm oval (egg) shape.
Speed: 7/10  The speed factor is the only negative attribute of this blade. But you can compensate this by using controlled tensored rubbers such as Tenergy 05 FX, Yasaka Rakza 7 soft, etc. If you are a beginner who is learning the strokes don't worry about the speed, it is too early to worry about things you can't handle.
Spin: 9/10   Due to its 5.5 mm thickness and the combination of soft materials, Gatien extra highly bites the ball giving you the feeling that you can put as much spin as you want to combine with control of your preference. High arc loops are just as easy as low arc loops when learning.
Control & Accuracy : 10/10 . Gatien Extra is a lightweight blade (84-86 gr) with a balanced center of gravity between the handle and the head. These attributes provide extreme accuracy in every shot.
Finally, it comes out in all handles (penhold, anatomic, flared, straight) and once you get it in your hand, you will feel you can do anything with it.
Rubber combinations: Tenergy 05 FX, Rakza 7 Soft, Xiom Omega IV Elite, Sriver FX (all G versions of the Sriver), Palio blitz 42 degrees, Yasaka Mark V