Sriver inverted rubber with 2.0mm and 1.5 mm sponge
Sriver-G2: This is a high tension version of the original Sriver
Sriver-FX: A softer version of the original suited for speed glue
Sriver-EL: Supposed to be a combination of the speed from the Sriver and the control of the Sriver-FX
This post is a review of the original Sriver table tennis rubber.
Brief History
Sriver is one the benchmark for table tennis rubbers for the last 30 odd years. This isn't certainly by fluke as it was considered the fastest rubber around with good control. Great players like Timo Boll remains a fan for a good reason as this rubber alone has helped to many players to become champions.

Sriver is good for
Players who look to attack the ball with speed and spins without compromising the paddle's control. This rubber responds very well when speed glued. If you are a defensive player and want to retain some attacking capabilities, you will find that the Sriver 1.0-1.5mm does the job perfectly. The rubber has excellent control with an added oomph to it when needed.
Sriver is bad for
Players looking to generate extreme topspin and backspin. The Sriver rubber is more of a all round offensive rubber with good balance therefore if you are also looking for extreme speed, you will need to look elsewhere.
Sriver Specification
The Sriver is considered as a middle of the range table tennis rubber. The topsheet is less grippy and tacky than the Mark V. The topsheet and sponge is a little softer than the Mark V but remains fairly firm. In terms of weight, the Sriver feels a little lighter than the Mark V and this gives the Sriver good mechanical spin.
What others are saying
I went around forums and collected the following views about the Sriver rubber:
Boss1703
"maybe Sriver is more forgiving than Mark V. so Mark V+Sriver+yeo could be your classic set-up."
riker71
"Sounds like a good choice of equipment. Sriver L is heavier than Mark V but EL and FX are slightly lighter. Sriver L is firm sponge, EL Medium firm, and both harder than Mark V which is also medium firm. Mark V has a bit more dwell time for loops and a higher throw angle than Sriver L and EL. I cant say much for FX as I only used it once ages ago but topsheet is same as L and EL just slower and softer sponge. Mark V is excellent for pushing, control around the same as EL. I would give the edge to Mark V for allround attack and as a do it all rubber."
zheyi
"my exp is Sriver being more durable and consistent compared to Mark V.. Mark V has softer topsheet making it easier to control but turn dead faster.."
My Sriver rating
Sriver in 2.0mm or thicker has very good control with decent amount of speed and spin. Great for looping against backspins or to block. Good technique is required for counter-looping. The Sriver is better suited for blocking than the Mark V but less powerful.
When used with speed glue, the rubber goes in rage mode lol. You retain your control but will you will now have at your disposal some serious power to unleash powerful drives and loops with added spin and speed.
The throw angle is lower than the Mark V so you can hit some low bullets from topspin balls. The thinner sponges tend to have excellent control and adequate spin. Sriver is one of best rubbers for an all round player who wants a mixture of defense and attack.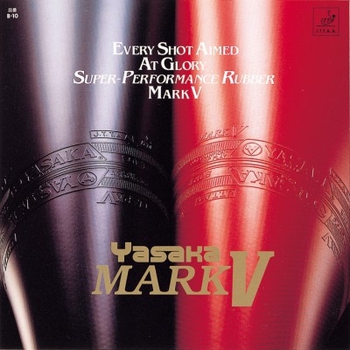 Overall Rating
There are faster rubbers available in the market due to the advances in rubber technology but the Sriver rubber provides you with a mixture of speed, control, power and spin that a very few rubbers can compete with. No wonder the Sriver has remained so popular with top players for the last 30 years. we all know how consistency plays an important part of success and if you decide to go for the Sriver rubber, you will enjoy it for years to come because of its longevity and ease of use.
More information on Butterfly Sriver and Yasaka Mark V.