The Palio Legend 2 table tennis bat is an upgraded version of Palio Legend bat released in 2013. The Palio Legend has received overwhelming reviews from many people. Legend 2 is designed to serve the players even better.
A Quality Pre-made Racket for Table Tennis Players
Palio series rackets are made through a collaboration between Palio, one of the top table tennis brands in China and the Expert Table Tennis based in the UK.
The Palio Legend 2 table tennis bat is the most expensive of the Palio X ETT series bats. The other two bats are Palio Master 2 and Palio Expert 2.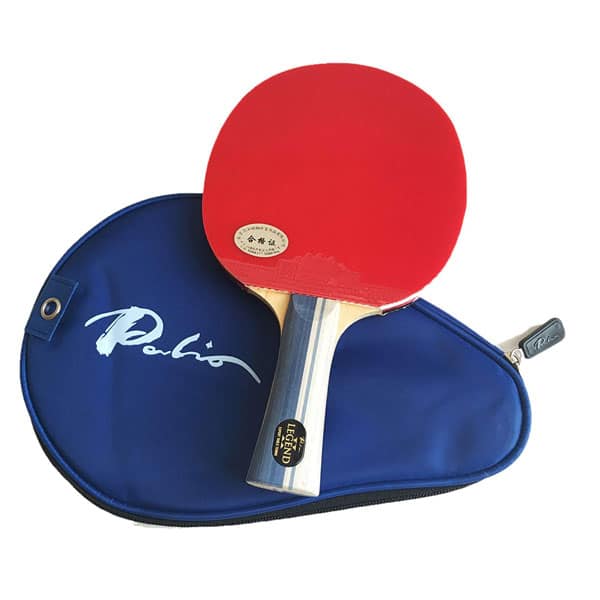 The bat is for players looking for powerful speed and spin from their strokes.
Rating:
Speed: 10.0

Spin: 9.0

Control: 6.0
Specs:
Blade: Exclusive OFF

Ply: 5 Ply all wood

Rubber: Palio Hadou (2.0mm)

Handle: Flared

Shipping Weight: 258g

ITTF Approved
Blade
The blade is made of 5 plywood. The blade is made to offer players with maximum power. 
The bat has a flared handle that is very comfortable to hold in your hand. It has a big logo on the handle. When I started playing with the bat, I noticed the grip has a little sharp-edge, but I fixed it by sanding it down a little.
Rubber
The rubber on both sides of the blade is ITTF approved. It has a hard sponge making it suitable for players with the all-out attack style.
The rubber is tacky, making your gameplay a little slower but it can provide you slow loops with heavy spin.
One of the significant differences of this bat is that you can buy the rubber and blade separately compared to other preassembled bats. It's like you can get a custom racket for the price of a preassembled one.
Case
The Palio Legend 2 table tennis bat comes with a free case. The case is impressive and has the logo embedded on its surface.
Some people critique Palio for giving them a low-quality case. However, I have been using the case to keep my bat for a couple of months, and the case is still in good shape.
Some people are quite harsh and tend to forget that the case is given for free when you purchase the Palio bat. Most rackets do not come with a free case.
You will need to spend additional money to buy the case separately. So, if the case given by Palio is not good enough, you can buy yourself another case. 
My View
It performs amazingly well. I played some games using this bat. It gives me a fantastic feeling when doing loops and drives. I did a test with the multiball, and the ball was hard to control initially, but after playing some strokes and loops by adjusting my pace, I felt my playstyle getting better and better.
The Palio Legend 2 is a lightweight bat. I can play a fast game. Beginners may find they tend to send the ball off the table because of the hard sponge attached on the blade. If you have this issue, then you should choose a racket that comes with a softer sponge.
The selling price for this Palio Legend 2 is about $50 with a free case. The bat is superb and good value for money. This bat is on sale, and you can buy it from popular online sport equipment retailers or Amazon.
Pros:
It is a fast boat that is ideally suited for offensive players.

It can give massive amounts of speed and spin into your shots.
Cons:
The bat is not suitable for beginners as it is rather hard to control.
Palio Legend 2
Palio Expert 2
The rubber of the Legend 2 is much more challenging than the Expert 2. You may have the slower feel when you first play with the bat, but gradually it gets faster once you get used to it.
Stiga Pro Carbon
One of the differences between these two bats is the rubber. Legend 2 is featured with tacky Chinese rubber whilst Stiga Pro Carbon has the European mechanical rubber. So, it depends on your playing style.
Killerspin Jet 800
For the performance, there is not much difference between these two rackets. I think that they are almost of the same range.
Price-wise, Killerspin Jet 800 is cost more than Legend 2. Legend 2 is a better choice if you are used to and love to play with hard rubber.
| Model | Speed | Spin | Control | Ply | Rubber | Handle | Weight |
| --- | --- | --- | --- | --- | --- | --- | --- |
| Palio Legend 2 | 10.0 | 9.0 | 6.0 | 5 | Palio Hadou (2.0mm) | Flared | 258g |
| Yasak Mark V | 10.0 | 10.0 | 6.5 | 5 | Mark V 2.0mm | Flared | N/A |
| Palio Master 2 | 8.0 | 9.0 | 8.0 | ETT Master 2 | CJ8000 | Flared | 259g |
| Killerspin JET 600 | 8.0 | 9.0 | 8.5 | 5 | Nitrx-4z 2.1mm | Flared | 182g |
| Stiga Evolution | 9.6 | 9.4 | 9.0 | 6 | Premium 2.0mm | Concave Pro | 170g |
| Stiga Pro Carbon | 8.0 | 9.9 | 10.0 | 7 | S5 | Flared | 185g |
| Killerspin JET 800 | 9.5 | 9.0 | 8.0 | 7 | Nitrx-4z 2.1mm | Flared | 190g |
Is there a penhold version of Legend 2 racket available?
All Palio rackets are only available in shakehand version. If you are looking for a penhold racket, it is best for you to get one that made from DHS which is one of the popular rackets you can have that will match your playing style.