Yasaka MARK V Carbon Champion Line table tennis racket is a top-quality tournament racket introduced by Yasaka factory in Sweden. It is one of the best quality pre-assembled rackets for playing ping pong.
Most of the fans who know about table tennis equipment know that Yasaka has worked with Wood House for many years. The company has worked together with famous Chinese table tennis player, Ma Lin, on several rackets. It includes the Yasaka MARK V Carbon racket we are going to discuss here as well.
FYI: This is a review of Yasaka Mark V racket. If you are looking for the Mark V rubber, you can refer to this link.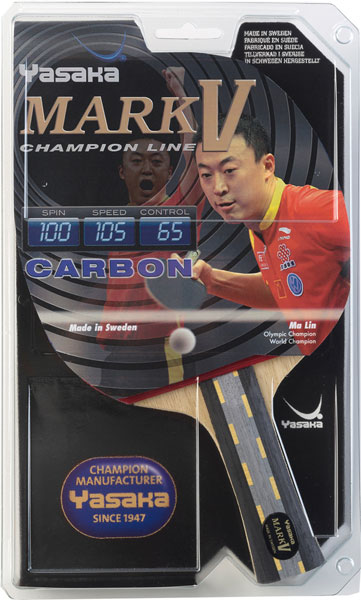 Blade:
It is a Swedish made Yasaka table tennis blade with Sweden Classic. The company makes the blade with 5 plywood and 1 ply of carbon. The racket area that comes into contact with the ball, known as the sweet spot, is big.
The new carbon material seems to be quite soft, but it is more elastic and can offer the player more feelings.
Rubber:
They equip this ping pong bat with 2 Yasaka Mark V rubbers for its forehand and backhand. The thickness of the sponge is 2.0mm for both rubbers. It is tacky when in contact with the ball. The sponge is hard and can generate faster ball.
Mark V rubber has been the leading rubber in table tennis for decades. You can never go wrong with this rubber. The rubber is versatile and can play any shot you want.
Handle:
They equip the blade with a flared handle. There is no penhold type of racket available for this. Only the shakehand type is available.
Rating:
Speed: 10.0

Spin: 10.0

Control: 6.5
Specs:
Blade: OFF+

Ply: 5 Plywood + carbon

Rubber: MARK V (2.0mm)

Handle: Flared

Weight: 170g
Speed
The racket offers excellent speed whether you are doing a topspin or side spin shot. You can feel the pace is swift.
The racket is designed with a hard sponge, giving you a faster ball when the ball is in contact with the racket's sweet spot.
However, because of the hard sponge, the blade dwell time is less. If you are used to having longer dwell time with your other racket, you will need some time to adapt to it.
Spin
The backhand topspin can generate an excellent spin which makes it hard for the opponent to hit back. Most of the time, the opponent will return a higher ball, making it easy for you to do a killing shot and score a point.
It is good to play a faster loop and drive without sacrificing the ball spin.
Control
It is easy to have reasonable control with this racket. You get the right stroke for both the forehand and backhand. You can play an excellent game, especially with the forehand strokes. You can quickly push any angle of the table that you want. Besides, doing a flick with the ball is also effortless.
Shifting from forehand to backhand and vice versa can be done pretty fast. So when your opponent makes a shot from one side to the other, you can still manage to save the ball, which your opponent didn't expect.
My View
I helped my friend who had been playing table tennis for some time buy this racket. The craftsmanship of the racket is exquisite. Most people are pleased with the racket because of its emphasis on quality which will not disappoint you.
I had a chance to borrow and do my test.
I can feel the racket is excellent. It can offer me reasonable control, and the grip is very comfortable. When I try to use multiball and testing on the spin, it gives me very nice fast spins.
I almost can feel the ball go into the sponge and stay there for half a second. It gives me the time I need to spin the ball. I can have sufficient time to choose either to make a topspin or sidespin with the ball. It is not something that other rubbers offer. With the rubber, I can generate more spin when playing the game.
The backhand has excellent speed and control. It can make a better forehand set up and kill the ball with just my backhand.
The sound is fantastic when I click the ball. I can hear a clear and crisp sound. The blade and rubber combination can generate a lot of speed and spin. I tried to play topspin with a higher trajectory, and it can still go close to the end of the table.
After using this Yasaka Mark V racket for some time, I can say this is a great racket. You should consider buying if you want a quality racket. You will be happy with the purchase of this racket. This racket is just a great weapon for an offensive player.
You can buy this blade at Megaspin where the selling price is about $90.
Pros:
The rubber is quality and can give you a lot of spins.

Good in blocking.
Cons:
The handle might break after some time. One of our playmates handle broke after playing for about 6 months.
In Comparison With Other Pre-assembled Rackets
| Model | Speed | Spin | Control | Ply | Rubber | Handle | Weight |
| --- | --- | --- | --- | --- | --- | --- | --- |
| Palio Legend 2 | 10.0 | 9.0 | 6.0 | 5 | Palio Hadou (2.0mm) | Flared | 258g |
| Yasak Mark V | 10.0 | 10.0 | 6.5 | 5 | Mark V 2.0mm | Flared | N/A |
| Palio Master 2 | 8.0 | 9.0 | 8.0 | ETT Master 2 | CJ8000 | Flared | 259g |
| Killerspin JET 600 | 8.0 | 9.0 | 8.5 | 5 | Nitrx-4z 2.1mm | Flared | 182g |
| Stiga Evolution | 9.6 | 9.4 | 9.0 | 6 | Premium 2.0mm | Concave Pro | 170g |
| Stiga Pro Carbon | 8.0 | 9.9 | 10.0 | 7 | S5 | Flared | 185g |
| Killerspin JET 800 | 9.5 | 9.0 | 8.0 | 7 | Nitrx-4z 2.1mm | Flared | 190g |