Today I am going to review the STIGA Supreme table tennis racket. If you buy this paddle, you can first take a look at the box for the specs. You will find the performance rating for speed: 90, spin: 92, and control: 89. Thus, this paddle is fit for those who are of intermediate playing skill.
I like this racket is due to the top sheet is this rubber is quite tacky. It can offer players with very good dwell time.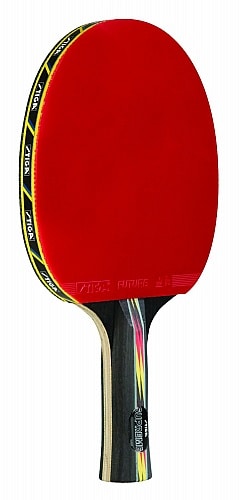 STIGA Supreme is featured with Lightweight
The blade is made of 6-Ply extra light blade. While most other similar paddles are still built with 5-ply layer construction, Stiga has produced the 6-ply blade with their new technology to add a layer to the middle and reduce the weight of the paddle significantly.
It is attached with a 2-millimeter future inverted rubber. The racket is very comfortable in the hand and is built with very lightweight. The total weight of the racket is only 5 ounces or 142 grams which make you have no problem at all to grip and play with it nicely.
The sharp edges can easily be found and you can buy the racket for a very reasonable price. The surface is outlay with extra hardness and is finish with the enhanced Crystal Technology, which is a STIGA innovation for optimal impacts that increasing the speed of the racket.
The blade is also constructed with numerous microscopic air-capsule to offer players with the combination of extreme elasticity as well as superb control.
The racket can provide players with noticeably spin and control, and it has a very comfortable handle. Also, it can perform really well overhand spin. Many people agreed that this is a nice racket, but some of them are not really satisfied with the price as they think it is a bit too expensive to buy.
A Quick Test with the Racket
When using it to play with forehand topspin, you will found it can offer you with nice crisp feeling when contacting the ball. It is very light and has a decent sweet spot for you to hit the ball. It is very impressive when you are playing closer to the table, it can generate a lot of speed and maintaining great control at the same time.
Even if you try to play away from the table, it can still produce quite a low arc with great spin especially when you are playing loop with your opponent. This won't request a lot of effort for you to perform such playing style on the table with this racket.
This racket is made of state-of-the-art technology known as WRB. The main features of this technology are that it gives a great weight balance to a player who holds the blade in their hands.
It offers good contact for the rubber with the ball. Besides, it also gives additional recovery rate for players. The light feature of the blade increases the recovery rate every time when the stroke is carried out.
If you want to know how this paddle performs, it is better for you to try it yourself. Only practically feel the paddle with yourself will give you the impression on how this paddle is.
This paddle can give you quite good control when you use it to play the game. The grip of the paddle is good and it makes me easy to hold it and maneuver with my playing stroke. It can generate decent spin and it is controllable. You can have very good stability and you will exert your strength quite well with this paddle.
If you have played table tennis for some time, it is good for you to buy a pre-assembled racket like this one. You can start to practice some table tennis skills, and once you have improved your playing skills and can play better table tennis, by that time only you can start to get the blade and rubber that you want.
Sleek Appearance of this Stiga Supreme Paddle
The appearance of this paddle is kind of cool, it just gives me quite sleek design feel. Do you think so? Some female players are buying this paddle is because of its design, I think this can be the so-called female consumption behavior.
You can use this paddle to play well at the table form a medium distance. You can get a great consistent contact from the paddle with the ball.
Blocking
If you try to do the blocking stroke, you can feel that this paddle can let you play the blocking quite well. The block that it generates is quite low and just nice to cross over the net with a short distance. But when you do the block, you need to decrease a bit of your power so that the ball will not go long and off the table.
Chop
The paddle can generate quite a powerful spin when you do a chop with it. This can really help you to make a good return when your opponent does a serve to you.
More Suitable for Defensive Play
The STIGA Supreme paddle is designed and developed to focus on defensive players. If you are an offensive player, the paddle may be too light for you to hold. Nonetheless, the paddle can give players with good control even some people may find it does not offer them with sufficient speed and power.
But for the price that you pay for, is quite worth the value that you get with it. If you are an advanced player, of course, this paddle may not what you are looking to have even the price is affordable. If you are an advanced player, you will definitely be going for a professional blade and rubbers that can let you play with your optimum strokes.
Paddle Information:
Ply: 6-Ply Extra Light Blade
Rubber: Future Inverted Rubber and 2mm Sponge
Speed: 90
Spin: 92
Control: 89
Paddle Dimensions: 10 x 6 x 0.2 inches

You can get this racket from Amazon.
Related post: