Today we are going to take a look at the STIGA Supreme table tennis racket. It is one of Stiga's premade bats that is around middle of the range. It is superior to the likes of the Apex or Titan but falls short of the Pro Carbon. This paddle is ideal for intermediate players who are seeking to upgrade their equipment. It's a touch too lively for most beginners and not fast or spinny enough for advanced players. Stick around to read our full Stiga Supreme review below.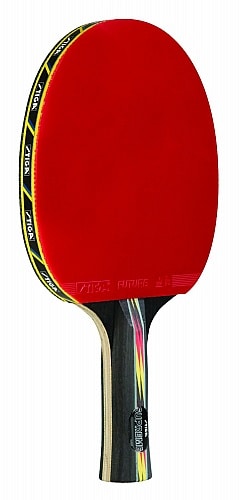 Stiga Supreme Specs:
Blade: 6-ply extra light blade

Rubber: Future inverted rubber 2mm sponge

Speed: 65

Spin: 71

Control: 87

ITTF approved?: Yes

Paddle Dimensions: 10 x 6 x 0.2 inches

Overall Rating: 73
Pros 
Great control

Fast and spinny

Inexpensive

Lightweight

ITF approved
Cons
Not fast enough for advanced players

Too basic for effective looping
STIGA Supreme Blade
The Stiga Supreme table tennis racket uses a 6-ply blade. This gives it a distinct advantage in speed over most other 5-ply blades such as the Titan. It also weighs just 159 grams making it rather lightweight which is great for intermediate players who might not yet be ready for a heavier setup. Some of the lightness of the blade is attributed to its Italian composite composition. The likes of carbon are common in composite blades, as it makes them lighter and faster. However, Stiga does not specify the material used, so we can only confirm that this is not an allwood blade. Stiga also states that they mill micro-channels lengthways through the middle ply of the Stiga Supreme ping pong paddle, and add materials to enhance its performance. 
The blade also features Crystal Technology. This is a process whereby they harden the blade to increase speed. Moving on to the handle, Stiga has installed a Shock Dispersion Tube in the Stiga Supreme paddle. This absorbs vibrations and transfers them out of the handle. A nifty feature, but it does somewhat diminish feeling which is important for developing players.
As this is not a premium Stiga paddle, you don't get the luxury of handle customization. Stiga only sells the Supreme with the anatomic handle type. However, it appears more flared to us as there is practically no bulge where you grip it.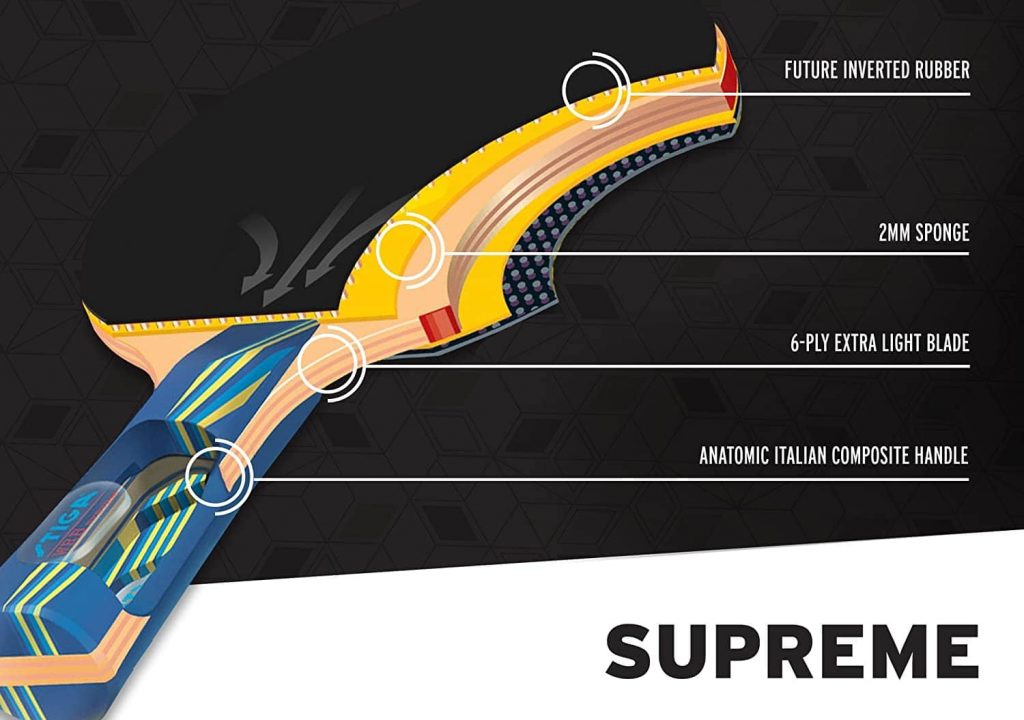 STIGA Supreme Rubbers
The rubbers of the Stiga Supreme paddle are Future by Stiga. Not to be confused with the DNA Future M rubber which Stiga also makes. Those are far more expensive and targeted towards elite players.
The Future rubbers in the Supreme are what you would expect given the target audience. They are inverted which means the pimples are facing inward. As is the case with most rubbers on the market. They also feature a vibrant yellow 2mm sponge. This size is pretty typical for the attacking style and gives decent pace. The pace increases due to Stiga's Air-Capsule System which pairs microscopic air particles with the rubber to optimize speed, elasticity, and control.
In terms of spin, you are getting marginally more than your speed. This gives you the ability to start developing a more spinny game. Perhaps introducing loops and winning points here and there from spinny services.
It's good to see that the control of the rubber still remains high. This is essential in an intermediate bat because players at this level lack the skill to play consistently with really fast bats. And consistency is everything when you are developing.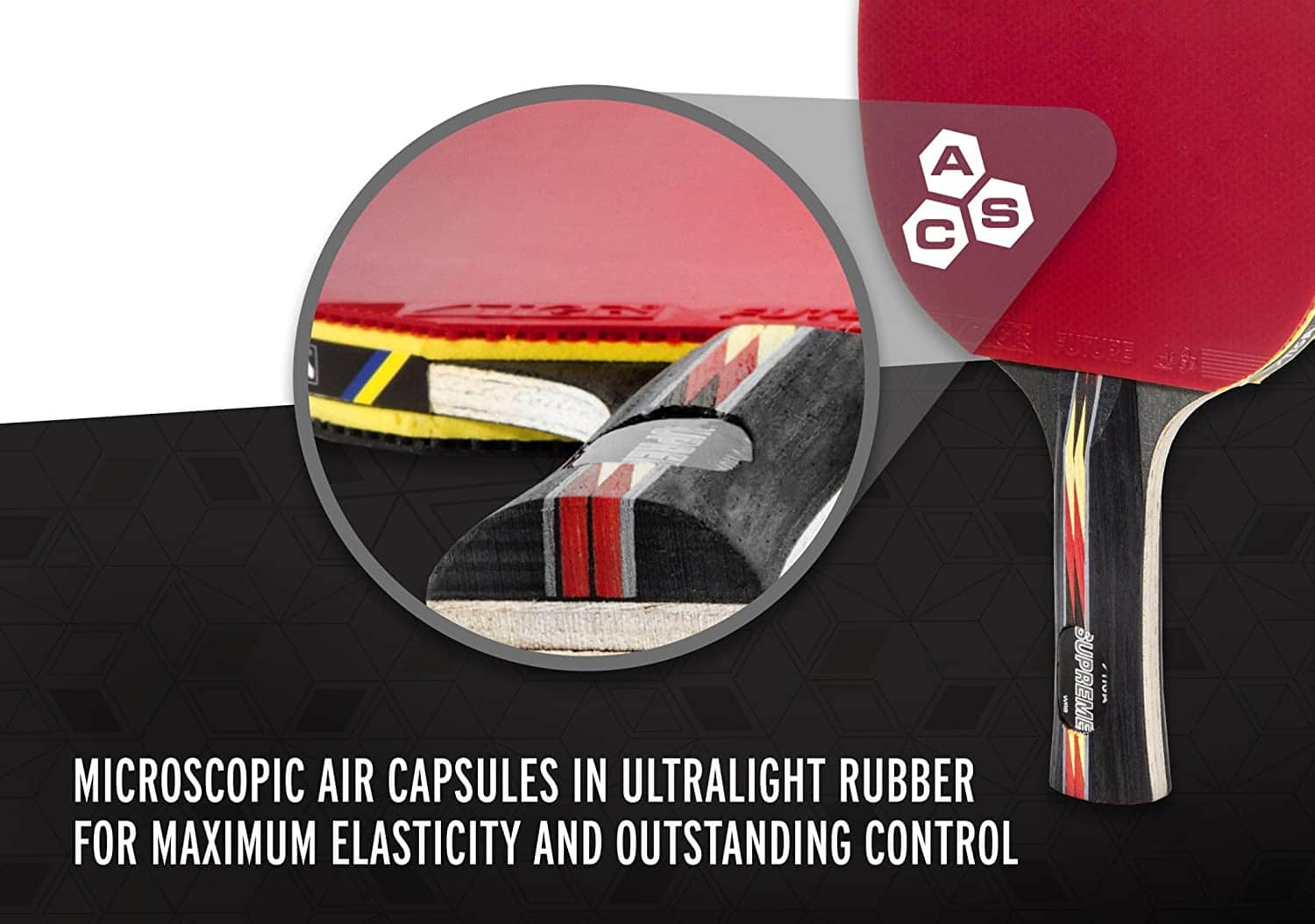 ITTF Approved for Competition Play
A great feature of the titan is that it has the ITTF logo imprinted on the rubbers. This means it is eligible for use in official table tennis events. Not all paddles in the intermediate market have this luxury, so make sure to check for the ITTF symbols on any other bats that interest you.
While you may not be keen on entering competitions at this skill level it is entirely worth it. It opens you up to a variety of new players and gets you accustomed to tense match situations.
FAQs
Are Stiga Table Tennis Bats Good?
Stiga table tennis bats are very high quality. The brand is well respected in the table tennis community because they have been making table tennis equipment for over 75 years. As table tennis specialists, we have far more confidence in their products than non-table tennis brands who have simply dipped their toes into ping pong equipment.
Is Butterfly Better than Stiga?
Generally speaking, Butterfly is the most popular table tennis brand because they have released many popular rubber and blade lines which have seen their popularity skyrocket. However, Stiga produces equipment at a similarly high level. Ultimately, it comes down to individual preferences.
Is the Stiga Supreme Worth the Money?
And now we come to the deciding question: is it worth the money? Yes, we can comfortably say it is. As an intermediate player, you don't need to spend a fortune on your paddle, and if you do, you are likely buying equipment that is too advanced for you to handle.
The Stiga Supreme is competitively priced among other intermediate Stiga ping pong paddles and those made by other manufacturers. We also find its qualities to be well-suited to the intermediate level, it is not too fast or spinny, and control is adequately high.
The bat is also already assembled so there is no guesswork or assembly on your part which means the whole process is stress-free. Just unbox and play!
Related post: