The type of ping pong paddle you use determines your experience and performance in table tennis. Failure to choose the right blade can make you lose on a match or experience problems during play. As a matter of fact, you should always have a paddle that will take your game to a higher level and make you win competitions.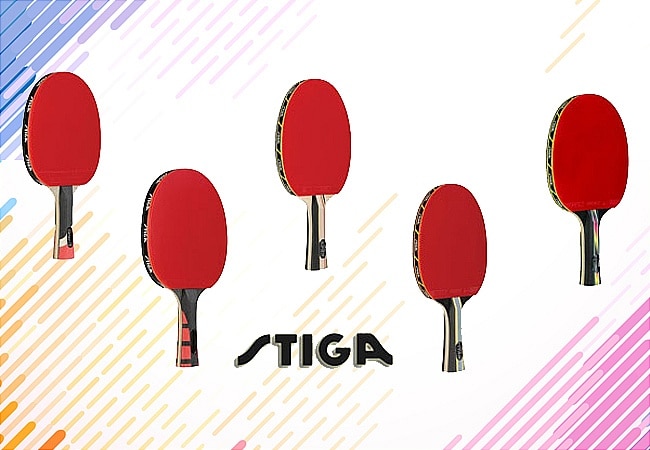 Stiga Ping Pong Paddles of Your Choice
Many ping pong paddles exist in the market. However, it is now confirmed that Stiga ping pong paddles are preferred by players globally. They are also popularly used in international athletics competitions. This article brings to you some of the best 5 Stiga ping pong paddles you should consider using for your next game!
#1. Stiga Pro Carbon Table Tennis Paddle
If you are an intermediate player looking for a pre-made, round bat that will offer you better performance, then the Stiga Pro Carbon is all you need. It is the top-of-the-line paddle for Stiga pre-made paddle.
It offers you a wide Sweet Spot and is suitable for smashing and looping due to its forgiving nature. The rigid carbon layer helps the player to generate more power and spin. It is a good quality paddle for the price and is an excellent alternative to a custom racket.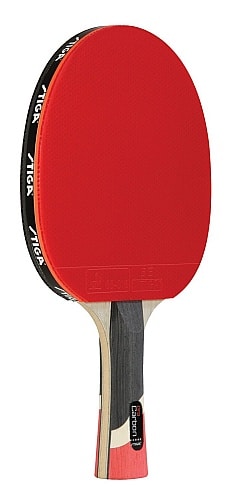 Out of the many pre-made paddles from Stiga, pro carbon leads in performance. The paddle's other benefits include light, tough sensitivity, high recovery rate, crystal technology, ITTF approval, WRB Weight Balance, and balsa technology. But, it does not perform quite well in creating backspin as well as chopping.
This paddle can give you more balance when you hold it in your hand, and you can have more control with this paddle.
Read more reviews about this paddle here.
#2. STIGA Evolution Pre-Assembled Table Tennis Paddle
The STIGA Evolution Pre-Assembled is effective in promoting the playing experience of a beginner or an intermediate player. In terms of performance, it is second after Pro Carbon. Stiga evolution pre-assembled has a Shock Dispersion Tube that transfers and spreads shock waves across the whole bat.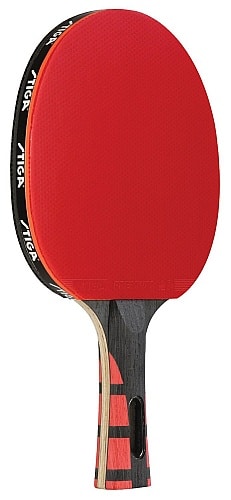 Its 2mm thick premium rubbers increase spin and speed. The 6 ply paddle is ITTF approved and offers you excellent ball control. The only downside of this blade is that its overall balance may not be perfect for extremely aggressive players.
Stiga Evolution's outlook is pretty much the same as the Pro Carbon, and it is a few grams heavier than Pro Carbon. However, this paddle doesn't feel as balanced as the Pro Carbon.
If you are a beginner and start playing table tennis in a short period, you may consider having this paddle.
More review about this paddle here.
#3. STIGA Apex Table Tennis Paddle
The Stiga apex is a decent yet cheap paddle for beginners and recreational players. The paddle's WRB technology increases shot accuracy and allows a faster return. Its concave handle offers a tight grip and is comfortable to your hand. 
The inverted rubber increases power and control.
Due to its lightweight, the 5 ply blade is suitable for block shots, and you can play for an extended period without getting tired. Also, reduced speed and modest spin make the STIGA Apex is only effective for beginners.
Its performance ratings include:
Speed: 65

Control: 80

Spin: 52
Among the top five pre-assembled rackets made by STIGA, STIGA Apex is the lowest offering in terms of performance and speed. Since it is the lowest offering, it is also the cheapest among the five rackets.
More review about this paddle here.
#4. STIGA Titan Racket Table Tennis Paddle
It is a cheap, pre-made, and beginner-level paddle that offers excellent control. Its inverted 2mm thick rubber offers decent spins. However, its lightweight is considered an obstacle to more powerful spins. The weight (35 pounds) is perfect for children players and beginners who need a fast game.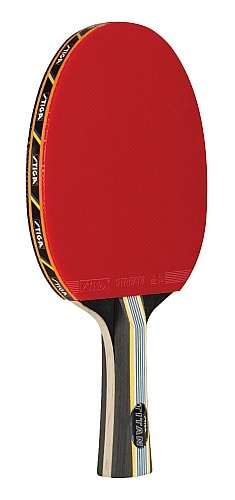 The crystal technology of the blade makes the surface hard and stable. The STIGA Titan Racket is designed for a spin rather than power. You can improve its performance by using high-quality Stiga rubbers. New players love this blade!
By selecting STIGA Titan, which can be the racket designed to fit your level of play, you will be able to continue to improve your table tennis skills. Many people love it because it is not so expensive yet managed to provide many great features compared to any paddle in a similar price range.
More review about this paddle here.
#5. STIGA Supreme Pre-Assembly
This blade is known for its great control. It is an excellent Stiga ping pong paddle for beginners. The 6 ply blade is made from tube and crystal technology, making it a light bat. With a weight of 140g, you can never get tired of playing.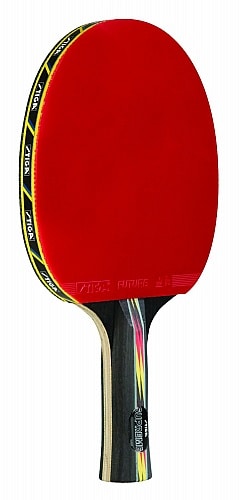 Its future inverted rubber offers excellent control. If you are a defensive player, the STIGA Supreme Pre-Assembly, with WRB system, offers perfect blocking and ball bounce. If you are a beginner, this blade is for you! For novice players, the bat's spin and speed are moderate.
It offers good contact for the rubber with the ball. Besides, it also gives an additional recovery rate for players. The light feature of the blade increases the recovery rate whenever the stroke is carried out.
If you want to know how this paddle performs, you should try it yourself. Only practically feel the paddle with yourself will give you the impression of how this paddle is.
More review about this paddle here.
Conclusion
Stiga ping pong paddles are known for their quality, excellent performance, and advanced technology. The above Stiga blades will give a unique play experience. The Pro Carbon and Evolution are perfect for novice players. 
Beginners can go for Apex, Titan, or Supreme. You can never go wrong with choosing any of the above Stiga ping pong paddles.
Related posts: