When it comes to table tennis, a quality racket can have the most significant effect on improving your overall playing skills. It is essential to pay close attention to the daring racket technologies and select a racket tailored for your level in play style.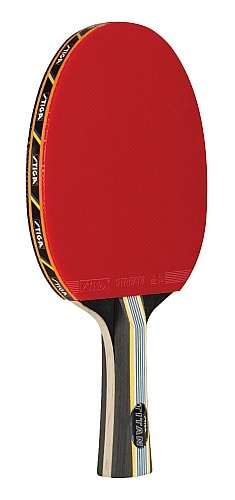 The STIGA Titan is just the racket that is very fit for the beginner who is starting to play the ping pong sport and wishes to improve their skill in a short time. It offers players great control and easy ball placement to any area of the table.
Blade
The Stiga Titan is built with a 5-ply extra light blade with Balsa Technology.
Rubber
There are ITTF approved inverted tournament rubbers attached to the forehand and backhand of the blade. The Triumph inverted tournament rubber has a sponge with a thickness of 2.0mm. The rubber is quite sticky, and it can give you good traction.
Weight
The paddle weighs only 0.35 pounds or approximately 150 grams. Thus, this is considered a lightweight racket for all the players.
Grip
The racket is constructed with a Concave Italian Composite Handle. It is a flared handle. You can try to grip the handle, and you will have an excellent feel on it.
Spin
The racket can improve your game by giving you a lot of good spin dimensions that you may not experience with a cheap racket.
Speed
The 2.0 mm sponge that comes with the racket makes it a perfect one. But this is a slow racket, so that it won't offer you much speed and spin. If you do a lot of smashing in your game, this racket will not be the one you should get.
Control
This racket is designed to help beginners to improve their playing stroke by focusing more on technique and control instead of power. So, you will get perfect control with the racket.
Technology Being Used to Produce The Racket
Crystal technology makes the blade surface to be hard and stiff. It helps increase the speed at which the ball goes over to the opponent's side when hitting with the racket.

WRB combines weight balance rate, the rate of recovery, and ball sensitivity. It allows you to recover faster and play longer.

ACS makes it possible for players to play at high speed. This technology is a combination of maximum elasticity and outstanding control.

Tube technology uses a middle veneer that has gone through a revolutionary treatment increasing speed and power without sacrificing feeling and control.

Balsa technology is an ultra-lightweight center ply that reduces the racket's weight and helps increase speed and reaction time.

Nanocomposite technology creates stronger and tighter bonds in the rubber, increasing speed and spin.
Features:
5-ply Extra Light Blade

Sponge with a thickness of 2.0mm

Concave Italian Composite Handle

Speed: 80

Spin: 77

Control: 82

Performance-Level Paddle

Inverted Tournament Rubber that is ITTF Approved

Dimensions: 12 x 7 x 3 inches
Pros:
Lightweight

Great value for the price you pay for

Rubber can offer you a lot of spins

It is a good racket for you to play defensives strokes
Cons:
Power might need improvement

The sponge is not up to standard

It is a slow racket
All STIGA master series rackets are developed through intensive research development and testing process that includes many of the best table tennis players globally. It is no exception for the STIGA Titan.
The stringent process ensures that each racket produced by STIGA features the perfect balance of technology, materials, and workmanship to maximize its playability and performance.
By selecting STIGA Titan, which can be the racket designed to fit your level of play, you will be able to continue to improve your table tennis skills. Many people love it because it is not so expensive yet managed to provide many great features compared to any paddle in a similar price range.
Conclusion
Generally, this Stiga Titan pre-assembled racket offers a very classic feel. There is nothing too fancy about the racket. When you start to play with it, you can feel that it gives you excellent control.
Even though you may not get the same material level of their top-of-the-line rackets, this Stiga Titan pre-assembled racket can be categorized as a high-end racket for the player.
If you have been using a cheap ping pong paddle to play table for some time and get minimal improvement in your playing skill, then you should consider buying this Stiga Titan. It is an affordable racket that is affordable.
You can practice some topspins, backspins, sidespins, curve shots, power shots, faster hits, chop, flick, etc. You can also try to loop and drive with the racket. Since the racket is good at controlling the ball, you will play more consistently with it.
It isn't the best rubber out there, but it provides a lot of control for a beginner to work on his fundamentals.
If you wish to buy this racket, you can find it at Amazon.
Related post: